My need to take off on a plane for the weekend comes up more often than not. That is why the perfect carry-on bag is a travel essential. As any woman knows, packing everything you need in one carry-on can be a hassle. Lugging around a heavy suitcase is no fun, and trying to keep track of all of your belongings can be a nightmare. That's why it's so important to choose the right carry-on bags for women.
After all, you want something that's big enough to fit all of your essentials, but not so big that it's cumbersome to carry. And of course, you want something that looks good too. With so many options on the market, it can be hard to know where to start. But fear not – we've got you covered.
Here are the best carry-on bags for women, no matter what your style or budget may be from stylish totes to versatile rollers, there's sure to be a bag that fits your needs. And best of all, these bags will make packing a breeze. So whether you're headed on a business trip or a beach vacation, be sure to pack one of these carry-ons.
So go ahead and book that flight – your perfect travel companion is waiting for you.
Best Carry On Bags for Women
Anti-Theft Backpacks
I love to travel with a fun and colorful Jansport Backpack. Since my days as a kid, these backpacks hold up against anything.
Until I started traveling more often, solo and to larger cities.
I needed something in lieu of a traditional purse, to hold my things while exploring. Additionally, a bag that is more efficient in carrying my items and laptop on the plane as my "under-the-seat item" in addition to my overhead carry-on.
Anti-theft backpacks are worth adding to your travel collection, along with a fantastic carry-on.
And don't worry, the best anti-theft backpacks for women are STYLISH!
–CLUCI Women Backpack Purse, (brown, comes in 30+ different colors) is the perfect accessory for travel. This stylish and versatile backpack can be worn in three different ways, convert it into a shoulder bag with a detachable shoulder strap, or wear it as a backpack with adjustable straps. The back zipper design is not only stylish but also offers anti-theft protection for your belongings while exploring different cities
–Lovevook Travel Backpack Purse (pink, with 19+ colors) is a stylish and functional bag that is perfect for everyday use or travel. The bag is made of waterproof material and features a USB charging port, 18 pockets, and a large-open-mouth design. The dual-handle design is sturdy and durable and can bear more weight. The anti-theft pocket on the back is perfect for storing valuables.
–Tumi Voyageur Hartford Backpack is the perfect blend of form and function. This stylish backpack is crafted from leather and durable nylon fabric, and features a plethora of pockets for all your needs, including a separate laptop compartment, a quick-access phone pocket, and a water-resistant water bottle pocket.
The Best Carry-On Bags for a Woman
As a woman, I know that we like to be prepared for anything and everything when we travel. We want to make sure that we have our makeup, our hair products, our clothes, and everything else we might need while we're on the go.
That's why it's so important women have a great carry-on bag.
But with all of the different options out there, it can be hard to know which one is right for you. Here are some great researched options for carry-on bags for a woman, no matter what your needs might be.
Once upon a time, travel was chic, and flying in an airplane was an experience. People got dressed up in beautiful clothes and had stunning travel luggage and hat boxes. SteamLine Luggage brings back the nostalgia of traveling again, with timeless travel pieces that will last you a lifetime.
These durable travel pieces offer the best carry-on bags for women, with a focus on vintage style, quality, and durability. This line features a flip-lock closure with two TSA-approved key locks, as well as top and side carry handles and a three-tier telescoping handle. The two silent-glide wheels make it easy to move across all types of terrain, and the interior hanging system with zip pockets provides plenty of storage space. The SteamLine Luggage Carry-On is the perfect choice for anyone who wants to travel in style and comfort.
Travel Tip: If you love the vintage luggage look, be sure to check out these budget-friendly options carry-on bags for women, here.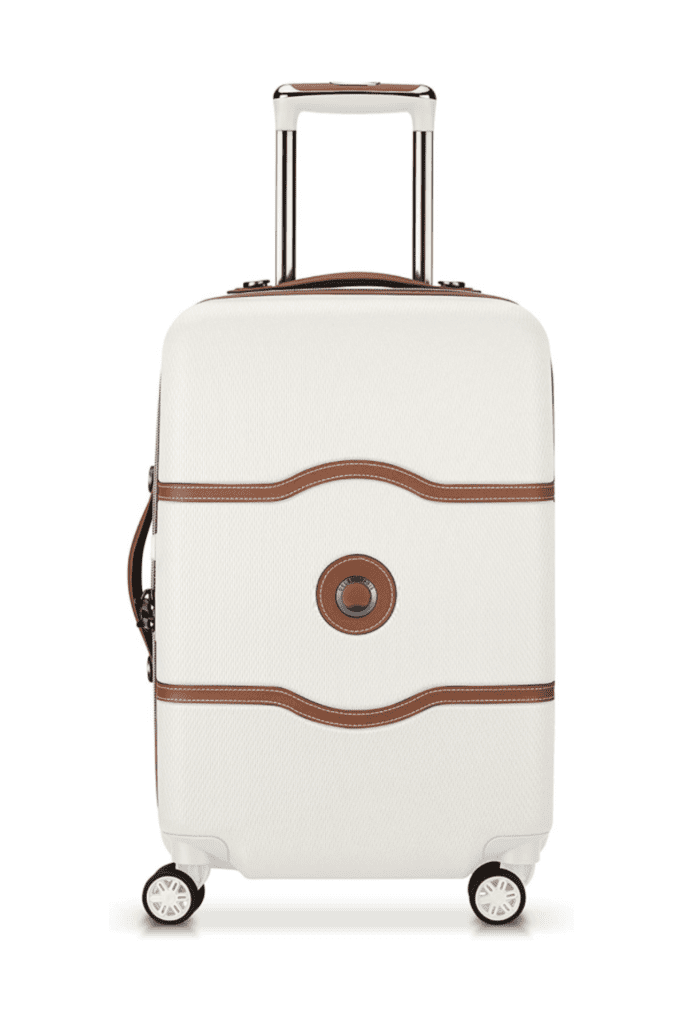 The DELSEY Paris Chatelet Hardside Luggage is the perfect choice for those who are looking for a timeless and elegant piece of luggage. Made from virgin polycarbonate, it is formulated to achieve the highest standards of extreme temperature and impact resistance. The leather-like accents and deluxe interior make this piece of luggage stand out from the rest.
With its roots dating back to 1946, Delsey has been designing tomorrow's luggage with inspiration from many places: travelers and their journeys, societal changes, and the evolving environment.
As a result, their carry-on bags for women keep getting better and better. So if you're looking for a piece of luggage that is both stylish and functional, look no further than the DELSEY Paris Chatelet.
Kenneth Cole Reaction Luggage is a personal favorite. This family has used this affordable brand of luggage for years of traveling. The collections include different sizes of carry-on bags and luggage for women and men, different colors, and soft-side and hard-case luggage.
The Kenneth Cole Reaction line, Out of Bounds is a favorite. This hard-side 4-wheel spinner carry-on is loaded with amazing features, including a spacious fully lined interior, molded corner guard reinforcements for maximum impact resistance, and a large U-shaped zipper pocket that allows for double-sided packing.
Plus, the multi-directional 4-wheel spinner wheels make for smooth 360-degree rotation over any rough surface. Whether you're taking a quick overnight trip or a longer weekend getaway, this carry-on has got you covered. And it meets almost all U.S.-based airline carry-on size requirements.
The Travelpro Maxlite 5 is the perfect carry-on bag for women who are looking for a sleek and compact option for their travels. This bag is sized for TSA-approved travel with a 100% polycarbonate hard shell that is engineered to be both impact-absorbent and flexible, while also being extremely lightweight and chic, making it one of the best carry-on bags for women.
The bag also features a patented contour grip with rubberized touch points for comfort, as well as a low-profile top handle. The interior of the carry-on bag includes a divider and hold-down straps for packing flexibility, and the 4-wheel spinners rotate 360 degrees, providing effortless maneuverability in any direction.
Samsonite's Freeform Hardside Expandable with Double Spinner Wheels is one of the best carry-on luggage options for women. It's made with lightweight materials, yet is still durable and able to withstand the rigors of travel.
The expandable feature is also great for packing more items, while the double-spinner wheels make maneuvering a breeze. Samsonite has definitely raised the bar with this piece of luggage and frequent travelers will love all of the features it has to offer.
Carry On Duffel Bags-The Weekender Bag
Weekender bags for women are a great option for ladies who need a carry-on duffel bag. These bags come in many different styles to suit any taste. You can find weekender bags made of canvas, leather, or even nylon.
They also come in different sizes, so you can find one that fits your needs perfectly. Many women prefer weekender bags because they have plenty of room to pack everything they need for a weekend away, but they are still small enough to carry on the plane.
Plus, these bags usually come with a shoulder strap, so you can carry them hands-free. If you're looking for a carry-on duffel bag, weekender bags for women are a great option.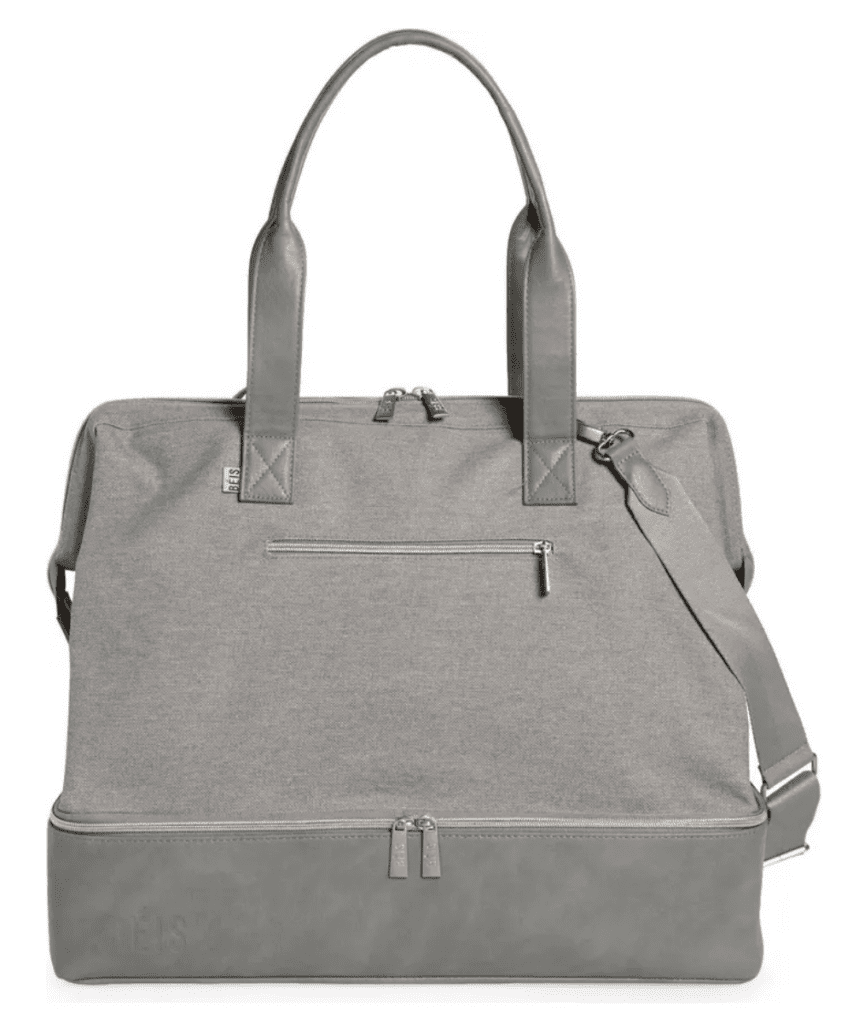 The Beis Weekend Bag is the perfect bag for short trips and getaways. Made from sleek, water-resistant canvas, this roomy bag has plenty of interior and exterior pockets to keep everything organized, a laptop sleeve for your electronics, and a separate bottom compartment for your shoes. Beis Weekender has an optional crossbody strap makes going hands-free easy and convenient. Whether you're headed to the beach or the mountains, the Beis Weekend Bag has everything you need to make your trip hassle-free.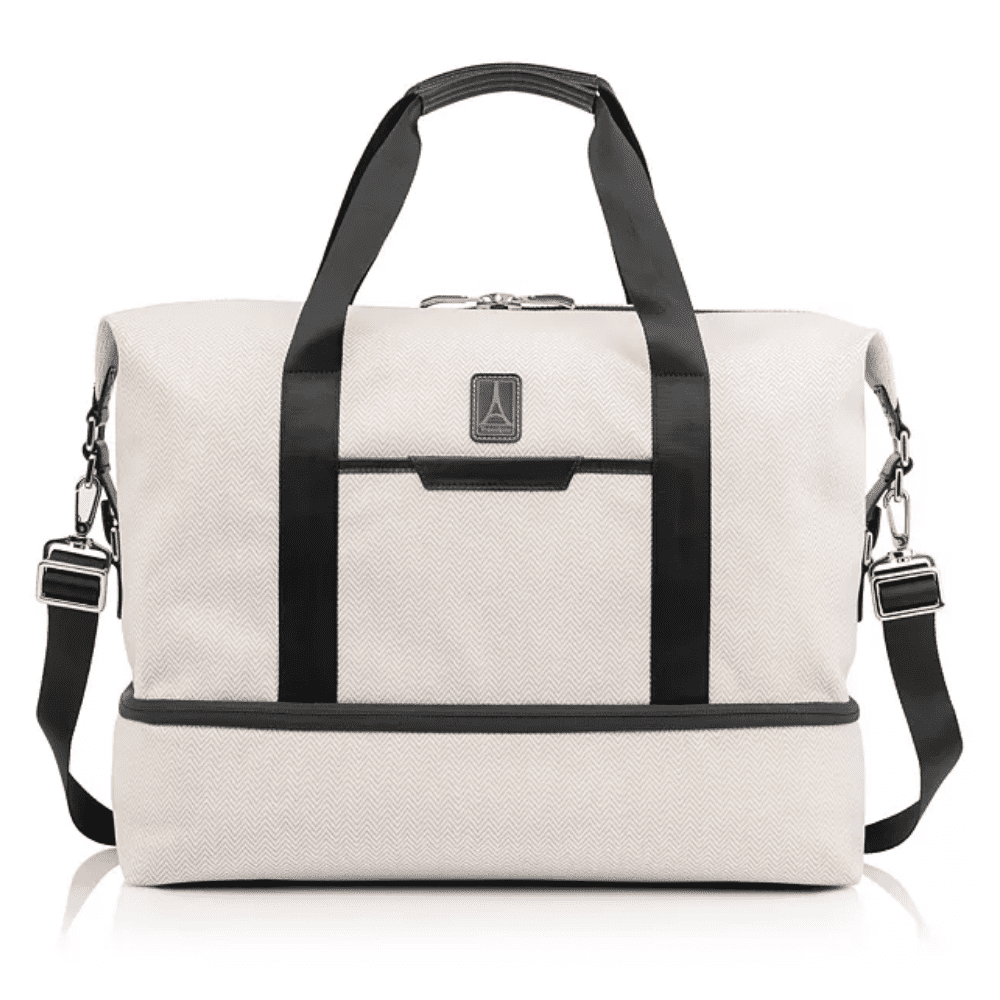 The Travelpro x Travel + Leisure Drop-Bottom Weekender Bag is the perfect companion for the jet-setting traveler. It's made of ultra-resilient fabric that resists stains and abrasions, so it'll withstand any sort of adventure.
The expandable design with a drop-bottom zip panel enables you to pack more, while the rear strap slips over the handle of your wheeled suitcase for easy transport.
The adjustable, removable shoulder strap and carrying handle make it convenient to carry, whether you're headed on a weekend getaway or a longer trip. Curated by industry experts, this bag is a must-have for the modern traveler.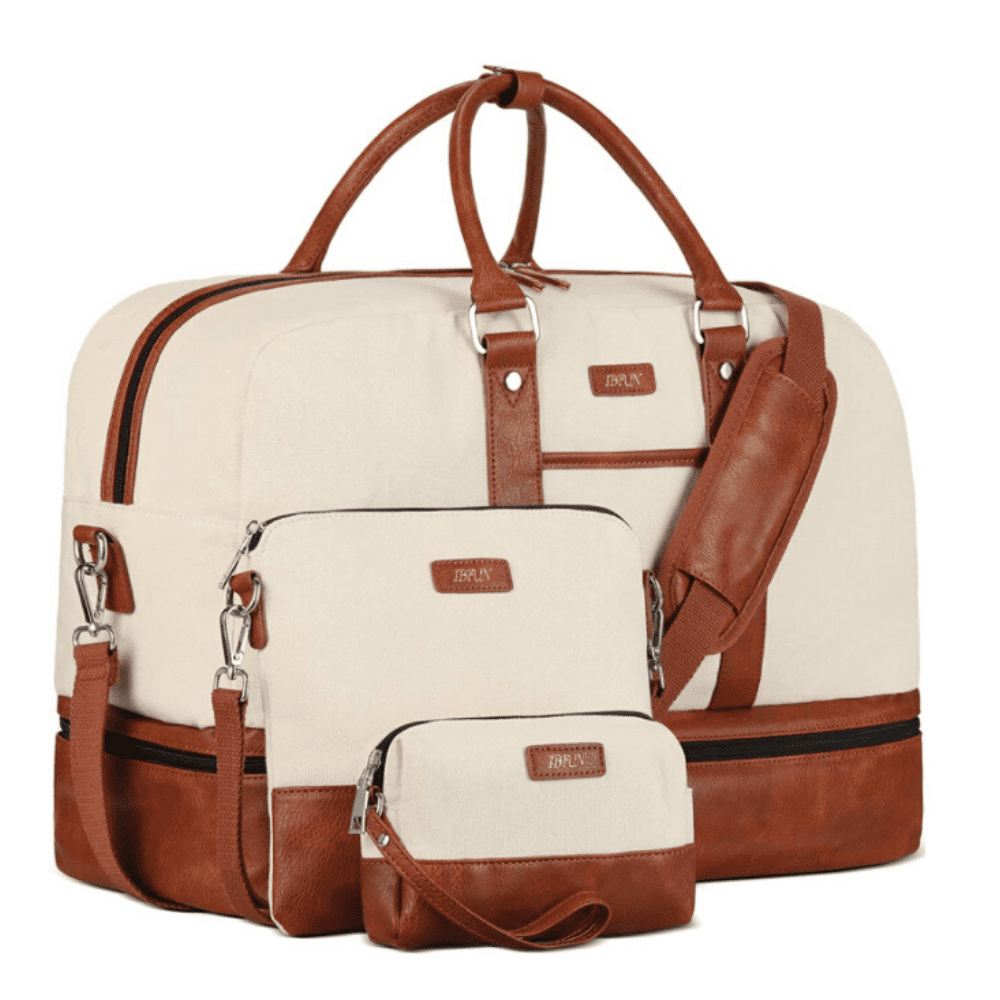 The IBFUN Weekender Bag is the perfect (and super affordable) carry-on bag for women, great for your next weekend getaway! This stylish and spacious vegan weekender bag (comes in eight colors) is made of durable canvas and faux leather, with a polyester lining that ensures your belongings are protected. The 3pcs set design includes a travel duffel, crossbody bag, and cosmetic bag, providing you with everything you need to pack for a comfortable and enjoyable weekend away.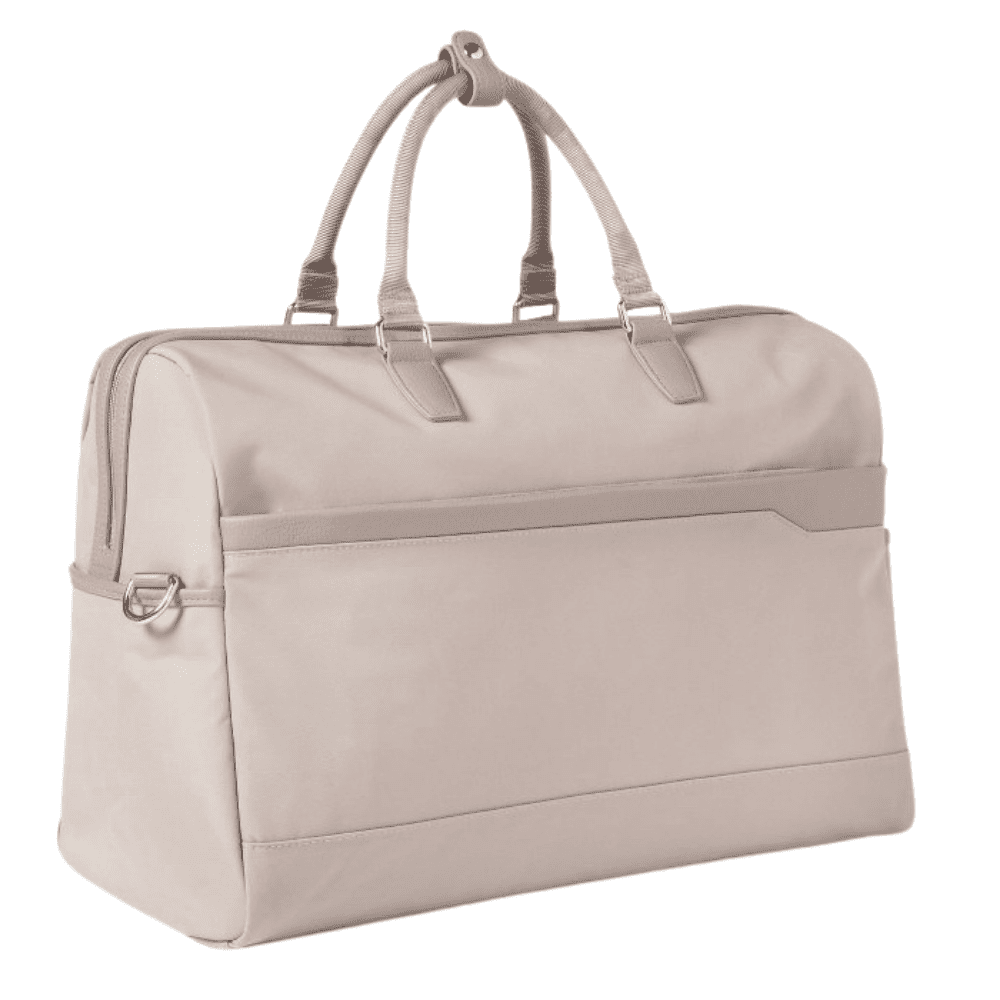 The Open Story Weekender Bag is an affordable and fashionable duffel perfect for short trips or weekend getaways. It features a durable, water-repellent nylon exterior and a spacious internal capacity. The padded laptop sleeve protects up to a 15″ laptop, making it ideal for business or pleasure travelers. The Open Story Weekender Bag also comes with top handles and a detachable shoulder strap for easy carrying. Plus, it has a five-year limited warranty, so you can rest assured that it's built to last. So go ahead and pack your bag!
The Realer Canvas Weekender Bag makes for a stylish carry-on bag for women with several color options. This 3-in-1 travel bag set features a beautiful and classy design, along with a built-in shoe pouch and separate toiletry bag. It's perfect for carrying everything you need for a weekend getaway, with plenty of room to spare. Plus, it fits in the overhead compartment or under the seat as carry-on luggage, so you can travel with ease.

When it comes to travel, there are a few essential items that every woman needs in her arsenal. A good pair of walking shoes, a stylish but practical coat, and, of course, a reliable carry-on bag. With so many options on the market, it can be tough to know where to start when choosing the best carry-on bag for women, for your needs, and we hope we helped narrow your options! Now, plan that trip! Happy travels!
Read More:
Travel Essentials for Women: Everything you need for a relaxing, amazing, and organized vacation HERE!
Best Backpacks for Moms: We found the most highly-rated backpacks with mom (and dad) in mind, check out the best backpacks for mom HERE!
Travel Backpacks For Toddlers: Does your tiny traveler need their own little backpack for the airplane or a road trip packed with all their fun travel toys and items? We have the nine best to make them feel happy and independent HERE!