No parent likes dealing with potty time on the go, but unfortunately, there are times when it can't be avoided. Whether you're heading out for a day trip, a vacation, a road trip, or taking your toddler camping, being able to have a toddler travel potty handy can help alleviate the stress and make sure your little one always has access to an appropriate bathroom option. These are the top picks for moms and dads in search of on-the-go convenience. So get ready — let's find you the best portable potty for toddlers!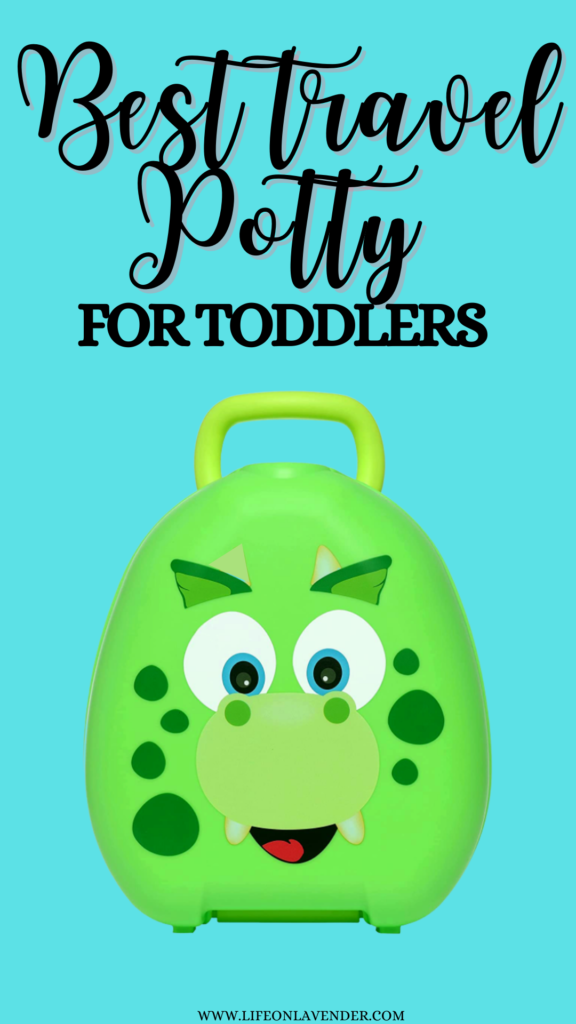 Best Travel Potty for Toddler
What to look for in portable potty seats for toddlers:
The best portable potty for toddlers should be lightweight and small enough (but big enough for your toddler to sit) so it can go with you anywhere. Look for one that has a splash guard that will keep spills contained.
Look for features such as detachable tanks, the ability to use disposable baggies, adjustable heights, and anti-slip surfaces.
The best travel potty for toddlers should have adjustable handles so that it grows with your child; an easy-to-clean design; and, finally, one with a secure lid that prevents spills and leaks.
Additionally, make sure to purchase a toddler travel potty that can be easily transported and stored.
With these features in place, you and your toddler can travel worry-free knowing that any accidents will be taken care of.
>> Shop My Carry Potty <<
If you're looking for the best portable potty for toddlers, My Carry Potty is your best choice. This award-winning toddler travel potty provides your child with consistent potty training they can take with them anywhere they go.
Whether it's to run errands, go on a road trip, or vacation your toddler will have the comfort of their own toilet seat. Plus, this portable toddler potty has cute characters to choose from and handles making it an appealing and fun item to use on the go!
In addition to being amazingly portable, the interactive potty is also hygienic and easier on the environment as it is bag-free (you can choose to use bags if needed) and has a leak-proof seal so there will never be any mess.
Perfect for both boys and girls of all ages, My Carry Potty is here to provide you and your toddler with convenience and hygiene all in one product.
The Carry Potty has fun, bright kid colors
Secure locking mechanism
Non-slip feet
Leak-proof seal
Extra-tall leak guard
Large comfy seat
Toddler Travel Essentials: Traveling with toddlers is probably the hardest age group. They are active, loud, and super busybodies. These are travel essentials for a smooth journey with your toddler HERE!
>> Shop Oxo Tot 2 in 1 Go Potty >>
OXO Tot's 2-IN-1 Go Potty is the best travel potty seat for toddlers that offers maximum convenience with its dual design. Special features like the specially sized seat, splash shield, and smooth surfaces make cleanup of accidents faster and easier—plus it fits neatly in the included travel bag after folding up its legs.
The disposable bags with absorbent pads also means you can take this travel potty anywhere, even if there's no toilet nearby. Comfort, convenience, and keep-it-clean properties all play a part in making this an attractive potty seat choice for traveling parents with toddlers.
Toys for Traveling With Toddlers: We know how to keep a baby and toddler busy, happy, and quiet on an airplane or road trip. You can find the best travel toys for toddlers HERE!
Portable Potty Seats for Toddlers
Shop Spark Moments Portable Travel Potty >>
Portable potty seats for toddlers make traveling so much easier, and Spark Moments Portable Travel Potty weighs 1.8 lbs, and its folding design is convenient to carry.
Spark Moment's innovative design is versatile enough to use on road trips, running errands, camping, outdoors, or at home while potty training your little ones.
With no need to worry about finding a public restroom, you can have peace of mind knowing that this toddler travel potty will solve all your urgent needs. What's more, it is incredibly easy to clean since it just requires a replaceable disposable garbage bag; this further ensures a healthy and hygienic environment for your family's safety.
Installation of the travel potty for toddlers is also hassle-free; you simply twist left the training seat to fix it and twist right the portable toilet to store it!
The Best Toddler Potty Books: Get your toddler motivated and potty trained with these charming books about using the potty HERE!
Shop MCGMITT Toddler Travel Potty >>
MCGMITT's Portable Toddler Potty Seat is an excellent helper to assist in your toddler's toilet training, especially while traveling and on the go. This portable toddler potty includes rubber foot pads and is held securely in place with a locking groove.
Its portable design (comes in pink, green, and blue) makes it convenient to use at home and on the go, plus it comes with twenty disposable drawstring bags and a handy carry case for mess-free use. The toddler travel potty also features a splash guard design that helps prevent urine from spilling out regardless of whether a boy or girl is using it.
Travel Backpacks For Toddlers: Does your tiny traveler need their own little backpack for the airplane or a road trip packed with all their fun travel toys and items? We have the nine best to make them feel happy and independent HERE!
Shop Fisher-Price 2-in-1 Travel Potty >>
If your toddler is working on their potty skills, and you're on the go a lot, the best travel potty is the Fisher-Price 2-in-1 Travel Potty.
With versatile folding legs that make it easy to set up anywhere, it's ideal for spontaneous emergencies on the playground, or in need of a travel potty for car for road trips or airplane rides.
This toddler travel potty comes complete with a removable folding potty ring and disposable plastic bags for tidy disposal, plus a machine washable bag so it's ready to be taken anywhere.
It helps toddlers transition from using a stand-alone potty to graduating to grown-up toilets. Parents like this one best because of its convenience and portability; no need to miss those potty time moments away from home ever again!
Toddler Travel Potty
Shop Poppy Potty Foldable Travel Potty >>
Now, toddler travel is easier than ever with Poppy Potty's Foldable Toilet. Traveling with a toddler can be incredibly challenging, but this toddler travel potty eliminates difficult and emergency trips to the restroom and toilet training solutions that are both secure and comfortable for your child.
This is the best portable potty for toddlers on the go. It is extra sturdy and durable – holding up to 118 lbs! And since it weighs less than 2 pounds, you can store it away in the included cute drawstring backpack without having any added stress or weight to your luggage.
Crafted using BPA-Free, Phthalate Free & PVC-Free materials, you can trust that your toddler is safe in the hands of this travel potty. Plus, it comes with 20 Nature Kind Potty Liners but can be used with most liners. Don't miss out on your chance to make toddler travel easy – get a Poppy Potty Foldable Toilet for Toddlers.
Best Travel Bed For Toddlers: Make sure your toddler has a cozy, comfy night's sleep while away from home with these best travel beds for toddlers HERE!
Shop Jool Baby Folding Travel Potty Seat >>
The Jool Baby Folding Travel Potty Seat for Toddlers is the lightest, best portable potty for toddlers available. It's been best-selling due to its supreme performance, as it fits securely on most standard and public toilets.
With a stylish pink or blue color, it is no surprise that this unique product also recently won the Drug Store News/ECRM 1st Place 2019 Buyer's Choice Award. Not to mention, its super lightweight design makes it very easy to take around with you as it comes with a travel bag – making it even more convenient!
To ensure maximum security and comfort while your child learns how to use the bathroom, 8 powerful suction cups keep the potty seat well in place; so kids can gain confidence from the start. Above all, this well-designed product is also made of BPA-free materials, keeping your little ones safe for any journey.
Shop Magtimes Toddler Potty Seat >>
Potty training is often a tough, but necessary task for parents. Luckily, the toddler travel potty seat from Magtimes makes the process easier, affordable, and safer. Featuring a no-gap design, this portable toilet seat prevents uncomfortable pinches to your little one's bottom and helps them confidently use standard toilets at home or away-from-home bathroom needs.
Made with safe material, the Magtimes Potty Seat also allows your toddler to avoid having direct contact with public toilets. Plus, with its ideal size, it ensures your kids don't fall through and are ready for any potty training situation you're presented with. Make traveling with young children more convenient with a toddler travel potty!
Airplane Bed for Toddler: Heading out on a long flight and your toddler or baby needs rest and a place to color, play games, and snack? These are airplane beds for your baby and toddler for a wonderful flight HERE.
This post may contain affiliate links. I may receive a small commission if a qualified link is used at no cost or obligation to you ever. Additionally, I am an Amazon Affiliate Partner. I may receive a commission if a qualifying link is used.