I am constantly trying to keep my busy, active, and mischievous toddler occupied and entertained. Finding the right toys to keep her engaged and learning simultaneously can be challenging. These are our picks for the best toys for toddler girls in 2023!
Please note: All of these toys are great for ALL toddlers, not just girls. I happen to have a toddler girl, and these are the toys we recommend.
Gifts For Toddler Girls-1 & 2-Year-Olds
If you're looking for gift ideas for a toddler girl in your life, you've come to the right place! We've put together a list of our top picks for gifts that any 1- or 2-year-old girl is sure to love. There's something on this list for every little lady. Whether you are shopping for a birthday, Christmas, Easter, or just because, we hope you find the perfect present for the special toddler girl in your life!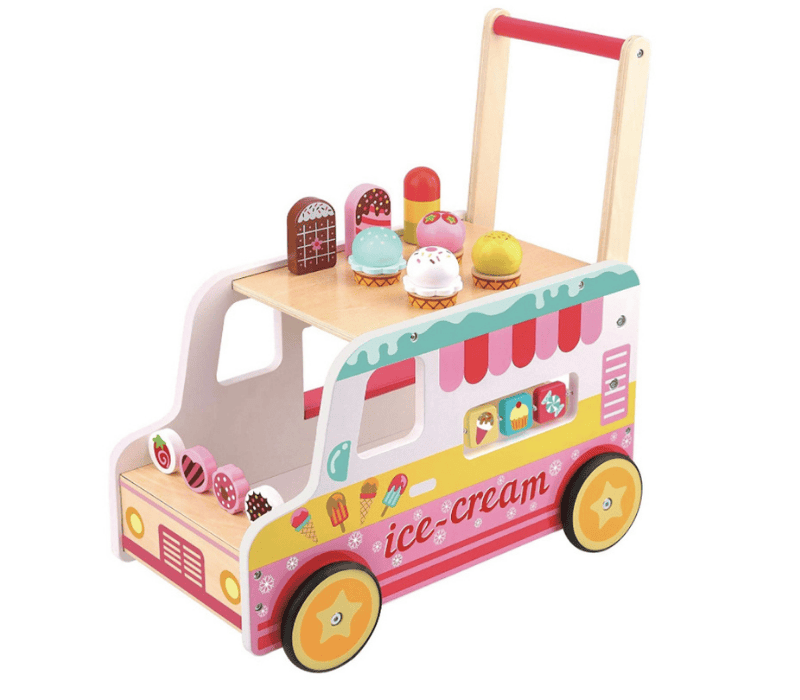 Fat Brain Toys Scoop 'n Scoot Ice Cream Walker
Fat Brain Toys Scoop 'n Scoot Ice Cream Walker is the perfect gift for a 1-year-old toddler girl!! This active play toy allows babies to walk and scoot around while playing. They can scoop up fake ice cream with the scooper, then push it along with their feet. It's an excellent way for them to get some exercise while having fun!
Toddler Toy Tip: Fat Brain Toys specializes in educational and learning toys and has some of the best gifts you can buy. You can find green toys, and personalized and unique toys, and use their Giftbot to help you choose the perfect toy to be delivered!
HUMBLE-BEE Toddler Balance Bike is perfect for helping toddlers learn balance and coordination. Balance bikes designed for ages 10-36 months make the perfect gift for any toddler girl. With a sturdy frame and safe construction, your little one will enjoy learning to ride on this bike.
Manhattan Toys Tree Top Adventure Activity Center
The Tree Top Adventure Activity Center by Manhattan Toy has many activities to keep your little one busy and happy. This activity center is a hands-on learning adventure that is a fun and unique gift for a toddler!
With so many features packed into this wooden activity center, it will provide hours of fun and development. There are bead runs, shape sorters, spinning dials, springy flaps, and more! Your child will be entertained and work on their gross-motor skills as they learn about shapes and colors.
Best Birthday Gifts Toddler Girls-1 & 2-Year-olds
Fisher-Price Laugh and Learn Tea Set | Laugh and Learn Purse
When we head to a birthday party for a toddler, we always buy the Fisher-Price Tea Set or the Toddler Purse. It's a fantastic, affordable gift option played with for hours.
Fisher-Price Laugh & Learn Sweet Manners Tea Set.

This set includes a teapot, two cups, and a sugar bowl with a removable lid. It also features six fun songs and phrases that teach manners such as "please" and "thank you."
Fisher-Price Laugh & Learn My Smart Purse is the perfect toddler girl gift that is both entertaining and educational. This purse features a surprising number of activities for your little one to enjoy, including singing, counting, and vocabulary games.
Meet Scout and Violet, the new generation of LeapFrog's Learning Friends. These two adorable characters will introduce more than 100 age-appropriate words to your toddler. Touching the words on the pages plays fun facts, sound effects, and songs about each word; hear the Learning Friends theme song when you press the light-up star button! Learning experts choose the words so you know they're just right for your little one.
Fisher-Price Laugh & Learn Piggy Bank
The Fisher Price Piggy Bank features over forty tunes, noises, and instructive phrases suitable for little ones aged 6-36 months. Two Smart Stages levels impart knowledge on numbers, counting, colors, and Spanish vocabulary. Insert the coins into the piggy's rear or tap its snout for entertaining melodies and remarks. Comes with ten vibrant coins, each showcasing numbers or creatures, perfect for interactive play.
CoComelon Official Musical Bedtime JJ Doll
Who doesn't love CoComelon? I know parents love hearing those songs! This plush is a great gift for a toddler girl that absolutely can't get enough of JJ from Cocomelon—introducing the CoComelon Official Musical Bedtime JJ Doll! This soft, plush body is inspired by JJ, a popular character from the educational YouTube series, CoComelon. The doll features highly-detailed stitching and seven sounds and phrases, including a clip of the popular CoComelon Nursery Rhyme – "YesYes Bedtime!" The soft plush is perfect for squeezing and cuddling.
Bouncy Pals Unicorn Bouncy Horses
Dive into a whimsical playtime adventure with Bouncy Pals Unicorn Bouncy Horses. Ranked among the best toddler girl toys on Amazon, this colorful unicorn offers endless bouncing fun. Crafted with care, its vibrant design captivates young imaginations, merging active play with fantasy. A perfect gift for toddler girls to spark joy and encourage physical activity in growing tots.
This cuddly toy dog complete with its bed is irresistibly adorable and ideal for imaginative play. It stands out as the perfect gift for dog-loving toddlers. The plush texture of this puppy toy is designed for cozy cuddles and a carry case to take the pup everywhere your toddler goes. Beyond its charm, it inspires kids to simulate feeding, training, and playing, amplifying their imaginative journey.
Little People Elsa's Ice Palace
If your little Frozen fan has been asking for their very own Ice Palace, they're in luck! The Little People Disney Frozen Elsa's Ice Palace with Lights & Sounds is sure to please. This magical playset comes complete with an Elsa figure, Olaf the snowman, and lots of fun accessories. Watch as Elsa lights up the palace with a flip of her switch and hear Olaf say some of his signature phrases. There's also a working elevator, a throne room, and more!
Toddler Gift Tip: We love Little People Toys for a toddler's birthday, Easter, Christmas, or anytime gift. Little People toys are well-made and have been around for years.
Best Toys for Toddler Girl 2023–Pretend Play
This is one of our favorite toys. My toddler plays with this cute working sink for the longest time. This toy can easily be played with the outside, in a bathtub, or open a shower, or we put a towel on the floor, and she plays away (see video below)
.
Real Working Sink by CuteStone
CUTE STONE Pretend Play Kitchen Sink has REAL running water that circulates for continuous play. This kitchen toy set includes a kitchen sink, a working faucet, a dish rack, plastic cups, plastic plates, accessories, and plastic food for hours of fun. This is one of the best toddler girl toys of 2022 (and boys), and we love ours.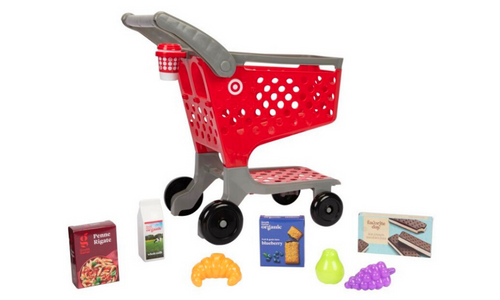 How cute is this toy Target shopping cart, complete with Good & Gather grocery items? This pretend play cart is one of Target's top toys of the 2023 holiday season and they are flying off the shelves. The toy shopping cart is perfect for an 18″ inch doll, comes with eighteen accessories, and has a cup holder for a portable coffee cup with a sleeve & lid.
Popcorn Popping Fun at The Fair | Candy Carnival Set
How cute are these new sets from Melissa and Doug? Your toddler will love popping and serving up some popcorn from the fair with this adorable wooden popcorn-popping set. This set comes with a fun pretend-play popcorn machine, a kettle, a butter pump, and jumbo popcorn pieces.
Your toddler can serve up some fair treats like cotton candy and caramel apples with this Fun at the Fair Candy Carnival Set!
Snow-Cone and Slushie Play Food Set
Your toddler can serve up some tasty slushies and snow cones to thirsty fairgoers! Press a button to drop Water Wow!® color-changing ice balls into cones, then squeeze the water on them to create "flavors." press the lever to create colored strings for pretend slushie drinks!
Melissa & Doug Super Smile Dentist Kit
This 25-piece dentist play set from Melissa & Doug comes with everything you need to give cleanings, treat cavities, and fit retainers and braces on an oversized set of pretend teeth. The set includes a set of pretend teeth, a dry-erase marker, examination tools, a toothbrush, toothpaste tube, dental rinse bottle and cup, 2 gauze pads, 3 tooth polish cups, top and bottom retainers and braces, a mask, and a reusable ID tag on a lanyard.
Live Pets Mama Guinea Pig and Babies!
Nurture your Live Pets Mama Guinea Pig with love, and she will light up with happiness! When her heart is full, she will magically reveal her babies. There are 20+ sounds and reactions to playing with your mama and babies. Style each baby with its own surprise accessories. This is one of the most sought gifts for girls in 2023!
KidKraft Princess Cinderella Royal Dream Dollhouse
The Disney Cinderella Royal Dream Dollhouse by KidKraft is fit for any princess. This beautiful dollhouse includes 11 pieces of royal furniture, a glass slipper, and a gold-hanging chandelier. Your child will love reliving her favorite fairytale with this amazing toy!
Step2 Adventure Camper Playhouse
This Step2 Adventure Camper Playhouse is the perfect toddler girl toy who loves pretending to camp outdoors. With a unique open-concept design, this playhouse allows for interaction at every turn. The inside or outside playhouse encourages imaginative play, creativity, role-playing and more. The camper van has realistic features like a stovetop with electronic lights and sounds, a working doorbell, a molded-in kitchen with a sink and faucet, a countertop, and a grill.
KidKraft Let's Pretend Pop-Up Pet Vet.
This is the 2022 hot toy of the year. Your toddler can take care of their pets in this adorable pretend-to-play pet vet. This toy is a great space saver, it pops up to play, and when finished, this toy folds down for easy storage!
This Kids Play Food Grill with Pretend Smoke Sound Light Kitchen Playset is perfect for your aspiring chef! With realistic lights, sound, and smoke, this pretend BBQ set provides hours of imaginative fun. The included toy food is perfect for grilling, and the clamp helps to develop fine motor skills. So fire up the grill and get cooking!
Melissa and Doug Grocery Store. I bought this as a Santa gift for my toddler, and like the wooden playhouse, I did a little makeover. I painted all the green and brown parts pink and left the white. It turned out so cute and matched her playhouse. You can see it here.
The cash register works along with the credit card machine. We have played countless hours with this pretend-to-play grocery store. Additionally, this wooden toy is well made. We recommend this durable play food for extra toddler fun.
KidKraft Ultimate Corner Wooden Play Kitchen is the ultimate play kitchen for kids who love to cook! This smart, sturdy wooden kitchen features a unique corner design and comes with everything your little chef needs to create culinary masterpieces.
The oven, microwave, refrigerator, and freezer all open and close; the washer door opens, and there's a cordless phone with a hands-free clip. A removable sink makes cleanup easy. The stovetop has realistic lights and sounds.
If you are looking for a Montessori toy to help teach your toddler fine motor skills, look no further than a busy board. This toy is perfect for toddlers who are just starting to learn how to control their hands and fingers. A busy board includes many activities that will help your child develop dexterity and hand-eye coordination. You can even find one to keep your toddler occupied while traveling!
Tips and Tricks to Keep Your Toddler Busy on a Plane!
Best Indoor Toys for Active Toddlers
Looking for a fun and safe place for your little toddler to play? These are the perfect gifts for toddler girls 1 &2- the MEOWBABY Foam Ball Pit! Features brightly-colored balls (with different color options) that are soft enough to avoid injuries if they happen to fall. Plus, the pit is easy to assemble and can be quickly cleaned up when it's time to pack up.
Radio Flyer Play and Fold Away Princess Castle
If you're looking for a sturdy, fun, and affordable gift for an active toddler, the Radio Flyer Play & Fold Away Princess Castle is a great option. This castle-themed climber is perfect for indoor and outdoor use, and it can be assembled or taken down in just minutes.
My First Flybar Foam Pogo Jumper
This pogo jumper is a fun and safe pogo stick for toddlers. The foam design makes it durable and kid-friendly, while the squeaking sound adds to the fun! Great for indoor or outdoor use, this pogo stick for kids will keep your little ones active and entertained.
The Bumper Buddy Ride On Electric Car
Bumper Buddy Is the ultimate indoor bumper car for toddlers! This toddler ride-on toy is designed to give little ones an electric ride they'll love while protecting their toys, walls, and furnishings from damage. This new version has all the features parents want in a children's toy – even a remote for parents to control!
The Best Toddler Girl Gifts
Present Pets interactive, unboxing glitter pet. My daughter received this for her birthday, and I must say, it is one of the cutest gifts she has ever gotten. Click for the video below…
The puppy self-unboxes and paws its own way out of the box (this was such a fun surprise)
Once Cocoa or Casey the glitter pet has arrived it has over 100 sounds and actions. Your puppy has expressive eyes, soft fur, and a playful personality.
The glittery puppy will respond to your voice, give kisses, and shuffles her paws when she is excited.
A great toddler girl gift or for an older birthday girl. This puppy is not just a toy, it's an experience.
Personalized Toddler Gifts for Girls
Personalized Books For Toddler Girls
If you're looking for a gift that will be cherished for years to come, consider a personalized book. These special books are made just for your little one, with their name and photo on the cover. Inside, they'll find charming illustrations and sweet stories tailored just for them. It's a gift that celebrates their individuality and shows how much you care. Best of all, it's something they can enjoy again and again as they grow up.
If you're looking for personalized and unique gifts, look no further than Gloveleya! These beautiful dolls are made from soft plush fabric and can be customized to look like the child and embroidered with the child's name for a special touch!
Best Toys For Toddler Girl Ages 3-4
Toddler girls at this age are so much fun to shop for! They're at that age where they're starting to explore their interests and develop their own sense of style. Whether she's into fashion, music, or sports, there are tons of great gift options out there for 3- and 4-year-old girls. Here are a few of our favorites.
Kids Market Cart | Cottage Dollhouse | Coffee Barista
The Hearth & Hand™ with Magnolia Toys is all the rage right now. A new line of beautifully stylish toys from the makers of Chip and Joanna Gaines' popular home décor line.
This exclusive collection features classic wooden toys with a modern flair, perfect for adding a touch of country charm to your child's playroom or nursery.
Cupcake Set | Ice Cream Kit | Lemonade Set | Farmhouse Kitchen
From rocking horses to building blocks, there's something for every little one in this line of exclusive toys. These sell out fast, if you see one you love, snag it up fast!
Roller Derby EZRoll Adjustable Hello Kitty Skates
These skates were a fun find. I was surprised how well my toddler could skate and hold her balance with these cute skates.
These toddler skates are the perfect way for your little one to start skating. This sturdy and strong pair of skates is an excellent introduction to roller skating, with a low center of gravity that will help your child learn to balance and control. The adjustable sizing means you can use these skates for years as your young lady grows!
CoolSand- Indoor Moldable Sand. My toddler plays for hours with this indoor sand. I highly recommend CoolSand as the leading indoor play sand. It has no smell, is non-toxic, comes in several colors, and is easy to clean up.
We make different sensory bins, and I rotate the toys in the container so it stays interesting for her. The best part, it's a surprisingly therapeutic activity for your toddler and yourself.
CoolSand is:
This sand is moldable, you can shape it, and slice it any way you like real beach sand. CoolSand does not dry out and is easily cleaned up.
CoolSand only sticks to itself not carpet, furniture, or clothes. It's 100% non-toxic
Stimulates creative and sensory skills. This is an educational and sensory toy kit.
Stored easily in the provided sandbox tray or in a container.
CoolSand is relaxing and calming for toddlers, kids, and adults. I personally love playing with CoolSand, it's very therapeutic.
Great toddler girl gift,

for boys,

and older kids
Bigjigs Rail Fairy Figure Eight Wooden Train Set
Looking for a toddler girl gift for three and 4-year-olds that's both stylish and unique? Check out the Bigjigs Rail Fairy Figure of Eight Wooden Train Set. This 35-piece set includes a pink engine, pretty fairy carriages, and many wooden tracks to create a figure-of-eight layout. Perfect for little ones who love all things pretty and magical!
This kid's play tent for girls is the perfect gift for your little princess. This indoor playhouse will provide hours of excitement and imaginative play. The large fairy playhouse is made of high-quality materials and is easy to assemble.
What could be more fun than whizzing around on your very own scooter? Radio Flyer's My 1st Scooter is the perfect way for toddlers to get introduced to the world of two-wheeled riding. With its durable construction, easy-to-use design, and cute red or pink color, this scooter is sure to become a favorite with your little one.
Silly boys, dinosaurs are for girls! Dinosaurs are a classic toy for kids of all ages, and this dinosaur playset is the perfect way to get your little ones started on their collection. The set includes toddler-sized dinosaur figures, as well as a play mat with several dino-themed accessories. Your kids will love playing with these toy dinosaurs!
Kids love these LCD Writing Tablets (adults do, too!) It's perfect for drawing, painting, or writing down their thoughts and ideas. Plus, it's erasable with just one click – so they can keep using it over and over again.
ROBUD Wooden Ice Cream Cart is perfect if you're looking for a fun gift for a child! These adorable little trucks are the ideal addition to any toddler's pretend play food collection. They are well-made and sure to provide hours of fun! They promote language and encourage imaginative play in your toddler.
Melissa & Doug Scoop and Stack Ice Cream Cone Set
Do you have a little one who loves all things sweet? Then they'll surely adore the Melissa & Doug Scoop and Stack Ice Cream Cone Magnetic Pretend Play Set! This is one of our favorite toys, and it is a great gift for under $25! This set includes four wooden ice cream scoops, two cones, and scoops – everything your kiddo needs to serve up some delicious pretend desserts. Plus, the magnetic scoops make it easy for little hands to scoop and stack.
Melissa & Doug Wooden Scoop and Serve Ice Cream Counter
We love anything Melissa and Doug, they make really well-made, long-lasting toys for your child. Melissa & Doug Wooden Scoop and Serve Ice Cream Counter is the perfect pretend-to-play toy for your child. This 28-piece wooden ice cream station includes a scooper that fits into a hole on top of the scoops to lift, stack, and release the scoops. Children can use this scooping toy to scoop up pretend ice cream and then add toppings before serving it up!
Cool Toys For Toddler Girl
Are you looking for an electric vehicle for your child that is both fun and safe? Then check out the Costzon Kids ATV! This 12V battery-powered ATV comes with LED lights, high & low speed, horn, music, USB, and treaded tires. Perfect for kids ages 3-8. With a maximum speed of 5 mph, your child will enjoy hours of fun while riding around in style.
Ride-On Toys Tip: A 6-volt ride-on toy is more suitable for kids under three. There are many options for younger toddlers. There are even 6 volts with parent-controlled remotes so you can control the direction of the ride-on. A 12-volt ride-on vehicle for toddlers aged three and up is a bit faster and larger. 12-volts usually allow some growth and speed, so your toddler doesn't get bored.
Capture your child's unforgettable moments with our Vakzovy Kids Smart Watch! This smartwatch is equipped with two cameras, allowing children to take photos and record their joyful experiences.
The

Vakzovy Kids Smart Watch

comes with 16 rich functions, including a camera, MP3 player, video player, pedometer, recording, games, alarm clock, clock, stopwatch, calendar, countdown, clock answers, photo album, flashlight and drink water reminder.
Fun & educational games. With 9 different game modes to choose from, your kids will be entertained for hours on end! These games help improve hand-eye coordination, logical thinking skills, and more.
Remember when you were a kid, and you would run around the neighborhood with your friends, playing tag or hide-and-seek? Those were the days. Well, now you can relive those childhood memories with your own kids – with walkie-talkies!
This fun gadget will allow your children to communicate with each other (or you) from anywhere in the house. Plus, it's a great way to get them off of their screens and into some good old-fashioned playtime.
Toddler Girl Gifts 4-Year-Old
MOREXIMI Kids Camera

is a digital camera for kids that looks like a real SLR camera! It has an easy rotate zooming function and one-key AF autofocus functions to help your little ones take lovely photos all by themselves. Your child can press the shutter button to capture their favorite moment or create fun photo effects with special effects modes such as portrait, landscape, night scene, and beach mode

The

Seckton Kids Selfie Camera

is perfect for boys and girls aged 3 to 10, and they will love taking photos with it. This kid-friendly camera has a clear 1080P video recording, 8.0 Megapixels, and auto-focus, so you can be sure that your child will capture all of their special moments with this camera!
Gifts For Toddlers Who Have Everything
Indoor Toddler & Child Indoor Gym Playground Climber
Looking for a unique indoor playground for your kids? Look no further than the Indoor Toddler & Child Gym Playground Climber Real Wooden Playset 6-in-1! This incredible playset features six different play areas, including a climbing wall, slide, rope ladder, and more. Your kids will love exploring all the different ways to play on this gym set. And you'll love knowing that they're getting a great workout while they're having so much fun!
1-Year-Old Climbing Toys: The best toddler climbing toys for your little one. Get some energy out indoors! Read HERE!
If you're looking for an interactive and educational way to keep your little ones entertained, check out the Osmo – Little Genius Starter Kit. This innovative learning system has four games that help children develop essential skills like pre-reading, creative thinking, problem-solving, and hand-eye coordination. Plus, it's compatible with all versions of the iPad or Fire Tablet (sold separately), so your little ones can enjoy hours of fun and learning no matter where they are.
MAGIC IS REAL – Osmo Little Genius Starter Kit includes fun preschool learning toys that will transform how your child learns. The four educational games in the kit will help your child recognize letters and learn phonics (ABCs), develop pre-drawing skills (Squiggle Magic), identify social-emotional cues, experiment with clothes and colors (Costume Party), and develop problem-solving skills (Stories).
EDUCATIONAL – The award-winning, highly-reviewed Osmo system has been prove'.lmhbhhn to improve letter recognition, fine motor skills, verbal proficiency, empathy, and spatial reasoning. reading, spelling, math & motor skills. It's also great for developing creativity and imagination!
If you want a "toy" that will last a few years and an endless amount of time spent playing, get a wooden playhouse. We did a wooden playhouse makeover, and custom-painted it.
Though these playhouses are made to be outdoor toys, ours fit perfectly in our small playroom. We decorate the wooden playhouse for each holiday, and my toddler never gets bored with it.
Please Pin "Best Toys for Toddler Girls in 2023" Below!

Best Christmas Books For Toddlers. The most magical Christmas books for your toddlers for years of tradition HERE.
Wooden Playhouse Makeover: We did a little playhouse makeover for our playroom and it is dreamy. It fits perfectly and provides hours of play HERE.
Toddler Travel Toys: We travel tons and I have traveled with a total of five toddlers in a lifetime. These are the best "keep busy" travel toys HERE!

The best toddler girl toys of 2023 are the ones that encourage creativity and self-expression. These are toys we love, recommend, and have kept my busy toddler entertained.
Are there any toddler toys you absolutely love we could add to the list? We would love to hear from you and your happy toddler! Be sure to follow our tiny adventures on Instagram!
This post may contain affiliate links. I am an Amazon Affiliate partner. If a qualifying link is used, I may receive a small commission at no obligation or cost to you, ever.