I have a mission: To teach my kids the basics of cooking before they leave the house. My wish is for them to become better cooks than me or even slightly. Which my friends, I promise, is easy to do. We are sharing the best cookbooks for kids in 2023.
Let's get in the kitchen!
My five-year-old, Harper, absolutely loves to help in the kitchen with fun recipes and make a mess 🙂 At nine years old, my son is a mini kid chef that loves to cook and has already perfected fried eggs on his own.
We buy a new cookbook for kids every once in a while to keep them interested and engaged.
Cooking with your kids can be a fantastic bonding experience. I believe it's one of the best memories you can create with your kids.
Your kitchen is the heart of your home. Why not make some fun, memorable memories with your kids?
Forget about the mess. You can clean that up, and you cannot get back these precious years with your kids; it goes fast.
I still remember cooking with my mom, grandma, and dad, making horrible-tasting pizzas, lol. There is something about the kitchen and having happy memories. Food brings everyone together, and creating something together is magical.
Children most definitely benefit from cooking at a young age. They will always remember cooking and baking with you.
Children will remember creating, making a mess, learning, and being with you in those special moments.
As a child, my mom took me to the library, and I picked out a fun kids cookbook, The Step-by-Step Kids First Cookbook. My mom and I made this awesome baked bear with raisin eyes.
I made the dough from scratch and baked it up, and I was so proud of myself. It is one of my fondest memories with my mom. I, to this day, remember that cookbook, that day, doing all the measuring and baking.
The best part? You all get to enjoy a meal or baked treat together!
Covid has taken over the world, forcing me (unwillingly, lol) into the kitchen, we have been getting creative as a family. We ordered some new kids baking cookbooks and cooking for beginners cookbooks.
I allow my kids to pick what kid-friendly recipe they want to try and we shop for the ingredients.
Disney Cookbooks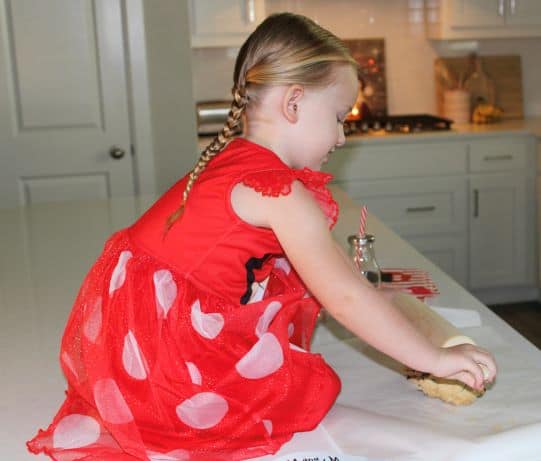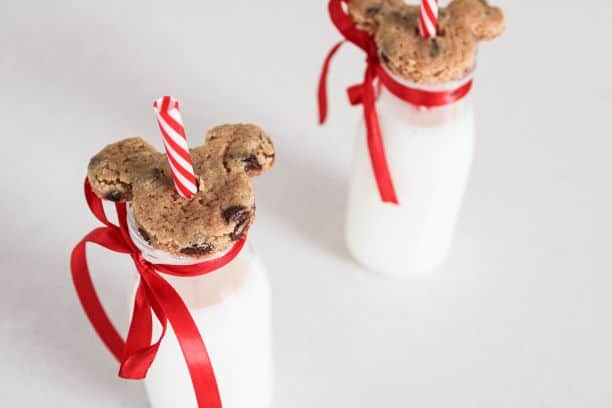 The first cookbook for kids we ordered was to celebrate Disney at home. This Disney Cookbook is packed full of easy, doable recipes. We each picked an easy recipe, ordered the ingredients, and picked a Disney movie to watch while enjoying our treats.
Disney Eats is packed with more than 150 recipes for everyday cooking and inspired fun. Author Joy Howard shows that the creative recipe possibilities are endless. Dishes like a Minnie Mouse-inspired crudité platter and savory dinners such as Mulan's Blossom Stir-Fry are on the menu.
Recipes include easy-prep treats like Frozen Banana Dalmatian Pops and Disney-character-themed bento box lunches. With these delightful Disney cookbooks for kids, you can bring the magic of Disney into your home kitchen.
Shop Official Disney Parks Cookbook
Disney fans, get ready to add some magic to your meals with The Official Disney Parks Cookbook! With 101 recipes straight from the delicious Disney vault, this cookbook for kids offers something for everyone.
There are recipes for the kids to try out like appetizers to desserts, and even some recipes for the adults to dabble in like joyful libations. Each recipe has been carefully crafted from fine-dining and quick-service establishments across the Disneyland Resort, Walt Disney World Resort, Disney Cruise Line ships, and Disney Vacation Club resorts.
So whether you're in the mood for a Dagobah Slug Slinger or some Mickey Mouse Beignets, this cookbook has a recipe to love. Who knows, you may even discover the secret of the Grey Stuff!
Best Bag for Disney: Heading to the happiest place on earth? We have the best bags for Disney for an organized, packed day at Disney HERE!
Shop The Unofficial Disney Parks Cookbook
Indulging in your favorite treats from Disneyland and Walt Disney World has never been easier. Thanks to the Unofficial Disney Parks Cookbook, you can transform your kitchen into the happiest place on earth.
Whether you're craving the tangy sweetness of the iconic Dole Whip or the warm softness of a Mickey Pretzel, this collection of cookbooks for kids and adults will have some tasty treats.
But don't stop there – take your taste buds on an adventure with newer favorites like the blue milk from Star Wars land or Jack Jack's Cookie Num Nums from Pixar Pier.
With so many magical recipes to choose from, you'll feel like you're experiencing the Disney Parks right in the comfort of your own home while your little ones make some memories. It's no wonder why this Wall Street Journal and USA TODAY bestseller has everyone talking.
Disney Princess Cookbooks
Shop Disney Princess Baking Cookbook
If you've ever wanted to channel your inner Disney princess in the kitchen, this cookbook is the perfect way to do it. With over 40+ delicious recipes inspired by your favorite princesses, this book will transport you to a magical world of baking.
From Elsa's icy blue sugar cookies to Cinderella's pumpkin spice cupcakes, there's a recipe for every taste and occasion. The gorgeous full-color photography will have your mouth watering and your creative juices flowing. So gather your friends and family, put on your favorite princess dress, and get ready to bake up a storm with this enchanting Disney Princess cookbook.
Disney Princess: Healthy Treats Cookbook
From Snow White's apple skewers to Mulan's magic wands, the Disney Princess: Healthy Treats Cookbook is sure to be a hit with young aspiring chefs. With over 50+ recipes featuring fun twists on classic treats, kids will love learning about healthy eating while creating magical snacks inspired by their favorite princesses.
This healthy cookbook for kids provides a fun and educational way to engage kids in the kitchen, while also encouraging them to make healthier meal choices. Plus, with tips for kitchen safety and nutrition facts sprinkled throughout, parents can feel confident that their little ones are learning valuable skills for a lifetime.
Are you ready to don your chef's hat and apron like Tiana? With this exciting cookbook for kids, young aspiring cooks can get in on the fun too! Cooking is a skill that Tiana learned from her pops at a young age, and now you can too!
These fifty easy and delectable recipes are inspired by Tiana's New Orleans restaurant, guaranteed to tantalize your taste buds.
From savory Chicken and Sausage Gumbo to sweet Tiana-Style Beignets, each dish is accompanied by step-by-step instructions and mouth-watering photos. So, grab your ingredients and get ready to cook up a storm just like Tiana!
Kids First Cookbooks
Cooking can be a fun and exciting activity for kids to explore, and there's no better way to get them started than with a great cookbook catered specifically to their age and skill level.
The world of kids' first cookbooks is vast and diverse, with options ranging from simple recipes for beginners to more complex dishes that will challenge and inspire young chefs. Not only do these cookbooks offer a chance for kids to learn the basics of cooking, but they also help to instill a sense of confidence and independence in the kitchen.
Shop The Complete Cookbook for Young Chefs
Get ready to take your cooking skills to the next level with The Complete Cookbook for Young Chefs! This #1 New York Times Best Seller is the ultimate guide for kid cooks, packed with over 100 kid-tested and approved recipes that are sure to please even the pickiest of eaters.
From mouth-watering breakfast dishes to scrumptious snacks and beverages, easy-to-follow steps, and helpful photos, this complete collection of cookbooks for kids makes it simple to create culinary masterpieces in the comfort of your own kitchen.
The recipes were tested by more than 750 kids to ensure they're perfect for cooks of all skill levels. Don't miss out on the chance to become a young chef extraordinaire – grab your copy today!
Cooking and sharing meals with loved ones is a tradition as old as time, and now your little ones can start their own culinary journey with "My Very First Cookbook: Joyful Recipes to Make Together!" It's one of the best cookbooks for toddlers.
With over 45 kid-friendly recipes from breakfast to dessert, this cookbook is perfect for both beginners and budding chefs.
Not only will your child learn essential kitchen skills, but this cookbook also encourages bonding and creating cherished memories with your family. Personalize each recipe to make it your own and enjoy conversation starters and silly jokes along the way.
The joy of cooking and sharing delicious meals is one that can last a lifetime, and this cookbook is the perfect way to start.
Toddler Water Toys: The best indoor and outdoor toddler water toys for a splashing good time HERE!
Shop The Big, Fun Kids Cookbook from Food Network
Get ready to have some fun in the kitchen with The Big, Fun Kids Cookbook from Food Network Magazine. This New York Times Best Seller is the perfect cookbook for kids wanting to explore the world of cooking.
With over 150 easy-to-follow recipes, beginners will have no trouble making breakfast, lunch, dinner, snacks, and desserts.
The book also features helpful tips from professional chefs in Food Network's test kitchen, ensuring that each recipe is foolproof.
What's more, the cookbook includes special fake-out cakes, like one that looks like a bowl of mac and cheese, and choose-your-own-adventure recipes, such as the design-your-own Stuffed French Toast.
Parents will love the kid crowd-pleasers like Peanut Butter & Jelly Muffins, Ham & Cheese Waffle Sandwiches, Pepperoni Chicken Fingers, Raspberry Applesauce, and much more!
Shop Kid Chef Junior Every Day: My First Easy Kids' Cookbook
Are you looking for a fun and easy way to get your kids involved in the kitchen? Look no further than Kid Chef Junior Every Day: My First Easy Kids' Cookbook! Kid Chef Junior cookbooks for kids are designed specifically for kids ages 4 to 8, with recipes that are both tasty and wholesome.
Even better, the recipes are approved by both kids and grown-ups alike, so you can be sure that the whole family will enjoy them. The colorful photos included with each recipe make it easy for young chefs to choose which one to make, and a section for notes next to each recipe encourages them to write down their own thoughts and ideas.
By helping to cook their own meals, kids will not only learn essential cooking skills but also get excited to try new foods. Give your little ones the gift of culinary know-how with Kid Chef Junior Every Day!
Kids Baking Books
With the growing popularity of cooking shows featuring young chefs, many children have developed an interest in learning how to cook and bake. Kids baking books provide easy-to-follow recipes with step-by-step instructions that are perfect for getting kids started in the kitchen.
These books are not only educational, but they also encourage imagination, creativity, and teamwork while providing fun and quality time with family and friends.
From cookies to cakes to bread, kids baking books can help children develop a lifelong passion for baking and culinary arts. So why not encourage your little ones to put on their aprons and whip up some delicious treats?
You never know, you might just have the next MasterChef Junior winner in your household!
Shop Complete Baking Book for Young Chefs
Are you ready to become the ultimate young chef? The Complete Baking Book for Young Chefs is here to help you achieve your baking dreams. With over 100+ sweet and savory recipes, there is something for every taste bud.
From soft pretzels to empanadas and even show-stopping pies, this cookbook for kids is filled with recipes that have been rigorously tested by over 5,000 kids to ensure perfection. Whether you're a beginner or a seasoned baker, you'll love the step-by-step instructions and helpful tips and tricks.
So what are you waiting for? Get ready to unleash your inner pastry chef and bake your way to deliciousness!
Shop The Food Network Big Fun Kids Baking Book
If you're searching for the best cookbook for kids for your budding baker, consider Food Network Magazine's The Big, Fun Kids Baking Book! This New York Times bestseller is chock-full of over 110+ recipes specifically designed for young bakers.
With a visual recipe index featuring a photo of every dish and choose-your-own-adventure recipes like design-your-own Whoopie Pies or Banana Bread, this cookbook for kids is a great way to get kids excited about baking.
Plus, with crowd-pleasers like Red Velvet Brownies, Pumpkin Spice Chocolate Chip Cookies, Mini PB & Chocolate Cupcakes, and the drool-worthy Chocolate Candy Bar Layer Cake, your children will love creating desserts that everyone will want to indulge in.
But the real standout of this cookbook? The fake-out cakes are sure to dazzle and delight, such as spaghetti and meatballs, a taco, and a pineapple. Trust us; your kids will be begging to try them all.
Shop American Girl Baking Cookbook For Kids
Are you a baking enthusiast or do you simply enjoy indulging in sweet treats? American
Girl Baking is the best kids cookbook for delectable recipes that are both scrumptious and easy to follow.
From cinnamon-sugar snickerdoodles to pinwheel icebox cookies, there are a variety of cookie options sure to satisfy any sweet tooth. Not a cookie person? No problem. Indulge in cupcakes with kid-favorite flavors like PB & J or more adult flavors like red velvet.
And don't forget about madeleines – the delicate and delicious French treats in flavors like honey or orange. With a wide range of sweets to choose from, including chocolate truffles and fruity turnovers, American Girl Baking has a recipe for your little one.
Get ready to whip up some sweet treats with the Kid Chef Junior Baking Cookbook! This kid-friendly cookbook is the perfect way to introduce your little ones to the joys of baking.
From Dirt Cups with Candy Worms to Razzle-Dazzle Raspberry-Cream Cheese Muffins, this cookbook has a variety of fun and easy recipes that are sure to hit the sweet spot. With step-by-step instructions and large text, your kids will be able to follow along with ease.
Not only will they be making delicious treats, but they'll also be developing important kitchen skills with recipes that vary in challenge levels. Get ready to bake and have some fun with your little ones!
Shop Super Good Baking For Kids
Do you have a budding baker at home? Duff Goldman's Super Good Baking for Kids has easy-to-follow recipes and fun fact-filled sidebars, this 208-page hardcover cookbook for children will delight any young baker.
From unicorn cupcakes to stuffed-crust dessert pizza, the gooiest, chewiest, and most delicious treats are just a recipe away. Not only will your little one learn how to bake amazing desserts, but they'll also dive into the science of yeast and the history of baking.
Get ready for some confetti snickerdoodles and wicked good Boston crème donuts, because "Super Good Baking for Kids" is sure to inspire a passion for baking in any child.
Best Cookbooks for Teens & Older Kids
Cooking can be a fun and exciting way for teenagers to express themselves and develop important life skills. However, it can be difficult to know where to begin, especially when it comes to finding a cookbook that is both informative and engaging.
Luckily, there are plenty of fantastic cookbooks available that are perfect for teens who are just starting out in the kitchen.
Whether they are interested in baking, international cuisine, or simply want to learn the basics of meal prep, there is a cookbook out there that will suit their needs. Here are the top and best cookbooks for teens and older kids.
Shop The Baking Cookbook For Teens
If you're looking for a cookbook to teach your teens the art of baking, look no further than The Baking Cookbook for Teens. What sets this book apart from the rest is its ability to help young bakers bake like a pro.
With clear explanations of baking essentials and terminology, they'll be able to whip up Raspberry Melt-Aways, Homemade Macarons, Jalapeño Cornbread, and Sausage and Cheese Calzones in no time, with decorating tips and tricks to boot.
With 75 easy-to-follow recipes, this cookbook will serve as a great foundational resource for your young chef, providing them with the skills and confidence to create scrumptious delights.
Shop How-To Cookbook For Teens
Cooking is not only a way to satisfy hunger, but it can also be a creative outlet that teaches lifelong skills. With this introductory cookbook for teens, young chefs-to-be can gain confidence in the kitchen and develop their culinary skills with step-by-step instructions and simple recipes.
From delicious Nachos to Sloppy Joes, easy Shrimp Scampi to Mustard and Maple-Glazed Chicken, there are 100 recipes that will please any teenager's taste buds.
This cookbook goes beyond just providing recipes by teaching cooking techniques, prepping the kitchen, and even offering tips on reading a recipe. Teens are encouraged to explore new ingredients and food combinations, with space to write down new ideas and experiments.
By cooking meals for the whole family, teens not only get satisfaction from a job well done, but they also learn valuable life skills that will stick with them for years to come.
Shop MasterChef Junior Cookbook
For any young chef looking to improve their skills in the kitchen, the MasterChef Junior Cookbook is an essential tool. With 100 mouthwatering recipes inspired by the show's contestants, young cooks can learn to create bold and exciting dishes that will impress even the most discerning food critics.
But this book offers more than just recipes—it also teaches essential techniques, tips, and tricks that any kitchen aficionado can use. Whether you're a seasoned culinary pro or just starting out, the MasterChef Junior Cookbook is the ultimate guide to becoming an excellent cook.
Shop The Complete Cookbook for Teen Chefs
The Complete Cookbook for Teen Chefs is the perfect solution for busy teens who may think they don't have time to cook! With over 200 recipes, their kitchen game is sure to be leveled up in no time.
Whether looking to make a meal that requires minimal effort or wanting some adventure in trying something new, this cookbook for kids has it all. Enjoy healthy and fresh meals with ease – say goodbye to frozen and processed foods!
Not only will this cookbook be a great investment for your teen chef's overall health, but it will also provide them with the confidence and resources needed to become an expert in the kitchen!
Calling all young aspiring chefs! Looking to learn how to cook like a pro? Look no further than Junior Chef Master Class, which is one of the best cookbooks for kids! With over 75 mouth-watering recipes and beautifully illustrated step-by-step techniques, this collection is perfect for anyone looking to take their cooking skills to the next level.
From classic breakfast dishes like Eggs Benedict to savory soups like Miso Soup, and even show-stopping holiday dishes like Turkey and Lemon Meringue Pie, Junior Chef Master Class has a recipe for your teen to try out.
Please Pin "Cookbooks For Kids" to Pinterest! We Appreciate it greatly!

Purchasing a new cookbook for kids every once in a while will get them excited to be in the kitchen. Don't worry about the mess, let them learn and engage with the recipes. Make some memories with your kids that last a lifetime!
This post contains affiliate links. I may earn a small commission if you purchase from one of these links (at no extra cost to you 🙂 I am an Amazon Affiliate Partner and I may receive a small commission on qualifying links.