Traveling with a baby can definitely be stressful, especially with the thought of them crying nonstop on a plane (it happens, we have all been there) or a long road trip. From carrying the diaper bag to loading up the car, it's easy to feel overwhelmed when traveling with a baby.
Whether it's just a day trip or an adventure across the country, proper planning is key in ensuring all issues are accounted for, making it much easier to hold yourself (and your little bundle) together during any trip!
To make your life easier and prepare you for those special family trips, here are some must-have essentials for traveling with a baby to ensure both you and your tiny human have an enjoyable and stress-free journey.
Travel Essentials with Baby
As a mom or dad, you know what to pack in your luggage for your baby, but here are a few travel essentials for a baby to consider for your travel backpack, starting with the actual backpack and some items to pack inside.
Planning a trip with your baby can seem overwhelming until you break it down into smaller tasks and plan ahead. A travel backpack for your baby is essential for carrying travel essentials like diapers, wipes, snacks, extra clothes, and more.
Remember to pack lightweight items that are easy to carry and consider two-in-one products like thermals that double as blankets. Investing in travel bags and organizers specifically designed for babies can save space while keeping everything organized. By taking the time to pack smart, you'll be ready for any travel surprises your little one throws at you.
Best Backpack for Moms (and dads, grandpas, grandmas, aunties, or uncles 🙂
>> Petunia Pickle Bottom Diaper Bag Backpack <<
The Petunia Pickle Bottom Boxy Backpack is a top-selling stylish baby bag that is perfect for parents on the go. Whether you're running errands or traveling, this sophisticated and spacious backpack will keep all your travel essentials with baby, organized, and within reach.
With multiple pockets and stylishly lined compartments, the Petunia Pickle Bottom Boxy leaves plenty of room for bottles, snacks, diapers, and toys but still looks chic. The adjustable shoulder straps ensure comfort while out and about with little ones. Best of all, it's machine washable making it easy to clean!
Best Backpacks for Moms: We found the most highly-rated backpacks with mom (and dad) in mind, check out the best backpacks for mom HERE!
What Travel Essentials for Baby To Pack in Your Travel Bag:
Diapers
Wipes. Some backpacks for moms have a USB port where you can use a portable wipe warmer
Diaper Cream (this is a baby travel must-have, think sitting a lot and less frequent changes)
Disposable changing pads
Baby lotion for dry skin
Bottles. It helps to have your baby suck on a bottle during take off on a plane and landing to prevent their ears from popping and hurting.
Extra pacifiers (we call them pooties)
Baby travel toys (try to bring toys your baby has never seen or played with. They will stay entertained longer and interested)
Extra clothes. I always put on onesies while in the car and especially on the plane where it gets chilly
Bibs
Teething rings or teething drop relief
Fruit and veggie pouches and baby spoons.
Baby snack container and snacks if your baby is eating solids. Cheerios, fruit puffs, etc.
Formula container with several servings in case of a plane delay
Travel pillow for plane rides. We bring a pillow for flights that I can put on my lap to lay baby on for napping.
>> Diaper Changing Travel Kit <<
When it comes to essentials for traveling with a baby, Kopi Baby's portable diaper-changing kit is the perfect solution. It provides a clean, waterproof, and safe changing mat that can go anywhere you do – attach it to strollers, bags, wrists, or wherever you choose thanks to its convenient Velcro straps or buckle loop.
The outer pocket is perfect for mom and dad's things, while two inner mesh pockets offer convenient storage for diapers, wipes, and other items necessary for a day out or traveling with your baby.
Winter Essentials for Baby: Keep your tiny bundle warm and toasty all winter long with these essentials you should consider for winter for your baby HERE!
Travel Essentials with Baby
Travel Strollers
When planning a trip with an infant or a young child, lightweight travel strollers are travel essentials with baby.
Travel strollers allow parents to safely and comfortably bring along their baby when exploring a new city or visiting family out of town.
They come in a variety of sizes and styles that can accommodate various travel needs while keeping the baby safe and sound. Lightweight travel strollers offer convenience, comfort, and versatility for families on the go. Choosing the right stroller for your travels is key.
It depends on if your infant is still in a rear-facing car seat, therefore you will want a travel stroller system. When traveling on a plane with these systems, It's best to check the car seat portion at check-in and your stroller part at the gate when boarding.
If your baby is a bit older, a lightweight compact stroller is an essential travel item. They are inexpensive, easy to maneuver, and can easily fold down at the gate or in a car. These strollers will last well into the late toddler years and are well worth the small investment.
You can check your baby's car seat at check-in for a light load going through security, just don't forget a car seat protector when checking.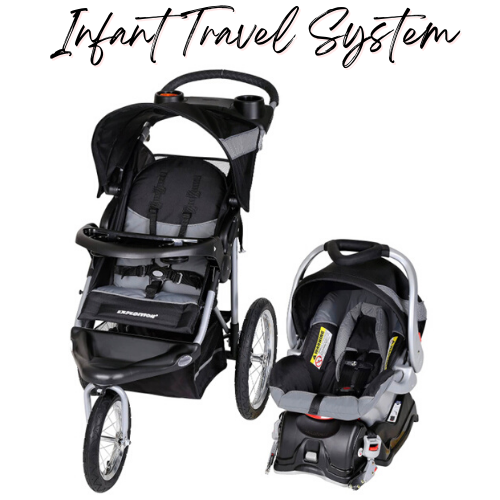 >> Baby Trend Expedition LX Travel System <<
The Baby Trend Expedition LX Travel System is perfect for a travel stroller for infants and will grow with baby into toddler years.
Lightweight steel frame, a 5-point harness, and a comfy upholstered seat with multiple reclining positions – making it an ideal travel system choice for newborns to toddlers 0-50 lbs.
The travel system features 16″ rear and 12″ front all-terrain bicycle tires with a swivel and locking wheel which makes strolling city streets or jogging a breeze.
Plus, the easy Ez-Flex Lock 5-point harness car seat keeps your newborn safe from 4 to 30 lbs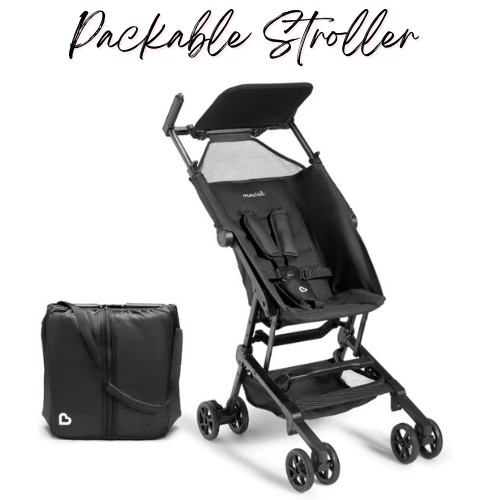 >> Munchkin Sparrow Ultra Compact Lightweight Travel Stroller <<
If you're looking for travel baby essentials, for your little one six months and older, the Munchkin Sparrow Ultra Compact Lightweight Travel Stroller is the ideal choice.
Not only does it come with a 5-point harness for extra security, but its collapsible size makes it practical and easy to pack away with a carrying case – perfect for families on the go as it can fit into most overhead airplane bins. Simply unfold it and start using! Your baby or toddler (up to 55 lbs) will travel in style while you travel with ease.
>> Summer 3Dmini Convenience Stroller <<
Summer 3Dmini Convenience Stroller brings together baby travel must-haves and convenience in a lightweight infant stroller. This lightweight travel stroller has an aluminum frame that only weighs 11 pounds, yet still provides a full-sized baby seat.
Even when you're running your everyday errands, having a lightweight stroller can be critical. What makes the Summer 3Dmini even better is that it's great for either everyday use or traveling and fits right into your car to make it much simpler.
>> Universal Infant Car Seat Cover <<
If travel with little ones is your ultimate goal, then having the right travel baby essentials are key! Investing in the Universal Backpack Infant Carseat Bag Cover is a great way to save time and aggravation during travel so you can focus on enjoying the trip. The Oxford material makes up this lightweight, heavy-duty bag with backpack straps not only protects your child's car seat from harm but also keeps them safe from wet or ruined travel items due to its superior water-resistant qualities.
>> Car Seat Gate Check Bag <<
J.L. Childress's Gate Check Bag is the perfect baby travel essential. It fits all baby car seats, infant carriers, and booster seats to protect them from dirt, scuffs, grease, and moisture often associated with luggage handling. Its airline certification means it's a reliable choice for travelers who want their baby car seat to reach its final destination along with them! The bright red color and large "GATE CHECK" logo ensure you can easily spot it when collecting belongings at the end of your journey.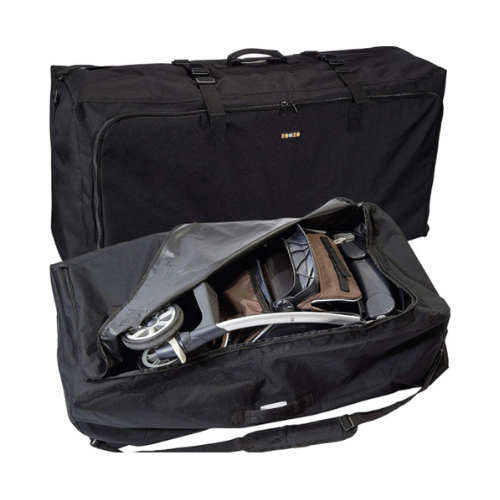 >> Zohzo Stroller Travel Bag <<
The Zohzo Stroller Travel Bag is the perfect travel gear for baby. With its wide-opening and wrap-around double zippers, loading and unloading is an easy, hassle-free process. Its construction from tear-resistant, water-resistant polyester with reinforced stitching ensures it will survive even the toughest trips.
Toddler Travel Essentials: Traveling with toddlers is probably the hardest age group. They are active, loud, and super busybodies. These are travel essentials for a smooth journey with your toddler HERE!
Baby Travel Must Haves-Sleep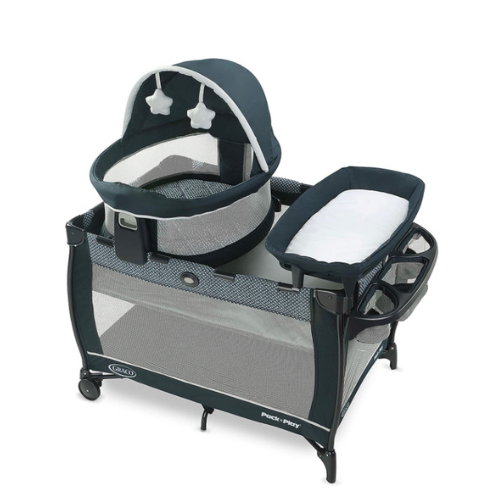 >> Graco Pack 'n-Play Dome LX-Playard <<
For newborn travel essentials, the Graco Pack 'n-Play Dome LX-Playard is a great solution. Not only does it have a lightweight Travel Dome bassinet that folds easily for use at home or on the go, but it also has a full-size infant bassinet to keep the baby close and within easy reach and view.
For convenience, this playard includes a removable diaper changer for quick and easy cleanup and is equipped with a built-in storage organizer for storing all of your baby travel must-haves such as wipes, diapers, and other changing essentials you may need while away.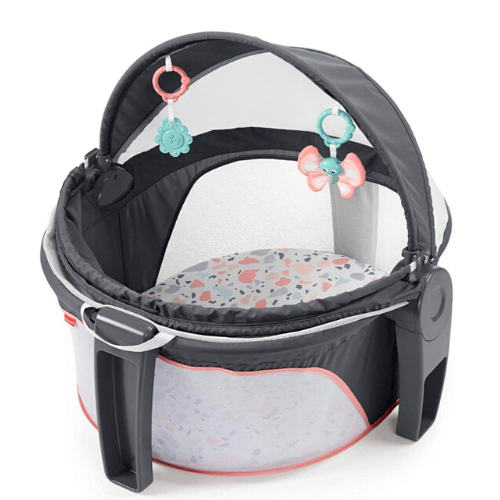 >> Fisher-Price On-the-Go Baby Dome <<
Keep your little one happy and busy on the go with the Fisher-Price On-the-Go Baby Dome Travel-Play Area. This 2-in-1 design can be used as an infant play space or a nap spot, perfect for both at home and it's one of the best essentials for traveling with a baby.
The dome can be set up indoors or outdoors and folds flat with handles for easy transport. Comes with a gray canopy to protect against the sun's rays (UPF 20) and netting to keep out bugs. Includes 2 removable toys for engaging playtime fun.
>> ComfyBumpy Travel Bassinet for Baby <<
ComfyBumpy Travel Bassinet for Baby is the perfect travel essential for infants, this travel bassinet has a portable, lightweight metal frame and comes with peace of mind knowing that your baby is snuggled up tightly in their own safe space while on the go.
The travel bassinet comes with a soft mattress, fitted sheet, urine pad, mosquito net, and carry case.
Best of all it is easy to assemble as no tools are required, just read the instructions and you're set to go!
Furthermore, the ComfyBumpy Travel Bassinet offers maximum comfort for newborns up to 25lbs
Provided two modes – stable mode to keep them secure or rocking mode for soothing movements and relaxing sleep.
Enjoy worry-free travel with the comfort of knowing your baby is safe and secure on the road.
>> Lotus Travel Crib <<
The Lotus Travel Crib is a unique baby travel essential that simplifies traveling with a baby. Not only is it incredibly lightweight, but it folds up into a backpack which makes it super easy to pack.
Lightweight 15-lb travel crib packs into an easy-to-carry, hands-free backpack carrying case.
With no assembly required, the Lotus Crib sets up and packs quickly.
No PVC, Lead, Phthalates, Formaldehyde, or Heavy Metals (Cadmium, Arsenic, Mercury).
It assembles in just 15 seconds and the comfortable mattress ensures baby has a good night's sleep when away from home.
>> SlumberPod Portable Privacy Pod <<
SlumberPod is one of the best essentials for traveling with a baby and toddlers! This amazing portable privacy pod blackout canopy cover provides a safe and secure sleeping space suitable for babies 4 months and up, fits over playards, mini-cribs, travel cribs, or select toddler cots or mattresses, weighs just 5 pounds, and is easily assembled.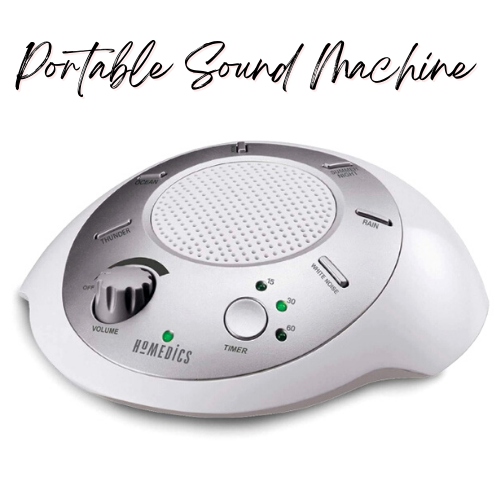 >> Portable Travel Sound Machine <<
This is our family's favorite travel essential. This is one of the best products for traveling with baby and adults alike. I cannot recommend this sound machine for travel enough. With noisy hotel rooms and environments that are unfamiliar, a sound machine soothes babies (and adults) for a night of uninterrupted sleep while away from home (these are fantastic at home too).
Travel Essentials for Women: Everything you need for a relaxing, amazing, and organized vacation HERE!
Best Baby Carrier For Traveling
One essential for traveling with a baby is a trusty baby carrier. Being hands-free while loading luggage or taking photos while on a tour is key.
There are some options available but we have found the absolute best baby carrier for traveling. We found ones that offer great support, have adjustable straps, and breathable fabric, and are highly rated by moms and dads who travel too.
>> Boba Baby Carrier Wrap <<
This Boba Baby Wrap has simple, no-guess tying instructions with just one size to fit all, making it easy and worry-free to use during travel with your little one. Its stretchy and soft machine-washable fabric will keep your baby close while you're on the go, and its ergonomic seat design provides both weight distribution for mom and dad as well as comfortable seating for the baby.
>> Infantino Flip Advanced 4-in-1 Carrier <<
The Infantino Flip Advanced 4-in-1 Carrier is a must-have infant travel essential. Whether it's a day spent running errands or getting to your gate at the airport. This convertible facing-in and facing-out design for newborns and older babies, weighing between 8-32 pounds, allows you to experience hands-free convenience with the right amount of adjustable ergonomic seats with adjustable shoulder straps and waist belts included.
Travel Backpacks For Toddlers: Does your tiny traveler need their own little backpack for the airplane or a road trip packed with all their fun travel toys and items? We have the nine best to make them feel happy and independent HERE!
Essentials for Traveling With a Baby-Feeding
Traveling with a baby on an airplane or car ride can be an added challenge, but essentials like formula, breast milk, and juice have slightly different rules than the TSA's 3.4-liquid-ounce rule.
As long as you have a "reasonable amount" of formula, breast milk, or juice for your infant or toddler and adhere to extra screenings at airport security these items are generally ok to bring on the plane. Ice packs are ok, but if they are partially melted, you may have a problem. But we have a solution to that.
Having the correct feeding and travel storage essentials for traveling with a baby is key.
>>Dr. Brown Fold and Feeze Bottle Tote <<
The great thing about this Dr. Brown Bottle and Breast Milk Tote, is you freeze the travel tote without having to use ice packs. You pop it in the freezer, it freezes right in the bag for on-the-go convenience. designed with a water-resistant material and secure zipper closure to keep essentials like breast milk, formula, and snacks chilled for long hours. Plus, the convenient size stores up to six bottles, making it an ideal holding place for baby travel essentials.
>> Travel High Chair For Baby <<
For essentials traveling with baby, the Liuliuby Travel Harness Seat is an ideal choice. This high chair seat sack is highly portable and comes with a safety harness that ensures your baby's (6 months and up) security.
The waist straps provide extra security for smaller babies and anti-slip pads along the top strap prevent sliding/shifting of the seat on the chair back. Furthermore, it is padded with cushioning for extra comfort, has soft fabric straps to protect your baby's neck, and also comes with adjustable back straps to fit any height of chairs – both tall and small.
>> Tommee Tippee Portable Travel Baby Bottle Warmer <<
The Tommee Tippee Portable Travel Baby Bottle Warmer should be included in your baby travel essentials. It features thermal insulation that keeps the water warm without requiring an external heating source so you never have to worry about your baby getting hungry during your travels. The convenient design fits perfectly in your bag without taking up a lot of space and is complete with a leak-proof lid for added peace of mind.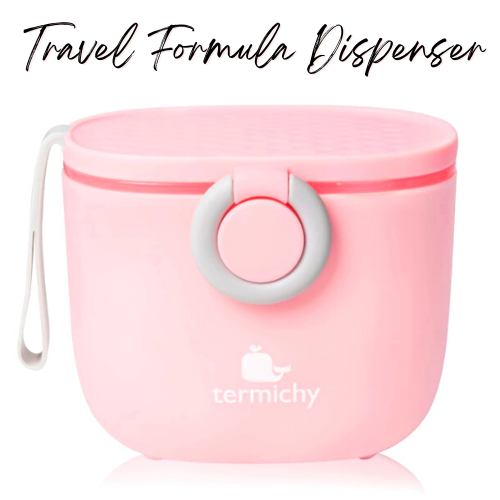 >> Termichy Baby Formula Dispenser <<
The Termichy Baby Formula Dispenser is a must-have baby travel item. Crafted of BPA-free food grade pp plastic, it is not only durable but dishwasher-safe as well. The design of the container makes it easy to carry in hand or put in a bag and the buckle design and silicone sealing on the lid help keep baby's formula or food fresh for more extended periods.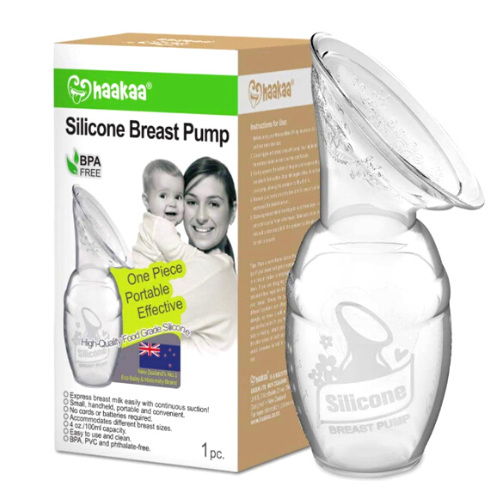 >> Haakaa Manual Breast Pump <<
Haakaa Manual Breast Pump is lightweight, portable, and a must-have item for traveling with baby, especially for breastfeeding mamas. Its the perfect tool for every travel baby bag. Use it on long-distance trips, airplane rides or anywhere you would like to express silently, discreetly, and quickly.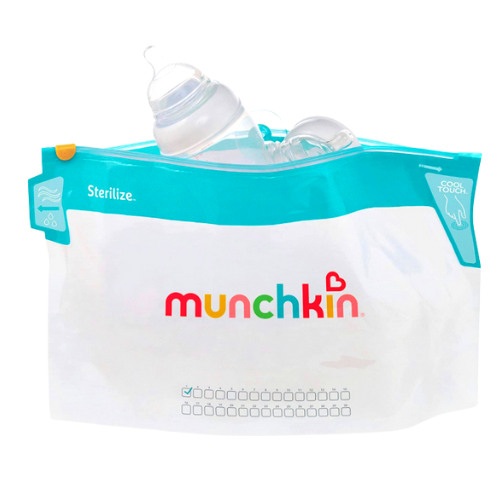 >> Munchkin Jumbo Microwave Bottle Sterilizer Bags <<
Six-packs of reusable bags. Each bag can be used up to 30 times for a total of 180 uses, a great baby bottle sterilizer for traveling.
Eliminates up to 99.9% of common bacteria on bottles, pump parts, pacifiers, and baby travel items and accessories.
Fits a day's worth of bottle and pump parts for home, work, or traveling with baby.
Cool handling when removed from the microwave, no burns.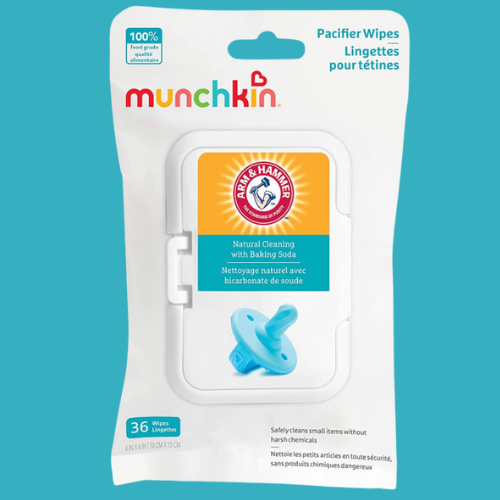 >> Munchkin Arm & Hammer Pacifier Wipes <<
Munchkin Arm & Hammer Pacifier Wipes make the best, compact baby travel must-haves! These wipes are designed to safely clean pacifiers, bottles, cups, and teething toys – an ideal addition to any baby travel bag. They use natural cleaning agents that provide a 100% food-grade safety standard, so you can always trust that your baby's items remain germ-free on the go.
My First Activity Book | Baby Einstein Take Along | Baby Sensory Toys | Taco Fill & Spill | Bug Spinners
Toys for Traveling With Toddlers: We know how to keep a baby and toddler busy, happy, and quiet on an airplane or road trip. You can find the best travel toys for toddlers HERE!
Travel Essentials with Baby- Bath Time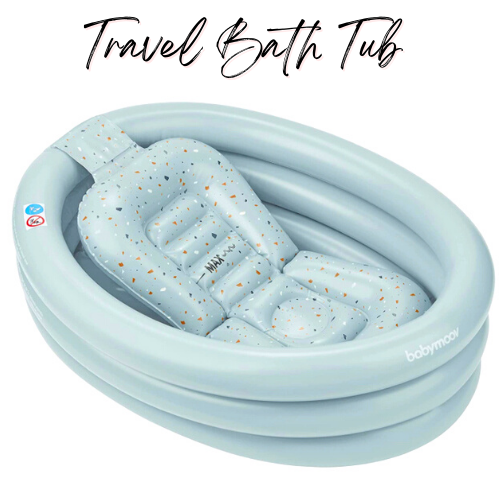 >> BabyMoov Portable Bathtub <<
When hitting the road with a baby, an infant travel bathtub is one of the baby travel must-haves. A lot of hotels do not have bathrooms equipped for washing an infant or baby, sometimes there isn't a bathtub at all.
Lightweight, packable, and inflatable, the BabyMoov Bathtub is easy to tote around at home or while you are out, making it the perfect space-saving solution. It can be conveniently inflated and deflated with just a few simple steps and grows with baby as they grow – it works perfectly for newborns and infants thanks to its removable insert support while transitioning them into the big bathtub when they come of age.
>> Era Organics SuperBalm For Baby <<
When changing environments, altitude, and climate, your baby's skin during traveling may get dry and cracked. Be prepared with this essential for traveling with baby, the best super balm out there, Era Organics Baby Balm. Pop this super soothing balm in your travel bag to keep baby skin moisturized.
>> Little Remedies Travel Essentials Kit <<
The Little Remedies Travel Essentials Kit is filled with products that safely and effectively relieve common symptoms like runny noses, fevers, and upset tummies. Each product is designed specifically for newborns and includes Little Remedies saline spray or drops, nasal aspirator, gas relief drops, infant fever, and pain reliever, gripe water, and Boudreaux's Butt Paste original diaper rash ointment – making it easy to find everything you need for your travel baby essentials.
Airplane Bed for Toddler & Babies! Does your little traveler need extra rest in the air? We have the best airplane bed for toddlers and babies for a restful flight HERE!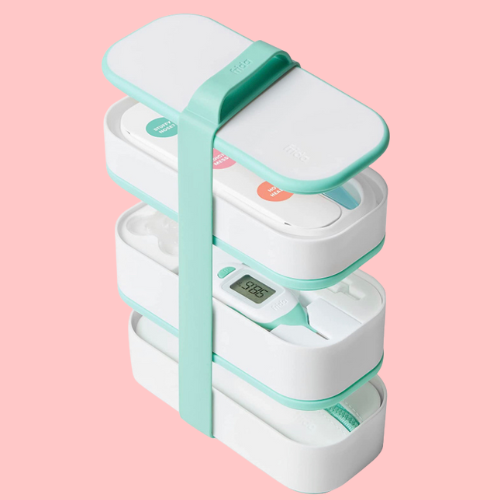 >> Frida Baby Mobile Medicine Cabinet Travel Kit <<
If you're preparing to travel with your baby, it can be difficult to stay organized and ensure you have everything you need. Fortunately, with the Mobile Medicine Cabinet Travel Kit from Frida Baby, travel gear has never been more hassle-free. This innovative kit includes a selection of fuss-busting travel essentials with baby – namely NoseFrida + Filters, MediFrida, and rectal thermometer – that can be safely separated in your nursery drawers until it's time to travel. The removable silicone pouch is also perfect for storing baby medications or other necessary items while on the go.
>> Mommy's Bliss Gripe Water <<
Mommy's Bliss Gripe Water is our favorite baby product, especially when traveling with a toddler or infant on an airplane and at hotels. Just like adults, a baby's tummy on a plane can fill with gas and cause them to be very uncomfortable. The new surroundings of a hotel or resort may upset the tummy too or make them restless. Gripe Water helps relieve these travel ailments for a more soothing trip with your baby. Add Mommy's Bliss Gripe Water to your essentials for traveling with a baby and your home kit too.
Winter Essentials for Baby: Keep your tiny bundle warm and toasty all winter long with these essentials you should consider for winter for your baby HERE!
This post may contain affiliate links. I may receive a small commission if a qualified link is used at no cost or obligation to you ever. Additionally, I am an Amazon Affiliate Partner. I may receive a commission if a qualifying link is used.