There is a reason Fort Worth, Texas, is ranked one of the best cities in America. This city is full of charm, entertainment, culture, arts, and cowboys (wink, wink).
There are many cool, educational, interesting, different, exciting, fun things to do in Fort Worth, Texas, during your next visit or vacation. There is something for everyone, promise! Read on below for this ultimate guide; I am pretty sure your boyfriend or husband may need to do the very last item 😉
Stroll the cobblestone streets of Sundance Square District.
Sundance Square is the downtown area of Fort Worth. There are plenty of art galleries, shops, bars, coffee shops, and boutique shopping and dining in this great area!
Fun Things to do in Fort Worth's Sundance Square:
Grab some sweets at Schaklad Chocolate Factory
See the Texas Ballet, Symphony Orchestra, the Fort Worth Opera or Mean Girls the Musical at Bass

Performance Hall

Get some belly laughs at Hyena Comedy Club or Four Day Weekend
Go underground at Scat Jazz Lounge
If its summer, watch a concert floating the river at Panther Island Pavilion
Eat breakfast at Yolk (the peanut butter latte is superb)
See a theatre performance at Circle Theatre or Jubilee Theatre
Enjoy a "Cup of Texas" at Melt Ice Creams
Grab a kayak at Backwoods Paddle Sports
Play in the water fountains at Sundance Square
The take an Instagram worthy photo at the awe-inspiring Fort Worth Water Gardens (free thing to do in Fort Worth)

The historic Fort Worth Stockyards is not just for mule barns anymore. This district is our favorite area; You can see the comprehensive guide to the Stockyards here.
Things to do in the Historic Fort Worth Stockyards:
Boot scoot at the biggest honky-tonk in the world,

Billy Bob's Texas

. You can see Willie Nelson, Josh Hayes in concert, Jake Owen. Its a good time. A must in Fort Worth.
Take the kids to Bills Wild West Show
See some of the greatest cowboys rope, ride bucking broncos at a rodeo at the coliseum.
Stay at the

best hotel in Texas

,

Hotel Drover.
If you are visiting for the day, listen to live music and take some great photos at the Backyard at Hotel Drover.
The Cowboy-Luxe Hotel of Fort Worth, Hotel Drover, and Spend the Day in Fort Worth Stockyards.
Eat at the famous Mexican restaurant (yes, there is a line out the door)

Joe T. Garcias.

Go antiquing at the Cross-Eyed Moose.
Stroll down the newly renovated Mule Alley. Mule Alley used to house cattle and mules, and they were actual mule barns. Now, an alley of breweries, boutiques, museums, and dining.
Take a picture on a longhorn named Patron (and please tell the cowboy I would still like to buy Patron to live out his last years grazing Argyle, Texas)
Have a cocktail and tapas at Saloon Anne's in Mule Alley
See a train heist Grapevine Vintage Railway
See a real-life cattle drive of longhorns
Get a pair of Wranglers at the actual Wrangler Store
Ride a horse down Trinity River
Get some steak and potatoes at H3 Steakhouse
Eat some BBQ at Riskeys BBQ
Get a real cowboy hat and an authentic pair of cowboy boots at Lucchese Custom Collection (in Hotel Drover)
Get hitched at Hotel Drovers insanely beautiful wedding barn
Do a Zombie extermination, Wild West Shootout, or learn some tactical training at Stockyards Gunfighter

Get Creative at Fort Worth's Cultural District
Fort Worth is a culturally rich city with an abundance of things to do. One of the most popular districts, especially for visitors, is the Cultural District. There are endless amounts of things to do.
Things to do in the Fort Worth Cultural District:
See an equestrian event like the World Horse Show at the Will Rogers Memorial Center
Stay at a wonderfully unique boutique hotel situated in the middle of all the museums in Fort Worth,

Hotel Dryce

See a concert like Blake Shelton or the World Horse Show at

Dickies Arena

Learn about American West female trailblazers at the National Cowgirl Hall of Fame and Museum and film yourself riding a bucking bronco.
If it is January or February, see the world-famous

Annual Fort Worth Stock Show & Rodeo

Visit the lush gardens of the Fort Worth Botanic Gardens
Have our family's favorite sub sandwiches at The Great Outdoors Sub Shop (Do not forget the chocolate chunk cookie)
Check Out: The BEST Museums in Fort Worth, Texas!
See a real Picasso painting then afternoon tea complete with sweet and savory items like scones, finger sandwiches and muffins at the Kimbell Art Museum
Bike, jog, bike the Trinity River
See a Frederic Remington at Amon Carter Museum of American Art (there is also a really cool view of downtown from the museums front)
Take the kids on a science adventure at the Fort Worth Museum of Science
Watch the beautiful reflection pool while having an exquisite meal at the Café Modern at the Modern Art Museum of Fort Worth.
Have butterfly shrimp diablo and tasty margaritas at the Texas-famous chain Pappasitos Cantina
See a theatre production at

Casa Mana

Get some retro vinyl records and vintage clothing at Doc's Records and Vintage.
Peacefully stroll the Fort Worth Japanese Gardens

Get Trendy at West 7th
This trendy area meets the Cultural District and Downtown in the middle. This modern entertainment destination is home to restaurants, nightlife, retail, and tons of fun.
Get your nerve up and do open mic night at Magnolia Motor Lounge
Eat a massive cheeseburger macaron from Savor Patisserie
Stay in a wonderfully odd and fabulous

container bungalows at Hotel Otto

, complete with Hermes bath accessories.
Reset at Hiatus Spa
Go up and down Crockett Row, eating, brunching, drinking, shopping
Get your balls thrown down a lane at Junk Punch Bowling
Play with some "Fun Bags" at Yo Mama's House or enter your toy Hot Wheels in a race to win cash
Take a tour and taste some Texas Pecan Brown Sugar Bourbon at Blackland Distillery.
Tackle your hangover or wellness routine with IV therapy at Formula Wellness
Have brunch and a mimosa flight at the Concrete Cowboy.
Eat a treat at Hurts Donuts
If your party is hard to please, visit Crockett Food Hall where there is something to drink and eat for everyone (even Dorito encrusted cheeseburgers)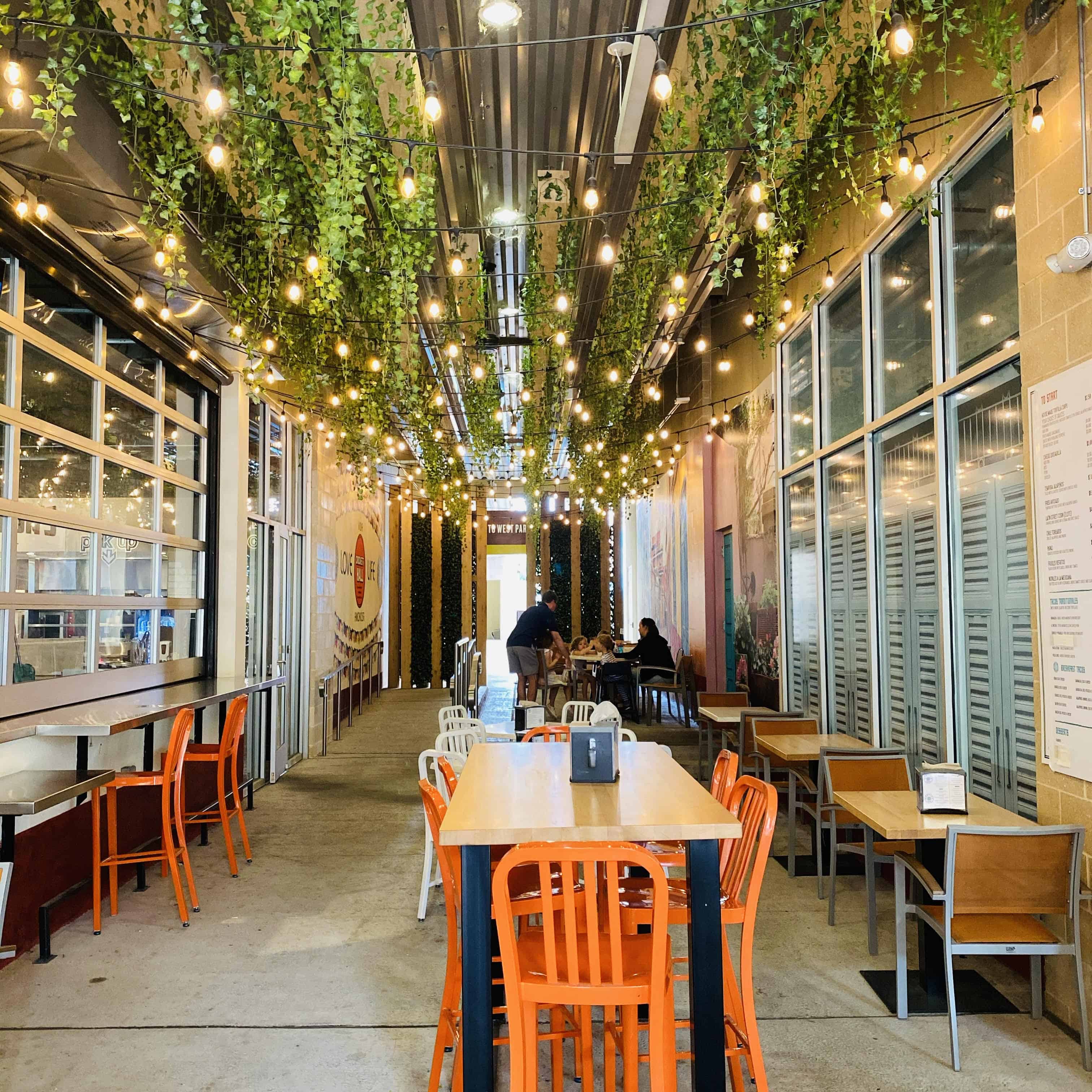 Head to the Southside
Drink some Moon Milk in your latte at Summer Moon Coffee
Eat at our very favorite treat place, The Dusty Biscuit, amazing beignets and coffee.
Play over 90 retro arcade games at Free Play Fort Worth
Eat one of the best BBQs in Texas, at the Woodshed Smokehouse
Visit the Fort Worth Zoo
Eat some blue Cookie Monster ice cream at the family-owned-Morgan's Ice Cream
Enjoy a curated game library and game night at Game Theory Restaurant & Bar
Stroll the Texas Christian University (TCU) Campus or see a

college football game

Eat some fine pie for fine folks at Emporium Pies
Learn what it is like to live in the 1800s at the

Log Cabin Village

Spend the day in the Magnolia Avenue area
Head to Forest Park with a picnic and ride the miniature railroad
See the last surviving mansions of the "cattle baron" era, Thistle Hill House Museum

More Fun Things to Do in Fort Worth, Texas!
Go on a Fort Worth mural scavenger hunt and take bomb pictures
Show off your Tiger Woods skills at Top Golf
Go take a million selfies at the Museum of Neon Lights
See the flying deathtraps of the Vintage Flying Museum
Visit the

Foundry District

and the alley full of murals and art
Grab a bike at a Fort Worth Bike Sharing station and ride through one of the best cities in Texas
Take flight at the Fort Worth Aviation Museum
Taste all the beer at

Fort Worth's Crawling Cowboy Pub Crawl

Hike the 20 miles of hiking trail, wetlands, forests and prairies of the Fort Worth Nature Center and Refuge
Get silly on a

Bikes and BBQ Electric Bike Tour of Fort Worth

(at least you will burn that BBQ off ????
Use you whit and teamwork at The Secret Chambers Escape Challenge

Indoor sky dive

and be the dare devil you have always wanted to be, safely
Get your frustration out and have a blast at Bad Axe, Axe throwing.
Head to North Fort Worth and see Nascar at the

Texas Motor Speedway

. (Don't forget to stop at Bucees)
Drive a race car and get some legit skid marks at the

Rusty Wallace Racing Experience
Fort Worth, Texas, is a big city with small-town charm. There are so many fun things to do in Fort Worth that you won't be able to fit them all into one visit! If you love cowboys, history, great food, nightlife, or just relaxing outdoors—Fort Worth has something for everyone!
This post may contain affiliate links in which I may receive a small commission at no cost or obligation to you ever.