There's no doubt when you arrive at the Historic Fort Worth Stockyards, you are in Cowtown. Boot shops, Wranglers, steakhouses, rodeos, and literal live longhorns. The Stockyards are in the major works of revitalization. From dusty and rickety to modern cowboy glam without losing its historical significance, Hotel Drover is leading the cattle drive.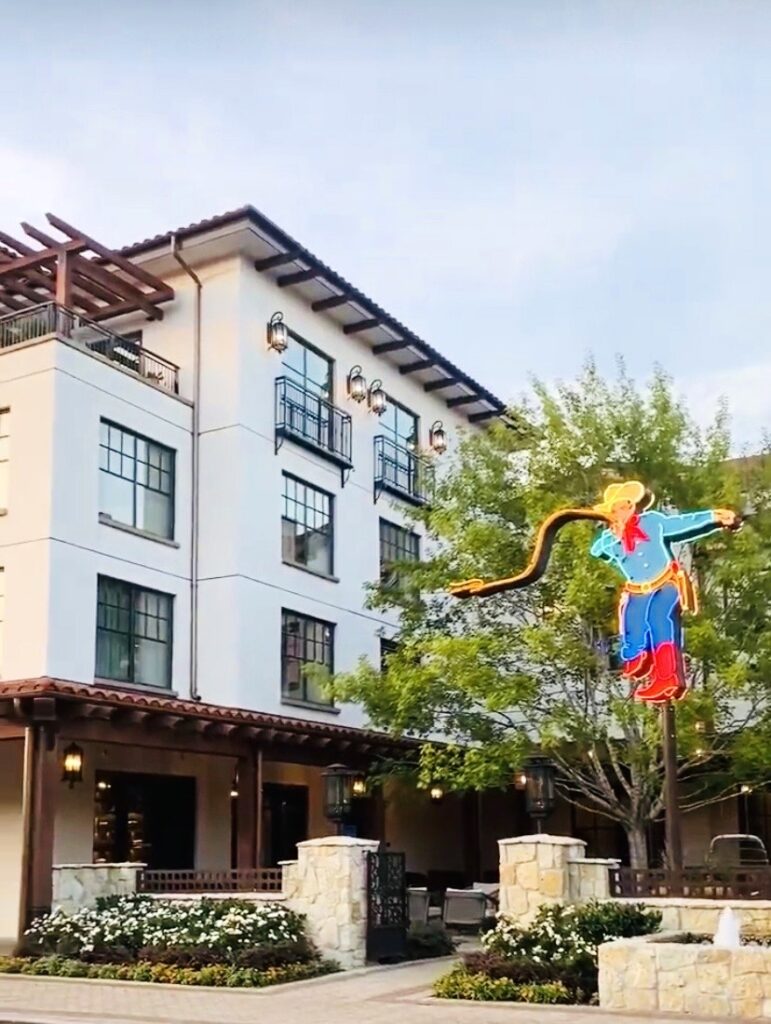 This beautifully artistic hotel is all the rage in Fort Worth, Texas right now, and yes, you should book a room now, and no, you don't need to own a Resistol hat to join in the cowboy glam. If you are looking for one of the best vacation spots in Texas, look no further.
Hotel Drover Fort Worth
Hotel Drover is a new luxury Autograph Collection hotel by Marriott in downtown Fort Worth. This stunning hotel in Fort Worth is built in the middle of the revamped Mule Alley in the Fort Worth Stockyards and Marine Creek.
Mule Alley is now filled with shops, upscale saloons, breweries, restaurants, and corporate spaces. The area sparkles with lights at night, and the Hotel Drover neon pop cowboy lassos you into its modern Fort Worth ambiance with good ole southern hospitality.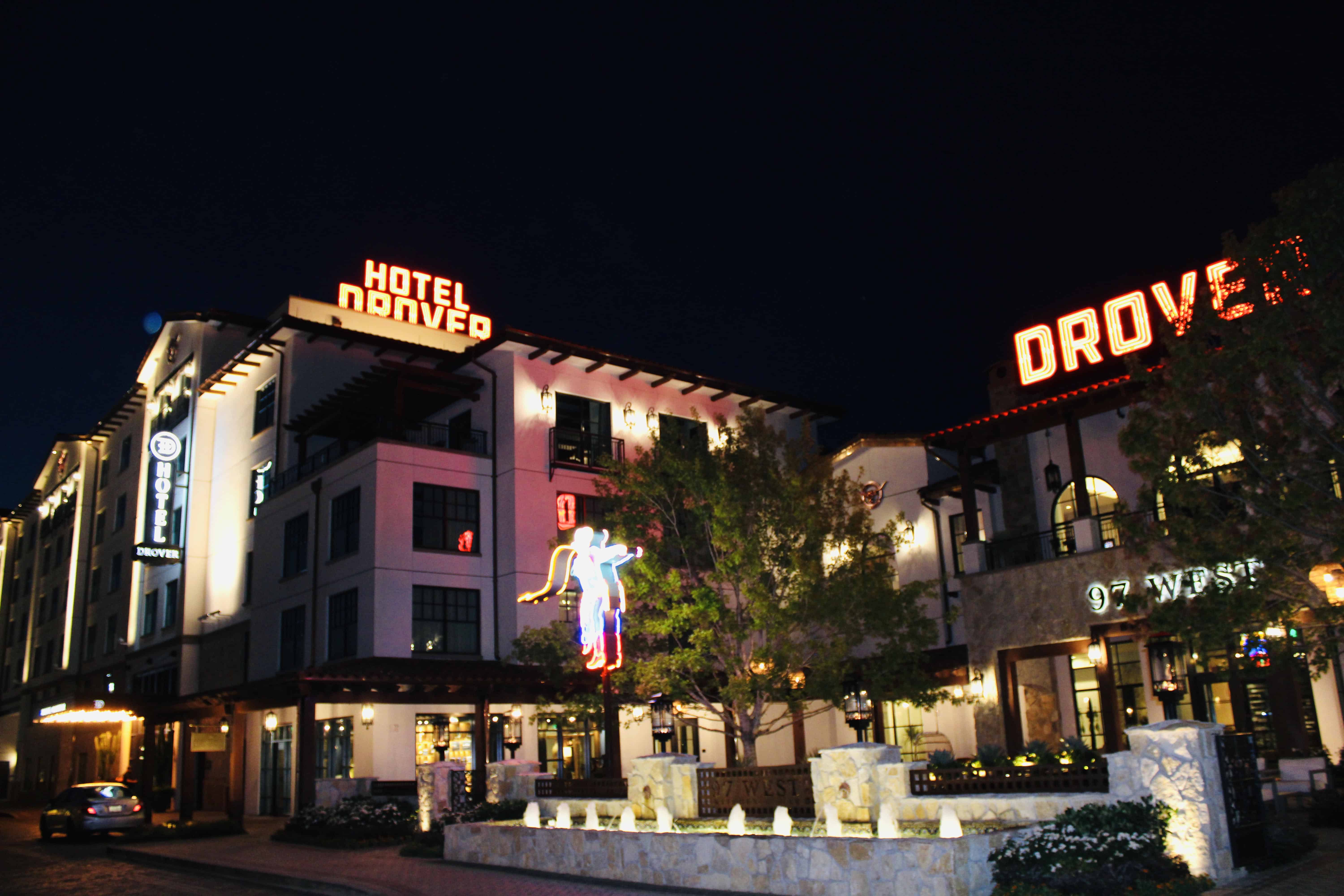 I have stayed at a million hotels. This hotel, by far, is the most decorated, detailed hotel I have ever been to. You don't have to like rustic cowboy chic to be a fan. It is absolutely stunning.
Every step and space of Hotel Drover is attentively decorated, the attention to detail in each room and space is exquisite. This is not a cookie-cutter, run-of-the-mill hotel, every inch of space and room is thoughtfully put together. (Make sure you scroll to see the guest rooms and the Drover pool, it is the best part)
When you walk into the hotel, you are greeted by a bronze and steel drover cowboy by John Lopez Studio, lighted by a hanging antler chandelier. The front desks are tooled like leather western saddles.
You can sit and lounge out of the Texas sun in the hotel's lobby space and take in its modern and rustic mix of furnishings and décor. Modern velvet sofas mixed with leathers and woods make the space particularly inviting.
A towering two-tier library filled with books and novels to brush up on Texas legacy and history; you may even learn what a drover is and why the Stockyards of Fort Worth is thoughtfully called "Cowtown" 🙂
Be sure to explore all of Hotel Drover because it is filled with spots for Instagram-worthy photos around every corner. From the boho swings out front to the cowgirl pop murals in The Backyard.
The outside of the Hotel Drover is filled with perfectly manicured lawns, blooming magnolia trees, and cacti.
There is an area in the back of Hotel Drover called "The Backyard," which offers live music, cold drinks, and firepits to make smores and gather with friends under the twinkling lights in the evenings.
Guest Rooms at Hotel Drover
Each guest room at Hotel Drover Fort Worth is one-of-a-kind. This is not your typical hotel where every room looks the same. Each guest room is perfectly curated to represent stockyard tradition but with a modern rustic luxury twist. From a cowhide-lined desk to plush luxury linens, this boutique Fort Worth Hotel left no detail unturned. 
Stockyard furniture makers-Rio Interiors locally made all the guest room furniture to hardwood floors, unique art, wallpapers, and artifacts adorning the walls. A boot horn to slip off your dusty boots from a long day to strong morning coffee in your Keurig; it is all covered.
The bathrooms (which are super spacious) have modern deco tiles, decorative granite sinks with modern gold accents—the best part, a soaking tub that is only in your Pinterest dreams.
In addition, the bathroom is equipped for a long soak in the tub with lavender bath salts and toiletries from Los Poblanos bath products. Also, lavish robes to wrap around yourself after a long rain shower.
Our guest room was the bunk room and, oh man, was it awesome. This guest room was exciting for the kids to stay in—one King bed with overhead twin bunk beds. I ended up bunking with my son on the top bunk for fun.
This is the perfect room and design for guests traveling with children. This guest room at Hotel Drover was delightful for the kids after a long journey and exploration through the stockyards. Each bunk has its own reading lights and ladder. The kids feel like they have their own private space while the parents lounge comfortably below.
The Hotel Drover Pool
We were lucky enough to stay at Hotel Drover during pool season. The Drover pool is pretty, serene, and has large shade trees all around. Take in the Texas sunshine at the ultra-chic pool serving hand-crafted cocktails and cold beers. The cabanas are first come, first serve, with swinging lounge chairs and bronzed crystal chandeliers.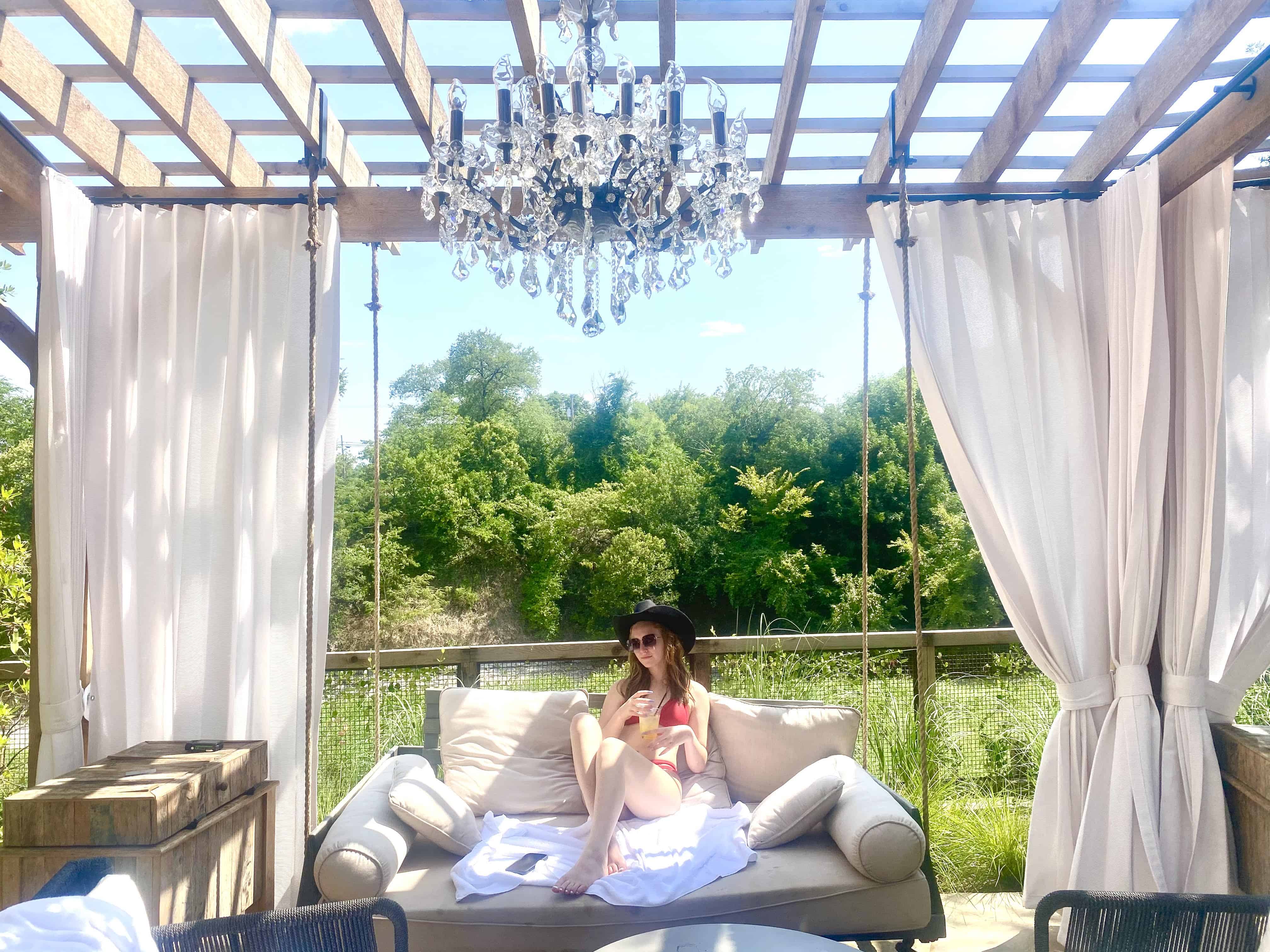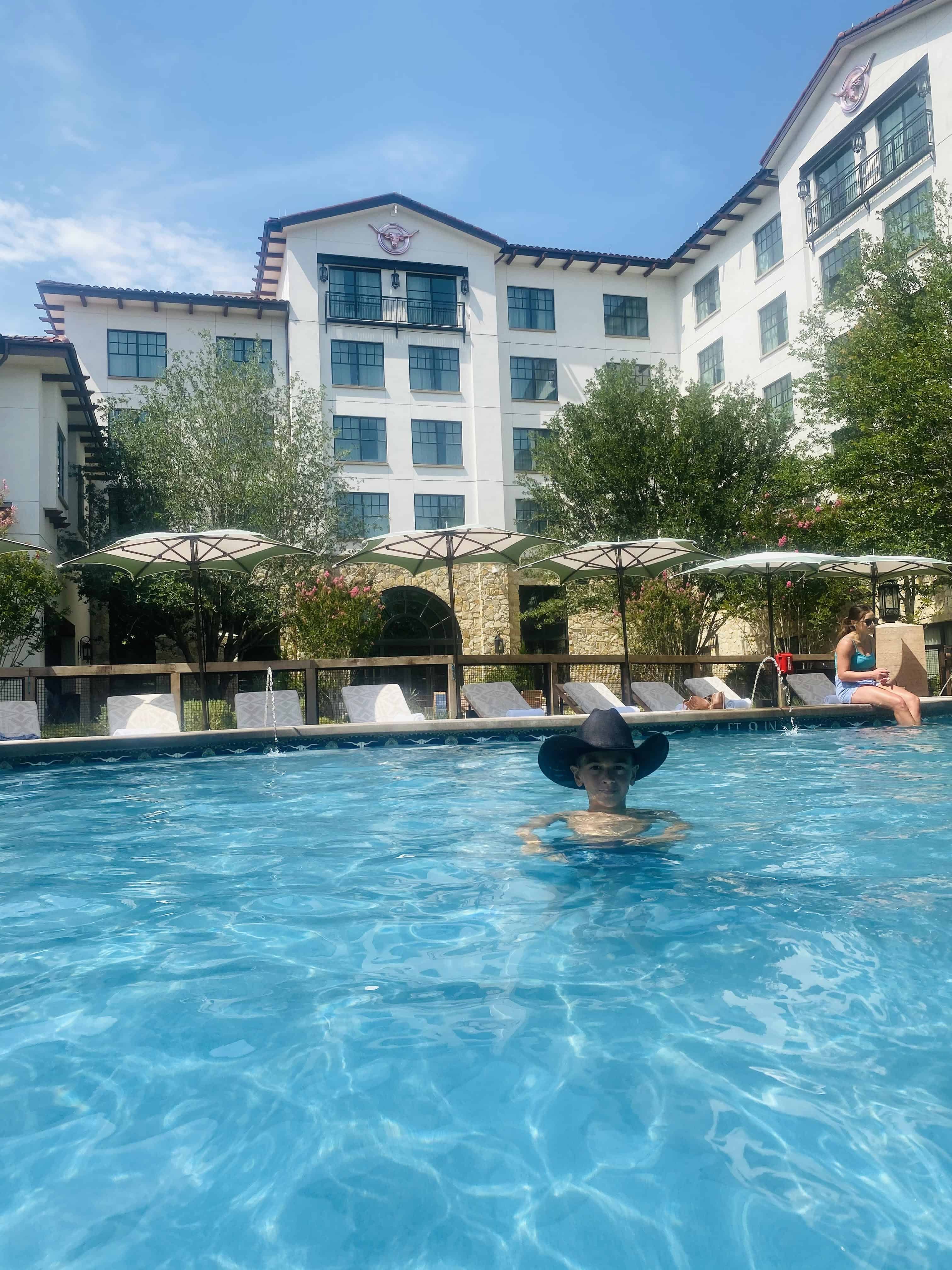 If you are traveling to the Dallas-Fort Worth area, doing a staycation, or want the ultimate girls' trip or doing a family vacation in Texas, this Stockyards hotel is well was well worth the stay. Fort Worth is one of the best cities in Texas and this hotel will make your experience a bit more memorable. It is one of the best hotels I have ever been to, with so much charm and a cowboy vibe.
Tips For Hotel Drover
If traveling with your little buckaroos, ask for a Lil' Ropers amenities. This includes a child-size robe, and tiny stool, a coloring kit, stickers, books, and games sent to your room.
Hotel Drover's pet policy is: doggie friendly. Upon request, your furry friend will receive a Hotel Drover bandana to get in the cowboy mood. Additionally, biscuits, and a fluffy bed to make his tail wag.
The cabanas at the Drover pool are first come, first serve. You can swing on the chic swinging daybed with your Texas cocktails under sparkling bronze crystal chandeliers
97 West Restaurant is not open on Monday. Be prepared to head to Mule Alley or to Main Street for meals. Our suggestions are Sidesaddle Saloon, Biscuit Bar, and H3 Steakhouse. We ate at all three while staying at Hotel Drover.
Moreover, if heading to the Stockyards, most of the events, activities, and stores on the weekdays do not start or open until after the first stockyard cattle drive at 11:30 am.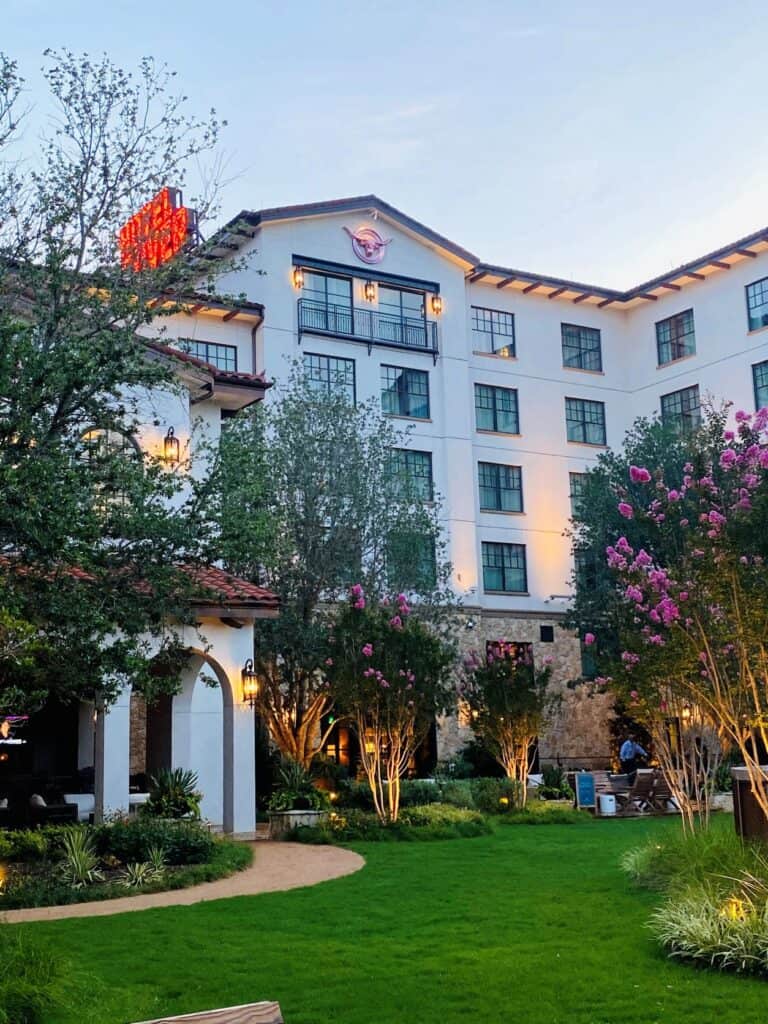 This post contains affiliate links, and if one of the links is used, I may receive a small commission at no cost or obligation to you ever,