Tips for the first-time visitor to the Waco Magnolia Market!
The Magnolia Market in Waco, Texas is a beautiful place, it is. The key to the Market is patience and just taking it all in. Not being rushed is key. It is like going to Disneyland; you must wait in line for something magical but after you do, you are rewarded greatly.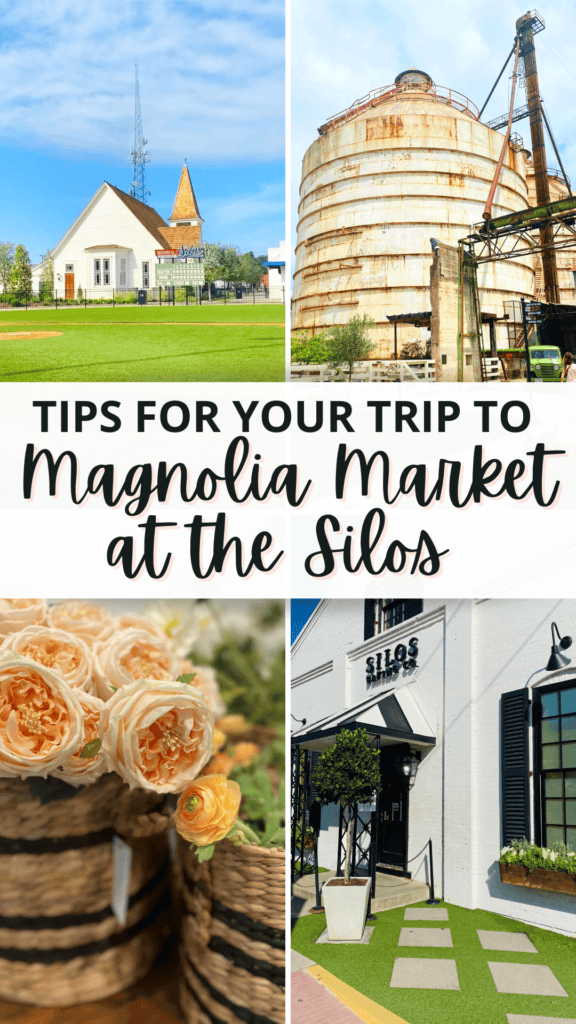 My kids and I have been twice now to the Magnolia Market at the Silos in downtown Waco, Texas. I learned a few things that will make your trip to Chip and Joanna Gaines Magnolia Market more memorable and have the best experience.
Here are my tips from my experiences at the Magnolia Market Waco and the Magnolia Table. Happy Texas road trip!
Insiders Travel Tip: If you are looking for the whole experience of the Magnolia Market, We suggest rounding off your trip by staying in a farmhouse cottage. Waco is filled with adorable places to stay and is Magnolia-themed. OR, for the ultimate experience, book a home that was featured on HGTV Fixer-Uppers!
Tip 1 for Your Trip to the Magnolia Market Silos:
There is free parking around the Magnolia Market, but you will walk. If you do not want to walk and search for parking, there is a parking lot on Webster Ave between S Fifth Street and S Sixth Street. You can see the Magnolia Silos directly across the street. There is a school playground in the same parking lot.
The parking is $10, and a parking attendant will take only cash.
If you are coming with children or babies, this is the best way to park. It is directly across the street from the Magnolia Market. I feel, especially if it is hot, the $10 is entirely worth it. You will be able to load up your car from all the shopping, even make a couple of trips to your car if needed to put merchandise inside.
You can read about our whole experience at the Magnolia Market here.
Waco Magnolia Market Tip Two:
If you are anything like me, I hate being hot. The Magnolia Market is mainly outdoor time. All the shopping is indoors, but the food trucks, the lawn, Silo baseball is outdoors.
Texas heat can be brutal. Of course, any time is a great time to visit the Market and Magnolia Table. However, my suggestion travel to Texas and the Magnolia Silos October-May. We came on June 1, 2021, and it was blazing hot already.
Texas weather is on and off. It can be 76 degrees in December. Magnolia Market has different themes for each holiday or season. Christmas at the Silos is beautiful and stunning, especially the white chapel in the new section of the Silos.
Spring at the Silos will be hit or miss with the weather. It can be cold into May, or perfect. It is Texas, it's unpredictable!
At the Waco Magnolia Market, there are lines to stand in the heat, just a heads up. Of course, Texas in the spring and summer is green and beautiful.
If you plan to go to the Magnolia Table without a reservation, the waiting area is mainly outside, and the waits can be up to three hours long, outside. I HIGHLY suggest a reservation.
Make a reservation at the Magnolia Table >>
Tip 3 Magnolia Silos Hours and Days.
The Silos are closed on Sundays. Your best bet is to travel to the Magnolia Market is during a weekday. Saturdays are going to be the busiest day and on holidays. Magnolia Market hours are 9 am-6 pm Monday through Saturday.
Where we stayed in Waco- The cutest little cluster of cabins!
Magnolia Silos Tip 4
Bring a roll-up picnic blanket that has a carrying case. There are plenty of picnic tables, places to sit, however, if it is a busy day, you will luck out. We brought our large roll-up blanket and were able to place it in the artificial grass near the picnic blankets out of everyone's way. You can also put your picnic blanket on the Silo lawn.
The picnic blanket was the best idea and the best tip I have thus far. On the first trip to Magnolia Market, I learned the hard way.
We bought one of these fantastic, lightweight, easy-to-carry beach/picnic blankets (This one matches the Silo theme). We were able to sit under a tree to drink our sweet teas while the little ones played on the front lawn.
Essential travel items you need for your Waco Magnolia Market Trip!
Tip 5-The Silos Bakery
If you HAVE to get treats at The Silo Bakery, I suggest getting to the Silos bakery before it opens. I feel like the Silos Baking Co. is part of the whole Magnolia experience, so we waited. We arrived five minutes before opening and still waited 45 minutes. The cupcakes are delicious, and the croissants are dreamy.
Waco Magnolia Market Tip 6
Across from the Silos, Baseball Field is the cutest little silver bullet trailer. This food truck, the Silos Baking Company, has some of the same treats as the main Silos bakery and basically no line.
The Magnolia Press Coffee Shop in the back of the property by Magnolia Home also has some pastries and delicious coffees. Next to the coffee house is an incredible fireplace for pictures and plenty of seating.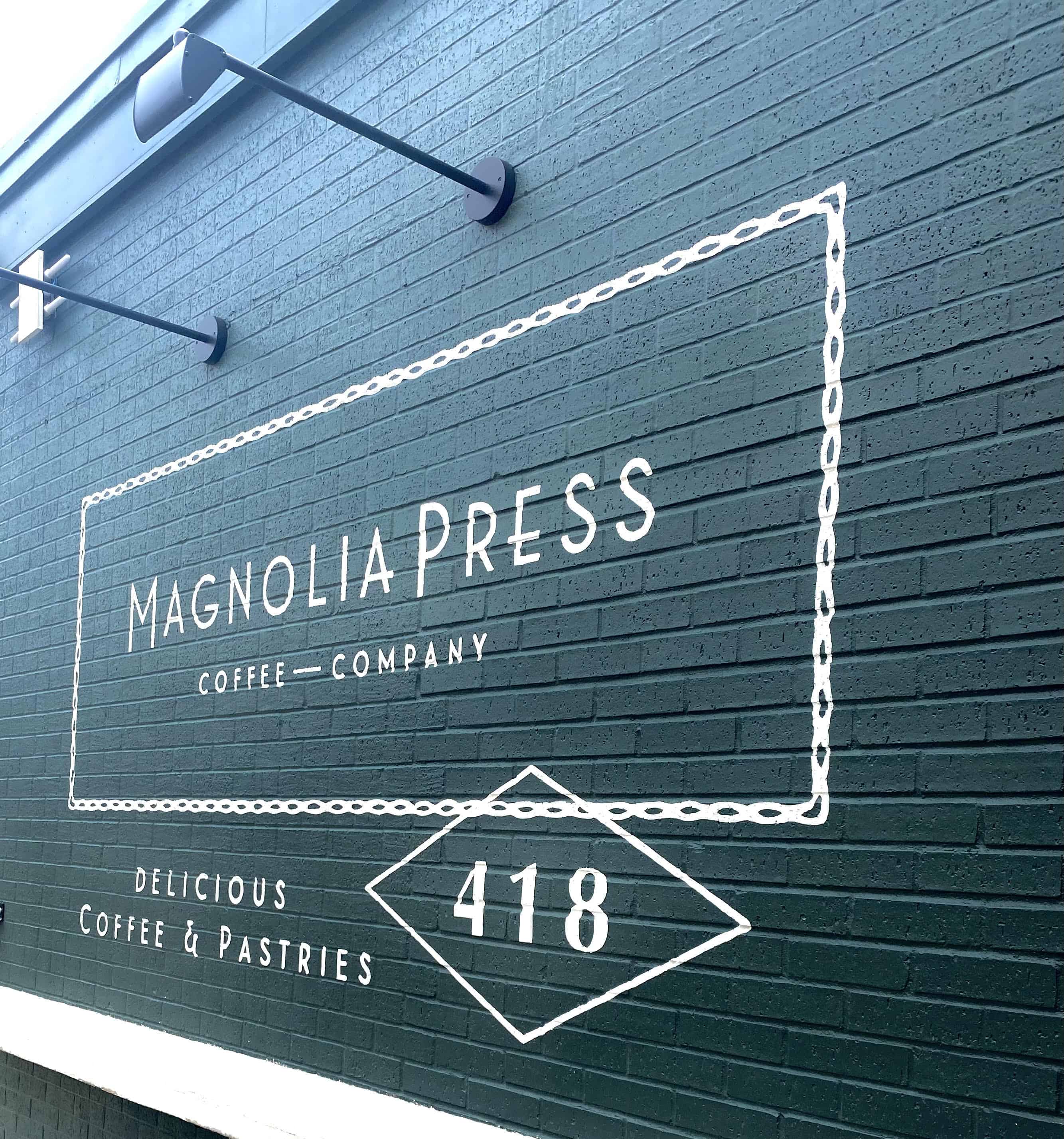 Magnolia Market at the Silos Tip 7.
The Magnolia Market property backs up to an active railroad line. When walking from your parking spot or on the Market property, especially near the Silo Baseball Field, watch your kiddos extra close.
Kids have so much to do at the Silos and just allowing them to play happens. There are so many people and so much going on, just an extra safety heads up and precaution. They have security watching out over that way too
Book the Perfect Cottage for Your Magnolia Market Trip!
Tip 8-To and From Magnolia Table and Market.
The Magnolia Table is separate from the Magnolia Market and is about a five-minute drive from each other. There is a trolley to and from, I listed below. Magnolia Table does have plenty of parking if you chose to drive.
The Magnolia Table-Tip 9.
If you plan to eat at the Magnolia Table, try with all your might to get a reservation, especially if you are bringing kids. We waited for an hour and fifteen minutes with a three-year-old and a nine-year-old, and by the time we sat down, they had it.
We could not enjoy the whole sit-down dining experience at the Magnolia Table because the kids were miserable at that point. However, the breadbasket with Joanna Gaines Zucchini Bread is a must.
Magnolia Table-Tip 10.
The Magnolia Table has a "take-away" section to get the same cupcakes from the bakery in cake slice form. They also have the croissants, breads, salads, and refreshments while you wait (and some of the butter flights to take home.)
Tip 11
I hate to say this, I was hoping after a three-hour experience at the Magnolia Table, the food and the price were worth it. I know people that love it. We will give it another go next time we go and will be more prepared as far as the reservation.
Perhaps we went on an off day? My tip would be, if it is a busy day at Magnolia Table, head to the Silos and eat the food trucks. The food trucks are delicious and there is something for everyone. You can sample just about anything and everything.
Book a Beautiful Bungalow for Your Magnolia Market Trip
Tip 12 for the Magnolia Silos
If you have a bit older kids, I gave my kids each $20 to get whatever food, snack, drinks they wanted from the food trucks at the Magnolia Silos. They loved doing this, and it gave them some freedom to do whatever they wanted. It made their experience extra special. Of course, I had to hand over a little bit more cash here and there.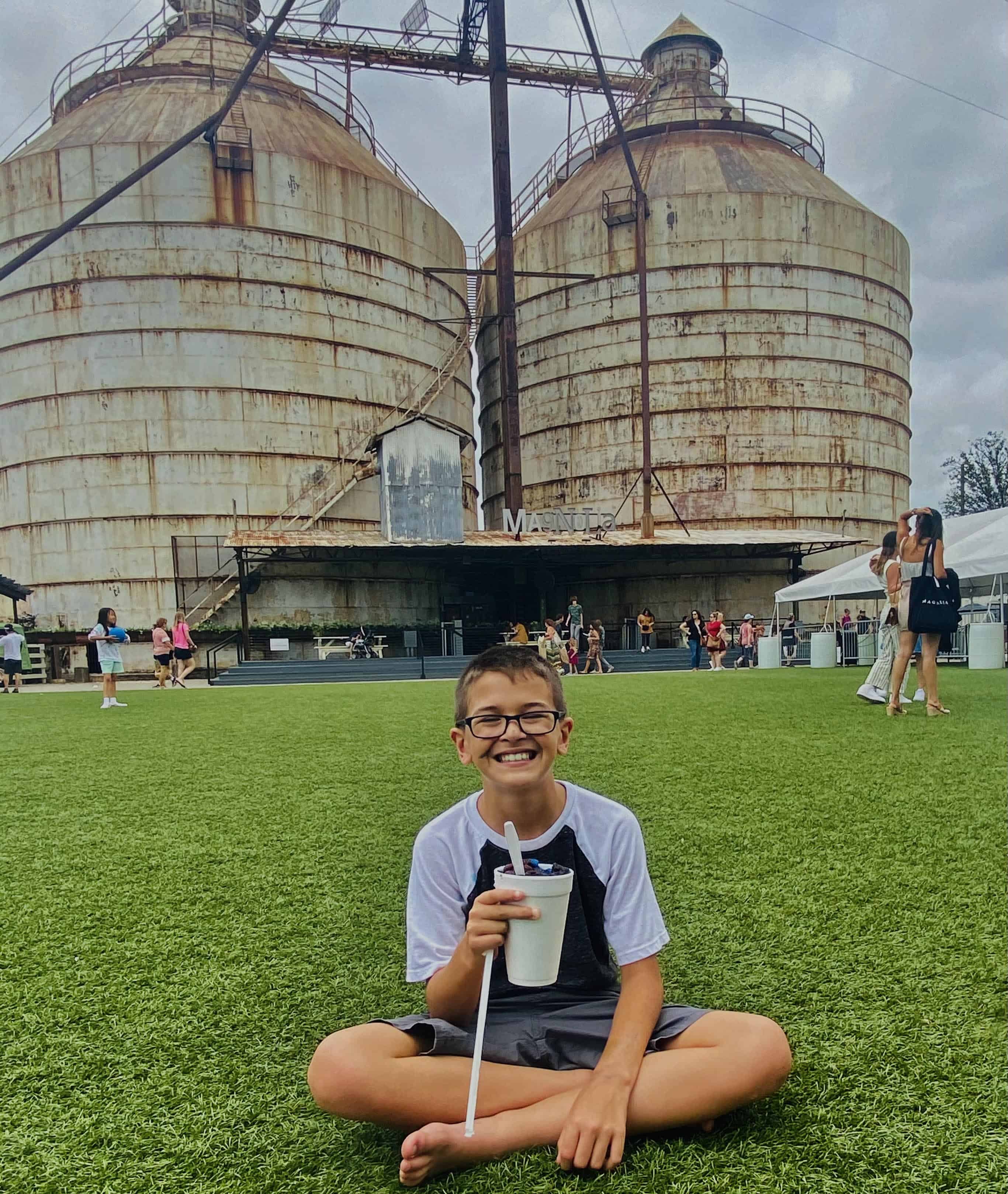 Getting Around Waco-Tip 13
There is a free trolley that goes around downtown Waco, to and from the Magnolia Market and the Magnolia Table. It is a great way to explore downtown Waco without having to find parking. Just hop on and off! The city of Waco, TX also just launched a free open-air trolley; you can access the free map here.
Waco Magnolia Market Budget-Tip 14
Save your pennies before you come to the Magnolia Market at the Silos and the Magnolia Table because there is so much cool stuff to buy.
See: Hearth & Home by Magnolia, the beautiful collection at Target
The merchandise is relatively affordable. You will want some souvenirs, some home goods, and a few cookbooks. I purchased the Magnolia Table hardcover cookbook, and I love it. It has our favorite recipe in it, Joanna Gaines Zucchini Bread Recipe.
You may even purchase new furniture at Magnolia Home!

The Magnolia Market is a great little vacation or Texas Road Trip. Waco, TX also has so much more to see and do like Baylor University, Dr. Pepper Museum, an awesome children's museum. I hope you have a wonderful time at the Magnolia Silos. It's a great experience and you will not be disappointed.