Do you ever feel like you need some time to yourself? Some peace and quiet away from the hustle and bustle of everyday life? If so, you may be interested in she sheds. She sheds are the female equivalent to man caves. They provide hardworking women and mothers with a space to relax, reflect, and rejuvenate. We are sharing the best she sheds for sale so you can have your own space delivered. Women, like men, have man caves, and deserve a quiet space of our very own, too.
So, what exactly are she sheds? She sheds are simply backyard structures or prebuilt sheds, that have been turned into spaces for women to enjoy some alone time. Shed Sheds can be done as elaborate as you'd like or you can do an affordable place to call your very own.
A she shed is a woman's private getaway, typically an outdoor structure such as a garden shed or garage converted into a livable space.
They have been growing in popularity in recent years as more and more women look for ways to have their own space outside the home.
She sheds can be used for a variety of purposes, including office spaces, reading nooks, art studios, music rooms, yoga studios, meditation, gardens, or just simple relaxation havens.
There are many different ways to design and decorate your she shed to make it perfect for you.
With a little imagination and creativity, this can be done by adding comfortable furniture, decor that reflects your personal style, and plenty of natural light. This space is entirely yours. You can turn any shed, into a she-shed!
Prefab She Sheds For Sale-Cozy Outdoor Cottages
A prefab she shed or finding a she shed for sale that can be delivered and installed may be the best way to create your retreat. Sometimes it is worth paying a little bit more or finding a she shed cheap and still having it delivered and installed may be worth the hassle.
Sometimes it is surprisingly affordable and the benefits outweigh the negatives of doing a DIY. The following are prefab or she sheds that can be delivered and installed in the space of your choosing.
This she shed for sale, the Handy Home Products Briarwood 12 ft. x 8 ft. Wood Shed includes delivery and installation in the purchase price! This shed would be the perfect addition to your backyard and has a quaint design to make your shed unique.
Add some window boxes with blooming flowers, and paint the outside farmhouse white with the trim color of your choosing. There is so much you can do with this kit! And, you don't have to worry about delivery or installation!
She Shed Kits- Outdoor Retreat DIY
Your dream she shed doesn't have to be large or over the top. You can find a simple wood shed kit or vinyl shed kit, add some siding, and windows and use a little imagination and you have a dream space to call your own. Below is a beautiful idea of how a shed can be turned into a backyard retreat. Following are the best sheds to make your backyard retreat dreams a reality.
She Shed Tip: If you are looking for the ultimate DIY project, a she shed is an excellent choice. However, if you feel you need to have your she shed built, installed, and delivered, Home Depot has a variety of sheds for your needs. Check out Home Depots she sheds and install pricing, here.
With a little imagination, this affordable shed can be turned into your she shed dreams. This shed is a perfect size and is often featured on plenty of Pinterest boards for she shed ideas.
The Handy Home Trident 8 ft. x 12 ft. Do-It-Yourself Wood Shed Kit is the perfect option for anyone who wants a sturdy and stylish structure. This kit comes with everything you need to build your own she shed, including pre-cut lumber, roof shingles, and door hardware.
Do-it-Yourself Tribeca 8 ft. x 12 ft. Wooden Storage Shed: This sturdy, all-wood storage shed is designed for easy assembly, no special tools needed, and features a treated wood floor and pre-hung, 56 in. wide double doors. This good-sized shed is ready for your ideal space.
Highly customizable, The Majestic woodshed comes in a DIY kit or you can choose to have this she shed for sale installed in your desired space. This wide gable roof building also includes 2 over-door transom windows that provide ample headroom if you are turning your she shed into a music room, gym, or art studio.
See Delivery and Install Pricing Here
The light brown wood siding allows you to mix-and-match colors with paint or shingles from the home (not included).
If you are looking to do a she shed within budget, this she shed for sale from Home Depot is a great option and base. The best part is, that it's an easy shed to put together yourself.
Monarch DIY 10 ft x 8ft storage shed is perfect for those who want to save time and money. This product comes with a patented design that reduces installation time, all of the wood pieces are pre-cut so you don't need any special tools or knowledge about carpentry skills!
**If you want the Monarch Installed and delivered, you can check the pricing here.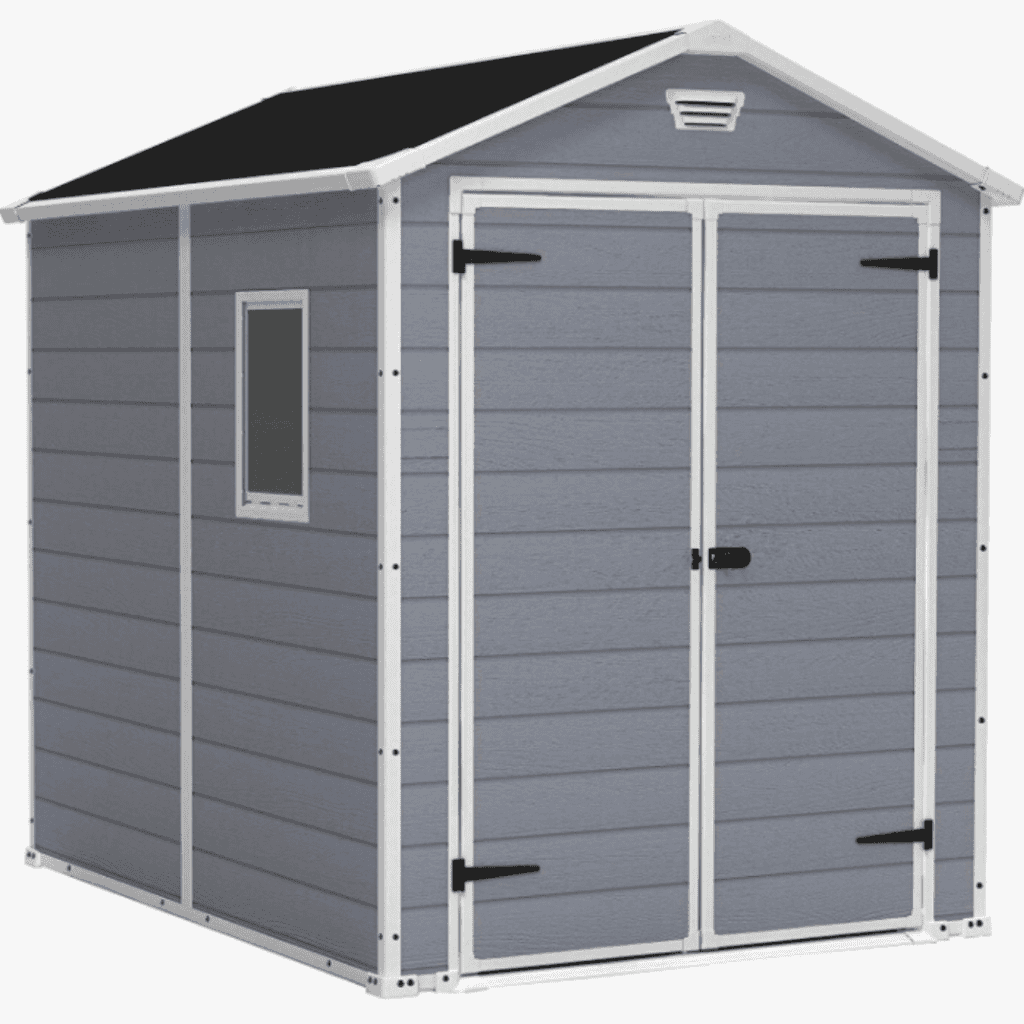 The Keter Manor 6×8 resin outdoor she shed kit is perfect for a reading nook or outdoor workspace. This weather-resistant, waterproof, and UV-protected shed is made from polypropylene resin plastic and steel reinforced for durability and will not peel, rot, or rust.
Keter Manor has a stylish wood-like texture that will complement your backyard retreat. This kit is affordable, for smaller spaces, and best if you do not want a woodshed.
Bring the beauty of a bygone era into your backyard with this authentic, detailed kit. The Colonial Williamsburg has everything you need for unforgettable experience-from heavy-duty Amish craftmanship, hinges, and louvers to beautiful flower boxes!
The Colonial Williamsburg Wood Storage Shed with a Floor Kit comes in several different sizes for your choice and space needs.
The Colonial Pinehurst offers classic beauty to any backyard and comes in several different sizes. Made with Amish Craftsmanship, this shed is sure to please. Great attention to detail is evident in the set of Colonial doors and louvers, large, workable windows, cupola, and transom windows. The LP Smartside panelized kits come pre-assembled (no cutting!), primed, and ready for paint!
If you are looking for she shed ideas that are a little out of the box in terms of shape and where you can place your retreat, the Western Red Cedar Penthouse Garden shed has a 5-sided design that's great for corner placement.
Constructed from 100% Western Red Cedar for strength and beauty. The materials are not only beautiful, but they are also environmentally friendly. With 2 French doors with 52 wide openings plus panelized walls featuring our proprietary lap siding made exclusively by ol' growth technology (OLT), this she shed for sale will be your ideal she shed paradise both inside AND out. Check out Outdoor Living Today Sheds, here.
Shed Shed Idea: Outdoor Living Today offers a variety of garden sheds to turn into your own personal space. From larger sheds to smaller hideaways, you can find one to meet your budget and needs.
Can you imagine customizing and painting this cottage any color you want? Perhaps farmhouse white with pink, red, or light blue accents and doors. Add some window boxes and create an inviting space just for yourself. This she shed kit is a great start to the ultimate retreat. You could even add a porch to sip lemonade on a hot summer day.
Size: 12 ft. W x 20 ft. L
Pocket Doors: Pre-assembled, 6 ft. 6 in. H x 5 ft. 5 in. W with cross buck door design
Sturdy-Built Truss System
Loft Area: Full second-floor loft with 4- 6 ft. headroom
She Shed Tip: If you like the "barn" look, Best Barns has a variety of shapes, and sizes of wood sheds to turn into a cute, country living she shed!
Jamaica Cottage Shop makes the most adorable tiny homes you can turn into the ultimate she shed. The "Dollhouse" cottage can be customized to match your dreams. A steep dormer over your front door, with dual windows waiting for you to decorate with window boxes and flowers.
This small cottage comes in DIY kits only, complete pre-cut kits, and 3- and 4-Season kits. The kits come in 8×8 to 12×20 allowing you to make this charming tiny home into anything you want-a jewelry-making studio, a tiny home, a private hair salon, a granny pod or a space to write or read.
If you are looking for she shed with a porch, "The Nook" Garden Shed may be the perfect addition to your backyard getaway. Offered as frame-only kits, complete pre-cut kits, 3- and 4-Season kits, or step-by-step plans nationwide. The cozy interior can be used as a garden station or small cabin, while the porch invites you to sit back, relax and enjoy the scenery or watch the kids play.
She Shed With Bathroom For Sale
Technically, she sheds are backyard garden sheds turned into your outdoor retreat. If you are looking for a she shed with a bathroom, this may be a little more difficult to install. There are local permits, and HOA permits to consider as well as adding electrical and plumbing to the proposed space. If that is what you want to do, have at it! Here are some she sheds with bathrooms you can consider!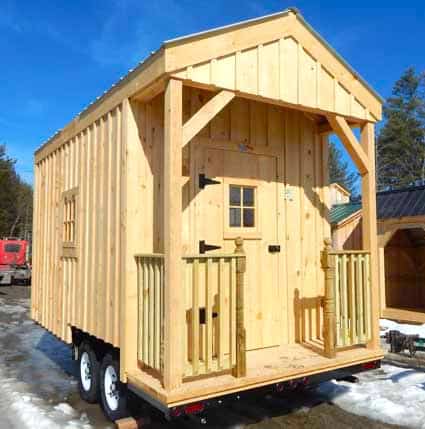 Notice this she shed with a bathroom has wheels? Ff you need an extra quiet space away from your hectic life, you can head out on a road trip! This road-legal small house on wheels can be moved with a standard pick-up truck.
This cottage is fully turnkey, you can turn it into a traveling tiny home, a granny pod or the ultimate she shed. This she shed for sale includes a solar package, electrical package, fresh water sink, shower, water heater and bathroom!
This little cottage can be turned into a home away from home. This cute cottage was designed as a simple multi-room, four-season home to fit the budgets of many. It features an open living space that's separated by one wall complete with a pocket door and a private bathroom (with shower/toilet) for your convenience!
Jamaica Cottage Shop has an array of prefab & kits for a tiny home, she shed ideas, small cabin plans, granny pods & charming cottages to customize for any of your needs. If a fully turnkey she shed is not for you, they have many affordable, customizable she sheds for sale and tiny houses. Check out the variety, here.
Modern She Sheds For Sale
Looking for a sleek, modern look for your she shed? Modern may be more your style!
Looking for a spacious and stylish storage shed? Look no further than this she shed for sale- Palisade Do-it-Yourself Wooden Storage Shed from Handy Home Products. This all wood shed is pre-cut and ready-to-assemble, with a wide 60 in. door opening that features sliding barn-style double doors. The modern studio-style design features 6 ft.-4 in. high side walls and a 9 ft. peak, perfect for creating a creative space.
Looking for a unique and versatile she shed for sale with a little outdoor space to read and sip tea or wine? Allwood Solvalla garden shed is made from high-quality Nordic wood and has a timeless design. These versatile, modern she shed kits can be set in your garden, backyard, or a variety of surroundings, it can even be considered for a rooftop structure! Shop Allwood, here.
172 square feet of living space. This DIY tiny home can double as a guest home, studio cabin, or garden house. This Allwood kit is perfect for anyone that wants some extra, peaceful living space without breaking the bank.
Easy assembly. These she shed kits are designed for easy assembly, so you can have your new living space up and running in no time. With clear instructions and simple tools, you'll be able to put this cabin together with two handy adults in about three days.
Durable construction. These tiny cabin kits are made of high-quality materials that will last for years. They are resistant to weathering and decay, so you can enjoy your she shed for years to come.
This workspace pod can be a quiet retreat if you work from home or you can make it what you want, a modern, sleek she-shed or productivity pod. Can you imagine a sleek, clean space to retreat from the hectic mom life in your main house? Modern finishes, a sofa to drink a martini, and a space to write, journal, play music, craft, or work on your side-hustle.
Prefab Backyard Office Shed Pod:
This 120-square-foot productivity pod comes fully assembled and has luxury finishes. There is electrical throughout with the ability to add HVAC
Architect-grade design
Galvanized steel frame
Insulated, soundproof
She Sheds For Sale-You Deserve One
Have you ever considered creating a she shed? If not, maybe the idea of one has now caught your interest!
If you're in the market for a unique home addition, consider investing in a she shed. She sheds are gaining popularity as an escape for women who want their own space to relax, work on hobbies, or simply get away from the hustle and bustle of everyday life. They can be customized to fit your specific needs and make a great place to entertain guests or just have some peace and quiet.
Out of all these she sheds for sale, which is your favorite? Let's do this, women do it all! We deserve a quiet space that is all our own!
This post contains affiliate links. Additionally, I am an Amazon Affiliate Partner, in which if a qualified link is used I may receive a small commission at no cost or obligation to you ever.