There's something thrilling about being at the top of a towering skyscraper, surrounded by nothing but sky and city. At Edge NYC, you can experience one of the most impressive New York City observation decks 100+ floors above the city streets.
The Edge NYC is a 7500-square-foot outdoor observation deck that sits atop one of Manhattan's tallest buildings, offering breathtaking 360-degree views, 1131 feet in the air.
But that's not all.
This New York City observation deck also boasts a glass floor and angled glass walls, so you can see firsthand just how high up you are.
Trust us.
It's an experience you won't soon forget or miss during your NYC trip. And Edge is not just any NYC observation deck. You can choose your level of thrill-seeking high up.
If you're a bolder adrenaline-seeker, you can test your bravery with the City Climb—where guests can climb the outside of the glass skyscraper and lean out over the Edge for the ultimate rush.
Or, become zen with New York views, and sign up for Sky High Yoga. This uplifting yoga
session led by Equinox is selectively available around sunrise time at 6:30 in the morning,
where peace can be conquered with empowering surroundings of the sky encircling you.
OR, you can just simply take in the magnificent beauty of the greatest city in the world.
Follow this complete guide for more information on what you need to know and insider tips, interesting facts, the Edge restaurant-Peak NYC, and how to get the most out of your visit to Edge NYC.
The Edge NYC
Edge New York is the highest outdoor sky deck (observation deck) in the Western Hemisphere, and it's located in Manhattan's newest and trendiest neighborhood, Hudson Yards, home of the famous Hudson Yards Vessel.
The outdoor sky deck has a one-of-a-kind architectural design that's suspended in mid-air, jutting off the side of 30 Husdon Yards glass building.
This unique design gives guests the feeling they are floating over city streets with 360-degree views of New York City and landmarks like the Hudson River, the Empire State, Summit One NYC, and Central Park.
From the Edge NYC deck, you can see up to 100 stories straight down through the glass floor, lean out over the city on angled glass walls, and sip champagne while enjoying the incredible views of NYC.
New York City Travel Tip: If you are heading to New York City, Chelsea and Hudson Yards is one of the best neighborhoods to stay in New York City. There are so many restaurants, shopping, and attractions. You can find some of the coolest Hudson Yards hotels, here.
Edge NYC Address: 30 Hudson Yards New York, New York 10001
Getting to the Edge NYC:
The Edge is located in the Hudson Yards neighborhood on the west side of Manhattan, north of Chelsea. Enter on Hudson Boulevard at The Public Square and Gardens opposite the Hudson Yards Vessel, level four of The Shops & Restaurants at Hudson Yards.
NYC Subway: The 7 train is the main line to Hudson Yards, connecting to Times Square. Exit the 34-Street-Hudson Yards Subway Station, Hudson Blvd between 33rd Street and 34th Street. From there, it's a quick two-minute walk.
NYC Travel Tip: The New York City subway system is the most efficient and budget-friendly way to get around the city. Don't be afraid to use it. If I can do it solo, you can too. I use Google Maps while in NYC, it will walk you step by step through the train system. Be mindful of "Uptown" and "Downtown" subway trains. You can read Tips for Visiting New York City for some helpful tips.
Bus: The M34-SBS, M12, and M11 bus lines stop within a few minutes walk of Hudson Yards and the Edge.
Walking the High Line–a public park built on a historic freight rail line that is elevated above Manhattan's West Side. The High Line ends next to The Shed and The Shops located at Hudson Yards. From there you can get to Edge NYC.
Car/UBER/Taxi: Drivers can park at 10 Hudson Yards, Abington House, and One Hudson Yards, along West 30th Street between 10th and 11th Avenues.
Bike: The nearest CitiBike Docking Station is West 34th Street and 11th Avenue (make sure you dock your bike correctly).
Ferry: The Midtown ferry terminal is at West Side Highway and West 39th Street
The Edge NYC Tickets
Edge is open 7 days a week, 365 days a year, regardless of weather conditions. The hours of operation for the Edge are 8 am to midnight, and the last elevator goes up 50 minutes before closing.
We recommend purchasing skip-the-line, refundable tickets for Edge NYC here. These tickets can be refunded if canceled within 24 hours of the date.
The Edge NYC Vaccine Policy: In accordance with the City of New York's Key to NYC program, effective March 7, proof of vaccination is not required at Edge NYC and City Climb.
General admission tickets to EDGE NYC:
Adult (Ages 13-61)- $38
Children (Ages 6-12)- $33
Seniors (Ages 62 & UP)- $36
General admission tickets include:
Admission to Edge Observation Deck
Edge multimedia experience admission
Digital photo
Indoor sky deck and champagne bar entrance
Outdoor sky deck with angled glass walls
Access to the Glass Floor, Skyline Steps, and Eastern Point (see descriptions below)
* Tickets cost an extra $10 when visiting during sunset hours due to the understandable popularity achieved by The Edge's spectacular panoramic views and "golden hour" for spectacular pictures.
The Edge New York Flex Pass Tickets
Guests of the Edge New York can pick a date to visit the Edge at any time. It comes with the same features as the general admission pass but with added flexibility for arrival time. If there is bad weather, rest assured, later in the day it might be clear skies. Prices are subject to change.
Adult (Ages 13-61)- $58
Children (Ages 6-12)- $53
Seniors (Ages 62 & UP)- $56
Find flexible, refundable tickets here.
Champagne Admission Ticket
This next ticket purchase is going to be for all the 21 & up individuals looking to bask in the
stunning New York views with a glass of champagne in hand.
The Champagne Admission ticket allows guests to book a date and time of arrival, with a glass of champagne during their visit to the Edge.
Adult (Ages 21+)- $55
Seniors (Ages 62 & UP)- $53

Premium Admission Ticket
Highly recommended for an exceptional experience at the Edge New York, this ticket purchase is only available for guests 21 & up. It includes not only admission but a glass of champagne and a personalized photo book of your experience at the Edge.

Adult (Ages 21+)- $73
Seniors (Ages 62 & UP)- $71

The Edge NYC Discount Tickets
Good news if you're a New York City resident! For all New York City residents, you can get
exclusive deals on tickets. Discounted NYC resident tickets are only available online. They are not available for purchase in person.
Military discount tickets are available at a reduced admission rate for active and retired US military members with ID. You can contact Edge NYC for Military tickets here or call (332) 204-8500, these tickets are not available online.
Which Edge NYC ticket should I choose?
We purchased the general admission tickets and wholeheartedly enjoyed the entire experience. If you want a glass of champagne or other cocktails, you can purchase one when you reach the deck. With the general admission ticket to the Edge, you get all the basic perks of the more expensive Edge NYC tickets.
What is the best time to visit The Edge New York City?
We say sunset or slightly before sunset. You get the daytime view of New York City, then the beautiful sunset lighting of the sky and buildings, then you can see New York at night which is a whole other experience. So you get three magnificent views in one ticket. We did this visiting Summit One NYC and it worked out great.
How Long Can You Stay at the Edge?
There is no time limit on your visit to the Edge New York You can take your time enjoying the
spectacular views of NYC from high above. The average time spent at the Edge ranges from around 45 minutes to an hour.
The Edge NYC View
Your New York City observation deck experience starts with a 52-second elevator ride up to the 100th floor of this impressive glass skyscraper.
Here guests can take in a unique vantage point on the western side of Manhattan allowing entire skyline views and 360-degree lineups of the Statue of Liberty, Central Park, Hudson River, and New Jersey.
The fascinating sharply defined triangular platform of this deck is nothing like anything in the world. This platform suspends 80 feet over open-air, 1131 feet (100 floors) above the city streets.
You will experience these unique features at EDGE New York:
Angled Glass Walls: The Edge New York City is surrounded by frameless glass panels angled outwards in which you can essentially lean out over the bustling city below.
Glass Floors. On the floor of the deck is 225 square feet of glass flooring giving visitors a thrilling view of the busy New York City streets below.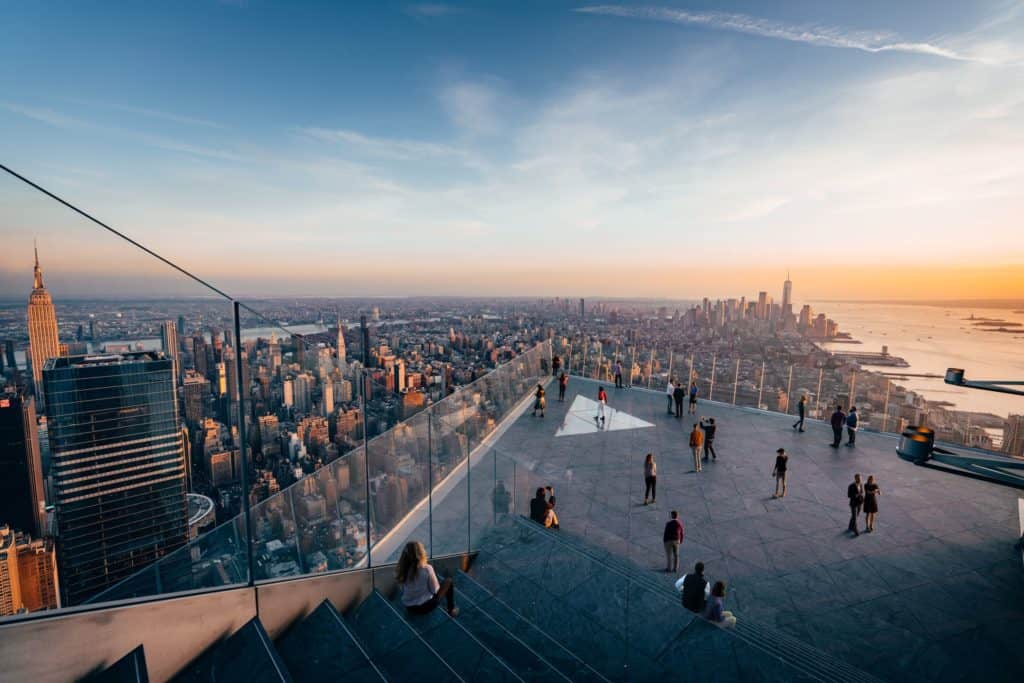 Skyline Steps: The outdoor observation deck of Edge NYC also features the Skyline Steps. These are stairs and a seating area to get an even higher perspective and view.
Eastern Point. At the very tip of the Edge New York platform is the Eastern Point. One person can stand (there is a line) alone surrounded by glass, sky, and city (photo below)
Head up one more level to the 101st floor to the indoor observation deck of the Edge.
From the perspective of the Edge observation deck, guests can observe Central Park to the north, New Jersey to the west, and Lower Manhattan to the south. Though the view isn't as awe-inspiring as the sky deck, it can still be an incredible stop to see angles of the city from way up high.
Take the elevator up to the 102nd floor to the Sip in the Sky and enjoy your views with champagne or handcrafted cocktails!
City Climb NYC

What is City Climb NYC at the Edge?
It is the ultimate experience in New York City and if you're up for the thrill, we say do it.
What exactly are we talking about?
City Climb NYC is the highest open-air building ascent in the world.
City Climb allows climbers to scale more than 1,200 feet—on the outside of the 30 Hudson Yards skyscraper!
Climbers will make their way up the crown of 30 Hudson Yards, climb a 45-degree angled staircase, and end with the imposing lean over the edge at the highest point in New York City.
Once climbers scale the skyscraper they can dare to lean out and gaze down from
the highest platform in all of New York City.
This adventure calls for all the adrenaline junkies and those brave and daring enough to step out and climb up the Edge for a one-of-a-kind memory you, your friends, and your family will never forget.
Tips for City Climb NYC:
The age limit applies to those starting thirteen years and up.
Climbers must be 310 pounds or less. Height-wise climbers at the shortest can be 4.9 feet and at their tallest can be 6.7 feet to attend this exhilarating event.
Climbers age 13-17 must be accompanied by an adult.
City Climb is completely safe. City Climb was carefully engineered and tested to exceed all local and federal safety standards and guidelines
Climbers are fitted with specially designed safety harnesses and secured into the course by City Climb Guides via lanyards attached to a trolley, that seamlessly moves with the Climber throughout the entire journey (Source: EDGE NYC).
Wear enclosed, non-slip, safe shoes for your climb. If shoes do not meet requirements, City Climb has shoes to borrow.
City Climb NYC takes about 1.5-2 hours in total.
Your friends and family can cheer you on from Edge as you summit City Climb. Meet up after your Climb for a victory lap at Edge and toast champagne in the sky.
Sky-High Yoga at Edge New York
Begin the morning with inspiring, uplifting yoga led by Equinox–which ensures classes will be led by world-class yoga teachers.
At 1,100 feet in the air, flow, vibe, and feel the tranquil peace with the skyline shimmering in the background.
The Edge NYC Sky-High Yoga classes span 45 minutes on the outdoor sky deck.
With a purchase of a ticket to attend this inspiring yoga experience, yogis will be provided with a yoga mat, a gift bag of assorted wellness products, and admission to the Edge. Participants will be able to spend 15 minutes basking in the panoramic view after class.

Each class begins at 6:30 AM, giving guests an opportunity to start the day thriving off of
spectacular views, like-minded individuals, and a stimulating environment with unforgettable
scenery.

Peak-The Edge NYC Restaurant
To make the most out of your experience of the Edge New York, You can top off the excitement with a dining experience that will be unforgettable at PEAK NYC.
Located on the 101st floor, Peak NYC is one of the most anticipated new additions to the city's dining scene. The menu features elevated American cuisine with a focus on seasonal and locally sourced ingredients.
The hospitality is warm and inviting, and the views of the city are simply stunning. The design is modern and sleek, yet somehow manages to exude a sense of timeless elegance.
When it comes to food, quality is important to Peak's Chef Cryer. That's why he only works with local fishermen, farmers, and purveyors who he knows and trusts. He also believes in sustainability, which is why Peak's seasonal menu is always changing to reflect what's currently in season.
The Edge restaurant menu is divided into three sections: Land, Sea, and Garden. Each section features a variety of gluten-free, vegetarian, and vegan options.
Reservations are highly recommended and you can look over the menu here.
Explore Hudson Yards At The Edge

Known as New York's newest and most innovatively inspired neighborhood, Hudson Yards is
home to more than one hundred eclectic shops, restaurants, cafes, and the landmark famous, Husdon Yards Vessel. The honeycomb-shaped art installation that you can take amazing photos of, or climb.
Hudson Yards has designated offices for industry leaders, exhibits public art, and passionate cultural institutions such as The Shed—New York's first arts center that is dedicated to commissioning, producing, promoting, and presenting a diverse range of performing and visual arts
And that isn't all!
At Hudson Yards, there are modern residences, up to 14 acres of public plazas, gardens, groves, and the globe's first Equinox Hotel (which is one of the most amazing hotels in New York City) If you want options, Hudson Yards is the place to be.
Is The Edge Worth It?
Yes! This New York City observation deck is one of the modern and new decks in the city. Not only is it an observation deck, but The Edge NYC is also an experience. With the unique architectural and engineering design and its vantage point in being able to see 360-degree New York views, the price is well worth it.
The Edge NYC is a must-visit during your stay in New York City.
Check availability below and plan now!
More New York Travel Guides
Observation Decks in NYC: This is a list of the five observation decks in NYC, the classics, and the modern. There might be a deck that entices you more. Each one has unique characteristics, views, and qualities. You can find the article HERE.
Summit One NYC: This is New York City's other modern and newest observation deck. It's an art installation, in addition to three levels of experiences, New York views, glass elevators, and observation decks. Summit One NYC is well worth checking out in addition to The Edge. Read the Summit One NYC guide HERE.
Top Of The Rock NYC: Take in the views of the city skyline at the classic Top of the Rock NYC! Check out and grab skip-the-line tickets with this guide HERE!
Empire State Building Observation Deck: A quick guide on the classic NYC observation deck, the Empire State Building. You can find the guide and tickets here.
NYC Rooftop Brunch. Brunch in NYC is always a good idea but it's a better idea on an NYC rooftop and a view, oh and bottomless mimosas! Find your NYC rooftop brunch guide HERE.
Things to do with Teens In NYC. I have taken my 16-year-old to New York City a billion times with me because she shares my passion for it. We have done all the things there is to do with kids and teens in New York City. This is a great guide on where to go with your kids or teens so you're cool for a couple of days! You can check it out HERE.
Fall in NYC: fall is our absolute favorite time to go to New York City. Between the end of September through November, the air is crisp, the weather is fantastic and it's just not too cold or hot. Not to mention, the fall foliage in NYC is gorgeous. This Guide will send you on the best vacation during fall in NYC HERE.
New York City Travel Guide: This is the end-all-be-all New York City Travel Guide. It has everything you possibly need to know for your trip to NYC. Read the guide HERE.
New York City Travel Tips: Want to know why you dock your CitiBike properly or why you should not get on a horse-drawn carriage in Central Park? Read these Tips for New York City HERE.
This post may contain affiliate links. I may receive a small commission if a qualified link is used at no cost or obligation to you ever. Additionally, I am an Amazon Affiliate Partner. I may receive a commission if a qualifying link is used.