As Las Vegas locals, we don't really go down to the Las Vegas Strip. In fact, it has been 20 years since my parents stepped foot on the Strip. I wanted to get them out of their comfort zone and take them to the LINQ Promenade Las Vegas to do a little shopping, eat and see the skyline famous-High Roller Las Vegas up close.
My dad was in the steel fabrication business in Las Vegas for forty years and was fascinated by Linq High Roller monstrous engineering. My mom and I just want to do some shopping and do the High Roller Happy Hour, haha.
The LINQ Promenade Las Vegas, What is it?
The LINQ Promenade Las Vegas is a quarter-mile strip of open-air shopping, entertainment, dining, and experience district. The promenade is connected to The LINQ Hotel + Experience for an all-inclusive stay.
The LINQ Las Vegas is home to America's largest observation wheel, known as the High Roller. This district isn't large but is filled with great food and drinks, unmatched energy, and a hip neighborhood vibe.
What to do at The LINQ Promenade Las Vegas
You can spend the whole day and night at The LINQ Hotel + Experience and LINQ Promenade. There are so many attractions, restaurants, shopping, swimming pools, entertainment and bars at the LINQ Las Vegas. This is your complete guide.
If you are looking where to stay Vegas hotel that is centrally located to everything and budget-friendly so you can spend all your money on gambling, food, and drinks, we recommend The LINQ Hotel + Experience.
LINQ Map and Location
The LINQ Promenade Las Vegas is located in the heart of the world-famous Las Vegas Strip in between the Flamingo Hotel and the LINQ Hotel + Experience. It's a side street in between the hotels. The Las Vegas High Roller Observation Wheel is the focal point of the promenade and is now an iconic landmark in Las Vegas.
The LV Strip-facing entrance to the promenade is directly across the street from Caesars Palace, right next to Margaritaville. The end of the property is the High Roller Las Vegas.
LINQ Map
LINQ High Roller
The LINQ High Roller is the crown jewel of LINQ Promenade and is now a landmark to the Las Vegas skyline.
The LINQ High Roller is the largest observation wheel in North America and was named by the Guinness World Records as "The Tallest Observation Wheel in the World" in 2014. It held this honor until 2020, when the AIN Dubai became the largest.
LINQ High Roller Quick Facts:
High Roller Las Vegas is 550 feet tall.
This Las Vegas "Ferris Wheel" has twenty-eight round air-conditioned and heated (thank God because Vegas can get HOT or crisp in the winters) cabins that can hold up to 40 people at a time.
Each cabin has floor-to-ceiling glass windows for spectacular views of the Las Vegas Strip, Las Vegas valley, and mountains.
The observation wheel completes a 360-degree turn in 30 minutes for guests to see every angle of Las Vegas.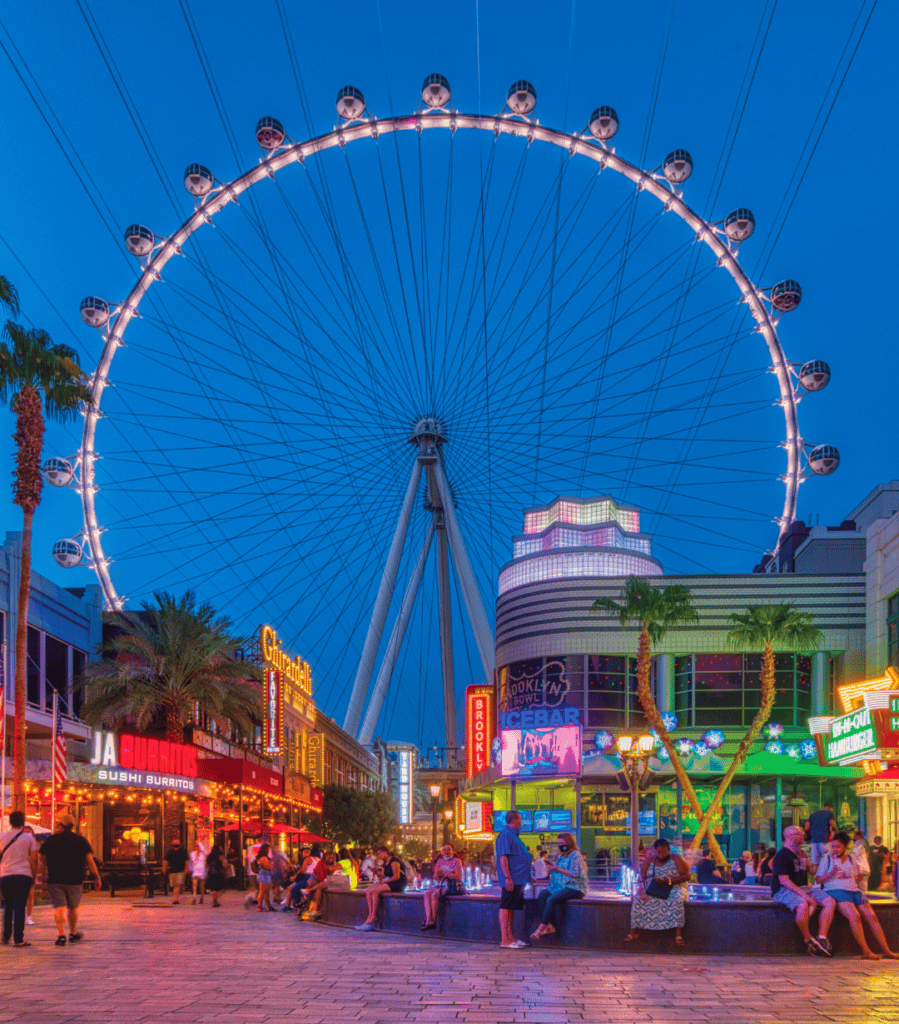 A Little Fun Fact: The High Roller Las Vegas is often called the LINQ Ferris Wheel. The LINQ High Roller is, in fact, an observation wheel because riders are moving freely throughout the enclosed cabins. Ferris wheels are movable, temporary structures, whereas observation wheels are permanent structures.
Unique Experiences at the Observation Wheel Las Vegas
Weddings. The High Roller Las Vegas cabins can accommodate wedding parties of up to 20 guests. Can you imagine getting married in such a unique way in Las Vegas? (hint: unlike movies and tv shows, you can't just "get married" in Las Vegas. One must stand in line with the other hopefuls at City Hall).
Wheelhouse. The Las Vegas High Roller has private event spaces for wedding receptions, rehearsal dinners, and more. This unique 2500-square foot space accommodates 250 guests for your wedding or corporate events. The private space offers views of The LINQ Promenade.
Pre-Roll Room. This exclusive gathering space of the LINQ Ferris Wheel. The space is 2500 square feet and gives your guests VIP access to the High Roller.
Happy Half Hour. A 30-minute open bar makes for the happiest of happy hours in Las Vegas. The open bar cabin holds 25 people and does a 30-minute rotation while you drink what you can in that time frame.
Private Cabins. Reserve a private cabin for a romantic proposal, a bachelor/bachelorette party, parties, birthdays, or, if your boss is cool, a corporate event.
Lights at The LINQ. LINQ Promenade has fountains and lights that syncopate songs with the High Roller. The lights, colors, and songs create a show and experience for visitors walking around LINQ Promenade at night.
High Roller Las Vegas Cost/Tickets
Daytime High Roller Tickets: (2pm-3:59pm) Adult $23.50 | Youth $8.50
Nighttime High Roller Tickets: (4pm-12am) Adult $34.75 | Youth $17.50
High Roller Las Vegas Happy Hour: (21+only) $60
Las Vegas Travel Tip: We use Get Your Guide for our attractions and tickets to events in Las Vegas. They have skip-the-line options and refunds up to 24 hours before your ticket time. Things happen, as do hangovers. It is good to know you won't lose money, only at the Blackjack table.
High Roller Las Vegas Hours: Monday-Sunday 2 pm-12 am.
LINQ Zipline
Ok, the High Roller is fun and exciting, but what about the LINQ Zipline? Fly LINQ Zipline is the first and only zipline on the Las Vegas Strip. The other zipline I recommend is SlotZilla at Fremont Street. Both are must-do things in Las Vegas.
Guests of LINQ Zip Line head up by elevator to a 114-foot launch tower above LINQ Promenade with amazing Strip views. After taking in the views and mustering up the courage, thrill-seekers get in some safety gear, take a photo, and ride 1,121 feet across the promenade to the base by High Roller.
FLY LINQ Zipline has 10 side-by-side zip lines so you can ride with family or friends simultaneously. This experience during the day or night is a blast.
NOTE: The guest's ability to participate in LINQ Zip Line is based on weight and height. Must be a minimum of 60 pounds and a max of 300 pounds. The minimum height is 3'8″ and the max height is 6'8." There is not an age limit if weight and height are met.
LINQ Zipline Tickets
The LINQ Zipline Hours: Monday 4 pm to 12 am | Thursday-Sunday 4 pm to 12 am
We recommend buying the LINQ Zipline Fast Track Passes. The line is LONG and these tickets are likely to sell out-check availability below.
Adults and Youth: $30.00
Groups of 11-30 guests: $22.50
The LINQ Promenade Restaurants
Guy Fieri's Vegas Kitchen & Bar is the place to go for a taste of big, bold flavors and tasty twists on American comfort food. Eat a Tatted-Up Turkey Burger or lick a Jack Daniels Snowcone while taking in the views from the 6500-square-foot outdoor patios overlooking the Las Vegas Strip.
Maxies. Indulge in elevated diner food that is not only delicious but beautiful and an experience-cotton candy pancake towers and Fruity Pebble French toast, a lolly-waffle. All with views of the High Roller Las Vegas.
Chayo Mexican Kitchen + Tequila Bar. Taste some tequilas and eat your favorite Mexican dishes while a DJ adds a high-energy dance party to the fiesta!
Vegas Insider Tip: Happy hour specials at Chayo from 2 – 6 PM Monday – Thursday. $5 margaritas, mini nachos, chipotle wings, Asada fries, and street tacos. $2 Dos Equis Lager or Tecate Light!
Flour and Barley Brick Oven Pizza. Grab a fresh-out-of-the-brick oven pizza to share with friends. Fresh whole milk mozzarella and toppings made in-house.
Virgil's Barbeque. Missing home and need some Southern dishes? Add some smoked barbeque and all the fixings on Virgil's amazing outdoor patios. Don't forget to top off your meal with a banana cream pie.
Favorite Bistro. Feeling fancy in Las Vegas? You will find authentic French food like cassoulet, Croque monsieur, French onion soup at this famed chef restaurant located in the heart of The LINQ.
Vegas Locals' Favorite Eats At The LINQ
Hash Hash A Go Go. This American eatery was popular in Las Vegas with the locals before it landed at the LINQ Las Vegas. Hash Hash offers over-the-top breakfast fare, burgers, sandwiches, and hangover cures. What's that, you say? The O'Hare of the Dog – a 24-ounce Budweiser and a side of bacon for your regretful night. This breakfast will make you feel better. Our pick? The large-as-your-face brown sugar and banana flapjacks.
The Tilted Kilt Pub and Eatery. Lord knows how much skin you've seen in Vegas but let's add to it. Tilted Kilt menu offers ice-cold beers, comfort food like shepherd's pie, and giant pretzels. All served up by a girl in a Celtic schoolgirl outfit. When in Vegas.
Yard House. With a spectacular view on the patio of the High Roller, Yard House has a menu of food from vegetarian options, sliders, plates of pasta, and burgers. Additionally, 160 beers on tap are as tall as the High Roller.
Off The Strip. This restaurant was and is a local favorite for its healthy and comfort food options. Many late nights ended at this eatery for its classic bistro food, from club sandwiches to chicken parmesan and lobster ravioli. This two-story restaurant features three bars and indoor and outdoor dining.
The LINQ Promenade Restaurants-Casual
In-N-Out Burger. You can't possibly vacation on the West Coast and not eat a burger from In-N-Out? Located right in the middle of The LINQ, this quick but amazing burger joint is a cheap eats in Vegas.
Insiders Travel Tip: Right in front of the fountains and In-N-Out is a Carlos Bakery cake slice vending machine. Need I say more?
The LINQ Sandwich Co. Grab a quick hot sub like a meatball sub with gooey cheese, a hot beef sandwich, or a Philly cheesesteak that would make Geno proud.
Gordon Ramsay Fish and Chips. World-famous chef Gordon Ramsay makes classic English fish and chips like he uses the eff word, to perfection and passion. Try some excellent fast-casual street food at The LINQ Promenade.
Haute Doggery. Grab a gourmet hot dog like the Gold Standard, featuring smoked bacon, cheddar cheese, tomato confit, baby arugula, and garlic-chive aioli. (Don't go at your hangover alone 🙂
Jaburritos. Sushi burritos, bowls, and cupcakes, oh my. This Long Beach favorite is serving the freshest, most unique sushi created by chefs in all of Vegas.
Sweets, Drinks, and Treats at The LINQ Promenade Las Vegas
The Nook. For a hot coffee, small bites, pastries, and grab-and-go sandwiches, this "Nook" is the perfect option, even for a healthy salad.
Ghirardelli® Ice Cream and Chocolate Shop. If you still need to satisfy your cravings in Las Vegas, there is no better place to get your fix than Ghirardelli.® Indulge in a Sea Salt Caramel Banana Quake Shake, chocolate-covered strawberries, decadent brownies, or chocolate chip cookies.
Sweet Sin by Claude Escamilla. Indulge in authentic Italian gelato, airy and light macarons, specialty coffees, and pastries at this sweet shop.
Breeze Daiquiri. Grab a giant Vegas souvenir cup and fill it with 12 tasty frozen flavors of daiquiris. Don't forget to add a floater 🙂
Insider Tip: I noticed there is not a steakhouse near the LINQ Las Vegas. Across the street at Caesars Palace in the Forum Shops is Palm Restaurant and Joe's Seafood, Prime Steak & Stone Crab. Both are excellent choices.
LINQ Stores & Shopping
I LOVE SUGAR. Satisfy your sweet tooth with endless candy. This 14,000-square-foot candy store next door to the Flamingo Hotel is the largest candy experience in the world.
Head upstairs to the Candy Martini Bar for candy-infused martinis, drunk gummy bears, and cocktails.
Club Tattoo. Take home the ultimate souvenir from Vegas with a tattoo from one of the most talented artists around. If that is too much commitment, body piercing, designer jewelry pieces, and men's and women's apparel are available.
Goorin Bros. Hats are all the rage, and you can't be Instagram famous unless you have one. Get a casual or formal statement hat like a beret, flat cap, bowler, or fedora.
Harley Davidson. This iconic brand has a special shop right in The LINQ Promenade for you to grab products exclusive to Las Vegas.
Havaianas These celebrity favorite flip-flops are just not any flip-flops. They're great on beaches and in cities. They'll add life to your feet anywhere you take them. With an unparalleled selection of styles that can be mixed and matched with anything from jeans or dresses.
Nectar Bath Treats. These bath treats look good enough to eat. These bath products are all-natural, plant-based, and bakery-inspired handmade soap treats. They are a perfect gift to bring home from Las Vegas.
Welcome to Las Vegas. You will find all things Vegas here. I mean, everything you can imagine is full of Las Vegas souvenirs. It's also a great Instagram spot with a miniature version of the "Welcome to Las Vegas" sign out front.
Socks and Bottoms. Do you need a pair of socks with Obama's face on them? How about Biggie Smalls? Or perhaps some underwear with Bob Ross painting on them? Your sock and underwear choices are limitless in Vegas.
Nightlife & Entertainment and Bars at The LINQ Las Vegas
At night is when Vegas really comes alive. The LINQ Promenade has so many different nightlife options to have the best Vegas vacation ever.
ICEBAR at The LINQ Las Vegas. This is not only a bar at The LINQ Las Vegas, it's an experience. Dubbed "the coolest bar on Earth," ICEBAR is made entirely of ice and features drinks served in glasses made of ice, too. Don't worry, ICEBAR provides you and your guests with parkas and gloves in case you didn't bring any. Or, upgrade like a true queen to a faux fur coat for your experience.
Bring the kids to Vegas and still want to go? ICEBAR has an experience for kids 7-12 complete with mocktails.
It might be cold inside, but it's definitely worth a visit!
Pre-Purchase Tickets to ICEBAR>>
O'Sheas. O'Sheas has been a Las Vegas local bar since the dawn of time. It hasn't lost its high-energy pub charm at all. In this casual pub, you can get a bite, drink until it's light outside, play beer pong, or when I was a young lass, I joined in the conga line (why there was a conga line and why I was in it is beyond me. Good times.)
Brooklyn Bowl. This isn't your grandpa's bowling league. Brooklyn Bowl is where you grab a pitcher of beer with your friends, eat some award-winning fried chicken while a DJ spins like you're in a nightclub. Live bands and live music at the LINQ and themed nights also make this place a must-do in Vegas.
Re: Match. This is a place to get your game on while sipping away at some of Las Vegas's most famous cocktails. With an indoor/outdoor lounge that overlooks the Strip.
Mat Franco Magic Reinvented. Mat Franco's interactive magic acts are more than just tricks. His fast-paced show will leave you laughing, gasping, and marveling at his abilities to create an unforgettable experience in Las Vegas.
The LINQ Hotel
The LINQ Hotel + Experience is a four-star property right in the heart of Las Vegas. This property is an affordable, excellent hotel in Las Vegas. The rooms are new, the LINQ pool overlooks the High Roller and the entertainment is 24 hours a day.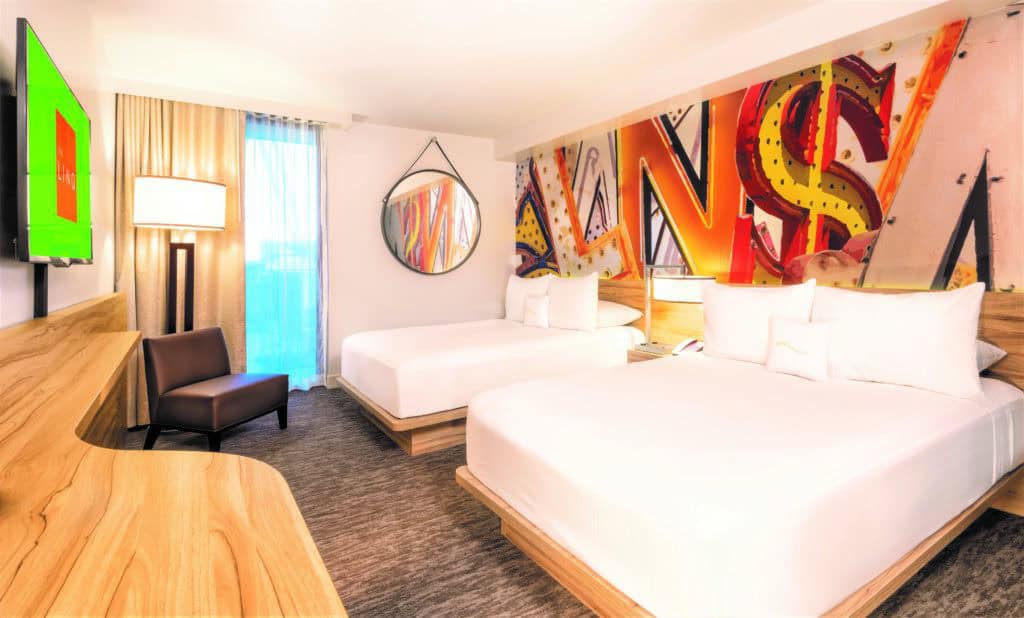 Vegas Insider Tip: Vegas all-year-round has decent, mild weather. In January and February, your can't pool party but you can get fantastic deals on hotel rooms. The weather stays mild, mostly in the 60s. Of course, if you want to lounge and pool party May-September is the time to go but more pricey.
More so, you will get a beautiful Vegas to stay in, a nice, modern, clean room at a fraction of the cost of other hotels on the Strip. I have seen the rooms get as low as $33 a night, depending on the season. Don't let this fool you; even if these rooms were at a higher rate, they are NICE and worth it. Our recommendation for the best rooms at the LINQ Las Vegas is to choose a "City View" room at The LINQ Hotel.
See all the available rooms and DEALS >>
Major Tip to Save Money: If you book through The LINQ Hotel + Experience directly, be sure to sign up for Caesars Rewards. You get the best price and the best rooms at The LINQ Las Vegas. If you find a better rate, they will beat it by 10%. They also offer discounts for military, nurses, and teachers.
Wrap Up of The LINQ Promenade Las Vegas
The promenade, the hotel, and all the activities at The LINQ Promenade Las Vegas, like the High Roller, are a must to add to your must things to do in Las Vegas. If you have any questions, please feel free to reach out; we would love to help! What I tell everyone: Don't drink and drive, don't go hard your first night, and have the BEST Vegas vacation ever.
See: Las Vegas Travel Essentials- Some You Will NEED!

This blog post contains affiliate links. If a qualified link is used, I may receive a small commission to buy more vending machine cake slices in Vegas or LINQ Zipline rides 🙂