Are you looking for things to do in Amarillo, Texas? We'll share some of our favorite spots in the area of our recent trip, from outdoor activities, shopping, restaurants, and museums.
Amarillo, the Spanish word for "yellow" is known as the "Yellow Rose of Texas." This nickname was given to the city because of its vibrant, sunny climate to grow things beautifully. Amarillo is located in the Panhandle region of Texas, and it is home to some of the most beautiful scenery in the state.
There are so many attractions, outdoor activities, quirky, fun, different things to do in Amarillo Texas. If you're looking to make a Texas road trip, Amarillo is worth checking out!
Insiders Travelers Tip: If you are traveling with kids to Amarillo, there are horse statues everywhere. We played a game similar to slug bug or a scavenger hunt but with horse statues. Whoever wins picks dessert or gets a treat.
Where to Stay in Amarillo:
Looking for the best place to stay in Amarillo? I researched the best places to stay by category.
Let's do this Texas Road Trip!
Cadillac Ranch-A Quirky Fun Thing to do in Amarillo
I am going to lead with the most obvious and weird thing to do in Amarillo, Texas. This roadside attraction is fun to take the kids to, get a great picture or see something you likely will never see again.
My family would drive from Las Vegas to Oklahoma City around Christmas time. At that time, Cadillac Ranch was something you saw from the road, you never stopped. My dad would alert us "where Cadillacs are grown" was coming up, so pay attention. As kids, we really believed him and were in awe driving by.
Fast forward 30 years, and my son and I went to Amarillo for a weekend. It's about five hours from Dallas, and four hours from Oklahoma City. Our first stop is Cadillac Ranch.
Cadillac Ranch is about 10 miles outside Amarillo. It is a row of Cadillacs sticking straight out of the ground like corn stalks. They have been spray-painted with brightly colored paint. These cars are in the middle of a giant Texas wheat field, that has gorgeous sunsets.
Cadillac Ranch has become rather novelty and popular with the influx of social media. As you pull up you can buy a t-shirt and a can of spray paint along with other merchandise showcasing your trip to the famous ranch.
My son had a blast spray painting these old cars. It was more fun than I thought it would be. In all honesty, this was a fun thing to do in Amarillo with kids. Beware, there is some rather "graphic" art some people paint.
Cadillac Ranch Address: 13651 I-40 Frontage Rd. Amarillo, TX 79124
Palo Duro Canyon
Palo Duro Canyon is the second largest canyon behind the Grand Canyon in the United States and it is one of the best things to do in Amarillo Texas. This canyon is only 24 miles outside of Amarillo, making a great day trip or camping trip.
Insiders Travel Tip: Palo Duro has places for RV hookups and a couple of hotels near the park. There is a clean, affordable, and nice Best Western central between Amarillo and Palo Duro.
Palo Duro Canyon State Park is home to some of the most stunning scenery in the Lone Star State. There's plenty to do here to keep everyone entertained. Hiking, biking, horseback riding, and camping are all popular activities at Palo Duro Canyon State Park. Families will love the array of kid-friendly activities available as well.
Palo Duro Canyon State Park Address: 11450 Park Road 5 Canyon TX 79015
Big Texan Steak Ranch
You can't possibly come to Amarillo without going to the Big Texan Ranch. You just can't. I remember coming here as a kid and it hasn't changed a bit.
This colorful big yellow steakhouse with a big cow out front may look novelty, but the food and steaks are really, really good. The staff is friendly and the beers are cold. There are some fun things to do with kids inside like a shooting game, and a fun souvenir shop. Make sure you use the bathroom and see the photos on the wall, it's fun to watch the kids try to figure it out.
You might even want to challenge yourself to the world-famous 72-ounce steak challenge: shrimp cocktail, baked potato, salad, with roll, butter, and of course the 72oz steak fixed the way you like it. Your meal will be free if you eat all that food in an hour. If not, you owe $72 bucks.
Your trip to Amarillo may not be complete unless you visit this legendary steakhouse.
In the same parking lot as the Big Texan is the Big Texan Motel is you want to complete your experience. This motel is cute and colorful with great ratings.
Big Texan Ranch and Motel Address: 7701 Interstate 40 East Access Rd Amarillo, Texas
American Quarter Horse Hall of Fame & Museum
You don't have to love horses to enjoy the American Quarter Horse Hall of Fame. If you really love horses and history, then the American Quarter Horse Museum is a must-visit in Amarillo.
This amazing and beautiful museum is dedicated to preserving the history and heritage of America's Quarter Horses.
You will get to see how this breed of horses played an important role in many United States history events. Including the Buffalo Soldiers and the US Calvary.
Moreover, you'll learn all about these beloved animals and their impact on our country's history. Plus, the museum is packed with fun exhibits and activities for visitors of all ages.
American Quarter Horse Hall of Fame Address: 2601 I-40 E Amarillo, TX 79104
Panhandle-Plains Historical Museum
The Panhandle-Plains Historical Museum is the largest museum in Texas. It is dedicated to the diverse history of the Panhandle-Plains region. This museum is owned by the Panhandle-Plains Historical Society and operated by West Texas A&M University.
Visitors to the museum are immersed in a world of history as they explore themed exhibitions. From paleontology and archaeology, all the way down through petroleum-related exhibits – you can travel back across time with PPHM! The collection contains over two million artifacts which only make up 1% of what's on display at this vast museum.
Panhandle-Plains Historical Museum Address: 2503 4th Avenue Canyon, Texas 79015
Route 66 Historic District
Amarillo, Texas is home to the Route 66 Historic District. The district is a section of the city that is dedicated to preserving the history of the Mother Road of America-Route 66.
This unique district is home to a number of fascinating Route 66-era structures and landmarks. Whether you're a history buff or simply looking for a fun road trip destination, the Route 66 Historic District is well worth a visit.
This district is a must thing to do in Amarillo, especially if you are looking for nightlife and dining options. Route 66 Historic District features plenty of restaurants, a mecca of antique shops, art galleries, and fun bars that will make you feel like you've stepped back in time.
Route 66 Historic District Address: 1000 S. Polk Amarillo, TX 79101, 6th Ave between Georgia & Western

Wonderland Amusement Park
Looking for fun things to do in Amarillo with kids? Maybe something to do the whole day? Look no further than Wonderland Amusement Park! This family-friendly park has something for everyone, over 30 thrilling rides, roller coasters, mini-golf, games, delicious food options, and arcades.
Wonderland Park Address: 2601 Dumas Dr, Amarillo, TX 79107
Wildcat Bluff Nature Center
Just a short twenty-minute drive from the heart of Amarillo, Texas you will find yourself amid nature's beauty at the Wildcat Bluff Nature Center. This park has 680 acres of hiking and biking trails, playgrounds, picnic areas, prairies, and an abundance of wildlife.
It's the perfect place to spend a quiet afternoon outdoors with your family or take a leisurely stroll on a peaceful winter morning. No matter what time of year it is, there's always something wonderful to discover at Wildcat Bluff Nature Center.
The trails are open from sunrise until sunset, year-round so you can go anytime! There are also three different hiking loops.
Libb's Trail has an accessible path that winds its way through the park; Serious Hikers will want to explore Windmill or Prairie Loop for longer adventures.
Each offers beautiful views with varying lengths depending upon your hiking experience.
Wildcat Bluff Nature Center Address: 2301 N Soncy Rd. Amarillo, TX 79124.
Don Harrington Discovery Center
The Don Harrington Discovery Museum is a must-see science and space museum for anyone visiting Amarillo, Texas.
The museum offers a variety of exhibits and activities that are perfect for both kids and adults. From learning about space exploration to discovering the wonders of nature, science, technology, history, and art. Be sure to add the Discovery Museum to your list of things to do when you're in Amarillo.
If you are visiting Amarillo in the summertime, Medi Park Splashpad and Playground is right next door as well as the Amarillo Botanical Gardens. You can buy your tickets in advance, here.
Don Harrington Discovery Center Address: 1200 Streit Drive Amarillo, Tx 79106
Bills Backyard Classics
Bill's Backyard Classics is a collection of hot rods, classic, vintage cars, and custom cars in a family-friendly showroom.
This showroom is the largest private car collection in the Texas Panhandle.
Including Bill's collection of showstoppers such as Bob Seger's '61 Pontiac Catalina convertible and Judge Roy Hofheinz '56 Cadillac Fleetwood Limousine.
Each time you visit Bill's collection, you will see something new with an ever-changing inventory. You may even leave and finish your Texas road trip with a classic of your own!
Bill's Backyard Classics Address. 5309 S. Washington St. Amarillo, TX 79110.
Amarillo Botanical Gardens
The Amarillo Botanical Gardens is one of the most popular attractions in the city. With over 4.4 acres of lush gardens, vibrant flowers, tranquil ponds, whimsical statues, and towering trees. It's easy to see why visitors flock to this oasis in the Texas Panhandle.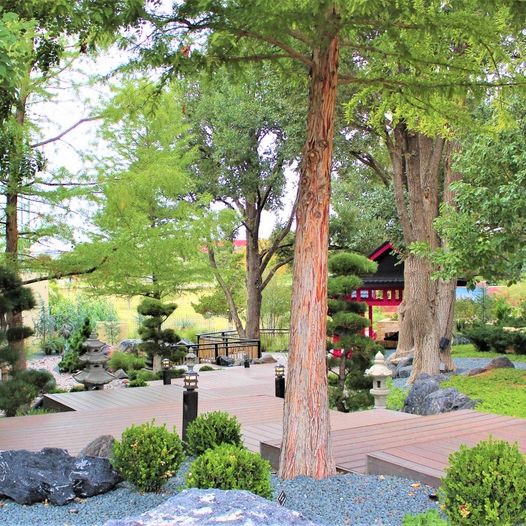 The gardens offer a variety of events throughout the season that are perfect for all ages. Not only that, the lush background is perfect for a wedding.
If you're looking for a peaceful place to relax or explore, be sure to check out the Amarillo Botanical Gardens!
Amarillo Botanical Gardens Address: 1400 Streit Dr, Amarillo, TX 79106
Jack Sisemore Traveland RV Museum
If you are looking for a funky, fun, weird thing to do in Amarillo, Texas, but totally unique, then Jack Sisemore Traveland RV Museum is it.
Take a step back in time and feel all the nostalgia in this unique museum. Home to one of the world's largest collections of RVs, campers, and vintage buses. The exhibits tell the story of RVing from the 30s, 40s, 50s, 60s, and 70s to the present day. Including the world's oldest Airstream.
Jack Sisemore Traveland RV Museum Address: 14501 I-27 Amarillo Texas. 79119.

Amarillo is a great place to visit, with plenty of activities and attractions to keep you busy. Whether you're looking for something outdoorsy or cultured to do, there's sure to be an option that suits your interests.
Make sure to put Amarillo on your list of places to visit – you won't regret it!