Vail Colorado is widely regarded as one of the best destinations for outdoor enthusiasts and those looking for a relaxing getaway. Surrounded by the majestic Rocky Mountains and some of the most picturesque landscapes in the United States.
Vail is widely regarded as one of the best destinations for outdoor enthusiasts and those looking for a relaxing getaway.
With its Bavarian architecture and cobblestone streets, Vail is probably my personal favorite mountain town in Colorado. It provides an experience unlike any other with world-class shopping, gourmet cuisine, hospitality that is second to none, live concerts, performing arts festivals, craft beers, and exquisite wines. Not only that, Vail feels like you are in Europe without having to cross the pond.
Yet Vail, being known as "high class and luxury" has a relaxing, unpretentious vibe.
Whether you are hitting the slopes in the winter or going fishing and biking in the summer months, Vail has earned its reputation as one of the top places to visit in America.
Vail Colorado is about an hour and twenty minutes from Denver. It's one of the best mountain towns close to Denver with easy access to other areas such as Copper Mountain, Breckenridge, and Glenwood Springs.
Vail offers an array of outdoor adventures during summers such as biking, fishing, zip-lining, and hot-air ballooning. Fall is an absolutely stunning time to experience the brightly colored leaves and mild weather. Spring is chilly, but wildflowers bloom and it gives travelers a chance to take in hiking, shopping, and dining.
Vail Village itself is a bustling hub of activity full of luxurious lodges, art galleries, music festivals, and fun activities for the whole family.
Vail is the perfect spot to visit at any season. Each season brings a special element to your trip.
Mountain Towns in Colorado–The Best and Most Beautiful. The Guide Here!
How to Get to Vail
Airports closest to Vail Co. Vail/Eagle County Regional Airport is the closest airport to Vail. It's a 40-minute drive or shuttle to the center of Vail. Several major carriers fly into Eagle but it will likely be a pricey airfare.
Denver (DEN) is the closest international airport and will likely be the most cost-efficient airfare. We fly into Denver Airport (DEN) and get a rental car. You have to shuttle to the car lots which takes a bit of time.
To save time at the rental car lot, do yourself a favor and sign up for Budget Fastbreak. You book ahead of time, put in all your information, and grab your keys and paperwork at a kiosk. It's our favorite travel resource.
I always recommend a rental car in Denver versus a shuttle or private car. Denver is a fun town to explore, and grab a drink or have dinner. However, parking in Vail is expensive.
Plus, when heading up the Colorado mountains, there are so many in-between towns worth exploring. Vail is in close proximity to some of the best Colorado mountain towns like Breck, Keystone, Copper Canyon, and Glenwood Springs.
If weather permits, the drive from Denver to Vail is under two hours. During winter months and ski season, this may take a bit longer or if there is a snowstorm. It's always best to check the traffic and weather before heading up the mountain or down the mountain in Colorado. We made that mistake one time and stuck on the I-70 for four hours. Ouch.
If you are staying in Vail and have no plans to leave the village, a private car service or public shuttle or bus may be the best route of transportation.
The cheapest way to get from Denver and Vail is to take public transportation riding the Colorado Department of Transportation's Bustang system. This option costs just $20 each way, pick up at Denver Federal Center to Vail Transporation Center.
Where to Stay in Vail
This was hard to narrow down because there are so many stunning hotels in Vail. The hotels in Vail are in "neighborhoods" like Gore Creek, Vail Village, Lionshead, and East, and West Vail. All are accessible by a free shuttle.
There are also an array of vacation homes and cabins if you want a more private experience or travel with children or large groups.
Vail Village
Vail Village is filled with high-end, shopping, dining, activities, and amazing accommodations. Vail is one of the more expensive mountains in Colorado. You can take your vacation to a new level and stay at a fabulous vacation rental or cozy cabin or stay in a hotel with every amenity you can think of.
Sonnenalp. I had the opportunity to stay at this world-class hotel in the fall. It is magical and so beautiful. The rooms are luxury rooms but have an element of "coziness and warmth" to them. The amenities (including pools, spas, easy mountain access, and a recreational program for kids)and service are exceptional. One *must* have breakfast at Ludwig's. It is the best breakfast (and coffee) in Vail.
The Sebastian. Located in the heart of Vail Village, The Sebastian is a mix of chic and stylish but with mountain charm. There are plenty of gathering places for friends, a relaxing spa day solo, a state-of-the-art gym, and access to a base camp concierge. for your skiing and outdoor needs. Walk out of your hotel into more shops, restaurants, and activities.
Lionshead Village Vail
Lionshead is the quieter part of Vail, this village with old-world charm is bustling with festivities, activities, boutiques, ice rinks, and spacious vacation homes and accommodations.
The Arrabelle at Vail Square. You will experience firsthand the lap of luxury that Vail is known for. Located in Lionshead Village, The Arrabelle features a lively plaza with an open-air ice rink in the winter months, as well as dining and shopping options to explore. Plus, the Eagle Bahn Gondola is right outside your doorstep so you have direct access to Vail Mountain! When searching for five-star opulence combined with amenities and warmth, this Vail hotel is perfect.
The Hythe Vail. Staying at the Hythe Vail is like having a private retreat in the middle of all the action of Vail. These modern yet luxurious accommodations provide guests with every type of amenity for an unforgettable experience. A full day of skiing, snowboarding, or exploring the backcountry trails, rest, and relaxation await in the privacy of your own grand suite or 1-2-3 bedroom residence. Take in the warm glow of your fireplace and enjoy some peace and quiet before taking on the slopes again tomorrow.
Where to Eat in Vail
Breakfast and Lunch
Our favorite time to eat is breakfast and brunch so I always carefully select restaurant options when we travel. For breakfast, Ludwigs in the Sonnenalp is my personal favorite for breakfast and brunch. They have an upscale breakfast buffet that is spectacular, and the berry french toast is amazing.
For a classic breakfast and hearty lunch in Vail, The Little Diner is fantastic. They have a Dutch Baby (German pancake) that is delicious,
For a quick bite and coffee, Yetis Grind has hearty and filling burritos, bagels, and breakfast sandwiches.
Dinner And Cocktails
For dinner, Miller & Lux | Flame Restaurant at the Four Season is amazing. From Rocky Mountain Elk Corn Dogs to the best cuts of steaks, you will love this warm and welcoming steakhouse. After, stay at the Four Seasons for drinks at the Remedy Bar or head to the 10th Mountain Whiskey Tasting Room for an authentic Colorado experience in a cozy lounge overlooking Gorge Creek.
Top Things to Do in Vail Co.
Vail, Colorado is an amazing destination to visit no matter the season; from skiing down powdered slopes in the wintertime to hiking pristine trails in summer and even wining and dining throughout the off-season. We've compiled the top must-do things to do in Vail Co. that will ensure you make the most out of your trip.
Betty Ford Alpine Gardens in Vail, Colorado offers visitors a unique and world-renowned experience. Located at 8,200' in the central Rocky Mountains, it is not only the highest-elevation botanical garden in North America, but its alpine horticulture and conservation practices make it an internationally acclaimed attraction. The Betty Ford Alpine Garden is open year-round.
Adventure Ridge in Vail is the ultimate destination for outdoor activities and fun. Adventure Ridge sits atop the Eagle Bahn Gondola at a sky-high 10,000 feet, offering activities that range from snow tubing, skiing, bungee trampolines, sunsets, BBQ, and family fun nights.
During Vail winters, ice skate under the twinkling lights at Arrabelle at Vail Square at Lionshead Village.
Vail in winter is magical and Vail Ski Resort is a winter wonderland paradise (one of the best ski resorts in Colorado for families) for ski and snowboarding enthusiasts. Seemingly designed by nature itself to evoke awe and inspiration with its soaring peaks, the sheer expanse of 350 inches of snowfall per year offers conditions like nowhere else on earth. Whether you are just starting out or have the skills of a pro, Vail Ski Resort welcomes you to its grandeur with 5,300 acres of skiable terrains and famously groomed pistes. From long winding runs down the slopes to deep powder fields in iconic Back Bowls, skiers/boarders can enjoy every possible experience here without ever compromising on quality.
Take a Vail Village Segway Tour. Embark on a journey through the heart of Vail with a guided circuit around Vail Valley. Revel in the sublime beauty of the mountain and forest backdrops as your guide leads you to hidden sightseeing gems, a combination of natural grandeur and ski-town coziness. From quaint cobbled roads in the village to top-secret nooks that only locals know about, discover all that this area has to offer along with fascinating facts about Vail's history, culture, and landmarks largely unknown to tourists.
Bike Vail's Recreation Path System during summer is a great summer in Vail kid's activity that includes over 15 miles of paved, multi-use recreation paths with connections to numerous soft-surface hiking and mountain biking trails. You can find the best Vail mountain biking trails here for beginners to advanced.
Hiking in Vail in summer is a memorable experience. Hikes vary from beginner to intermediate to advance hikes. Berry Picker is a signature hike in Vail for advanced hikers. Once you gain 2200 feet in elevation, you can hike down or take the Eagle Bahn Gondola back to the base. For immediate hikers, the Upper Piney River Waterfall is one of the most beautiful settings in Colorado. You can find your perfect Vail hike here.
Vail Stables. If you are in Vail in summer, you should go horseback riding. Vail Stables is an amazing adventure, even if you are a first-time rider. Ride through the Enchanted Forest, flower fields, and some fantastic views of Vail Valley. If horses are not your thing, there is baby goat yoga, or happy hour with twenty baby goats, some ponies, and a sandbox at the Vail Stables Beer Garden.
Have a flight at a Vail Brewery. Vail and Colorado have great breweries for a laid-back vibe and fun. Breweries in Vail you should check out our favorites Hermit's, Vail Brewing Company, and our favorite for whiskey, the 10th Whiskey Tasting Room.
Take a Vail snowmobile tour. Our favorite thing to do in Vail winter is snowmobiling. Each Vail Snowmobile Tour climbs to magnificent vistas along the Continental Divide and features stunning views of Colorado's tallest 14,000-foot summits. There are many guided tours to choose from as well as spots close to Vail where you can do a self-tour. Vail Snowmobile Tours are an exhilarating and one of the best ways to explore Vail in winter.
Vail Colorado-A Quick Guide
Vail, Colorado is one of the best mountain towns in Colorado for its unparalleled beauty, a plethora of outdoor activities, and rich culture. Nestled within a picturesque valley come the Rocky Mountains, Vail is the perfect escape from urban living.
Whether you are looking to relax on a hike, snowboard down one of the pristine trails, or sip away at award-winning wines, Vail has something for everyone. A visit to this beautiful bavarian town will stay with you long after you have left. From its awe-inspiring views to its lively night-time scene, there is no shortage of things to do in Vail Co. whether it's winter, summer, spring, or fall.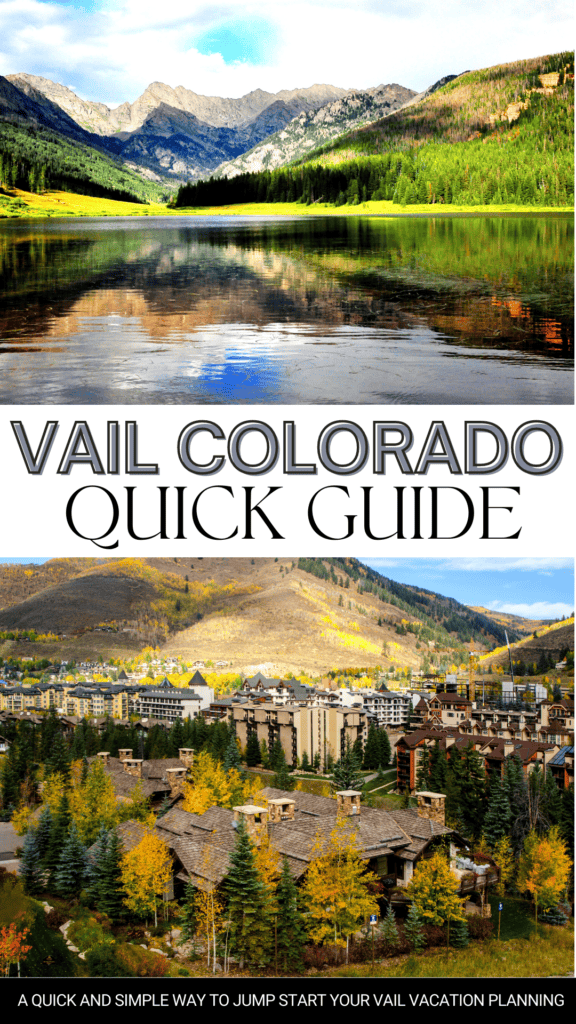 This post may contain affiliate links. I may receive a small commission if a qualified link is used at no cost or obligation to you ever. Additionally, I am an Amazon Affiliate Partner. I may receive a commission if a qualifying link is used.