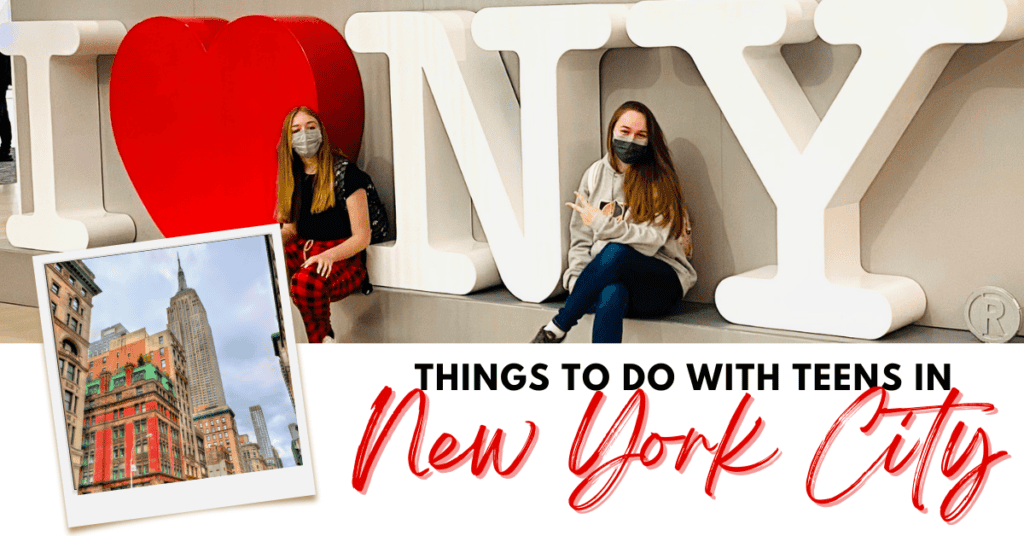 This family travels to New York City often. Much of the time, I bring my teenager, Tayla, with me. She has done most of these New York City attractions and has helped me compile this list. These are also activities and entertainment you as an adult will enjoy too. So let's get to New York City and prove to your teen that you are pretty cool and make some memories! Here are 20+ awesome things to do in NYC with teens!
A Cool New York City Observation/Sky Deck
There are two new observation decks in NYC, and they are modern, sleek, and double as an interactive experience. While all observation decks in New York City are magnificent and have amazing views, these sky decks, we believe, are two of the best observation decks in NYC for teens. Summit One NYC and The Edge NYC are where you should consider taking your teen. Both are well worth the money and a smile on your teen's face!
Observation Decks in New York City: Your guide to all five decks in New York City, all with unique characteristics. You can find the guide to the city's decks here!
Summit One NYC
This is an opportunity for TikTok and Instagram dreams to come true for your traveling teenager. Summit One NYC offers a three-floor immersive and visual art experience with magnificent 360-degree views of New York City.
Head up ninety-one floors in a speeding elevator where you are greeted by mirrored walls and floors. You do not know if you are upside down or right side up!
Take stunning photos and photos of the Chrysler Building and the Empire State Building, and all of New York City through floor-to-ceiling windows.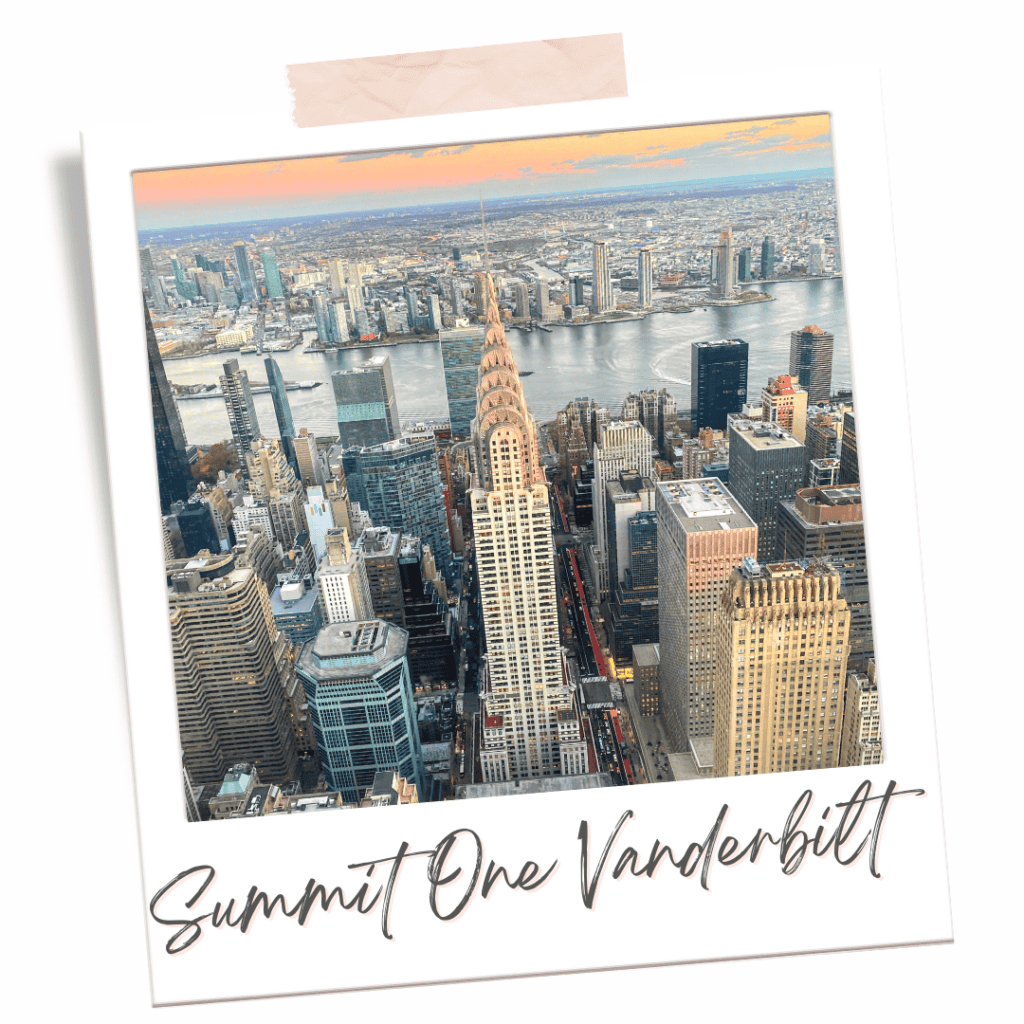 Summit One NYC: Tips, Guide, and Is It Worth It? The guide here!
Your experience also includes a glass skybox to see the city below and a room filled with silver, floating, weightless balloons. You can add a glass elevator ride that heads up to the highest point of One Vanderbilt. You can interact, play and become one with the space. If your teen needs a snack or mocktail, enjoy one on the outdoor terrace.
The Edge NYC
This sky deck located in the Hudson Yards (see next activity) is the highest in the Western Hemisphere and has a one-of-a-kind design to make you feel like you are floating mid-air over Manhattan. The Edge NYC has 360-degree views of New York City and a thrilling glass floor to look 100 stories down to the bustling streets.
Additionally, if your teen wants the ultimate thrill and you are willing to participate, The Edge NYC offers "City Climb."
The Edge City Climb is an open-air ascent up the side of the 30 Hudson building more than 1200 feet above the ground. Then lean out over the highest platform in New York City.
If you have a teen that loves an adrenaline rush, we don't think it gets more adrenaline pumping than this.
See more information on the Edge City Climb here, if you dare.
The Edge NYC: This New York City observation deck is modern and thrilling. Don't forget to check out City Climb while you are there. Read about climbing the side of a skyscraper HERE.
The Vessel At Hudson Yards
In the same neighborhood as Edge NYC is the Hudson Yards. A sprawling new neighborhood on Manhattan's West Side is sure to please your teen.
Hudson Yards has parks like "The Smartest Park Ever Built" Public Square and Gardens, restaurants and shops at Hudson Yards, and the main centerpiece, The Vessel.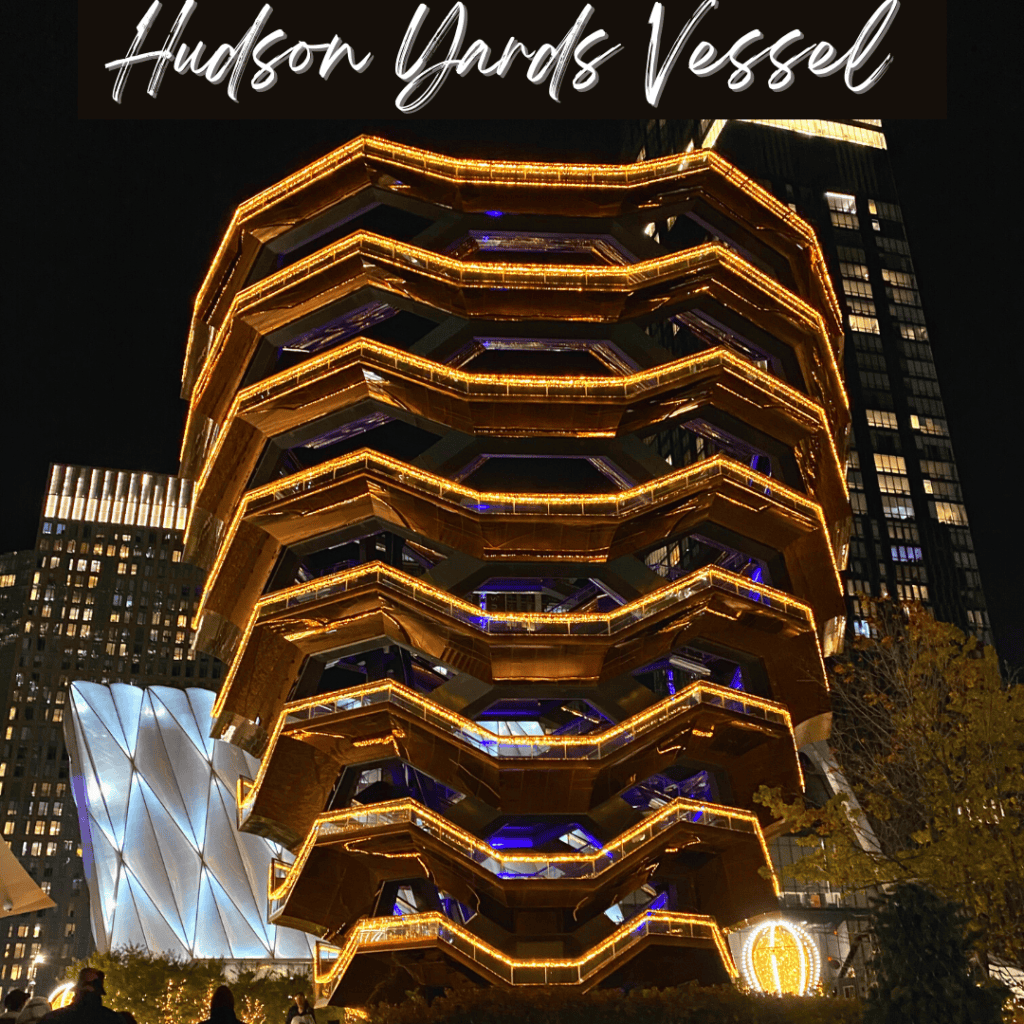 This attraction is like no other in the world. This massive honeycomb-like structure has quickly become NYC's must-see. This interactive structure is made up of 154 interconnecting flights of stairs and offers impressive views of the Manhattan skyline from its perch atop the Hudson Yards neighborhood. It is a fantastic place to see in New York at night, or during the day.
Unique things to do in NYC: Looking for some ideas outside of tourist traps in New York City? We have some fun, innovative, quirky, weird ideas in New York City to consider here!
The National September 11 Museum & Memorial
The National September 11 Museum & Memorial is located at the World Trade Center site in downtown Manhattan. It is essential to put this on your list of must-do things to do in NYC with teens.
Taking your teen to the National September 11 Museum & Memorial is a powerful way to teach them about the events that occurred on September 11, 2001, and its aftermath for America.
Though a sad activity, it is one of the most significant memorials in the US. The museum and memorial are beautifully done and provide detailed accounts of what happened that fateful day.
Every time we head to New York City, we visit the site for reflection, education, and remembrance. My children were, of course, not born when this event happened, so it's important for me as an American citizen to show them, educate them, and feel that the most significant event ever to occur on US soil.
Things to do with Kids in NYC: Bringing the littles to New York City? We have a fun list of things to do for kids in NYC for an entertaining time! Find the guide HERE!
Shopping and the Museum of Ice Cream in Soho
Soho offers your little fashionista to shop in the most vibrant shopping districts in Manhattan-Soho. Soho is located in lower Manhattan and is buzzing with energy, high-end and affordable stores for your teen to pick out a trendy outfit or hard-to-find sneakers.
There are also food trucks or vibrant restaurants to grab a bite to eat. Keep an eye out; you may see some celebrities or fashion models doing their daily activities.
Additionally, Soho is home to the ever-so-pink Museum of Ice Cream. Even as an adult, you will love this attraction in Soho.
Take a dip in the world-famous sprinkle pool and slide down NYC's highest indoor slide and eat as many treats as you want while learning the history of our favorite cold treat. Your teen will absolutely love this museum.
NYC Travel Tip: This event, as well as Summit One NYC, is likely to sell out. We book all of our travel events through Get Your Guide. Travel plans change, and they offer skip-the-line tickets and refunds if you cancel your event up to 24 hours before. Most tour companies or booking directly do not offer this!
Brooklyn Bridge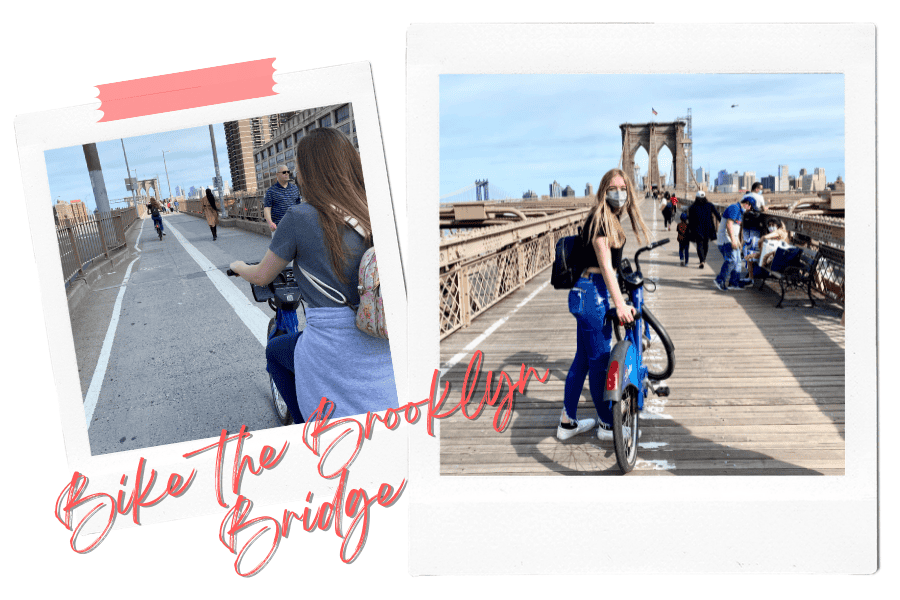 Biking or walking across the Brooklyn Bridge is exhilarating and an experience you can do in NYC with teens. We are not going to lie, going up to the midpoint of the Brooklyn Bridge is tough on a bike, but coming down is a ton of fun. Just stay out of the way of walkers and expert bikers.
Your teen will get some amazing photos of this engineering monster, and when you get to the other side to Brooklyn, head to Time Out Market in DUMBO for some of the best food in NYC. Time Out Market is essentially a food hall with great restaurants for you and your teen to choose from.
From there, hang out at Brooklyn Bridge Park, a scenic riverside park with Jane's Carousel, Instagram-worthy photos of the Brooklyn Bridge, and the Manhattan Bridge.
NYC Travel Tip: Between the intersections of 39-21 Washington Street is a well-known selfie spot with the iconic Manhattan Bridge as a backdrop. You can get some really awesome photos here or hire a photographer to capture the memory.
Explore the Street Art of Bushwick Brooklyn
If you are looking for fun things to do in New York City for teens right up their alley (pun intended here for this experience) take a street art walking tour around Bushwick Brooklyn.
Bushwick, Brooklyn has long been one of the most hip and trendy neighborhoods in New York City. Recently it has become a hot spot for young creatives seeking to express their passions. It is a melting pot of cultures from all over the world, bringing together food, art, music, and fashion from many different countries for all to enjoy.
Bushwick, Brooklyn is fast becoming famous for its street art – and now you can experience it firsthand. Join a guided walking tour and explore the vibrant work of globetrotting innovators. From stunning murals to artsy graffiti-style images, being created by artists from across the world, you'll get to take in the colorful culture up close.
Immerse in the lives of urban artists and find out more about their resumes and quirky personalities. Discover what goes into each artwork and just how much collectors have been paying for these masterpieces. Get ready for an educational, yet fun walk around a place with growing international prominence in the art scene.
Nintendo Store NYC
Nintendo is a household name that needs no introduction, but did you know they have their very own flagship store in New York City? Located in the heart of Manhattan at Rockefeller Center, Nintendo Store NYC is a magical place loaded with ten thousand square feet of gaming goodness.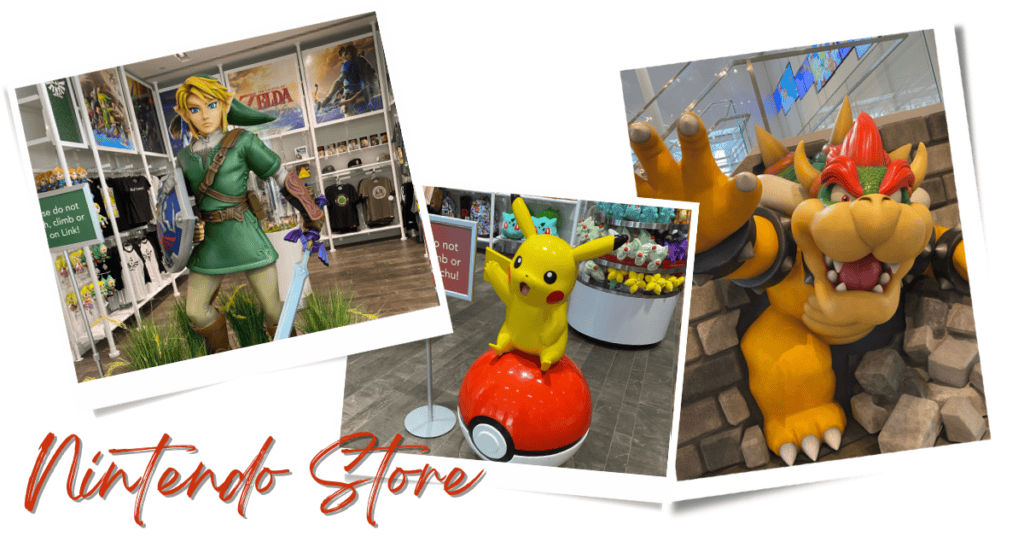 Take photos of Mario, Pokemon NYC, and King Koopa. Your teen (or a nostalgic adult) can get new and exclusive games, memorabilia, and merchandise, including Zelda, Pokémon, and Mario & Luigi!
Other things to do in Rockefeller Center with your teen:
Head to the Top of the Rock NYC Observation Deck.
Skate "The Rink" in the middle of Rockefeller Center. During winter, the rink has ice skating as a one-of-a-kind experience to do in NYC with teens. Some spring seasons, they turn The Rink into a roller rink for some vintage fun.
No trip to Rockefeller Center is complete unless you visit Radio City Music or FAO Schwarz giant, classic toy store.
See NBC Studios at 30 Rockfeller
Titanic Exhibition NYC
Step aboard the Titanic Exhibition NYC, an extraordinary showcase that transcends beyond a mere collection of historical artifacts. Immerse yourself in an unparalleled narrative experience, delving into the captivating saga of the individuals who embarked on the unforgettable voyage of history's most legendary vessel, from its glorious maiden journey to its tragic final passage.
Your teen will transport back to the year 1912, as vintage photographs, heartfelt handwritten letters, and treasured mementos guide you through an abundance of poignant tales about the destinies and heroic acts that unfolded on board.
Harry Potter New York
Your teen likely is the generation that grew up with Harry Potter. The Harry Potter Store NYC and the Harry Potter experience is one of the most fun and exciting things to do with tweens and teens in NYC. The store is filled with all sorts of Harry Potter goodies from clothes, and accessories, to books and toys.
Stop by the Butterbeer Bar, have a personalized wizard wand made, and partake in the virtual reality experience. The Harry Potter Store has the most extensive collection of Harry Potter and Fantastic Beasts products under one roof. It's the perfect place to find everything you need to show your love for the wizarding world.
New York City Tip: The Harry Potter NYC Store is so wildly popular they use a virtual queue for entry, even to just see the store. Before heading to the store, join the virtual queue and purchase your virtual reality tickets in advance on their website here.
Harry Potter and the Cursed Child is also a Broadway play that is also a great thing to do with teenagers in New York. It is one of the top Broadway plays and sells out often. It is not only for teens or tweens, and adults will love this Broadway hit, too. We recommend purchasing your tickets ahead of time here!
Roosevelt Island: An Unusual Adventure for Your Teenager in NYC
The Roosevelt Island Tram is an excellent, cheap thing to do in New York City with teens. The tram is an experience in itself, but Roosevelt Island is full of unusual, um, scary activities for teenagers in NYC.
Roosevelt Island is full of beautiful parks and history. If your teen is more into quiet activities, this Island and the tram are a great experience. But, if you want something out-of-the-box, you can explore the island's ins and outs.
Now a quiet residential island, Roosevelt Island was once an island of institutions inhabited by convicts, social outcasts, patients of an asylum, and the destitute. Government officials filled the island with a smallpox hospital, an almshouse, a penitentiary, and a lunatic asylum.
Today, the remnants of these institutions still stand and offer an interesting and spooky tour. These historical tours are actually fascinating and worth considering.
A New York City Museum
New York City museums are like no other, and don't be afraid to take your teenager while in NYC; they will love it. With the architecture and history, your teen will not even notice the educational aspect of the museums.
The top museums to take teenagers in NYC:
LEGO Store NYC
If you're a fan of Lego, a trip to the Lego Store in New York City is definitely worth your time. The store is located on the famous 5th Avenue and inside, you'll find every type of Lego imaginable, along with a few interactive exhibits that are sure to keep kids, tweens, and teens (and adults) entertained for hours.
At LEGO NYC:
Create a lookalike, and custom LEGO Minifigure at the Minifigure Factory, there are endless combinations to mix and match!
Check out the immersive experience that combines LEGO® building with a digital play like never before, The Brick Lab! Brick Lab lets you build your LEGO creations and see them come alive in an immersive virtual world.
Take a photo in the Mosiac Maker and turns it into an amazing, one-of-a-kind LEGO mosaic.
Shop one-of-a-kind LEGO sets, merchandise, and memorabilia in a dazzling, colorful two-story store.
Do a New York City Experience
There's no place like New York City. From the bright lights of Times Square to the shops of Fifth Avenue, there's always something going on in The Big Apple. If you're looking for an experience that you'll never forget, check out one of the city's interactive attractions.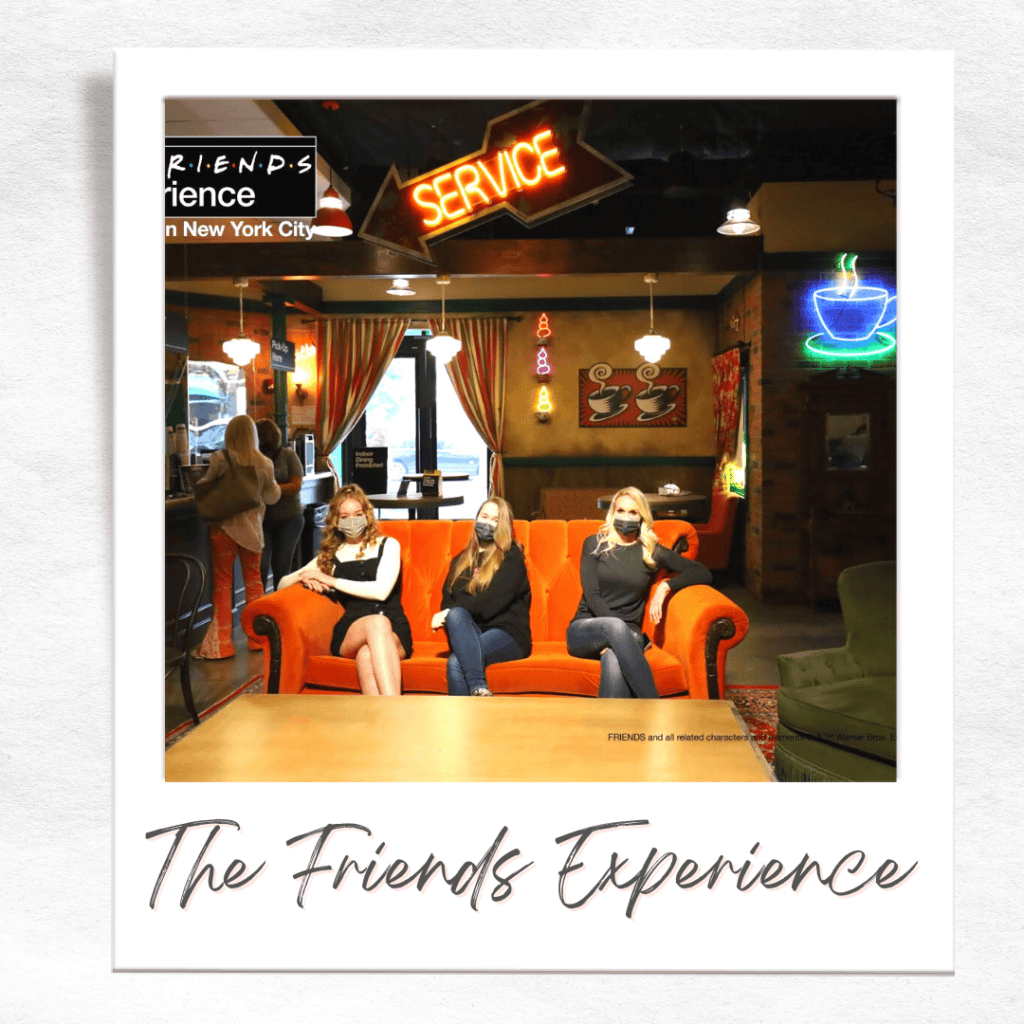 The Friends Experience NYC: Are you a Friends fan or want to have a really cool experience in New York City? We highly recommend the Friends Experience: The One in New York City. Check out our review here!
RiseNY. You can now embark on a three-part journey that lifts and connects you to New York City's most famous sites. Start with the iconic Ric Burn films. Explore museum-style galleries filled with artifacts from throughout pop culture's expansive evolution in this metropolis–then take flight over some breathtaking views of the NYC skyline while suspended 30 feet above ground level!
Skyscape. Skyscape NYC is an interactive adventure that will take you on a journey through the world of spies and secrets. You'll face authentic challenges designed by the former Head Of Training at MI6, with over 90-120 minutes worth of unrivaled edutainment in 7 immersive zones! Afterward, it's time for some reflection as we find out what our superpowers were like compared to real-life or fictional ones…
VR World NYC. Merging cutting-edge technology with a culture rooted in bringing people and fun together, VR World creates an experience where you can be immersed and interact physically. This is a fun virtual reality experience in NYC for teens.
Central Park on Electric Scooters
Central Park is, of course, a must-do attraction in New York City with teens on your trip, but make it fun by renting a bike or electric scooter. Electric scooters are exciting on any vacation and a really fun thing to do with teenagers in NYC.
What to do and see in Central Park:
Have a Central Park picnic. We get our pre-made picnics from Perfect Picnic NYC. You can pre-order a picnic for each person in your party or have a picnic experience delivered and set up in Central Park. You can find the seven best picnic spots here.
Ice Skate (winter in NYC) at Wollman Rink.
Ride the Central Park Carousel
Attend SummerStage Festival (summer in NYC). Purchase tickets

here

.
Attend the free concert series (summer in NYC). Information

here.
A Cool Eating Experience in NYC for Teens
We think eating in New York City is the best experience. NYC is full of restaurants that you will love as well as your teenager. Here are a few suggestions!
Alices Tea Cup. Go down the rabbit hole to have a sip of tea and scones. These adorable tea shops are excellent to celebrate a teen's birthday in New York City or have a magical afternoon tea complete with tiny sandwiches, cookies, and scones.
Breakfast at Tiffany's. Yes! You can actually have breakfast at Tiffany's. Tiffany's 5th Ave flagship has undergone a massive renovation and the Blue Box Cafe just opened. Make sure to log in 30 days before you want a reservation at 9 am eastern time. They sell out within seconds.
Beetle House. A whimsical eatery based on Tim Burton's movies.
Dylan's Candy Bar. The most magical candy store in NYC. A giant chocolate easter bunny, stairs made of gummies, and every type of candy your heart desires.
Chelsea Market. A former industrial building converted into a food hall, it's home to some of the best restaurants in the city. You can find everything from pizza to sushi to tacos and some shopping at Chelsea Market.
Ess-A-Bagel. One of New York City's best bagel shops
Peter Pan Donuts. A mom-and-pop homemade donut shop with amazing donuts and pastries like Red Velvet, Blueberry Buttermilk, and Chocolate Cake.
Lips Drag Queen Brunch. If you are looking for a hilarious thing to do for a teenage birthday in NYC or anytime, this is it. You will have some great food with a side of wildly funny entertainment.
Pizza, of course. Our favorites are Lombardis, Sals Pizza, Lucai Brooklyn, and Juliana's DUMBO.
Little Cupcake Bake Shop. Stop by this little heaven for cupcakes, layer cakes, cheesecakes, ice creams, cookies, and tiny pies, all in an adorable corner shop.
Can you tell we like to eat in New York City?
NYC-Themed Restaurants: If you are eating with your teen in NYC, these themed restaurants are sure to please. From the quirky, odd, the weird. The guide here!
NBA Store NYC
If your teen is a sports fan, particularly basketball, the flagship NBA Store NYC is a stop you must make. With over 25,000 square feet, three levels of the largest in-store collection of official NBA, and WNBA memorabilia, merchandise, and a custom lab experience.
Your teen can find the latest and greatest gear from their favorite teams, players, and brands. You can find the hours and locations for the NBA flagship store in New York City here.
Observation Decks in NYC: This is a list of the five observation decks in NYC, the classics, and the modern. There might be a deck that entices you more. Each one has unique characteristics, views, and qualities. You can find the article HERE.
Visit a Pier
There are several piers in New York City with fun activities for teens and adults alike. Each pier has something different and unique. While finding things to do in NYC with teens, you should choose a pier activity.
Pier 55. Little Island Park. An urban oasis located in Hudson River Park where visitors can experience art, nature, and scenery. This unique park is built on a stilt design and has a waterside amphitheater, music, dance, theatre, art, comedy, and workshops.
Pier 40. This Pier is a cool thing to do in NYC for teens, Trapeze School. Yes, Trapeze School. Your teen can fly high on a trapeze, aerial straps, and tight rope. Book a workshop here. Pier 40 also has large athletic fields and free public rowing.
Historic Pier 57. A new 80,000 square-foot rooftop park overlooking Little Island Park New York Harbor is home to Google's new work campus.
Chelsea Piers, Pier 59. Chelsea Piers Sports & Entertainment Complex is a 28-acre waterfront sports village located between 17th and 23rd Streets along Manhattan's Hudson River. The coolest golf driving range in New York City is located on this Pier. You and your teen can enjoy year-round hitting on the range with weather-protected and heated stalls and an automatic ball tee-up system over the Hudson River.
Pier 96. One of the best free things to do in New York City is kayaking. Manhattan Community Boathouse provides free kayaking on a first-come, first-served basis during the summer and early fall seasons.
Pier 17. Located at Seaport Village in Downtown Manhattan near the Financial District. This Pier is hip, and trendy, and has amazing concerts and rooftop experiences. In winter, they have rooftop igloos, and summer is, "mini lawns" with spectacular views of the Brooklyn Bridge.
See New York City by Water
Seeing the New York City skyline by water is an incredible thing in NYC to do with teens. There are many fun experiences your teen and yourself will love.
Beast Speed Boat

. The Beast is a jet-powered, custom-built 70-foot offshore racing powerboat that will take you up to speeds of 45 mph on your spin down the Hudson River and around the Statue of Liberty.
Do a

cruise around the skyline and Statue of Liberty

on a schooner, yacht, cruise ship, speedboat, tall ship, or ferry; there are several options: brunch, lunch, and dinner. Night, day, or sunset. The options are limitless.
Fall in NYC: fall is our absolute favorite time to go to New York City. Between the end of September through November, the air is crisp, the weather is fantastic and it's just not too cold or hot. Not to mention, the fall foliage in NYC is gorgeous. This Guide will send you on the best vacation during fall in NYC HERE.
See a Teen-Friendly NYC Comedy Show
If you are looking for things to do with teens in NYC that are a little out of the box, The Kids 'N Comedy monthly public comedy shows are ideal for those needing a break
from the typical sightseeing and crowded kid-friendly trendy spots in NYC and provide the
opportunity to indulge in attending a comedy show and one of NYC's best comedy clubs.
This monthly series offers a comedy show for tweens and teens, produced and performed by teens. These talented teens do comedy workshops and work toward performing for audiences of kids(ages 9 + up), families, and the general public.
The highlighted comedic talent at these monthly shows is selected because they are the best in class and have spent multiple years with the organization developing their acts. Ranging in age from 13-18, these performers are as good as any adult comic, but keep it clean for the family audience.

The young audience members will appreciate the camaraderie and perspective of their peers. Being a young adult in today's world is tough, and nobody knows it better than these guys.
The audience is encouraged to join them in celebrating the hilarity of their developing lives. As the New York Times said 'Like many standup comics (they) enjoy drawing on their wacky childhoods, the only difference is they're still living them." Tickets are $18 plus a one-item minimum. A lunch menu is available.
Tickets are available online at www.kidsncomedy.com.
Best Museums For Kids in NYC: looking for fun, engaging, and educational experiences while traveling with the kids to NYC? We have the list of the best museums in New York City for kids here!
Nike NYC
We know teens are into the latest and greatest shoes Nike releases, and Nike NYC has the coolest stores in America.
The brand has consistently created some of the most iconic and sought-after shoes on the market, and the New York City locations are one of the best places to find them.
From classics like Air Force 1s to new releases like React Element 87s, your teen will find the ultimate pair. You can find the Nike NYC locations here.
Small Is Beautiful: Miniature Art Exhibition
Looking for something new and exciting thing to do with teens in NYC? Look no further than Small Is Beautiful, an Exhibition that brings together 32 artists from around the world who specialize in miniature art. This unique experience invites visitors to explore the intricate and fascinating world of tiny creations, all housed in the heart of the city.
With several works created specifically for the exhibition, there's no telling what innovative and surprising pieces you'll discover as you wander through the gallery. From imaginative sculptures to stunning paintings, this showcase of XXS art is not to be missed. So gather your teens and head to Small Is Beautiful for a truly unforgettable artistic experience.
Catacombs by Candlelight
If you're looking for unforgettable and unique things to do with teens in New York City, look no further than the Catacombs by Candlelight Tour at the Basilica of St. Patrick's Old Cathedral. This exclusive tour takes you behind the scenes of the church and into the only Catholic catacombs in NYC, where you'll uncover the hidden areas that are off-limits to regular visitors.
Along the way, you'll learn about the church's significance in New York history and discover the final resting places of famous New Yorkers who have left their mark on Catholic, New York, and American history. It's a journey through time that will leave a lasting impression on everyone who takes part and a unique way to connect with the past in the city that never sleeps. Don't miss the chance to unlock the secrets of the Basilica of St. Patrick's Old Cathedral with your teens!
Wonderland Dreams by Alexa Meade
Embark on an enchanting journey into a realm of marvels with Wonderland Dreams, an extraordinary exhibition crafted by the talented artist Alexa Meade!
Prepare to be captivated as the cherished tale of Alice's Adventures in Wonderland is ingeniously brought to life through vibrant, hand-painted art installations that blur the boundaries between fantasy and reality.
Alexa Meade, a world-renowned artist known for her mind-bending creations showcased across the globe, has masterfully crafted this awe-inspiring experience that promises to leave an everlasting impression.
Immerse yourself in a world of wonder and excitement as you secure your tickets for Wonderland Dreams by Alexa Meade & Mad Hatter's Family Adventure in New York.
This is an opportunity to indulge in a breathtaking visual feast that will transport you into the very heart of Wonderland itself.
Things to do with Teens in NYC-Wrap Up!
New York City is a great place to visit with teenagers – there's always something new happening. This family has some of the best memories of our travels to NYC, and we hope this list helps you and your family have the best time possible. If you have any questions or comments, please feel free to reach out. Or, if you have epic things to do with teens in NYC, we would love to add them to the list!
Thanks for reading, and we hope you have a great time exploring everything the city has to offer.
This post may contain affiliate links; if a qualified link is used, I may receive a very small commission at no cost or obligation to you. Additionally, I am an Amazon Affiliate Partner, I may receive a commission if a qualified link is used at no cost or obligation to you.