One of the most well-known cities in the world, New York City is full of attractions. From world-class fine dining to world-renowned Broadway performances, many people travel to come to experience the throes of New York City's hustle and bustle.
Over eight million people live in New York City, and more than eight hundred languages are spoken, topping the city as the most linguistically diverse city globally. The impressive diversity widens the culture, art, and expression of those that call NYC their home—and for any who choose to travel to it. As the "city that never sleeps," there are plenty of activities to plan for when traveling to this hot spot travel destination.
To avoid the mundane tourist activities that may fail to impress you, we've created this list of the top unique things to do in NYC.
Prepare to have an exceptional experience and story to share with friends, family, and coworkers when you get back home from your trip to New York City—-it's time to have some fun and experience the unique things to do in NYC!
Unique Things to do in NYC
No more boring attractions full of crowds and lacking any impressive characteristics. There are plenty of fun and unusual things to do in New York, and we've made a list of them for you!
Sleep No More at the McKittrick Hotel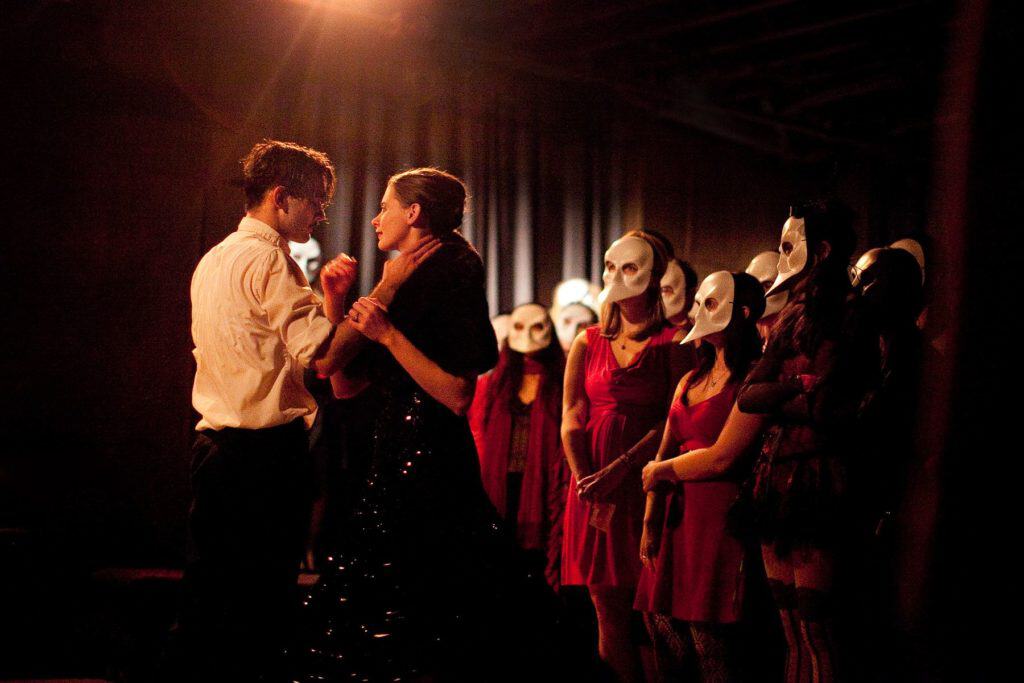 This was one of the most mind-blowing experiences I have had in New York City. We left speechless, thinking, "what was that?!" But it is one of the most amazingly unusual and unique things to do in NYC.
I will try to explain this experience in New York City the best I can.
However, it's worth going to experience yourself.
Sleep No More is an immersive play/experience of the senses at the Mckitterick Hotel (the hotel is non-operational).
A Macbeth mask is given to you at the entrance; you follow around characters into different rooms and areas of the hotel as they act out the play. You are not allowed to speak. It's completely silent as you wander around this spooky yet enchanting hotel. It was wild.
If you are offended easily, this experience may not be for you. An open mind is needed.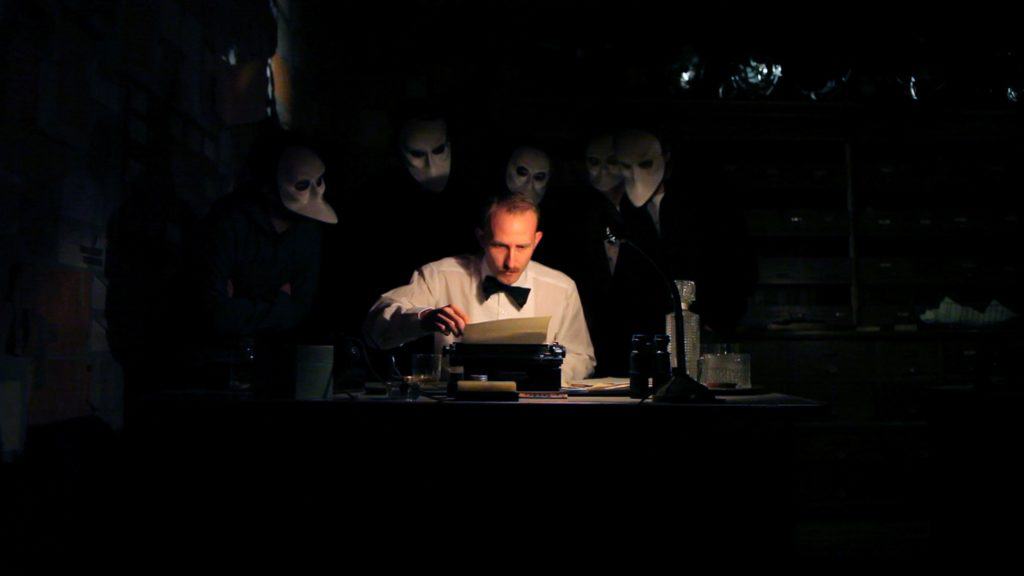 There are 100 intricately detailed rooms and spaces spanning over 100,000 square feet. Guests can freely explore, go through drawers, and even answer ringing telephones. You will go up and down stairs, into hallways and graveyards, and discover rooms with actors displaying an awe-inspiring blend of acrobatic choreography, film noir, and soundtrack.
Then somehow, you will land in a cocktail bar with a lady serenading 30s Jazz tunes while someone is gracefully playing the piano. Here you can grab a fancy cocktail and seat.
If you're looking to explore New York at night, Sleep No More New York City production at the McKittrick Hotel is the way to do it!
Explore New York City at Night
Mainly based on William Shakespeare's Macbeth, the theatre production also obtains inspiration from noir films and the 1697 Paisley witch trials.
The McKittrick Hotel, established in 1939, dedicated to becoming New York's most decadent and luxurious hotel. Unfortunately, the hotel got its start at the beginning of World War II, resulting in its immediate closing until 2011, when the doors opened to the public once again.
Now, guests from all over the world travel to the McKittrick Hotel and its legendary halls to bask in the classic Scottish tragedy of Shakespeare.
Welcome the suspenseful ambiance of this powerful story as you are transported and immersed in the most powerful theatrical performance in New York!
After your experience, head upstairs to New York City's best rooftops, Gallow Green.
During the month of May, Sleep No More has "Mayfair." You engage in the experience and end up in a giant room filled with grass on the floor, people with animal masks dancing, and the Last Dinner in the background. Once again, wild.
Tickets and showtimes to Sleep No More and other Mckitterick Hotel events, including reservations to Gallow Green, can be found here.
City Climb the Edge NYC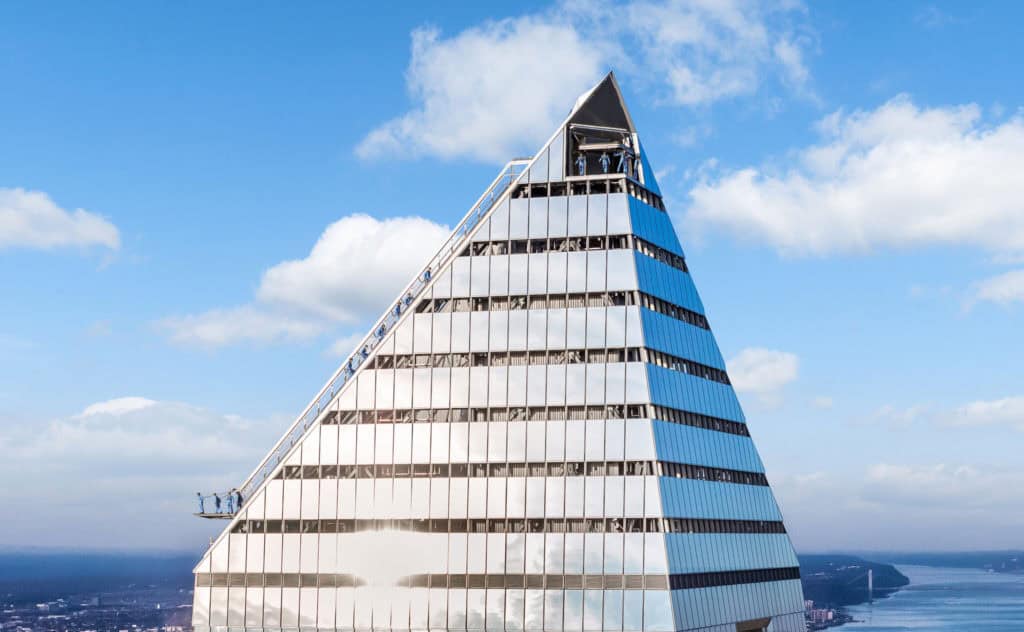 Located at 30 Hudson Yards, the Edge NYC is the highest outdoor sky desk in Western
Hemisphere. Take the elevator up to the 101st floor to witness the indoor observation deck
that offers all types of angles and views of New York City.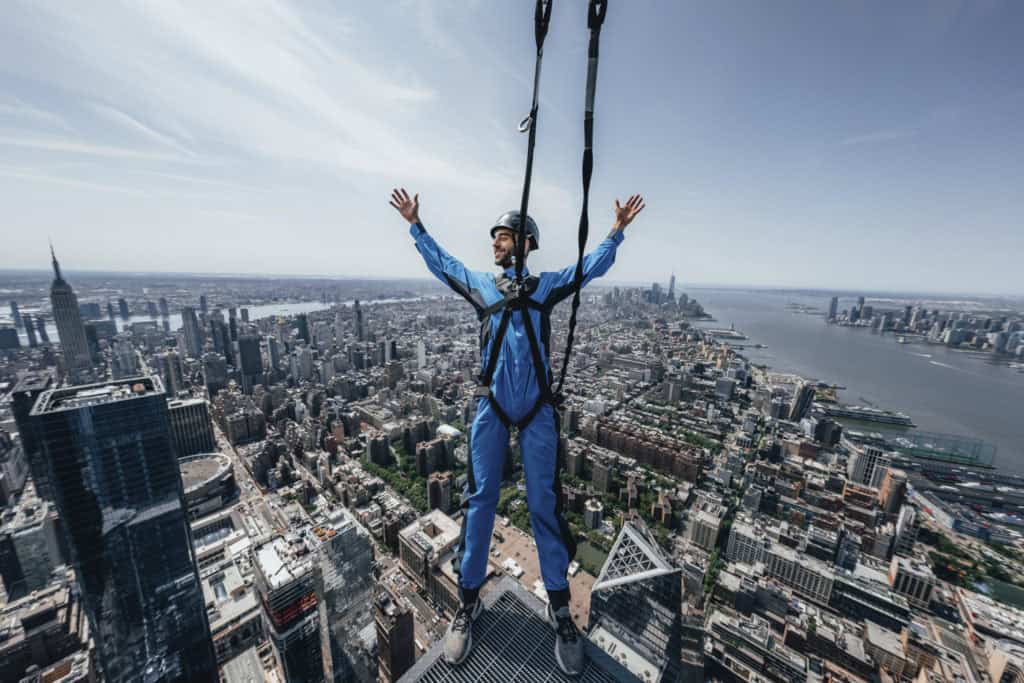 Notorious for its insanely breathtaking panoramic viewpoint, the Edge's sky deck offers
sights of Central Park, the Hudson River, the Statue of Liberty, New Jersey, and all of New
York City.
For those brave enough, step onto the see-through flooring available for courageous visitors that dare to peer 100 stories down to the ground.
A famous landmark of New York City, the Edge NYC is structured into a defined triangular platform that branches away from the imposing glass skyscraper. It extends out into the open air by eighty feet!
And to upgrade this mighty landmark into an even greater attraction is the highest open-air
building ascent in the world—City Climb NYC!
This adrenaline-rushing activity allows climbers to scale more than 1,200 feet up the outside
of the impressive skyscraper. At the top, climbers can take a step further to test their
bravery—if they dare—by leaning out to gaze down the highest platform in all of NYC.
So, if you're looking for one of the most thrilling and unique NYC experiences, City Climb NYC is the way to do it.

Read: The Edge New York City Complete Guide
Grand Central Station Whispering Galleries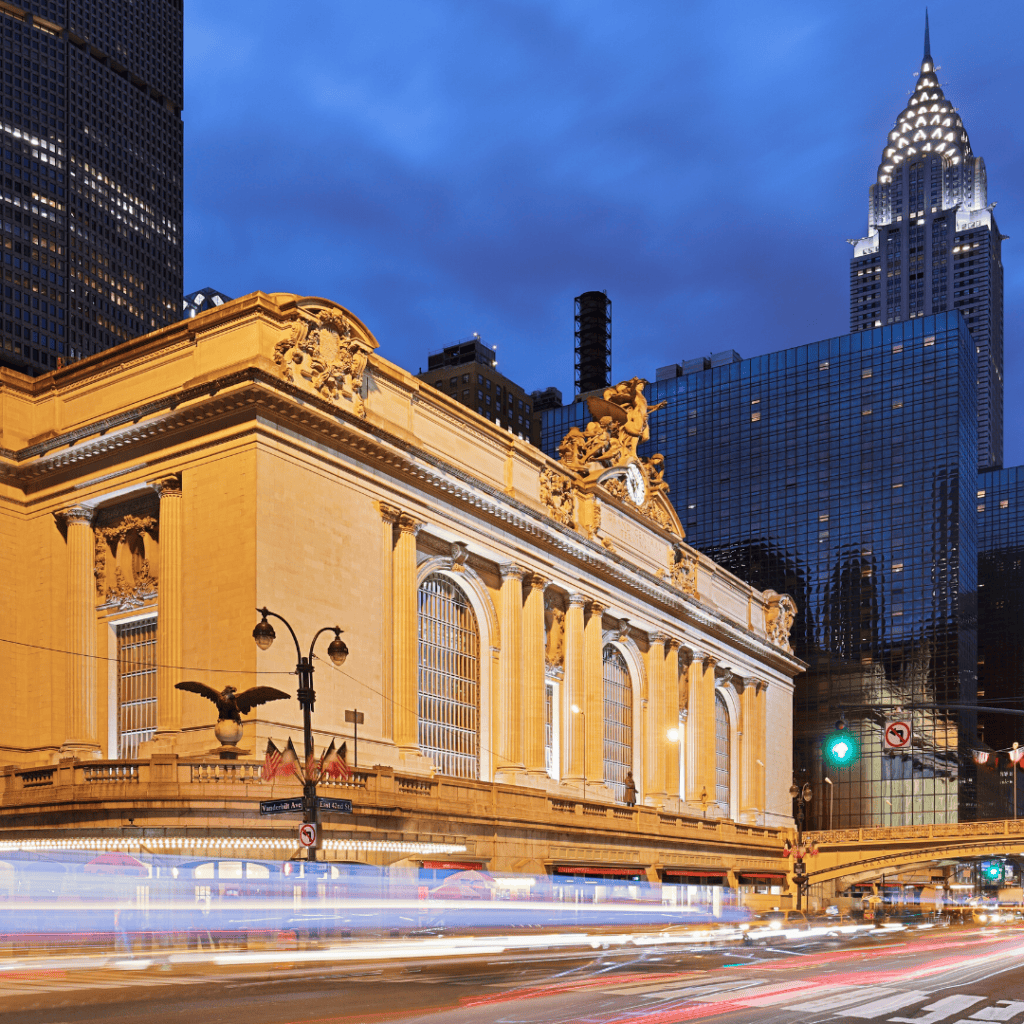 One of the most unique things to do in NYC is to visit one of the whispering galleries at Grand Central Station. These acoustically impressive spaces are spread throughout the terminal, allowing two people to stand at opposite ends and have a conversation, even though a significant distance may separate them.
The phenomenon is caused by the concave shape of the space, which amplifies sound waves and allows them to travel further than they would otherwise. Even if you were to whisper sweet nothings into the gallery, it blocks out all surrounding sound so your partner on the other side can hear you clear as day.
While it may seem like a relatively simple thing, it's actually quite amazing to experience, and it's something that you won't find anywhere else.
The Whispering Galleries of Grand Central Station can be found between Vanderbilt and the Main concourse. The Oyster Bar is near the galleries as a landmark.
There are plenty of guided tours that offer secrets of Grand Central Station that are informative and fun. You can find those here.
NYC Travel Tip: After the Whispering Gallery, head to Campbell Apartment for a classy, 1920s-style ambiance and drinks. If you are a Gossip Girl fan, this is where Serena and Nate Archibald hooked up on the bar top.
A Day Trip to The MET Cloisters
Take a day trip to bask in the stunning European medieval art and architecture at the Met Cloisters!
Located in Fort Tryon Park in Washington Heights, Manhattan, New York City, the Cloisters is a museum that features breathtaking pieces from the Romanesque and Gothic periods. At this world-renowned museum, guests from all over the world come to explore over 5,000 years of art originating from locations globally.
The Met Cloisters is a branch of The Metropolitan Museum of Art and is America's only museum dedicated to the Middle Ages. The single complex houses the museum and gardens with stunning sights of the Hudson River.
The MET Cloisters: 99 Margaret Corbin Drive, New York, New York, 10040; Tours, times, and dates can be found here.
NYC Travel Tip: To get to the MET Cloisters, it's an easy 40-minute subway ride and is only $2-$4. Don't be afraid of the Subway systems in NYC. I use Google Maps, and it takes me step-by-step to each of my destinations. The best route is to start at 59th Street-Columbus Circle and take the "A" train towards Inwood-207th street to Dyckman Street.
Skyline Drive-In NYC
Watch a movie under the stars in Brooklyn, and after, take in one of the most incredible New York views at Skyline Drive-In NYC. Best part? You can drive in, walk in, bike in!
Located in Greenpoint Brooklyn, situated on the East River, this drive-in experience has killer views of the Manhattan skyline.
If you are looking for a date night idea or want to visit one of the most unique places in NYC to see a movie, this is it. Chairs are available for use, or you can bring a plush blanket and pillows if you are open-air sitting!
Tickets are available online only. Purchase in advance here.
Take a "Catacombs by Candlelight" Tour
One of the top unusual places to visit in NYC, the Basilica of Saint Patrick's Old Cathedral houses a historic cemetery and underground catacombs that date back to the early 1800s. It's no wonder visitors from all over the world come to enjoy the "Catacombs by Candlelight" tour!
Scouring the internet for crazy things to do in NYC at night?
During this tour, guests will explore church grounds by moonlight and candlelight for a stimulating and eerie experience. In addition, guests have exclusive access to the barred confines of the cemetery and catacombs. With over 200 years of serving as the final resting place for prominent New York Catholics, guests will walk through the only active catacombs in New York City!
Where bishops and the first resident Bishop of New York lie, the catacombs and cemetery home merchants, Civil War-era general Thomas Eckert, and other well-known New York Catholics. In this eccentric tour, gain access to The Basilica of St. Patrick's Old Cathedral and the catacombs of Basilica of St. Patrick's Old Cathedral for a one-of-a-kind tour!
Visit City Hall Station
Visit City Hall Station, where New York City's first subway ride left from the station in 1904. And now, in the present day, New York City hones the most stations of any system globally, with 472 individual stations. One week after the station opened, over one million people had used City Hall Station for transportation resulting in the station being termed the "Jewel in the Crown."
Renowned architects Heins and LaFarge designed the City Hall Station, which features unique vaulted tile ceilings created by master artisan Rafael Guastavino. Heins and LaFarge were well-known for their work on churches like the Cathedral of St. John the Divine. The two architects' trademark features include characteristics like the Guastavino-tiled arches and brass fixtures.
Guests can walk the encompassing station where stunning chandeliers hang and shining skylights light the way, observing the abandoned station's historic glory that once transported millions.
The City Hall Station track remains active, though trains do not stop at the station any longer. as it stopped running in 1945. The abandoned subway station makes for an impactful tour through its eerie historical walls. Tours of City Hall Station have been frequenting the impactful space since 1976.
This is a top-rated tour, and they sell out. To get tickets, Visit the New York Transit Museum website here to secure your advance tickets.
Tour the Green-Wood Cemetery
Touring the Green-Wood Cemetery is defenlty and out-of-the-box and unique thing to do in NYC. This haunting and enchanting cemetary spans 478 acres in Brooklyn, New York City. It is a living cemetery that memorializes the dead and brings to life the culture, history, and art of New York City.
A National Historic Landmark, the Green-Wood Cemetery was established in 1838. A little over twenty years later, the cemetery had received a renowned reputation for its stunning architecture and beauty. So much so, that many desired to be buried there after their passing! At this time, the cemetery was one of the first rural cemeteries in all of America.
In the present day, Green-Wood Cemetery is only second to Niagara Falls in terms of the nation's greatest tourist attraction. Family outings are popular as this scenic outdoor attraction where inspect the masterful sculptures decorating the acreage and bask in the impressive landscape that encouraged the creation of public parks like New York City's Central Park.
You can find information on Green-Wood tours here.
Find a "Hidden" NYC Speakeasy
A speakeasy was originally an illegal drinking establishment during the Prohibition era in the United States. Today, the term is used to describe a hidden or secret bar. New York City is home to many hidden speakeasies, which can be found behind unmarked doors or in inconspicuous locations. Most are charming, and full of unique character.
The best NYC Speakeasy:
The UES Scoop Shop (Speakeasy called The Storage) Uniform code is strictly enforced.

Bathtub Gin

, a personal favorite
Roosevelt Island
An island in New York City's East River, Roosevelt Island is home to loads of fun and exciting attractions! And, the best part? The tram to Roosevelt Island is $2.75 (a subway swipe) and offers AMAZING New York views.
As one of NYC's best-kept secrets, the narrow two-mile island initially had an active insane asylum and smallpox hospital. However, in the present day, Roosevelt Island is a refreshing relief from the hectic city life of NYC. The Graduate Hotel is the island's only hotel that pays tribute to the island's long history.
NYC Travel Tip: The Graduate Hotel is an amazing hotel to stay at in New York City. It is just a tram ride from Manhattan and has a trendy, unique vibe. Check it out here. Additionally, our favorite rooftop bar is Panorama Room is a rooftop bar in the hotel that boasts panoramic views of Roosevelt Island, Manhattan, Queens, and New York City and fantastic food and cocktails.
On the island is the sixth oldest house in NYC—the Blackwell House. Built in 1796, touring the renovated farmhouse is a step back into the 18th century. And another popular attraction is the Smallpox Hospital is a must to add to unique things to do in NYC. Established in 1856, the hospital was dedicated to treating infectious diseases. To this day, none may enter for safety reasons, though you can see the worn structure behind the fence.
Visit Governors Island
Visit Governors Island, a 172-acre island in New York Harbor with amazing views of the Manhattan skyline and the Statue of Liberty.
Initially, a colonial militia base in 1755, the island became a central headquarters for the U.S. Army and Coast Guard to become one of the longest-operated military installations in the whole country. That was until its closure in 1996. And though Governors Island is not a military post any longer, it remains in public service where it is used for civilian use for adventure and exploration.
Now, many visit Governors Island to get fresh air and step away from crowded city life. From the adult lemonade stand, hidden lavender fields, luxury glamping, glorious sunsets, and grazing sheep, yes, sheep. Governors Island is a worthwhile attraction to consider in New York City.
With over fifty abandoned buildings like the two former military forts, theater, and hospital, though access is restricted, the historical landmarks can be gazed upon while wandering the scenic route of Governors Island. For active outdoor lovers, take a hike to the top of Outlook Hill for breathtaking views of the Statue of Liberty and Lower Manhattan.
Are you looking for a quick thrill? Slide down New York City's longest slide that spans 57 feet, Slide Hill. Or, burn some calories by renting a bike or quadricycle to explore the island's seven miles of car-free roads. Governor's Island has many activities waiting to be explored!
Hit
The Golf Club at Chelsea Piers
The Chelsea Piers Sports & Entertainment Complex is a 28-acre waterfront sports village located between 17th and 23rd Streets along Manhattan's Hudson River. The Golf Club at Chelsea Piers has one of the most amazing, unique NYC experiences. You don't even have to be a golf pro to enjoy this venue.
We personally love the golf driving range off the Hudson River, which includes:
52 heated, weather-protected hitting stalls on four levels
200-yard net enclosed fairway
Automatic ball tee-up system
Option to rent an entire tier or entire facility for an event on the turf
Private space
Reservations for the golf driving ranges are highly recommended here.
Chelsea Piers also features the following sports and entertainment venues, the Field House, Sky Rink, Chelsea Piers Fitness, and Bowlmor at Chelsea Piers; the Pier Sixty, Lighthouse, and Current event centers; along with Silver Screen Studios and the Maritime Center at Chelsea Piers. You can find all the fun entertainment here.
NYC Travel Tip: If you have an appetite, don't forget to head to Chelsea Market. This lively marketplace is filled with food, snacks, desserts, and collections of diverse merchants. It's particularly beautiful during the holiday season.
Take Tour of Harlem
A tour of Harlem is one of the most interesting and unique NYC experiences. A Harlem Tour offers a captivating look into one of America's most iconic neighborhoods. From the moment you step off the train, you can feel the vibrant energy of the city.
The streets are alive with music, laughter, and endless possibilities. Walking down 125th Street, you'll see historic landmarks like the Apollo Theater and the legendary Cotton Club. You'll also get a chance to experience the unique culture of Harlem, from its flavors and scents to its colors, the sound of the gospel.
The top Harlem tours are:
"Fly" Over Manhattan-RiseNYC
Experience New York City never like before with this one-of-a-kind pop culture tour. The journey begins with an immersive film that transports you back in time to the Big Apple's earliest days.
Part ride. Part museum. All New York.
From there, you'll visit seven museum-style galleries that trace the city's pop culture evolution, featuring everything from vintage photographs and iconic movie props to iconic fashion and street art.
From there, guests will take a thrilling virtual reality tour of the city's skyline! You'll be suspended 30 feet in the air as you fly over iconic landmarks like the Statue of Liberty, the Brooklyn Bridge, and Central Park.
And as you soar through the air, you'll be treated to a multi-sensory experience that includes the rush of wind in your hair, the smell of fresh pine in the air during the holidays, and the exhilaration of being part of the Times Square ball drop on New Year's Eve. It's an experience that will make you fall in love with New York all over again!

Take a Greenwich Village Ghost Tour
Take a Greenwich Village Ghost Tour to experience the epicenter of New York City's 1960s counterculture movement!
Known as the Bohemian Capital, Greenwich Village is a popular place for artists to live. In the 1920s and on, this location became a hub for other artists, singers, writers, and more to make the village their home to express their creativity.
Are you looking for crazy things to do in NYC at night?
On this ghost tour, discover what goes bump in the night after dark in Greenwich Village, where some of the most haunted spots and spine-chilling stories come to life. Notable sites like the infamous Hanging Tree and Triangle Shirtwaist Factory Fire are included in the tour. The local guide will transport you back in time as you pass these historical landmarks through the eerie night of Greenwich Village.
NYC Travel Tip: Greenwich Village is such a charming area with fantastic restaurants and cafes. After your ghost tour, try Amelie, a great little wine bar; White Oak Tavern for whiskey tastings and cocktails; Don Angie for the famous lasagna.
Ride the Beast Speedboat
Join an adrenaline-fueled ride on the Beast Speedboat!
On this exciting tour, explore New York's unique highlights by water on this thirty-minute tour. The pounding soundtrack encourages a cinematically tremendous experience of New York's finest attractions.
The Beast is a 70-foot powerboat that reaches speeds up to 45 mph. Take a ride to the Statue of Liberty by water and skip the lines! The in-person perspective accentuates the grandeur of the influential New York City historic landmark. If you're a fan of thrills and heart-pounding adrenaline—or roller coasters—-the Beast is perfect for you!
As the only jet-powered thrill ride speedboat attraction, this speedboat is no joke. So, prepare to get wet and hold onto your hat and sunglasses for this incredible unique attraction of New York City.
Visit the Morgan Library & Museum
The Morgan Library & Museum is one of the greatest independent research libraries in the world, and one of the most beautiful.
Founded in 1906 by financier Pierpont Morgan, the Morgan Library & Museum is one of New York City's great cultural institutions. Housed in a Beaux-Arts building on Madison Avenue, the Morgan Library contains an exceptional collection of books, manuscripts, and other rare materials.
Visitors can see everything from medieval manuscripts to first editions of Shakespeare to original drafts of Moby-Dick. The Library also hosts a range of exhibitions, concerts, and other events throughout the year, making it a true destination for lovers of art and literature.
Whether you're looking to explore the history of the book or just enjoy a bit of quiet reflection in the reading room, the Morgan Library is definitely worth a visit and is one of the most unique places in New York City.
Take a Flying Trapeze Lesson
The Trapeze School of New York's mission is to give those not only an aerial lesson in trapeze but "a renewed sense of possibility, and forever transform their outlook on life." Challenge yourself with a whole new experience at this school floating over Pier 40 in Hudson River Park.
Participants six and up, athletic or not, afraid or not, ready or not, the Trapeze School of New York is committed to creating a fun and safe environment and definitely one of the most unusual things to do in New York.
Final Thoughts On Unique Things to Do in NYC
Have any of these unique things to do in NYC caught your eye? We hope so! These unique things to do in New York are well-hidden attractions waiting to be experienced in the city that never sleeps. From day to nighttime and indoors to outdoors, there are versatile options for every individual wanting to get the most out of their vacation.
Make sure to take plenty of pictures and share them with your friends, family, and coworkers back home because these activities will create memories that last forever!
This post may contain affiliate links. If a qualified link is used, I may receive a small commission to drink at a hidden speakeasy (kidding).