If you are looking to visit the Magnolia Market or Waco, this is where to stay in Waco, Texas. My kids and I had a fun Texas road trip from Fort Worth to Waco, Texas, to visit the Magnolia Market at the Silos. This is our second visit to the Magnolia Silos, and this time around, we tried Magnolia Table.
If you are traveling to Texas, Waco is 100 miles from Dallas, Texas, and 100 miles from Austin. Waco is known as the heart of Texas.
There are plenty of great places to stay in Waco, TX. I have vetted a few places the few times I have been to Waco. I have come to Waco, Texas, for a couple of Baylor University football games and visited the Magnolia Silos twice now, and Waco has become quite the tourist destination.
Insiders Travel Tip: If you want the whole Magnolia experience and want to be within walking distance of Magnolia Market. There are plenty of cozy cottages, the original Fixer Upper's Barndominium. If you're going to be more adventurous, a container or tiny home!
Here is our favorite place to stay in Waco, Texas, especially if you visit the Magnolia Market at the Silos and want to be close to all attractions in Waco, Texas!
Insider Tips and Guides for the Magnolia Market at the Silos and Magnolia Table
Tiny Cabins and Cottages 10 Minutes to Magnolia Silos
When my kids and I go to Chip and Joanna Gaines Magnolia Market at the Silos, we stay at the cutest cluster of tiny wood cabins. There are six small cabins with a middle courtyard with roses, a swing to relax, and have a glass of wine.
These tiny homes are 10 minutes to the Magnolia Market, Magnolia Table, and many other destinations like Baylor University, museums, and downtown Waco.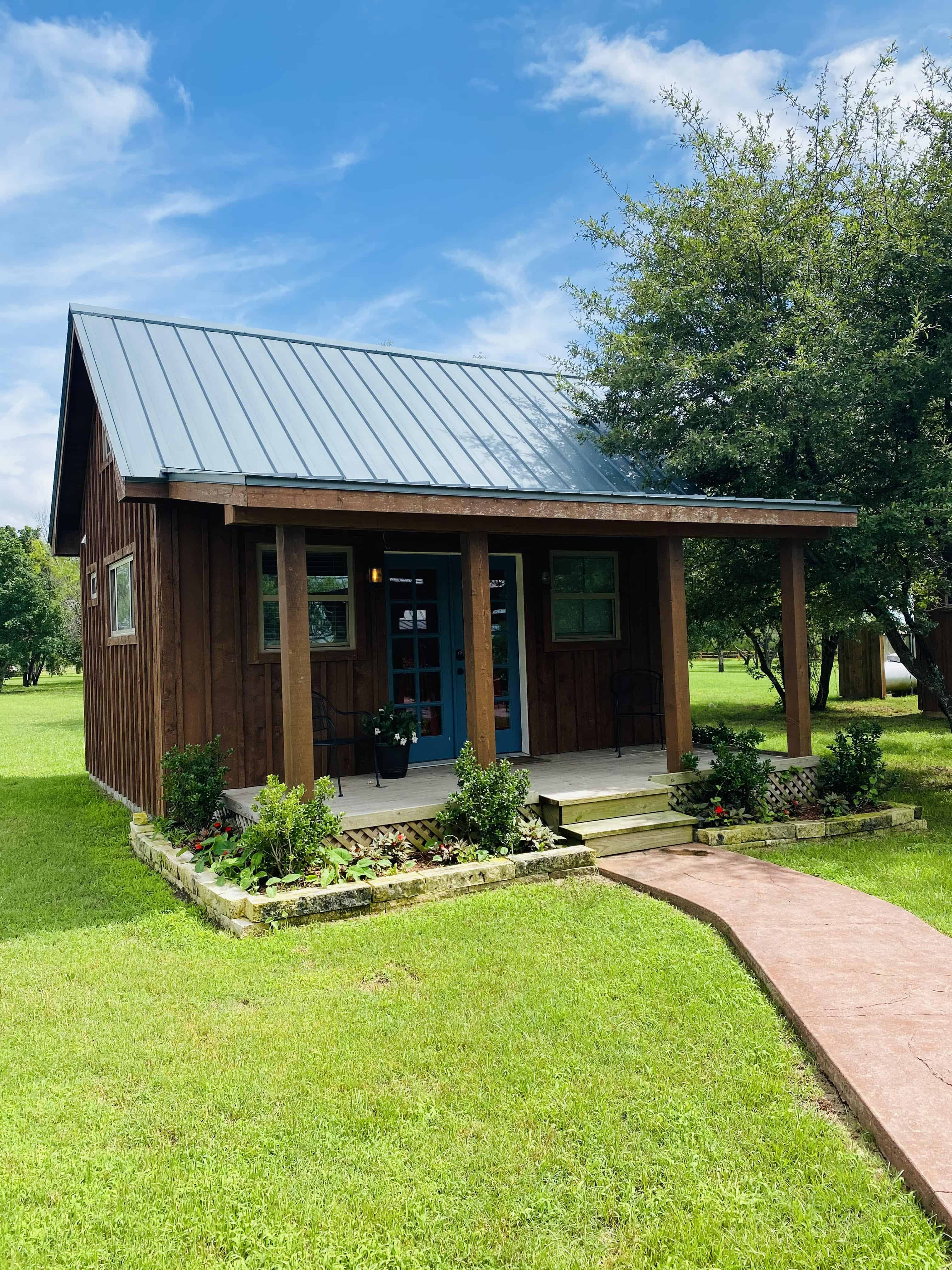 The tiny houses are just enough room for four people; they have a small fridge and kitchen and a great little porch. They are not fancy but are clean quaint, and the area is peaceful and quiet.
Check Tiny Cabin Availability >>
This time we stayed in the new cabin that sits separately across the property, A blue and white cottage with a front porch and rocking chairs to sip drinks and eat sweet treats from the Magnolia Market.
The cottage is brand new to the property and sells out fast, so book in advance. The cabin can fit up to four people comfortably, with one king bedroom downstairs and a spacious loft upstairs with two twin beds.
Inside the Craftsman Cottage, a sofa and armchair in the small living room will make you feel right at home. A small kitchen with a small fridge and coffee is provided for sunrise or sunset on the porch.
The property the tiny homes are on is a beautiful piece of land. There is a barn where they do events and weddings. If I ever get married again, this may be the venue I do it at, lol.
Check Availablity and Rates >>
We had the best time staying on this property. During the spring and summer months, the trees are full, the roses are blooming, and the grass is green. The cabins are 10 minutes from downtown Waco and excitement at the Magnolia Market.
You can read our guide to the Magnolia Silos and tips to make your trip the best. Waco has undoubtedly become a bustling little city in the heart of Texas 🙂 Feel free to reach out if you have any questions, and be sure to subscribe to emails! Happy Texas Travels!
This post may contain affiliate links in which I may receive a very small commission at no cost or obligation to you 🙂