My daughter and I headed on our last trip together before she heads off to college and landed in Helen and the Blue Ridge Mountains of Georgia. What a beautiful area, and our favorite in Georgia. What we were surprised by was the number of possibilities, excitement, and things to do in Helen GA, aside from admiring the charming Alpine Bavarian architecture that makes this Georgia small town so unique.
Nestled in the Blue Ridge Mountains of Northeast Georgia, Helen offers an idyllic escape for adventure seekers and leisure visitors alike.
Before we arrived, I was aware of Helen's rich cultural heritage but I was surprised by the abundant outdoor recreational activities.
Helen is filled with diverse dining options, cute quaint shops, and exciting local attractions. In addition to its visual charm, Helen is a hub for outdoor enthusiasts who can partake in activities such as hiking, horseback riding, fishing, tubing, and ziplining.
Whether indulging in the town's rich cultural history or immersing oneself in the great outdoors, there is no shortage of amazing experiences awaiting discovery in Helen, Georgia.
Let's get planning your trip!
Here are the best things to do in Helen, GA.
And I must say, the highlight of our trip was the unexpected…Babyland. Read further and find out about this, odd, yet exciting, but beautifully housed roadside attraction.
Especially if you grew up in the 80s like me!
History of Helen Georgia
In the early 1900s, Helen was a small logging town in the Blue Ridge Mountains. This area thrived on the timber industry, with sawmills and a railroad providing a bustling economic center.
However, as the timber supply depleted and the Great Depression hit, Helen faced a decline and struggled to find a new identity.
In the late 1960s, Helen's transformation began with a group of local businessmen seeking to rejuvenate the town. They enlisted the help of a local artist, John Kollack, who proposed turning Helen into a replica of a German Bavarian Alpine village.
Subsequently, they formed the Helen Beautification Committee, which oversaw the redesign and reconstruction of Helen's buildings in a Bavarian style.
As a result of these efforts, Helen quickly embraced its new Bavarian identity, drawing visitors with its quaint charm and stunning Alpine-inspired architecture.
The town's transformation attracted tourists and businesses, leading to a resurgence in the local economy.
Festivals, such as Oktoberfest and the annual hot air balloon race, and Christmas markets, highlight Helen's rich German heritage and add to its appeal.
Today, Helen remains a popular destination for visitors to get a little piece of Europe without leaving the United States.
Alpine Village and Bavarian Inspiration
Helen, Georgia is a charming alpine village nestled in the Blue Ridge Mountains of North Georgia. This unique destination is complete with cobblestone streets, charming shops, and authentic German cuisine and beer!
Visitors can stroll through the picturesque downtown Helen, enjoying the European-style architecture and the stunning natural beauty of the surrounding mountains.
Helen Georgia Christmas
One of the most magical times to visit Helen, GA is during the Christmas season. The town of Helen transforms into a festive wonderland, with twinkling lights, beautifully decorated storefronts, and holiday-themed events.
The annual Christkindlmarkt, a traditional German Christmas market, takes place in Helen each year, featuring handcrafted gifts, ornaments, and German-inspired treats.
Helen Georgia Oktoberfest
Known as one of the best Oktoberfest in the United States, Helen Georgia is a magnificent celebration that transported visitors to the heart of Bavaria, immersing them in a world of lively music, hearty feasts, and frothy mugs of German beer.
During Oktoberfest in this quaint alpine village, the Blue Ridge Mountains burst with fall colors and the town takes on an autumn transformation with streets adorned in vibrant banners and traditional Bavarian decor.
The air was filled with the irresistible aroma of sizzling bratwursts and freshly baked pretzels, as the lively oompah bands played their merry tunes, laughter, and cheer echoed through the cobblestone alleys, drawing revelers from all corners of the town.
From the jovial clinking of beer steins to the exuberant shouts of "Prost!" that filled the beer halls, the festival exuded an infectious spirit of camaraderie and joy.
Lederhosen-clad dancers twirled with grace and precision, their colorful skirts swirling in harmony with the lively music, while locals and visitors alike joined in.
The festivities extended beyond the beer gardens, with artisan markets showcasing traditional crafts and souvenirs, and amusement rides adding a touch of whimsy to the experience.
Oktoberfest in Helen Georgia was a celebration that embraced the spirit of community, encouraging strangers to become friends and creating cherished memories that would linger long after the last notes of the accordion had faded away.
Helen to the Atlantic Balloon Race & Festival
The Annual Helen to the Atlantic Balloon Race & Festival is one of the most whimsical things to do in Helen Georgia.
As rays of sunlight dance across the tranquil Chattahoochee River, a symphony of hot air balloons gently ascended into the blue skies sky.
The air balloons, resembling colossal rainbows, glided gracefully as they embarked on an exhilarating journey from the heart of Georgia to the majestic Atlantic coast.
The Annual Helen Georgia to the Atlantic Balloon Race & Festival, with its whimsy and awe-inspiring beauty, wove a tapestry of unforgettable memories, forever etched in the hearts of those fortunate enough to witness this breathtaking celebration.
Gem Mining in Helen Georgia
An exciting thing to do in Helen Georgia for the entire family in Helen is gem mining. Several gem-mining establishments exist in the area, allowing visitors to pan for gold, mine for gems, and even create their own beautiful, custom jewelry pieces.
This hands-on experience is a fantastic way to learn about the region's mining history and appreciate the natural treasures of North Georgia.
Georgia Mountain Coaster
This was so much fun. My daughter Tayla isn't a roller coaster kind of gal, but she absolutely loved it. I did however have to bribe her with chocolate from Hansel & Gretel Candy Kitchen.
The Georgia Mountain Coaster is a fast, exhilarating ride through the beautiful Blue Ridge Mountains. This roller coaster experience zips riders along a track, with no motor, only brakes, winding through the hills and providing stunning views of the picturesque landscape.
It's a fun, unique activity that adds an extra dose of excitement to a visit to Helen, Georgia.
Hiking Helen Georgia
Helen and the Blue Ridge Mountains is probably one of the most beautiful spots in the United States. The mountains are stunning, the trees and lush greenery are beautiful and the lakes and rivers are just breathtaking.
Helen is known for its variety of hiking trails that showcase the natural beauty of the area. One popular hiking destination is the Chattahoochee National Forest, which offers numerous trails for hikers of all skill levels to explore.
Experienced hikers can tackle longer, more challenging trails, while beginners can enjoy shorter, scenic walks.
Unicoi State Park is another great location for outdoor enthusiasts. Unicoi features multiple trails, including the 4.8-mile Smith Creek Trail, which leads to the stunning Anna Ruby Falls. This double waterfall offers impressive views and is a must-visit attraction for nature lovers.
The surrounding area of Anna Ruby Falls is home to many other waterfalls to explore. These include the popular Horse Trough Falls and Raven Cliff Falls, promising breathtaking views and tranquil settings for relaxation and photography opportunities.
Tubing in Helen Georgia
One of the most popular things to do in Helen GA is tubing down the Chattahoochee River. Numerous outfitters in the city offer tube rentals and transportation to and from launch points. Tubing is open to all ages making it a fun family activity during the summer months.
For those seeking a more adrenaline-filled adventure, some outfitters offer whitewater tubing excursions where participants navigate through challenging rapids.
No matter your preference, tubing in Helen is a unique and enjoyable way to experience the beauty and serenity of the Chattahoochee River.
Helen Wineries and Vineyards
This is one of the best things to do in Helen GA, is winery hop to some of the most beautiful wineries and vineyards.
There is a variety of wineries and vineyards for wine enthusiasts to explore. Many of these venues are located along the wine trail, providing picturesque views of the surrounding landscape.
Travelers can take part in wine tastings and learn about the local wine-making process. As you explore this wine trail, you may also find ample parking at most of these establishments, ensuring a convenient experience for visitors.
One noteworthy vineyard in the area is Yonah Mountain Vineyards, nestled in the foothills of the North Georgia Mountains. They offer guided tours and tastings, with each tasting including a souvenir wine glass.
Another popular destination is the Habersham Winery, which has been producing award-winning wines for over three decades. Guests can sample a variety of wines, including both traditional grape varietals and unique fruit blends.
Helen Restaurants and Eateries
For those interested in exploring the culinary scene in Helen, Georgia, you won't be disappointed.
Local ingredients are often featured in dishes at many restaurants and eateries, allowing you to enjoy the authentic taste of Helen's local produce.
Bodensee Restaurant, for example, offers traditional German cuisine in a charming setting, reflecting the Alpine Bavarian village atmosphere of the town.
Another unique dining experience can be found at Mullys Nacoochee Grill, where visitors can enjoy an eclectic mix of American fare, along with the option for wine pairings, adding to the overall culinary adventure.
Whether you're a wine connoisseur or just a casual traveler, there's certainly an abundance of wine-tasting and culinary experiences to be had in Helen, Georgia.
Sautee Nacoochee Indian Mound
Sautee Nacoochee Indian Mound showcases the rich history of the Native Americans in Georgia. This historic landmark is a burial mound that dates back to the Mississippian Period (800-1600 AD).
Visitors can learn about the history and culture of the Native Americans that lived within this valley. Sautee Nacoochee Indian Mound is a testament to the complex and intriguing society that once existed in this serene location.
Helen Georgia Travel Tip: If you're looking for things to do in Helen GA for couples, the Sautee Nacoochee Indian Mound is a beautiful location to watch the sunset or sunrise. The mountains as a backdrop are stunning.
Hardman Farm
Near the Sautee Nacoochee Indian Mound is Hardman Farm. Hardman Farm is a historic site, is nestled within the idyllic Sautee Nacoochee Valley.
This 19th-century farm features The Italianate Mansion, constructed in 1870, which provides a glimpse into the past.
Guests can explore the mansion, surrounding gardens, and outbuildings while learning about Georgia's agricultural history.
Hardman Farm is well-known for its iconic gazebo-style dairy barn, which has become an emblem of the local community. A visit to this attraction offers insight into the area's agricultural and domestic traditions.
Babyland General Hospital
I am going to be biased and say this was one of the best things in Helen GA we did. It was such a surprise and brought me all the way back to my childhood. YES, the dolls heads smell like your childhood
Ok, we ran across this unique spot and it was the HIGHLIGHT of our trip. If you grew up in the 80s, you will LOVE this mansion filled with Cabbage Patch Dolls!
To be honest, I never knew this existed and if I had I would have beelined to Georgia years ago.
Babyland General Hospital is the birthplace of the world-famous Cabbage Patch Kids, this interactive doll museum offers a delightful experience for visitors young and old.
Explore the Georgian mansion, where you can witness "births" of dolls taking place, learn about the Cabbage Patch Kids' history, and even purchase these cherished dolls and take the "oath of adoption for your new baby.
Babyland General Hospital showcases a creative blend of American pop culture in an expansive Georgia setting making it one of the most fascinating things to do in Helen, GA.
Best part? Babyland General Hospital is FREE!
Find hours and information about Babyland here.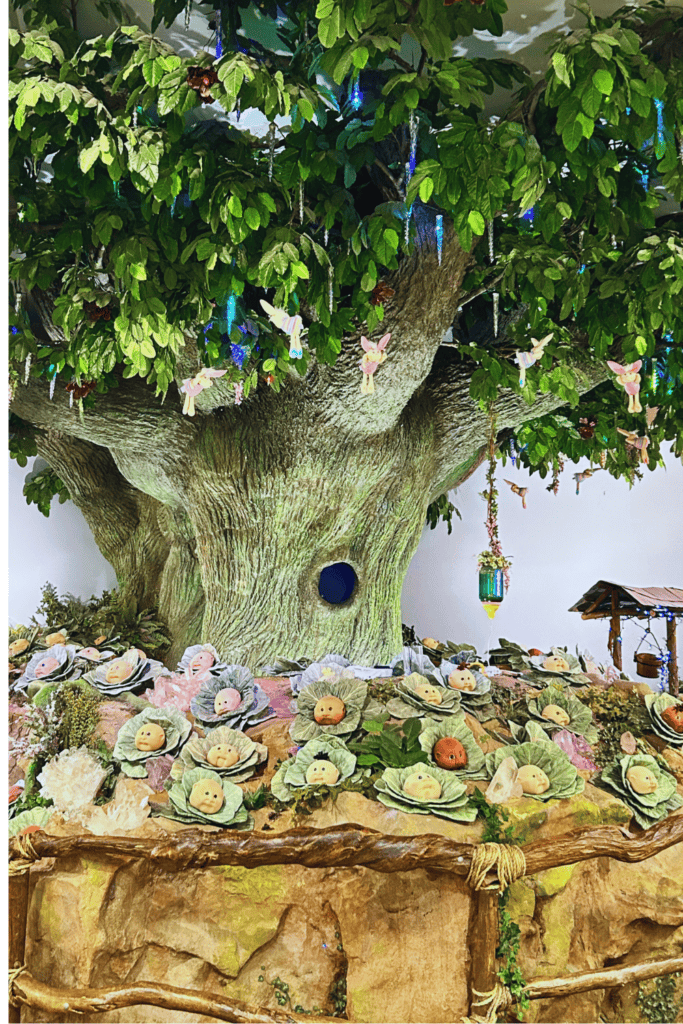 Horseback Riding in Helen Georgia
Horseback riding is a popular activity in Helen, Georgia, allowing visitors to explore the beautiful mountain trails and enjoy the natural beauty of the area.
Several stables and ranches in and around Helen offer guided trail rides, lessons, and other equestrian activities.
Sunburst Adventures is a well-known stable offering a variety of trail rides. They provide options for all skill levels, from beginners to expert riders.
Their experienced guides will lead you through scenic trails, passing by picturesque waterfalls, creeks, and wildlife. Riders at Sunburst Adventures must be at least seven years old.
Another popular stable in the area is Chattahoochee Stables. They offer guided horseback rides through the Chattahoochee National Forest, which boasts stunning views of the Appalachian landscape.
Their rides are suitable for all ages, making it a perfect family activity. They even offer special packages, such as the romantic sunset ride for couples looking for a unique date night experience.
Things to do in Helen Georgia- Nora Mill Granary
Nestled in picturesque Helen, Nora Mill Granary (Grist Mill & Country Store) is a true gem that captures the heart of Georgia.
Stepping into this charming haven feels like taking a step back in time, as it exudes a warm and welcoming ambiance.
Known for its rich history and dedication to preserving the art of stone-ground milling, Nora Mill Granary offers a delightful experience.
The aroma of freshly ground grains fills the air, inviting you to explore their selection of top-quality flours and mixes.
Besides the delightful products, the staff's genuine Southern hospitality and passion for sharing their knowledge make every visit memorable. Grab a bowl of piping hot chili and cornbread and take in the sites of the small waterfall on the property.
This post may contain affiliate links. I may receive a small commission if a qualified link is used at no cost or obligation to you ever. Additionally, I am an Amazon Affiliate Partner. I may receive a commission if a qualifying link is used.