Hey there, fellow leaf peepers! Are you ready to embrace the most enchanting season in one of Vermont's not-so-hidden gems? Say hello to Stowe Vermont in the fall, a magical destination that comes alive in autumn like nowhere else in the United States!
Picture this: majestic mountains adorned with a kaleidoscope of fiery reds, glowing oranges, and golden yellows. Welcome to a world where the air is crisp, the landscapes are breathtaking, and maple syrup, sugar, and pumpkin spice are everything in the order of the day!
Join us as we dive headfirst into the picturesque beauty and outdoor delights of Stowe, Vermont in the fall. Whether you're a nature enthusiast, a foodie craving farm-fresh delights, or simply looking for a cozy idyllic retreat, Stowe has something extraordinary to offer every wanderer seeking an unforgettable autumn escape.
So grab your coziest sweaters, and a hot cup of cider, and let's embark on an autumn adventure like no other!
Stowe Vermont in Fall
What month is best to see fall in Vermont?
As autumn rolls around, Stowe, Vermont becomes a popular destination for those wanting to witness the beautiful fall foliage and crisp air.
Typically, the best time for leaf peeping in Stowe Vermont in fall and New England is from late September through mid-October.
Generally, in northern Vermont, it's best to plan your trip in late September, or early October. Southern Vermont, mid-October. Fall colors start in the north and travel down through the country and New England.
During this period, vibrant fall colors ranging from bright yellows to deep reds fill the landscape.
We highly recommend planning your trip around these weeks to maximize your Vermont fall foliage experience.
As the leaves start to turn, Stowe transforms into a kaleidoscope of vibrant hues. The landscape becomes a living canvas painted with rich reds, fiery oranges, and golden yellows.
The surrounding forests and mountains serve as a breathtaking backdrop, making Stowe a photographer's paradise.
Whether you're driving along the scenic routes or hiking through the trails, you'll find yourself immersed in nature's most magnificent autumn spectacle.
What should I pack for Vermont in the Fall?
Who doesn't love crisp, cool sweater weather? The average temperature in October in Vermont is 49F.
When packing for your trip to Stowe or Vermont in the fall, we suggest the minimum of these items:
Base layers
Warm socks and boots
hiking boots if hiking in Stowe
Waterproof boots, rainboots, or shoes
Scarfs
A heavier coat
Your favorite, cozy sweaters
Where to Stay in Stowe Vermont in Fall
Stowe VT Fall-Scenic Drives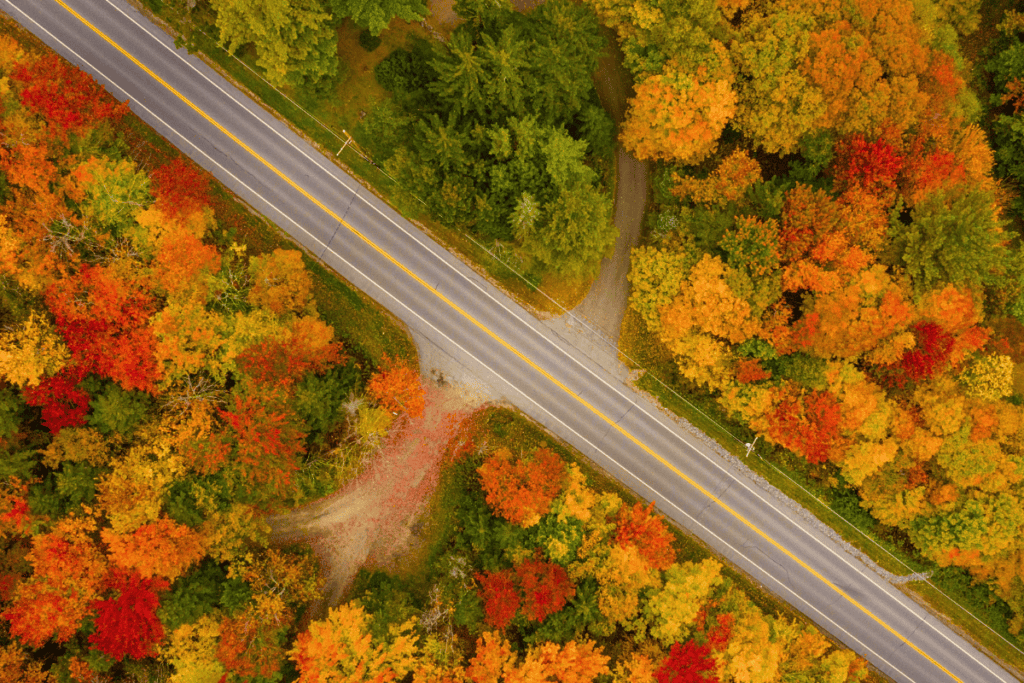 In addition to enjoying the scenery of a Stowe VT fall, we suggest taking advantage of some iconic scenic drives:
Stowe Hollow: A peaceful, winding road through dense forests and quaint neighborhoods. The trees lining the road show off their most impressive colors during peak foliage.
Smugglers' Notch: This famous mountain pass between Stowe and Jeffersonville offers picturesque views of the fall foliage. Keep your eyes peeled for unique rock formations and charming forest paths.
Route 100: Considered one of Vermont's most scenic routes, this drive passes through the Green Mountains with countless spots to appreciate the vibrant leaves. Stop by quaint towns and local shops along the way to fully experience New England charm.
By exploring these scenic drives, we can fully appreciate the stunning fall foliage in Stowe and the rest of Vermont have to offer.
Fall in Stowe Vermont- Charming Covered Bridges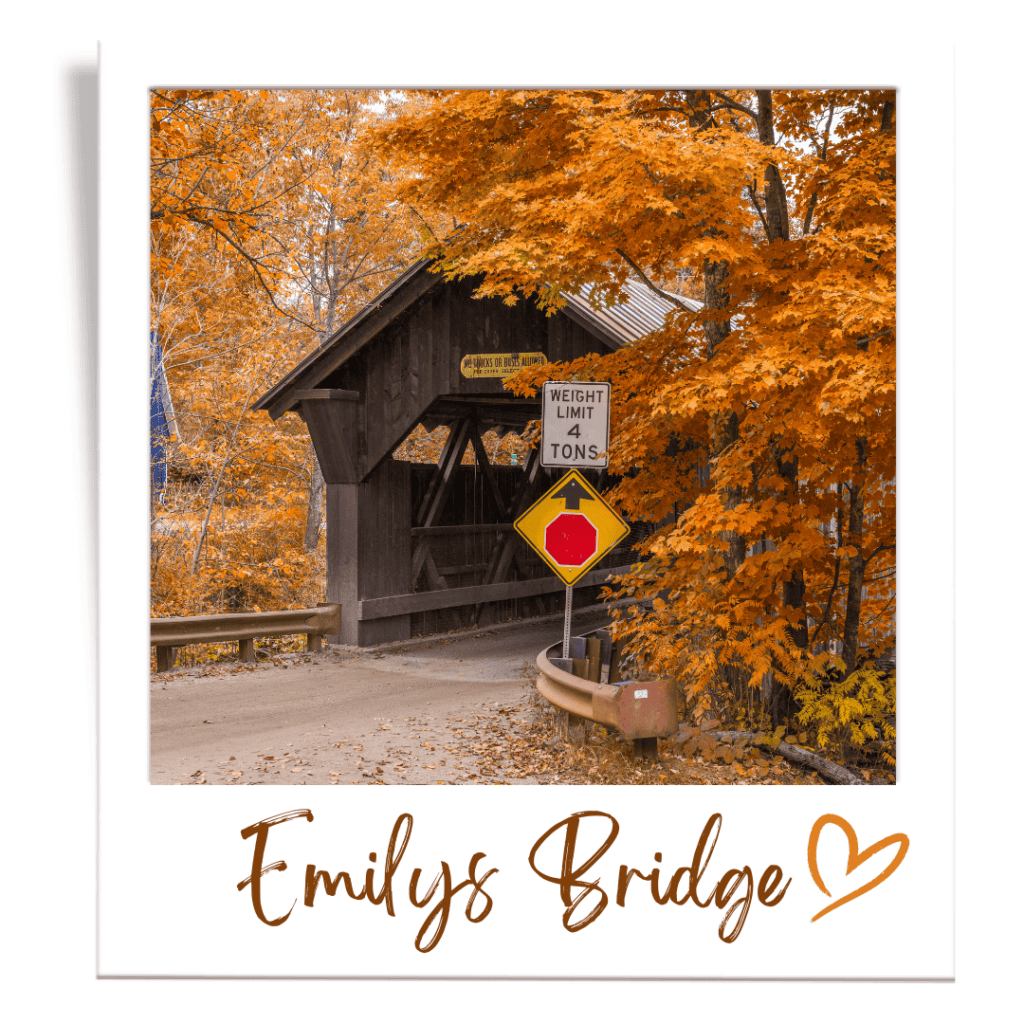 As we explore Stowe in the fall, we're always thrilled to come across the charming covered bridges that dot the picturesque landscape.
These iconic structures are a nod to Vermont's rich history and add character to our scenic drives. Let's not miss:
Gold Brook Covered Bridge (Emily's Covered Bridge) is a beautiful wooden bridge built in 1844. This enchanting dark wood bridge, named after a local folklore of a girl named Emily, exudes a rustic charm that captures the essence of New England's countryside. If you travel along this road, you will find about eight covered bridges but Emily's is the most enchanting and mysterious. Location: Covered Bridge Road, Stowe Vermont.
Brookdale Bride: During fall in Stowe, this lovely red old covered bridge is located on the Stowe Recreational Path, and it is a great photo opportunity.
Red Covered Bridge. Just a thirteen-minute drive from Stowe, in Morristown, the Red Covered Bridge is a historic bridge built in 1896. When the leaves turn bright red, yellows, and orange, this bridge is the perfect autumn backdrop. Follow Cole Hill Road to find this gem.
Historic Downtown Stowe Vermont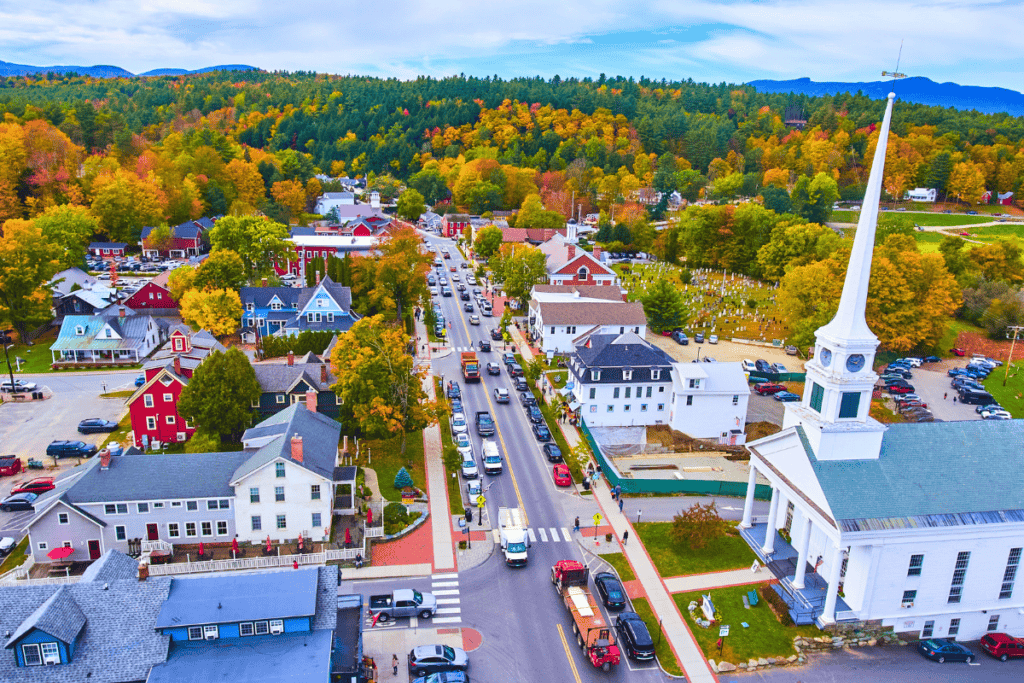 One of the best things to do in Stowe Vermont is to take an autumn stroll in the enchanting Historic Downtown– a place of timeless charm.
Step into a picture-perfect New England village, and you'll be instantly captivated by its idyllic beauty.
As you stroll along Main Street, the quaint architecture of well-preserved historic buildings will transport you back in time.
The cobblestone sidewalks, charming shops, and welcoming storefronts add to the small-town ambiance, making it a delightful place to explore.
One of the main attractions is the Stowe Community Church, a stunning white-steepled building that stands as a symbol of the town's heritage. Its presence creates a postcard-worthy backdrop against the rolling green mountains that surround Stowe.
Art lovers will be delighted to find a thriving arts scene, with numerous galleries showcasing local talent. The eclectic mix of art and crafts reflects the rich artistic spirit of the community.
Foodies will find their bliss in the diverse culinary scene. From cozy cafés serving freshly baked goods to gourmet restaurants offering farm-to-table delights, there's something to satisfy every palate.
Our favorites:
Stowe Bee Bakery & Cafe
Butlers Pantry Breakfast
Ranch Camp
Doc Ponds
Harrisons Restaurant & Bar
For those seeking outdoor adventures, Historic Downtown Stowe is an ideal base to explore the wonders of nature. Nestled in the heart of Vermont's Green Mountains, you'll have access to hiking trails, scenic bike routes, and, of course, world-class skiing during the winter months.
In a world where everything seems to move too fast, Historic Downtown Stowe remains a haven of tranquility and authenticity. So whether you're a history enthusiast, a nature lover, or simply looking to experience the essence of Vermont's charm, this gem of a town promises an unforgettable journey through time and tradition.
Hiking Stowe Vermont
Hiking Trails in Stowe Vermont
Stowe Vermont is home to an array of hiking trails that cater to all levels of experience, from casual strollers to seasoned hikers.
Whether you're seeking panoramic vistas from the mountaintops or a serene stroll along babbling brooks, this place has got you covered.
For those who crave an adrenaline rush, take on the challenge of Mount Mansfield, Vermont's highest peak, and be rewarded with sweeping views of the breathtaking valley below.
Prefer a more laid-back experience?
Don't worry; the Stowe Recreation Path offers a delightful route through charming covered bridges, picturesque fields, and golden-hued forests.
You can practically feel your worries melt away with each step! And the best part? You don't need to be a seasoned mountaineer to enjoy these trails—Stowe's hiking paths are welcoming to adventurers of all ages and skill levels.
Mount Mansfield:
As Vermont's highest peak, Mount Mansfield offers breathtaking vistas that will leave you in awe. There are various trail options to reach the summit, catering to both experienced hikers and beginners. The popular route is the Long Trail, which provides panoramic views of the surrounding valleys and mountains.
Stowe Recreational Path: The Stowe Recreational Path is a nature lover's paradise, winding through the scenic beauty of Vermont's majestic mountains. This 5.3-mile-long path welcomes walkers, joggers, cyclists, and families to explore the breathtaking landscape at their own pace. From vibrant wildflowers to babbling brooks, the path is a sensory delight. As you meander through the lush surroundings, you'll feel a sense of tranquility and rejuvenation, making it an idyllic escape for outdoor enthusiasts of all ages.
Stowe Pinnacle Trail:
This moderate 3.7-mile roundtrip hike is perfect for those seeking a rewarding view without an overly strenuous climb. The trail leads to the summit of Stowe Pinnacle, offering sweeping vistas of Stowe Village and the surrounding countryside.
Sterling Pond Trail:
For a hike that leads to a picturesque alpine pond, look no further than Sterling Pond Trail. This moderate 2.8-mile roundtrip hike takes you to the tranquil Sterling Pond, surrounded by stunning fall colors, and offers the chance to spot wildlife along the way.
Bingham Falls Trail:
Not just a hike, but a refreshing adventure! The Bingham Falls Trail is a short and relatively easy hike leading to a series of stunning waterfalls and natural swimming holes. The cool, cascading waters make it an ideal spot to relax and cool off during a warm fall day.
Moss Glen Falls Trail:
For a scenic walk that requires minimal effort, Moss Glen Falls Trail is the perfect choice. The trail is short and sweet, leading to the impressive 125-foot Moss Glen Falls. The waterfall is a true gem, especially surrounded by the vibrant fall foliage.
Nebraska Notch Trail:
If you're up for a longer and more challenging hike, the Nebraska Notch Trail won't disappoint. This 8-mile roundtrip trail takes you through dense forests, and past beautiful waterfalls, and rewards you with stunning views of the Smugglers' Notch area.
Mount Hunger Trail:
For experienced hikers seeking a real challenge, the Mount Hunger Trail is a must-do. This strenuous 4.4-mile hike leads to the summit of Mount Hunger, offering jaw-dropping views of the Green Mountains in all their fall splendor.
Before embarking on any hike, be sure to check trail conditions, weather forecasts, and always follow Leave No Trace principles to preserve the natural beauty of Stowe's hiking trails for generations to come.
Now, grab your hiking gear, and a sense of adventure, and get ready to explore the best of fall in Stowe, Vermont on foot!
Stowe Gondola Skyride
If you want to see Stowe Vermont in fall from above, take a seat in a comfortable, spacious gondola cabin, and make your way up to the summit of Mount Mansfield, the highest peak in Vermont. The Stowe Gondola Skyride is a must-do activity in Stowe, offering a unique and awe-inspiring way to experience the beauty of the fall in Stowe.
As the gondola begins its ascent, you'll feel a sense of excitement and wonder as the ground below starts to drift away. The cabin smoothly glides above the treetops, and you'll soon find yourself surrounded by an explosion of vibrant autumn colors—the kind that dreams are made of.
As you continue to ascend, the views become more and more breathtaking. The Stowe Gondola Skyride offers you a birds-eye perspective of the picturesque landscape that Vermont is so famous for.
The meandering rivers, charming covered bridges, and quaint villages dotting the horizon create a picturesque scene that is straight out of a postcard.
Stepping out of the gondola cabin, you're met with an unobstructed 360-degree view that will leave you speechless. The rugged beauty of the Green Mountains stretches as far as the eye can see, and the valley below seems like a patchwork quilt of fall foliage.
The Stowe Gondola Skyride adventure allows you to experience the magic of fall in Vermont without breaking a sweat. And did I mention the photo opportunities?
Your Instagram feed is about to become the envy of all your friends!
Visit Trapp Family Lodge
If you're a fan of "The Sound of Music" or simply in search of an enchanting escape, the Trapp Family Lodge in Stowe, Vermont, is a dream come true!
Nestled amidst the stunning Green Mountains, this lodge is a magical retreat that will transport you to a world of Austrian charm right in the heart of New England.
Yes, you read that right—the Trapp Family Lodge was founded by the actual von Trapp family, the same ones whose inspiring story was immortalized in the iconic movie. And let me tell you, the spirit of their musical legacy and warm hospitality still echoes throughout this magnificent lodge.
As you arrive, you'll be greeted by sweeping views of the fall foliage in the surrounding valleys and mountains. The lodge itself exudes a traditional European charm, with its alpine-style architecture, cozy fireplaces, and stunning woodwork. It's the kind of place that makes you want to snuggle up with a good book and a warm cup of hot cocoa.
But the real charm lies in the little details. Take a stroll through the beautifully landscaped grounds, and you'll discover quaint gazebos, charming gardens, and even a serene chapel nestled among the trees. It's like stepping into a fairy tale!
Now, let's talk about the activities—oh, the activities! From hiking and biking to cross-country skiing and snowshoeing, the Trapp Family Lodge has it all. With over 2,500 acres of rolling hills and trails to explore, adventure awaits at every turn.
But wait, there's more! For those craving a taste of Austria, the lodge's dining options won't disappoint. Indulge in hearty schnitzels, savory bratwurst, and delectable strudels, all crafted with love and authentic flavors. And of course, don't forget to pair your meal with a glass of wine from their award-winning winery.
Vermont Travel Tip: Located on the Trapp Family Lodge property is a tiny church in the woods. If you ask for directions at the lodge, you'll be pointed to a steep hike above the hotel, near the family cemetery. There is a chapel built by Werner von Trapp on the promise he returned from war, he would marry Erika Klambauer. If you can hike to the tiny hidden gem, it's well worth it.
Take a Vermont Fall Horseback Ride
One of the best ways to see the fall foliage in Stowe Vermont is by a trail ride on horseback.
One of the most beautiful and family-friendly resorts in Stowe is Topnotch Resort, which offers one of the best ways to see Vermont at its Equestrian Center.
If you have little riders, Topnotch Stables offers corralled pony rides.
Find more information about Topnotch Resort and Stables here.
Visit Smugglers Notch State Park
Smugglers Notch State Park is the perfect way to embrace Vermont fall foliage! As the leaves transform into a kaleidoscope of fiery hues, this natural wonderland becomes a paradise for leaf-peepers and outdoor adventurers alike.
Hike along the winding trails, breathe in the crisp mountain air, and relish the breathtaking vistas from every vantage point.
Be sure to explore Bingham Falls in Smugglers Notch. Tucked away from the main trails, this serene oasis offers a secluded escape for those willing to venture off the beaten path.
Surrounded by rugged rock formations and verdant foliage, Bingham Falls feels like a secret sanctuary, where you can unwind and immerse yourself in the tranquil sounds of nature's masterpiece.
Visit a Vermont Sugar House
If you find yourself in Stowe, Vermont, during the autumn season, you're in for a real treat, literally—the sight, smell, and taste of maple sugar houses in full swing!
Vermont is famous for its sweet liquid gold, and visiting a maple sugar house in Stowe is a quintessential New England experience you won't want to miss.
Step inside a Vermont sugar house, and you'll immediately be enveloped in the intoxicating aroma of boiling maple sap. Trust me; it's pure heaven!
The best sugar houses in Stowe:
Nebraska Knoll Sugar Farm: Tucked away in the enchanting landscape of Stowe, Vermont—the Nebraska Knoll Sugar Farm. As you approach this charming sugar farm, you'll immediately feel a sense of warmth and tranquility that only a family-run operation can offer. Tour and watch skilled artisans carefully tend to the maple syrup-making process, using time-honored methods that have been passed down through generations. Knoll Farm offers a delightful array of maple-infused treats. From maple candies that melt in your mouth to jugs of the finest Vermont Maple syrup-it's a sweet wonderland, you won't want to leave. More information on Nebraska Knoll Sugar Farm here.
Sugar House at Trapp Family Lodge: In addition to the Trapp Famly Lodge being a fantastic spot in Stowe Vermont in the fall, they offer a look at how maple sugar is made at their own Sugar House. Find the Maple tour and information here.
Ben & Jerrys Factory
Calling all ice cream enthusiasts! Have you ever wondered what magical place churns out those creamy, dreamy pints of goodness we all crave? One of the most fun things to do in Stowe Vermont in the fall is to tour the Ben & Jerry's Factory.
Just a short 15-minute drive to the charming town of Waterbury Historic District, nestled among the rolling green hills, this factory is like Willy Wonka's wonderland, but for ice cream lovers.
As soon as you step inside, the sweet aroma of freshly made waffle cones fills the air, inviting you on a delicious journey.
The tour begins with a friendly guide taking you through the history of Ben & Jerry's, from its humble beginnings in a renovated gas station to becoming a global ice cream sensation.
You'll learn about their commitment to using Fair Trade ingredients and their passion for supporting social and environmental causes.
Now comes the best part – witnessing the creation of their iconic flavors! From the creamy vanilla base to chunks of fudgy brownies and swirls of caramel, it's a fun look at how this iconic ice cream is made.
As you explore the factory, you'll peek into the Flavor Graveyard, a quirky homage to retired flavors of the past. It's like a walk down memory lane for ice cream aficionados.
Even if it's a little crisp outside in Vermont, don't miss the chance to indulge your taste buds and experience the magic of Ben & Jerry's Factory.
Find tour info, hours, and directions to the Ben & Jerry's Factory here.
Stowe Community Church
Another must-visit site in Stowe VT in fall is the historic Stowe Community Church. This iconic landmark dates back to 1863 and holds a special place in our hearts. Its beautiful white spire and classic New England architecture are hard to miss as we drive along the Green Mountain Byway.
We always enjoy attending a Sunday service, witnessing the vibrant local community, and admiring the stunning stained-glass windows that add a touch of elegance to this sacred space.
Stowe Foliage Arts Festival
Stowe Foliage Arts Festival is definitely a major highlight of this charming town during the fall. We love seeing the artists and locals coming together to celebrate the vibrant autumn colors and creativity that fill the air.
The Stowe Artrs Festival takes place over an entire weekend, with the town buzzing with activity. We can't help but admire how talented artists from around the region showcase their incredible work. There are stalls presenting everything from:
Paintings
Sculptures
Photography
Pottery
Handmade Jewelry
Woodworks
We also have the joy of experiencing various performances by talented musicians, giving the festival a lively atmosphere to remember.
One of our favorite parts is the artisan food court, where we get a taste of the delicious local flavors in Stowe. From mouth-watering maple treats to authentic New England cuisine, you will find something special.
Find information about the 2023 Stowe Foliage Arts Festival, here.
Cold Hollow Cider Mill
Picture this: a charming little oasis nestled amidst Vermont's breathtaking countryside – that's Cold Hollow Cider Mill! If you've ever fantasized about a place that exudes the essence of autumn, this is it.
As you approach the mill, you're greeted by the inviting aroma of freshly pressed apples and warm cinnamon wafting through the air.
The cheerful red barn-like exterior and the picturesque surroundings instantly transport you to a scene straight out of a storybook.
Step inside, and you'll be welcomed by the friendly staff, eager to introduce you to their world of apple goodness. The star of the show, of course, is their famous regular, non-alcoholic apple cider and their 21+ hard apple cider – made from a perfect blend of hand-picked apples, each batch is a symphony of sweet and tangy notes.
The heart of Cold Hollow Cider Mill is their century-old press, a true work of art. Watching apples transform into liquid gold is a mesmerizing experience, and even more so when you sit back, and relax with a cider flight at the rustic bar.
But Cold Hollow Cider Mill has more to offer. Their shelves are lined with an array of apple-based treats – from freshly made apple cider donuts that practically melt in your mouth, Mill Made Fudges, cookies, and maple shortbreads, to delectable apple pies or coffee cakes that evoke memories of family gatherings.
As you explore the charming gift shop, you'll find an assortment of apple-related souvenirs to take home.
And don't forget to sample their apple-based condiments and spreads, each one capturing the essence of the season.
Find information, events, and hours at Cider Hollow Cider Mill here.
Zipline Stowe
For adrenaline junkies, ziplining through the Stowe fall foliage is a must-try! Arbortrek Canopy Adventures boasts the longest zipline in Vermont, extending over 4,500 feet through Smugglers Notch. It's one of the most exciting ways to see the colors of fall in Stowe Vermont.
Experience the ultimate physical challenge with a Treetop Obstacle Course and Climbing Adventure. These exhilarating activities offer the perfect blend of excitement and thrill as you navigate through over 90 elements in the treetops. Slide, balance, jump, crawl, climb, dash, and swing your way through this adrenaline-pumping course.
It's a playground for adventurers seeking an unforgettable experience in the heart of Smugglers Notch.
Book your adventure at Arbortrek Canopy Adventures here.
Nearby Stowe Attractions
Montpelier, Vermont
Another great nearby attraction is Montpelier, Vermont's capital city. It's one of our family's favorite small towns in Vermont.
While strolling through its charming downtown streets, we can visit the Vermont State House, shop at local boutiques, and dine in some of the quaint cafes and restaurants.
For history buffs, the Vermont Historical Society Museum is worth a visit, showcasing artifacts and exhibits about the state's past.
Lake Champlain
Not too far from Stowe, we'll find the beautiful Lake Champlain, which offers a wide range of outdoor activities. We can spend our time enjoying:
Boating, kayaking, or canoeing on the lake
Fishing for bass, salmon, and trout
Biking and hiking along the picturesque lakeshore
Additionally, the nearby ECHO, Leahy Center for Lake Champlain in Burlington provides an engaging learning experience about the ecology and history of the lake.
Burlington Vermont
Last but not least, check out Burlington, Vermont's largest city, situated on the shores of Lake Champlain. The waterfront area is perfect for a leisurely walk or bike ride, with parks and beaches where we can relax and take in the views.
Church Street Marketplace is a must-stop for shopping, dining, and occasional street performances. Burlington's vibrant arts scene also offers galleries, theaters, and live music venues worth exploring.
This post may contain affiliate links. I may receive a small commission if a qualified link is used at no cost or obligation to you ever. Additionally, I am an Amazon Affiliate Partner. I may receive a commission if a qualifying link is used.