Hey there, fellow wanderlusters! Halloween is not just a day; for some towns in the US, it's an entire season. If you're anything like me, craving the thrill of haunted tales, pumpkin-spiced everything, and streets adorned in shades of autumn, then buckle up! I've explored the spookiest corners of the country to bring you the best Halloween towns in America that promise chills, thrills, and memories that'll last a lifetime.
Salem, Massachusetts: The Witch City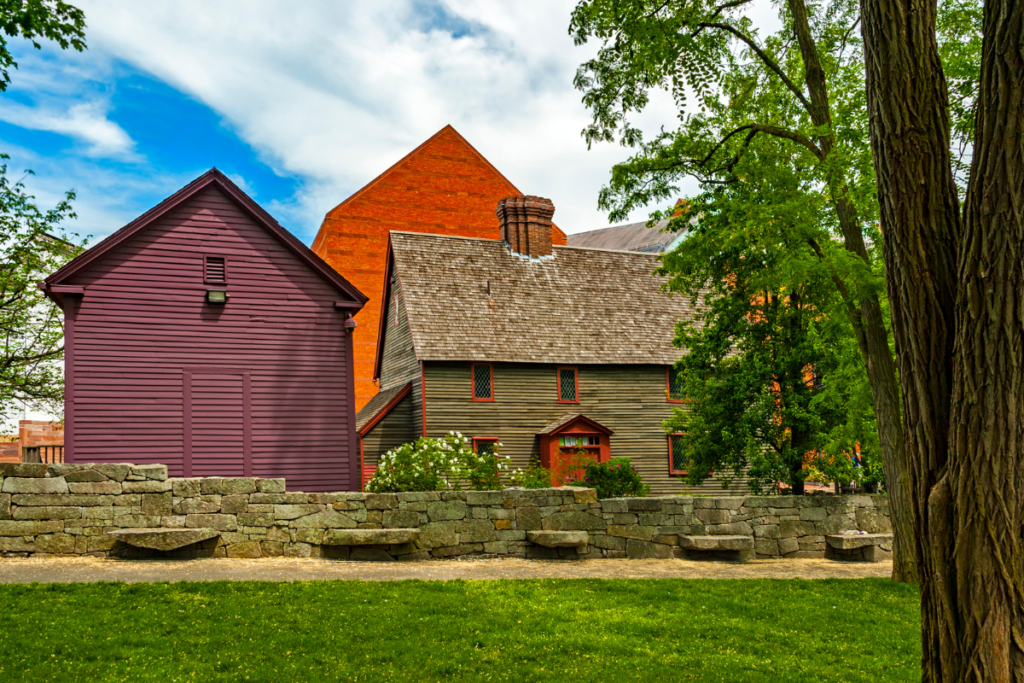 If there's one place that captures the essence of Halloween, it's Salem, Massachusetts. Rich in witchy history and dripping with autumnal charm, Salem is THE place to go Halloween hunting.
Why it's bewitching: Salem is the epicenter of Halloween celebrations. Steeped in its notorious history of the 1692 witch trials, the town embraces its past with a month-long Haunted Happenings Festival.
Where to Eat: Dive into the Mercy Tavern for some wickedly delicious eats. Wash down your Havariti Grilled Cheese with a cauldron-brewed potion, like the Hocus Pocus, or Room on the Broom (okay, they're really just themed cocktails, but a girl can dream!).
Where to Stay: For a hauntingly delightful Halloween stay in Salem, book a room at The Hawthorne Hotel. Steeped in history with whispers of ghostly guests, it offers vintage charm paired with modern luxury, placing you at the heart of Salem's spooky festivities. Sleep tight, if you dare!
And if you're wondering about places to go Halloween shopping, hit up Magic Parlor. With every velvet cloak and glittering wand, you'll feel the magic.
Must-visit spots: Salem, Massachusetts, steeped in history and rich with tales of witchcraft and maritime adventures, is home to several iconic locations.
The Salem Witch Museum: delves into the chilling 1692 Witch Trials, presenting dioramas and compelling narratives that capture Salem's tumultuous past and its lasting legacy of witchcraft's portrayal.
Tour the Hocus Pocus Movie Locations: Salem's "Hocus Pocus" locations merge eerie history with film nostalgia, featuring Max's house, Allison's mansion, bewitched school exteriors, and spellbinding Sanderson Sisters' haunts. An enchanting journey awaits here!
The House of the Seven Gables: Made famous by Nathaniel Hawthorne's novel, this is one of the oldest surviving 17th-century wooden mansions in New England.
Witch House (Corwin House): The only structure still standing in Salem with direct ties to the witch trials, this was once the home of Judge Jonathan Corwin.
Peabody Essex Museum: Showcasing an impressive collection of art and culture, it's one of the oldest and fastest-growing museums in the U.S.
Salem Maritime National Historic Site: Celebrating Salem's maritime history, this site includes historic buildings, wharves, and the replica ship Friendship.
Old Burying Point Cemetery: Established in 1637, this is Salem's oldest cemetery and is the final resting place for many notable individuals including a witch trials judge.
Witch Trials Memorial: A somber memorial dedicated to the 20 innocent victims of the witch trials.
Salem Common: A historic public park where militia musters and witchcraft examinations once took place.
Salem Willows: A beautiful park with ocean views, arcades, and the famous Salem Willows' popcorn stand.
The Witch Dungeon Museum: Experience a live reenactment of a witch trial, based on the 1692 transcript, followed by a guided tour of the dungeon.
Sleepy Hollow New York: The Legend's Home
Why it's bewitching: Immortalized by Washington Irving's "The Legend of Sleepy Hollow," this town has beautiful fall landscapes and the haunting tale of the Headless Horseman.
Don't miss: The lantern-lit tours of the Sleepy Hollow Cemetery, where you might just bump into famous residents, both the living and the ghostly kind. The Great Jack O'Lantern Blaze is an enchanting spectacle with over 7,000 illuminated jack o'lanterns. It's the perfect backdrop for those Insta-worthy shots!
Iconic Locations: Sleepy Hollow, New York, is rich with lore and legendary tales that make it an iconic Halloween destination. Here are some must-visit spots in the village:
Sleepy Hollow Cemetery: The resting place of Washington Irving, the author of "The Legend of Sleepy Hollow", along with many other notable figures.
Old Dutch Church: Built-in 1685, it's one of the oldest active churches in the state and plays a significant role in Irving's famous tale.
Philipsburg Manor: A historic manor house, gristmill, and trading site which transforms into the terrifying "Horseman's Hollow" for Halloween, offering a haunted experience.
The Headless Horseman Bridge: While the original no longer exists, a successor bridge stands nearby where, according to the legend, Ichabod Crane had his fateful encounter.
Patriots Park: Located between Sleepy Hollow and Tarrytown, this park is significant for the capture of the British spy, Major John André, during the Revolutionary War.
Kykuit: The Rockefeller Estate offers impressive architecture, gardens, and an art collection. While not directly linked to the Headless Horseman legend, its prominence in the region makes it a must-visit.
Sleepy Hollow Lighthouse (also known as Tarrytown Lighthouse): A picturesque lighthouse on the eastern shore of the Hudson River.
During the Halloween season, Sleepy Hollow comes alive with parades, haunted hayrides, lantern tours, and more, all celebrating the legacy of Washington Irving's tale and the region's rich history.
St. Helens Oregon: Halloweentown's Real-life Locale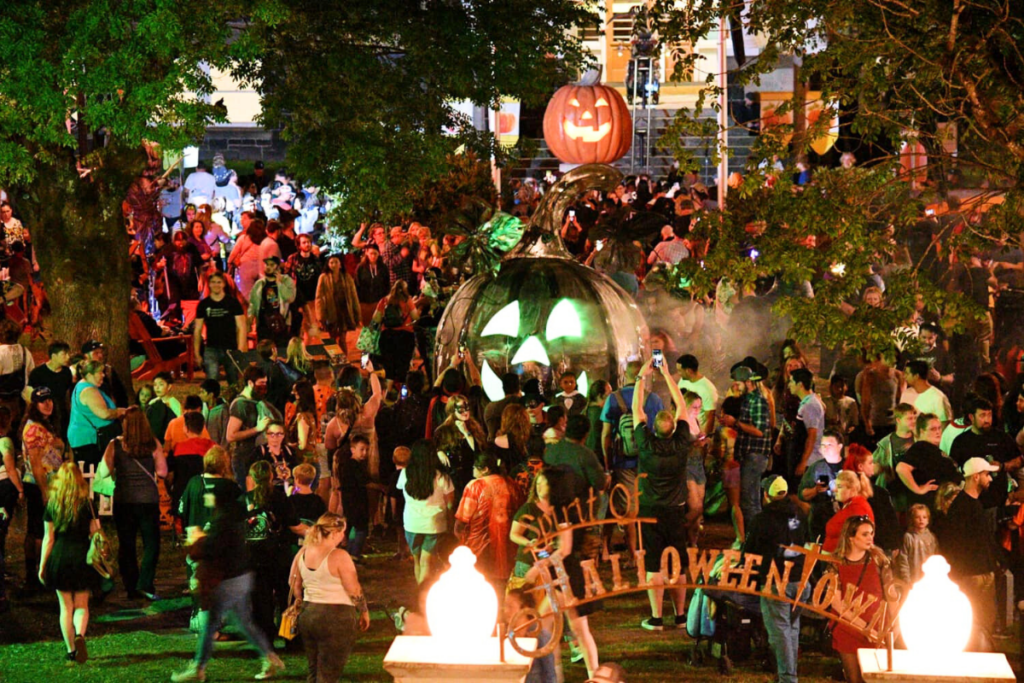 Why it's bewitching: Remember Disney's Halloweentown? Or Twilight? Well, both movies were filmed in St. Helens Oregon, and every October, the town transforms into a Halloweentown movie set to celebrate the "Spirit of Halloweentown" Festival.
Don't miss: The giant scarecrow of the town square, and if you're a die-hard fan of Halloweentown, the movie's cast reunion is an added treat. The haunted tours and magic shows only amplify the bewitching ambiance.
Halloweentown Main Plaza: This iconic town square, with its giant pumpkin centerpiece, is a must-visit. It feels like stepping directly into the movie! And guess what? During the festival, they have the lighting ceremony of the "Great Pumpkin." Magic in the air? Absolutely!
Haunted Tours: Dive deep into the town's eerie history with a guided haunted tour. From ghostly tales to mysterious happenings, the stories will give you the perfect Halloween vibes.
Big Day Parade: Don't forget to pack your most fabulous Halloween outfit. Join hundreds of other spirits and creatures in the annual costume parade and let your spooky creativity shine!
Museum of Peculiarities & Oddities: For the curious souls out there, this museum will tickle your fancy. Filled with unique, strange, and downright odd exhibits, it's a fascinating pit stop.
Twilight Weekend: Meet the celebrities from Twilight, Dr. Cullen, Jasper, and Maggie Grace for autographs and photos.
Photo Ops with Halloweentown Celebs: Some years, cast members from the original "Halloweentown" movies visit during the festivities. Bring your autograph book and keep an eye out for your fave stars!
Vendor Village: Shop 'til you drop at the Vendor Village. From mystical trinkets to artisanal Halloween crafts, there's something for everyone.
Witch's Celebration: Come see loads of witches throughout the day from Ursula, Maleficent, and The Wicked Witch from OZ floating and paddling down the river.
Spooky Train Rides: Explore St. Helens on a ghostly train ride. The scenic views, and decorated house train tour, combined with a touch of Halloween magic, make it an unforgettable experience.
Pro tip: Make sure to visit during weekdays for fewer crowds and a more relaxed experience. And always remember to respect the town, its history, and its residents as you enjoy your magical journey.
Grab your witch hats, fairy wings, or whatever your heart desires, and get ready for a mystical experience. See you in Halloweentown!
Best Fall Vacations on the East Coast: Witness vibrant foliage, charming towns, and seasonal festivities in the region's most picturesque autumn destinations. Find the guide here!
New Orleans, Louisiana: Voodoo Vibes & Ghostly Tales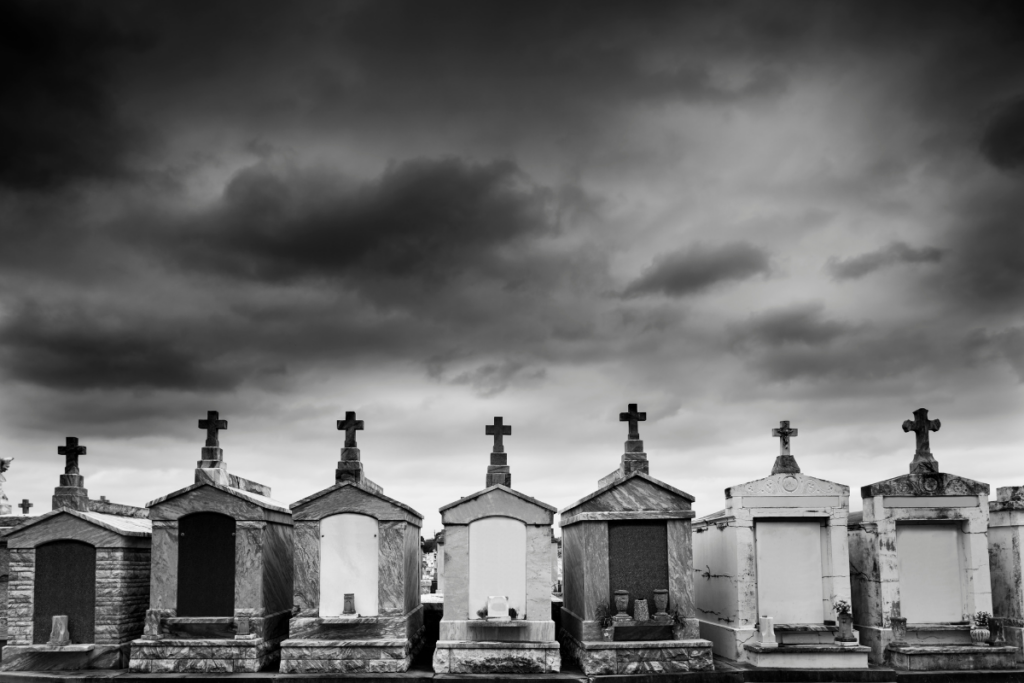 As the season of witchy wonder descends upon us, there's a certain magic in the air, and it's leading me straight to New Orleans. Lauded as one of the best Halloween towns in the USA, the Big Easy is a cauldron of history, hauntings, and heaps of fun. Grab your masquerade masks and let's embark on this mystical journey together!
Why it's bewitching: New Orleans, with its rich voodoo culture and history of pirates, is a mosaic of chilling tales and vibrant celebrations.
Where to Stay:
Don't Miss: New Orleans is not just a city during Halloween, it's an ethereal realm, a crossroads of history, culture, and the supernatural. These are the must-see during Halloween!
French Quarter Ghost Tours: Get into the heart of NOLA's spookiest tales. Wander the lamplit streets, listening to stories of restless spirits and legendary hauntings. From the tragic tale of Delphine LaLaurie to the ghosts of Pirates Alley, every corner whispers its secrets. Find the tours here.
Voodoo Music + Arts Experience: When it comes to immersive music experiences, Voodoo Fest is it! Groove to your favorite beats while being surrounded by the enchanting vibes of Halloween. It's music, culture, and Halloween wrapped in one spellbinding package. Find tickets, and information here.
Krewe of Boo: NOLA's official Halloween parade! Marvel at the ornately designed floats, performers, and the showering of themed throws. Think Mardi Gras, but spookier! Find the information, dates, and times here.
Lafayette Cemetery No.1: Historic, haunting, and absolutely hypnotic! As one of the city's oldest cemeteries, the above-ground tombs and statues tell tales of old New Orleans. Perfect for history buffs and paranormal enthusiasts. Find the tour here.
Voodoo Shops & Spiritual Readings: Tap into the spiritual heart of NOLA. From Marie Laveau's House of Voodoo to the many tarot and palm readers around town, get a glimpse of your future or simply immerse yourself in the mystic arts.
Frenchmen Street: The place to be on Halloween night! See an array of creative costumes, dance to live jazz, and immerse yourself in the city's vibrant culture.
New Orleans Historic Voodoo Museum: Delve into the mysterious world of voodoo. Understand its roots, significance, and the legendary figures who shaped it.
Endless Night Vampire Ball: If opulence and allure are your things, this is your soirée. Held at the House of Blues, it's an otherworldly blend of ceremony, live performances, and dancing. Dress to impress in your finest vampiric attire. Find tickets and dates here.
Masquerade Parties at the Local Bars: Almost every bar in the French Quarter hosts its own Halloween masquerade ball. With masks, live music, and New Orleans' classic cocktails, it's an experience not to miss.
Graveyard Tours: By moonlight, explore the cemeteries of NOLA. It's eerie, it's beautiful, and it offers a unique perspective on the city's rich history. Find all the cemetery tours here.
Stowe Vermont in the Fall: Take in the breathtaking autumn foliage, scenic mountain vistas, and quaint village charm in this quintessential New England destination of Stowe Vermont. Find the guide here.
Anoka Minnesota: The Halloween Capital
If you're searching for the quintessential Halloween town, the trail of falling leaves and whispered legends leads to one place: Anoka, Minnesota. Proclaiming itself the "Halloween Capital of the World," Anoka is a delightful blend of history, spook, and celebration. Grab your coziest scarf and let's unveil the magic together!
Why it's bewitching: Anoka claims to be the first US city to host a Halloween celebration to divert youngsters from Halloween pranks, and oh boy, did they take it to heart!
Don't miss: The massive Light Up the Night Parade followed by the Fireworks Spectacular. Delight in pumpkin bowling, and if you're up for a bit of competition, the Gray Ghost 5K run is a fun challenge.
Grand Day Parade: A spectacle not to be missed! Floats, bands, and all manner of costumed creatures make their way through Anoka's historic streets. Every twist and turn brings joyous Halloween surprises.
Anoka Halloween House Decorating Contest: Homeowners truly embrace the spirit! Roam the neighborhoods to marvel at haunted houses adorned in their October best—from ghoulish graveyards to whimsical witchy setups.
Pumpkin Bowl: A quirky and fun-filled football game where local teams compete amidst Halloween festivities. It's not just about the sport; it's about the spirit!
Gray Ghost 5K Run/Walk: Dash through the crisp autumn air, draped in your spookiest attire. This race welcomes participants of all ages, turning Anoka's streets into a playful Halloween marathon.
Spooktacular Carnival: Perfect for the little goblins in your life. Games, treats, and a horde of Halloween activities ensure endless giggles and memories.
Light Up the Night Parade: As twilight descends, this parade illuminates the town. Glowing floats, lanterns, and shimmering costumes ensure a night of wonder.
Pumpkin Carving Contest: Creativity reigns supreme as intricate, funny, and downright impressive jack-o'-lanterns come to life, casting their warm glow on cool October evenings.
Travel Tip: Amidst the fun, spare a moment to wander by the Rum River, especially at dusk. The autumnal hues reflected in the water, framed by Anoka's historic buildings, are pure magic!
So, enchanting explorers, if you seek a Halloween experience dipped in tradition, festivity, and heartfelt community spirit, Anoka, Minnesota beckons. I promise it's more than a town; it's a Halloween dream come to life. See you under the harvest moon!
Best Fall Vacations in the US: Uncover the best fall vacations in the US. Immerse yourself in stunning foliage, harvest festivals, and cozy retreats and treats across America's most captivating autumn vacation spots. Find the guide here.
Laconia New Hampshire: Pumpkin Fest Galore
Consider Laconia, New Hampshire's enchanting fall hues for the perfect Halloween vacation. This picturesque town becomes a Halloween haven, with haunted hayrides and lakeside bonfires. For an autumn escape blending New England charm with spirited festivities, Laconia beckons.
Why it's bewitching: The New England charm paired with a celebration of all things pumpkin makes Laconia a Halloween haven.
Don't miss: The pumpkin tower, standing tall with thousands of jack o'lanterns. The pumpkin dump derby is an amusing spectacle, and for a dash of spookiness, the haunted mill tours hit just right.
There's an enchanting corner of New Hampshire that's been whispering tales of Halloween wonder. Welcome to Laconia, where serene lakes meet spirited celebrations. Ready for a bewitched journey? Let's unveil the magic!
Haunted Train Rides at the Weirs: Board a vintage train for a spine-tingling journey through Laconia's moonlit landscapes. Ghost stories, hot cocoa, and perhaps a phantom passenger or two await!
Pumpkin Festival: A true testament to Laconia's spooky spirit. Wander streets adorned with thousands of glowing jack-o'-lanterns, each with its own whimsical or wicked face.
Endicott Rock Park: The beauty of this historic park is heightened in autumn. Enjoy a serene picnic by day and watch out for lakeside ghost stories by night.
Beans & Greens Farm: Lose yourself in this intricate corn maze, where the rustling sounds might just be the wind… or something more mysterious!
Prescott Farm's Night Walk: Experience nature's nocturnal side. This guided walk is equal parts educational and eerie—a delightful way to embrace October's mystical ambiance.
Opechee Park Haunts: A place of scenic beauty transforms as Halloween nears. Look out for community-led ghost tours, recounting tales of spirits lingering near the waters.
Downtown Trick-or-Treating: Laconia's heart beats with Hollows Eve fervor as local businesses open their doors to goblins, witches, and little monsters for some candy-collecting fun!
Weirs Drive-In: Classic horror movies under the starry sky? Yes, please! Snuggle up in your car for a nostalgic (and spooky) cinematic experience.
Haunted Tavern Tours: Delve into Laconia's spirited past, one tavern at a time. Toast with pumpkin ale and listen to tales of patrons from bygone eras who might never have left.
Lakeside Ghostly Cruises: Sail Lake Winnipesaukee under the harvest moon. Legends of the lake and its ghostly inhabitants come to life in the gentle sway of the boat.
Autumn Travel Tip: Don't forget to pack a cozy sweater and a camera. Between the Halloween haunts, the fall foliage in Laconia is picture-perfect, waiting to be captured!
If your heart seeks an October getaway blending serene beauty with Halloween excitement, let Laconia's charms bewitch you. Amidst rustling leaves and shimmering waters, magic truly comes alive. See you by the lake!
Fall in NYC: Autumn is our absolute favorite time to go to New York City. Between the end of September through November, the air is crisp, the weather is fantastic and it's just not too cold or hot. Not to mention, the fall foliage in NYC is gorgeous. This Guide will send you the best vacation during fall in NYC HERE.
Best Place To Go This Halloween-A Spellbinding Wrap Up
Each town brings its own brand of magic to the table. Whether it's dancing under the moonlit sky of Salem, chasing the Headless Horseman's legends in Sleepy Hollow, or immersing yourself in the movie magic of Halloweentown, every destination on this list promises a Halloween experience unlike any other.
What I adore about these towns is how they weave history, culture, and good old Halloween fun into a tapestry of celebrations that cater to every kind of traveler, from history buffs to paranormal enthusiasts.
So, pack your coziest sweaters, grab a pumpkin spice latte, and get ready to embark on a journey across America's most Halloween-obsessed towns.
Trust me; it's going to be spellbinding!
This post may contain affiliate links. I may receive a small commission if a qualified link is used at no cost or obligation to you ever. Additionally, I am an Amazon Affiliate Partner. I may receive a commission if a qualifying link is used.