Fall in New York City is a special time. The leaves on the trees turn the most beautiful shades of red and orange, and the air has a crisp, fresh smell. People break out their cozy sweaters and enjoy long walks in the park. There's something about fall in NYC that just feels magical.
Of course, fall in NYC wouldn't be complete without a few cultural experiences, hot drinks, and a meal at a quaint restaurant.
When is Fall in NYC?
Fall in New York City starts around the end of September to about the second week of November. To see fall colors in NYC, it all depends on the temperatures and rains throughout the year. Peak season and color change often vary and can happen between October-November.
If you can book last-minute and watch a fall leaf prediction calendar, by all means! If you have to plan your New York City trip ahead of time, Your best bet will be the last two weeks of October, maybe the first week of November, to see those bright colors.
However, visiting NYC in fall is a good idea if you miss the leaves or arrive too early for leaf-peeping. We believe it is the best time to visit New York City and spring.
The weather is a perfect mix of cool and warm, with a bit of precipitation. You can do tourist activities in prime weather or wander around the city eating great food and drinking fall drinks.
What Should I Pack for Fall in NYC?
You will need a mix of clothing, shoes & boots.
Think layering with t-shirts and sweaters. Although the more you get into late October and November in New York City, I say bring a heavy jacket and gloves. Last year I was in the city the first week of November, and I was freezing and had many layers on. If you are touring the city, bring comfortable shoes and boots.
If you need a guide on where to stay and what to do, I have the complete guide to New York City here.
New York City Travel Essentials >>
Central Park in Autumn
Nothing is more beautiful than Central Park in the fall; it is a truly remarkable experience. Central Park transforms into a sea of red, yellow, and orange as the leaves change color. The crisp air and bright blue skies make perfect conditions to explore all Central Park offers.
From the Belvedere Castle to the Central Park Zoo, there is plenty of attractions to keep you busy. And, of course, no visit to Central Park would be complete without taking a stroll or bike ride down one of its many scenic trails.
Things you must see and do in Central Park in Autumn:
Head to Bow Bridge for some beautiful fall pictures. This backdrop is absolutely stunning in the fall.
Have a Central Park picnic in Sheep's Meadow or many picturesque spots around the park. We suggest grabbing a

fall-perfect picnic from Perfect Picnic

and hot cocoa.
If traveling with kids, explore the many playgrounds Central Park offers, such as Heckscher Playground, Ancient Playground, Diana Ross Playground, or Toll Family.
Visit Central Park Zoo
Skate Wollman Ice Rink. It generally opens in late October.
Have a New York City brunch at

Loeb Boathouse,

then grab a rowboat for a scenic ride.
Take a magical "happy go round" ride in the middle of the Central Park Carousel.
Climb Umpire Rock
Ride bikes or scooters through the trails
Head to Belevadre Castle. Perched on Vista Rock, this miniature castle has sweeping views of Turtle Pond, The Great Lawn, the Ramble, and the surrounding New York cityscape.
Visit Other Beautiful New York City Parks
Central Park may be the world's most famous park, but New York City is home to many parks that are noteworthy and scattered around. Here are a few suggestions for your fall activity planning in New York City:
Prospect Park. Head to Brooklyn for many fall activities in NYC. Take a stroll, skate, or horseback ride through the fall foliage. Visit many lakes and BBQs, take a tour of the Lefferts Historic House, or partake in the "Woodstock of Eating," at Smorgasburg, a food festival that offers a range of cuisines from local food purveyors.
Little Island NYC. If you are looking for unique fall activity in NYC, Little Island is a new public park in Hudson River Park, and it is the perfect place to experience nature and art in an urban setting. The park features a lush, seasonal landscape with rolling hills, winding pathways, and stunning views of Manhattan. In addition, the park has an impressive lineup of programming that includes music, dance, theater, poetry, comedy, and art workshops for all ages.
Pelham Bay Park. Pelham Bay Park is actually the largest park in New York City. Located in the Bronx, this sprawling park covers over 2,700 acres and has three miles of coastline. There are miles of trails, bridle paths for horseback riding, and one of the best, most scenic spots for fall foliage in NYC.
The High Line NYC. One of the best ways to experience New York City in the fall is to take a walk on the High Line. The High Line is a New York City landmark once an elevated railway line. Today, it has been transformed into a public park, offering breathtaking cityscape views. It is gorgeous in the fall when the leaves change color, and the air is the perfect temperature for a long walk.
Brooklyn Botanical Garden
New York is a beautiful city in the fall. New Yorkers are lucky to have many great parks and gardens to enjoy during this season. One of the best places to see fall foliage is the Brooklyn Botanical Gardens.
This world-renowned garden is home to more than 12,000 different plants, and its collection of trees is particularly stunning in the autumn months.
Visitors can stroll through the gardens at their leisure, admiring the changing leaves and taking in the fresh air. New York may be known as a concrete jungle, but it's also home to some of the most incredible natural beauty in the world.
New York Observation Decks, Pick the Right One for You
Food Network Food & Wine Festival 2022
The Food Network Food & Wine Festival is a delicious event that celebrates all things food and drink. Held annually in the fall in New York City, the festival attracts some of the biggest names in the culinary world.
Visitors can enjoy cooking demonstrations, tasting sessions, and other exciting events. The festival is also an excellent opportunity to discover new foods and beverages from around the world.
Whether you're a foodie or just looking for a fun fall activity in NYC, the Food Network Food & Wine Festival will satisfy your appetite. You can find tickets, events, and demos on their website here.
Attend New York City's Many Fall Festivals
New York City is a vibrant and exciting place to be any time of year, but there is something special about the city in the fall. The leaves begin to change color, and the air has a crispness that is invigorating. It is also the time of year for NYC's fall festivals.
These festivals are a great way to experience the best that the city has to offer, from world-renowned food and drink to live entertainment. Whether you're looking for a festive way to celebrate the changing season or simply want to enjoy all that New York has to offer, be sure to check out one of the many fall festivals taking place in the city.
Fall festivals in NYC to consider:
Fall Foliage Cruise NYC
Fall in New York City is the perfect time to enjoy a leisurely brunch cruise around Manhattan. You'll get to see all the sights of New York City from the water, enjoying landmarks like the Statue of Liberty, Ellis Island, and the Brooklyn Bridge.
A brunch (or regular) cruise is one of the best fall activities in New York City. And, of course, no brunch would be complete without a delicious meal. You'll enjoy a spread of New York favorites like bagels, lox, fresh fruit and pastries, and of course, mimosas while you take in the autumn views.
A Guide to the Best Fall Foliage Cruise NYC
See Fall in NYC in the Sky
New York City is one of the most iconic cities in the world, and there's no better way to see it than from the air. A helicopter ride over NYC gives you a bird's eye view of some of the most famous New York views in the world, from the Empire State Building and the Brooklyn Bridge, and imagine seeing Central Park in peak fall in NYC!
Head to Brooklyn New York
Brooklyn is so beautiful in the fall, and you can see some of the most amazing New York views from this borough. Brooklyn Bridge Park, DUMBO, and several neighborhoods are worth spending a day celebrating fall in NYC.
For those looking for a unique way to experience the Brooklyn Bridge, walking or cycling across it is a must. The scenic views of Manhattan and Brooklyn are simply breathtaking, and there's nothing quite like feeling the wind in your hair as you stroll or cycle across one of the most famous bridges in the world.
One of the best places to enjoy fall in NYC is Brooklyn Bridge Park. Situated on the East River, the park offers stunning views of lower Manhattan and the Brooklyn Bridge. It's the perfect place to take a stroll, have a picnic (grab a pizza from Juliana's Pizza) or just relax and enjoy the changing seasons. Plus, with fall festivals and events happening throughout the park, there's always something to do.
NYC Tip: Right behind Brooklyn Bridge Park is Timeout Market, an NYC food hall with upscale dining options from some of the best chefs and restaurants in NYC. Everyone in your group can choose what they want to eat or drink.
Stroll New York City Neighborhoods
There is nothing I love more than exploring New York City's neighborhoods in the fall. Pick a neighborhood, a cafe for a hot drink or meal. Just start walking, see the beautiful homes and find quaint shops.
Here are our favorite neighborhoods to explore in fall in NYC:
Brooklyn Heights. Brooklyn Heights is my favorite neighborhood in all of New York City. Brooklyn Heights is a quiet neighborhood with Tree-lined sidewalks, cobblestone side streets, brownstone rowhouses, and unique carriage homes. It is an idyllic place to see fall in NYC. Grab a delightful pastry and coffee at Maman, then head out for a beautiful fall stroll.
West Village. The West Village is a historic district with tree-lined streets and quaint brownstones. It's also home to some of the best shopping and dining in the city. Head to Bleeker Street for some shopping and brunch or lunch at

The Little Owl

, a little cafe under the famed "Friends" building facade with delicious food and drinks. Or, explore the West Village and have dinner at

Don Angie

. Be sure to get the lasagna!
Upper West Side. With its tree-lined streets and stately brownstones, the neighborhood feels like something out of a fairy tale. The best way to experience the Upper West Side is to take a stroll down Central Park West, stopping to admire the fall foliage along the way. Then weave through the streets, and head to

Jacobs Pickles

for some comfort food on a cold fall day.

Tips for Visiting New York City!
NYC Village Halloween Parade
What better way to celebrate the season than attending the NYC Village Halloween Parade? This annual event is the largest public Halloween celebration in the nation, attracting over two million people.
Held on October 31st, the party celebrates all things Halloween with costume contests, spooky decorations, and candy galore. But what makes the party truly unique is its location: New York's Greenwich Village, a historic neighborhood with a storied past.
Queen's Country Farm Museum
If you are headed to New York City with kids, Queens Country Farm is a fantastic place to celebrate fall in New York City. This 47-acre working farm dates back to 1697 and occupies New York City's largest remaining tract of undisturbed farmland (source: Queens County Farm, 2022).
The farm has a variety of animals, including chickens, pigs, cows, and goats. It also features a greenhouse, an orchard, and a vineyard. In addition to being a great place to take New York fall photos, the Queens County Farm Museum is also a popular spot for New York City kids to visit on field trips.
The farm offers educational programs about farming and agricultural history. It also has a playground and picnic tables for children to enjoy. Thanks to its rich history and wide range of activities, the Queens County Farm Museum is one of New York's most beloved attractions.
Guests can participate in hay rides, pick seasonal produce at the farmstand, find their way through the massive cornstalk maze, pumpkin pick, and join in fall celebrations and performances.
Things to do with Teens in New York City
Cozy Restaurants to Try in NYC
Fall is the perfect time to visit New York City. The weather is cool and comfortable, and the leaves are changing color. It's also a great time to enjoy some of the city's best restaurants. If you're looking for a new, cozy place to eat in New York this fall, here are a few suggestions.
Coffee Shops in NYC:
The Old Rose
Poetica Coffee
Breakfast in NYC:
La Bergamote
Clinton Street Baking Company
Jane Restaurant
Best Bagel & Coffee
Lunch in NYC:
Village Sandbar
LoveMama
Julianas Pizza
Dinner In NYC:
Don Angie
Carne Mare
Benjamin's Steakhouse
The Standard Grille
Lucalis Brooklyn
Treats and Dessert in NYC:
Dominique Ansel (fantastic hot chocolate, too)
Fluffy Algodon
Little Cupcake Bakeshop
Eileen's Special Cheesecake
Chip City
Final Thoughts on Fall in NYC
If you haven't had the chance to visit New York City in autumn, it's definitely worth putting on your list of places to see. The leaves are changing color, the air is crisp and cool, and there's a festive feeling in the air. Whether you take in all the sights and sounds from street level or go for a walk in Central Park, you won't be disappointed.
And if you need some help planning your trip, we can certainly point you in the right direction. So what are you waiting for? Book your trip today!
NYC in Fall-Further Guides
Central Park in the Fall: Explore and find the best fall locations in Central Park in the fall for pictures and find the Central Park fall activities. It's the most beautiful time in New York City. Find the guide HERE.
Fall Foliage Cruise NYC: See the most amazing fall foliage up the Hudson River to the Palisades. Sail in a sailboat, and have a brunch or lunch cruise to the colorful fall foliage HERE.
Best Fall Vacations USA: Discover some of the best fall foliage vacations in the United States HERE.
New York City Resources
Best Deals on Flights: Skyscanner | Tickets, Tours, Attractions: Viator | Hotels: Booking.com | Budget Hotels (Where our family stays) Herald Square or Arlo Hotels | Midrange Hotel: The Library Hotel | Luxury Hotel: Baccarat Hotel or Equinox Hudson Yards | Broadway Shows: Vivid Seats | Restaurant recommendations & reservations: OpenTable | Sightseeing Pass NYC | CityPass NYC | NYC Travel Essentials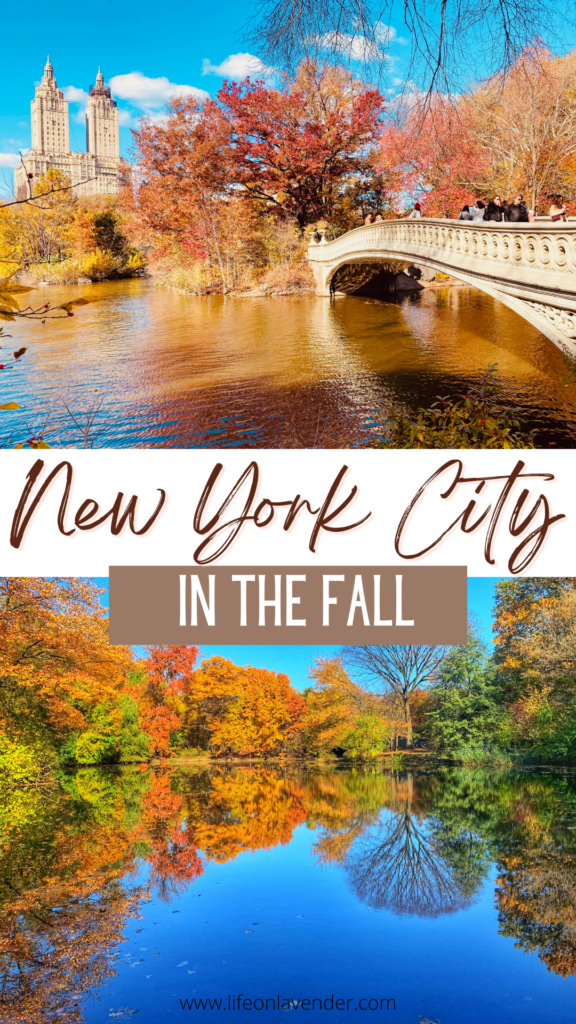 This post contains affiliate links; If a qualified link is used, I may receive a small commission at no cost or obligation to you ever.