Central Park in the fall is the most magical time to visit. If you catch the changing leaves at the right time, you are in for a treat. We head to New York City the most in the fall. The air is crisp and cool, I get out our comfy sweaters and boots, and the city has the best cozy cafes to enjoy a hot meal and drink.
But the best part of fall in NYC? Central Park.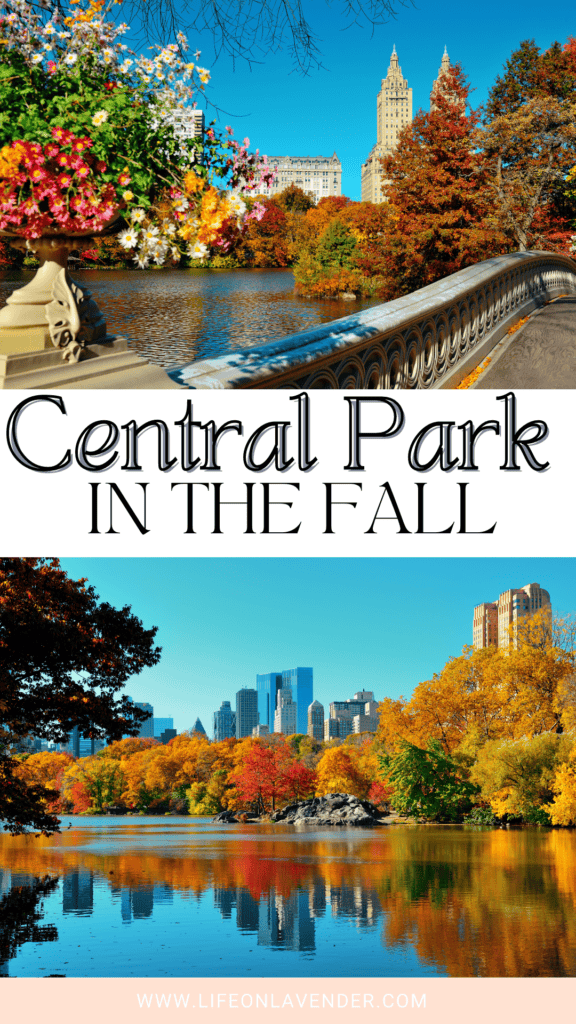 When we come to New York City in the in the fall, we can spend a whole day in Central Park. There are so many magnificent autumn photo opportunities; we rent electric scooters, have a picnic, and play at the parks. If I have my kids, they love all the colorful leaves that have fallen to the ground to play in.
Last year during fall, I headed to New York City solo. I knew my kids were in town with their dad for a short trip. Central Park in the fall is so popular that I ran into my kids at Bow Bridge. The chances were slim. We got some great, quick pictures before they took off to the American Museum of Natural History that borders the west side of Central Park.
Here is a little guide to Central Park in the fall. Where to take pictures, where to stay, and what fall activities you can participate in.
Central Park is wonderful in autumn; it is well worth flying out a couple of days during peak fall.
When is the Best Time to See Fall Colors in Central Park?
Predicting the leaves in Central Park in fall changing from greens to deep yellows, reds, oranges depending on the weather during the year.
Peak season in New York City happens anywhere from mid-October to mid-November. Last year, I arrived on November 17th, and the leaves were bright red, peaking, and falling. There was very little yellow leaf change.
By most accounts, October is generally the best month to visit New York City for leaf peeping if you have to plan your trip ahead.
You can track the New York Fall Foliage 2022 HERE.
Best Hotels in New York City with a Central Park View
Choosing a New York City hotel is always a daunting task because of the number of accommodations. If you want to see Central Park in the fall from your room and have a magnificent view from above, here are the recommended hotels. And remember, Central Park views will mostly cost a pretty penny (but worth it during this season:)
The Mandarian Oriental. Located one block from Central Park at Columbus Circle, the Mandarin Oriental has incredible views of Central Park in the fall. This hotel is one of the most beautiful hotels in NYC. Book the Central Park View Room with floor-to-ceiling windows or the Premier Central Park View Room with outstanding views of mid-town and Central Park.
Trump International Hotel NYC. You can experience unparalleled views of Central Park from your glamorous suite. The Trump International Hotel is directly across the street from Central Park and is one of the most acclaimed luxury hotels in New York City. Book the Deluxe Park View, the Executive Park View, or the Central Park Accommodation with unobstructed, direct views of Central Park.
JW Marriott Essex House. This hotel has long been an icon along Central Park and the New York City skyline. The Essex House has modern, comfortable rooms and is right across the street from Central Park, a couple of blocks from Broadway, and has the most stunning views of Central Park in the fall.
Where to See the Best Fall Foliage in Central Park
A little interesting fact, and it's something I really never thought of before, different trees in Central Park produce different colors. Some produce all yellows (like the Elms at The Mall), oranges, and shades of reds. Why that never occurred to me until now is beyond me (you can eye-roll for me here).
Many tourists generally stay at Central Park South and never go deep into the park. Take at least a half day to explore Central Park if you are traveling to NYC in fall.
Top Photo Spots in Central Park in the Fall
I will start at Central Park South and work our way up north. The west side of Central Park has a cluster of landmark photo spots. So you start in the middle and go a bit to the west.
At W 72nd Street at Terrace Drive Strawberry Fields. This area has a white-and-black tile mosaic honoring John Lennon. Here you can venture off a little bit; you can find some open fields for leaf peeping and beautiful photos.
You will be on the west side of Central Park Lake; from there, I would head south and around to the landmark of Cherry Hill. Here is the water fountain designed in the Victorian era as a place to water horses. Today you can take some pretty incredible photos.
Hallett Nature Sanctuary. If you head into Central Park at Central Park South or on the East Side at 60th street, Hallett Nature Sanctuary is a four-acre section of Central Park with beautiful fall foliage and photos. Here you will find leaf-lined trails and rock overlooks, and children can play Children's District and sit by the shores of The Pond.
The Pond. This pond on the southern tip of Central Park offers some of incredible fall foliage photo opportunities and stunning winter photos. Central Park South's New York City skyline is in the background, including the iconic Plaza Hotel.
Gapstow Bridge. This rustic bridge on The Pond offers stunning views of the New York skyline and a colorful array of red, yellow, and orange leaves changing during the fall. You can get amazing photos of The Pond, the skyline, and the Plaza Hotel.
The Mall. The Mall is south of the Bethesda Terrace and is a wide promenade of American Elm trees that turn a bright hue of yellow in fall. If you catch it at the right time. It's the most fantastic canopy of yellow and orange leaves with the dark accents of the fences and lamposts.
Bethesda Terrace. This is a lakeside, two-tier terrace with a large fountain in the middle. This terrace has been in several famous movies and is iconic to NYC. Here you will find the Angel of the Waters and plenty of trees changing colors. I have found that the trees around Bethesda Terrace don't dramatically change. However, The Lake and the rowboats behind this area make for beautiful Central Park autumn photos.
The Lake. This 20-acre lake connects Bethesda Terrace with The Ramble (see below). Visitors can row to scenic vistas and bridges and see amazing fall colors surrounding The Lake. If you want a dreamy fall location with a fun fall activity in New York City, head here and rent a rowboat at Loeb Boathouse.
Loeb Boathouse. This is where you can rent rowboats or gondolas, or even steer-radio, wind-powered model boats. If you feel like watching boats glide by, have brunch at the Lakeside Restaurant for brunch, lunch, or dinner. It's truly a fantastic experience. If you are looking for a date idea, this is one of the most romantic spots in NYC.
Bow Bridge. The Bow Bridge is northwest of Bethesda Terrace. This is my personal favorite and the entire city's favorite too. There will always be someone in your shot, so take it for what it is. It's one of the most photographed features in Central Park, for a good reason. This area is so beautiful, and the bridge is stunning. The light reflects off the water, and if you catch it right, the bright yellow and oranges reflect off the water in your pictures. Bow Bridge is on Central Park Lake, west of Bethesda Terrace, between W 73rd Street and W 74th Street. If you need a marker from the street, it's relatively close to the American Museum of Natural History and the New York Historical Society. The San Remo building (the one with the twin towers) hovers in the background, which makes for stunning photos.
The Ramble. This area is known as the heart of Central Park. It is a heavily treed, 38-acre section of Central Park with rock formations and walking paths filled with colorful New York City fall foliage; Here, you will find an array of Black Tupelo trees that are famous for their intensity of red-crimson colors in fall. If you spend enough time in this section, you will be able to find rustic bridges and streams.
Belvedere Castle. This mini castle is one of our favorite places in New York City and one of the most unique spots to see Central Park in the fall. Belvedere means "beautiful view" in Italian, and you can enjoy some of the most stunning fall foliage and surrounding landscape, including Turtle Pond.
North Woods. The North Woods is located in the northwest area of Central Park between 101st Street and 110th Street. It's the largest woodland area of Central Park with 40 acres of different landscapes. North Woods is the quietest part of Central Park with waterfalls, trails, bodies of water, and The Ravine-a wooded valley with a long watercourse called the Loch, which leads to three waterfalls. Through this part of North Woods, a thick canopy of trees changes the most beautiful colors. This area of Central Park isn't loaded with tourists and is well worth venturing to.
The Pool. The Pool is located in the northern woodlands of Central Park and is magical (and quiet) in the fall. This area has red maples and willows along the shoreline with magnificent fall color displays.
Insider NYC Tip: If you want to see all the most iconic and photographed spots in Central Park, take the "Heart of the Park Tour" by Central Park Conservancy. The guide will take you on an all-encompassing tour and provide insider knowledge of the historical and architectural elements of Central Park. The tour will cover famous spots and landmarks such as Conservatory Water, Bethesda Terrace, Bow Bridge, Cherry Hill, the Lake, and Strawberry Fields. Bring your camera and prepare to "fall" in love with Central Park.
Fall Activities-Central Park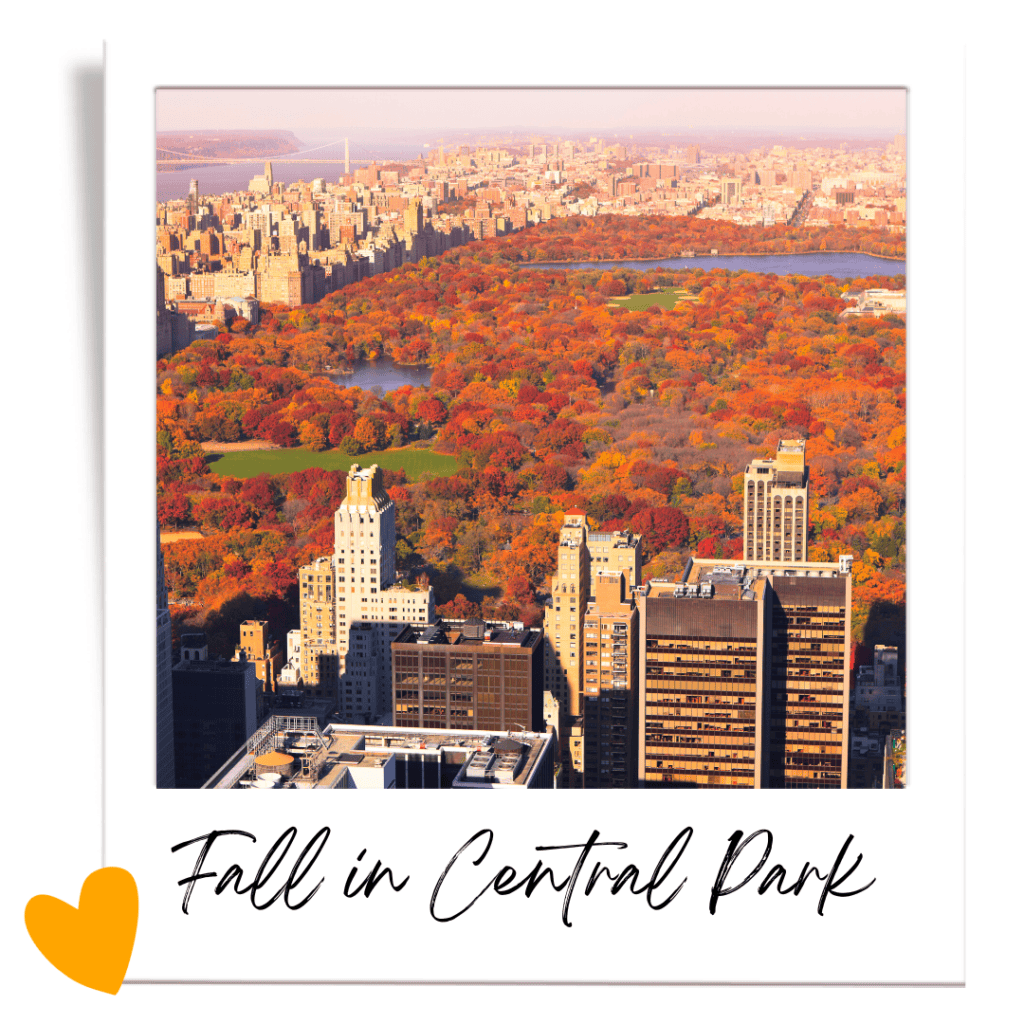 Halloween Pumpkin Flotilla. A cherished annual event for 30 years in Central Park, the Halloween Pumpkin Flotilla can create a homemade jack-o-lantern and set them to sail at dusk across the Harlem Meer each October. This is a fun and exciting fall activity in NYC with family-friendly programs such as Halloween crafts, entertainment, and a trick-or-treat scavenger hunt. Wear your costume for a ghoulishly good time.
Have a Central Park Picnic. There is a little picnic place, Perfect Picnic, on the Upper West Side. We grab a little picnic and head into Central Park for the day. You can order a Deluxe picnic, a kid's picnic, or even a brunch picnic. You can grab a picnic to go, I call ahead, or you can even have them set one up in Central Park.
Wollman Rink NYC. Wollman Rink has now transformed into a Disco Oasis until October 1st. Ice skating hours start in November. Our favorite at Wollman Rink is Nightglide, where you can take in New York at night while skating to fun tunes.
Rent an Electric Scooter or Bike. To get around efficiently, rent an electric bike or scooter to zip around from place to place. Please do not get a horse-drawn carriage ride in New York City; just don't; you can read why in my "Tips for Traveling to New York City." Guided pedicabs are always a good idea, but you won't have the privacy or significant time to get the right shot.
Find a Playground for the Kids. Central Park has some of the coolest playgrounds for children. There are playgrounds with bridges, rock climbing formations, and treehouses. I wish I could find this photo I have with me and my eldest daughter at Heckscher playground with the south NYC skyline behind her many years ago. This playground is near the west entrance of Central Park South.
The other super cool playgrounds in Central Park:
The Ancient Playground
Hippo Playground.
East 72nd Street Playground
Adventure Playground
Billy Johnson Playground
Explore the Conservatory Garden. The Conservatory Garden is located on the East Side between 104th street and 106th. This is the most significant public garden in New York City and Central Park's most formal. Visitors can stroll through brilliant floral displays of crabapple trees and chrysanthemums during fall. The main entrance is known as Vanderbilt Gate, which once was the entrance to the mansion of Cornelius Vanderbilt II. You can take a complete tour of the gardens HERE.
New York City Marathon. The world-famous New York City Marathon takes place in New York City on November 6th, 2022. Spectators can watch runners finish their race through Central Park South and finish at West 66th Street in Central Park. Come cheer on these athletes as they complete one of the most grueling courses.
Discovery Walks For Families. This is a fun, inexpensive activity in Central Park for families to learn about the ecology and history of this great park. Explore the Ramble and the wildlife that inhabits the area. Families will receive a discovery journal and engage in various hands-on activities; you can book HERE.
Take an Iconic Views of Central Park Tour. Get the inside scoop on the iconic landmarks and landscapes that make Central Park special. Discover famous sites that you may not be able to find on your own. You can see that tour HERE.
Statues and Monuments Tour. Central Park has over 70+ statues and monuments with significant history, art, and architecture. Learn why these memorials have a fascinating account of the writers, thinkers, veterans, and philosophers that helped shape New York City and Central Park History. You can find that tour HERE.
Explore the Children's District. The Children's District is home to Heckscher Playground (with a fantastic backdrop of the New York skyline at Central Park South), Ballfields, Chess & Checkers House, and the historic Carousel.
Visit the Dairy Visitor Center. The Dairy Visitor Center & Gift Shop is located in the Children's District and recently underwent a year-long restoration of the Victorian structure. The primary intent of the Historic Dairy many years ago was for children and caregivers to stop and have a snack and milk. Today, you can learn about Central Park's history and grab some gifts and snacks. The Dairy is a great starting place for your Central Park exploration and is probably beautiful against fall colors.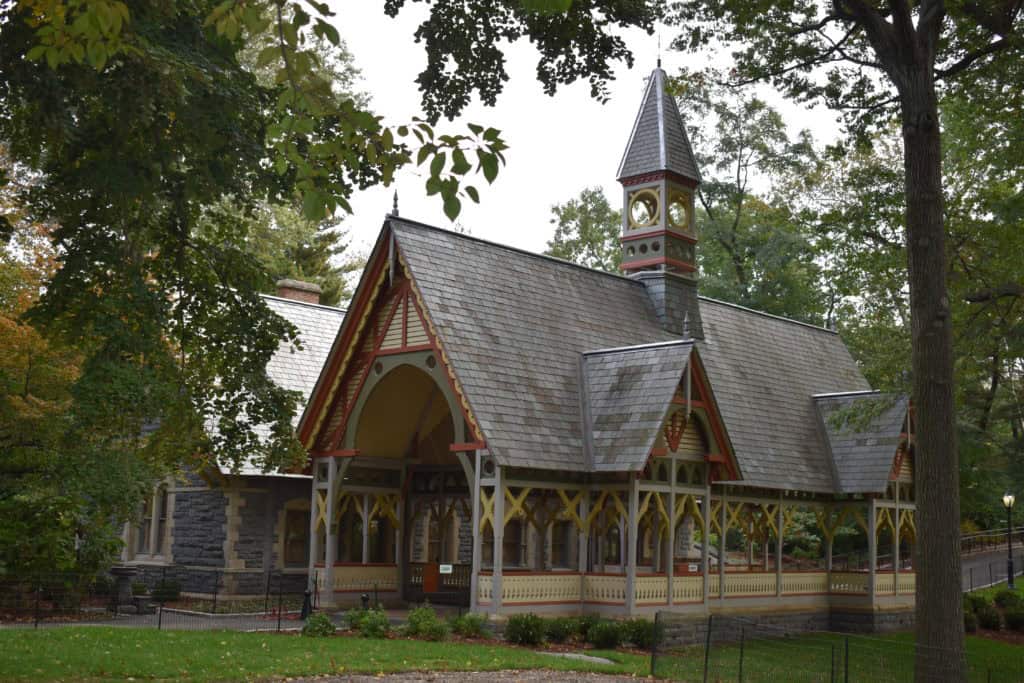 New York City in Fall Guides
Fall in NYC: Everything you need to know about fall in New York City. Where to stay, what cozy cafes to treat yourself, and what fall activities and festivals NYC offers in the beautiful sweater weather, HERE.
Fall Foliage Cruise NYC: Find the best cruises in New York City to see the fall foliage up the Hudson River and the cliffs of the Palisades. Choose a sailboat, lunch, or brunch fall cruise in NYC HERE.
Best Fall Vacations USA: Find the best fall vacation in the United States with this guide HERE. Chose a fall adventure of apple cider, pumpkin picking, and leaf peeping around America!
Save Money on Your NYC Trip:
Best Deals on Flights: Skyscanner | Tickets, Tours, Attractions: Viator | Hotels: Booking.com | Budget Hotels (Where our family stays) Herald Square or Arlo Hotels | Midrange Hotel: The Library Hotel | Luxury Hotel: Baccarat Hotel or Equinox Hudson Yards | Broadway Shows: Vivid Seats | Restaurant recommendations & reservations: OpenTable | Sightseeing Pass NYC | CityPass NYC | NYC Travel Essentials | New York Fall Foliage Tracker 2022: ILOVENY
This post may contain affiliate links. I may receive a small commission if the qualifying link is used at no obligation or cost to you ever. Additionally, I am an Amazon Affiliate Partner that earns a commission (only to give it back to Jeff Bezos, kidding) on qualifying purchases, again, at no cost or obligation to you ever.