Home to the Texas Longhorns and often referred to as the Lone Star State, Texas is known for being the second largest state and boasts the city of Austin as the Live Music Capital of the World.
Though many do not consider Texas to be home to beach towns that can compete with Florida or Hawaii, Texas manages to be quite a stunner when it comes to high-quality and safe family-friendly beaches. Texas stuns tourists with its dedication to clean and impressive coastline destinations with beaches like Padre Island Beach, Lighthouse Beach, and Mustang Island State Park.
Activities to participate on these beaches with the family are vast and a great way to make fond memories. From fishing to paddle boarding, there's no possible way to have a boring vacation at these Texas beaches. It's time to saddle up the luggage (don't forget to pack sunscreen!) and head on over to one or more of the absolute best beaches in Texas for families to be thoroughly enjoyed with your loved ones.
Best Texas Beaches For Families
Families looking for the perfect Texas Beach Town will find plenty of options in this great state. From the crystal-clear waters of the Gulf Coast to the idyllic shores of the Hill Country, there are plenty of beautiful beaches to explore.
However, not all beaches are created equal when it comes to family-friendly fun. To help narrow down the search, here are some of the best Texas beaches for families!
South Padre Island
From birdwatching on the bayside to building impressive sandcastles in the sand, South Padre Island Beach is the perfect family-friendly destination for a lively, fun vacation. Check out The Amazin' Walter sandcastle building lessons, demonstrations, and workshops. Guiding others to build the utmost impeccable sandcastles since 1978, South Padre Island is now the dedicated Sand Castle Capital of the World!
Take the family on an exploration of the Laguna Atascosa National Wildlife Refuge, the largest protected area of natural habitat still available in the Lower Rio Grande Valley. Established in 1945, this wildlife refuge is the optimal destination for birdwatching along with wildlife observation of endangered species like shorebirds.
Want to take the family to witness more of the outstanding marine wildlife? Step over to the South Padre Island Sea Life Marine Center. Observe the magnificence of marine creatures such as sea turtles, dolphins, seahorses, and starfish in this spectacular marine center dedicated to protecting marine wildlife and educating others about their mission. Get to know Domino the giant turtle, meet some other loveable rescue animals, and feed some of them, too!
Book Your Family-Friendly South Padre Island Getaway >>
Mustang Island State Park
Named after the wild horses that have roamed the island for over a hundred years, Mustang Island State Park is believed to be home to horses that swam over from a shipwrecked Spaniard ship. A barrier island located on the Gulf Coast of Texas, Mustang Island State Park boasts over five miles of coastline available to soak in the sun and salty water.
Camping is an available option if you're going with the family. With 48 water and electric campsites and 50 drive-up primitive sites available for visitors, visitors can live the beachy dream while falling asleep to the majestic sounds of ocean waves.
Join the hunt with the modern-day treasure hunt, geocaching! With over 2 million geocaches hidden worldwide, this treasure hunt makes for a fun and challenging way to enjoy the outdoors with the family. Simply visit this website to find caches, with selectable difficulty, size, and terrain levels. Sizes of geocaches range from small film canisters to metal lunch boxes, some easy to spot whilst others may be camouflaged. Slap on some sunscreen and bring some water for this fun family adventure!
Looking to soak in the views of the water? Paddle the Mustang Island State Park Paddling Trail! With over 20 miles of trails to explore, along with the best shallow-water fishing area and close-up views of coastal birds, this is a great family-friendly option to explore the waters of Mustang Island.
See Family Retreats in Mustang Island >>
Rockport Beach
Running about one mile long, Rockport Beach is the ultimate beach to go on a walk to bask in the unrivaled beachside views. The shallow waters extend out from the shore, making it a safer family-friendly destination for families with young children.
This beach is notorious for being family-friendly and safe. Along with the beach, there is a saltwater pool available for swimming (with no waves), and what many refer to as a "racetrack" located bayside. The racetrack circles around a small island that is a frequent destination for nesting birds.
Visitors can step over to the two telescopes that were donated by the Rockport Rotary to take a peek at the island to see if they can fight any little beaks popping up from nests on the island. With a playground, pavilion, showers, restrooms, and grills available, Rockport Beach can make for a cozy day spent with the family with mouthwatering grilled food, birdwatching, sandcastle building, and walking along the shallow waters!
If you're looking for a Texas beach town that has it all, look no further than Rockport Beach. This charming town offers everything from incredible fishing to lovely beaches. And of course, there's plenty of Texas BBQ to be had. Rockport Beach is also known for its arts scene, with numerous galleries and studios to explore. Whether you're looking to relax or get active, Rockport Beach is the perfect place to do it.
Check Out Family-Friendly Hotels At Rockport Beach >>
Port Aransas
One of the best beach towns in Texas is located on Mustang Island, Port Aransas is notorious for its fish-filled waterways and Gulf of Mexico beaches. Take a ride with the family over to Roberts Point Park for an observation tower with bayside views and frequent dolphin sightings.
Leonabelle Turnbull Birding Center has a boardwalk that passes over alligator-infested wetlands that are home to other species like the roseate spoonbills. Take a trip on the passenger ferry the Jetty Boat for a trip to the secluded San Jose Island, a barrier island that runs 21 miles long and 5 miles wide.
Though it was historically a ranch, San Jose Island is now a wildlife destination with ultimate saltwater fishing and birding available in the south. Many who visit San Jose Island find themselves astounded by the unique and stunning seashells like sand dollars, lightning whelks, angel wings, and more. Collect these naturally made beauties as the ultimate souvenir from your family vacation!
Book a Family Retreat in Port Aransas >>
Whitecap Beach
Named after its stunning white sands, Whitecap Beach is an ideal destination for those looking to get away from busier beach locations.
First, head to the mile-long Padre Island Seawall that stretches over from South Packery Beach to Whitecap Beach. It offers a sand-free path available for walking, jogging, and biking down the lengths of the beach. This can be optimal for an activity to enjoy before heading over to dinner without anyone getting coated in sand.
Another fun family-friend option at Whitecap Beach is South Packery Channel Beach, a sandy sanctuary for families to build sandcastles, go jetty fishing, surfing, windsurfing, and kiteboarding. Many fishers step over to South Packery Channel Beach due to its hype for being a top fishing spot in the region. From the jetty, in-water, or stand-up fishing options available, this can be an invigorating activity to experience at one of Texas's popular family-friendly beaches.
Stewart Beach
Named one of the "10 Best Beaches for Families", Steward Beach is the optimal family-friendly beach park.
Staffed with highly trained lifeguards, Steward Beach often hosts activities like beach volleyball, giant Jenga, cornhole, and more for the ultimate active family-friend vacation. There are restrooms, a pavilion, concession stands, showers, and umbrella and chair rentals available to all who visit this high-quality beach location.
Get ready for a sun-filled day of sandcastle building, treasure hunting for the best shells and finds, and other fun beachy activities at Stewart Beach with the family.
Book a Beach-Filled Family Vacay at Stewart Beach >>
Boca Chica Beach
Located at the southernmost point of Texas, Boca Chica Beach rests on a sandy peninsula that has been separated from Mexico by the Rio Grande River. With mangrove marshes, clay dunes (called Lomas), and eight miles of salt flats, this beach makes for an adventurous family-friendly destination.
The clean waters of Boca Chica Beach make for a refreshing dip when the sun imposes its unrelenting heat on those especially hot days. Bird watching as peregrine falcons migrate past the area or eye the frequent coastal birds that stay put such as the osprey and seagulls.
Boca Chica Beach provides a wide array of recreational activities to embark on with the family. From surf fishing to snorkeling, this beach has it! It's important to note that since this beach is away from developments, there are no facilities that provide the gear so we recommend bringing your own or renting or buying some on your way over to this super active and fun beach location.
Looking to be a little more adventurous? Walk down the beach to the mouth of the Rio Grande River where you can see the border wall that separates the United States and Mexico at the southernmost point of Texas. (Fun Fact: this point is almost as far south as the Florida Keys is, which is the southernmost point of the continental United States).
Final Thoughts: The Best Beaches in Texas for Families
We've provided only the best family-friendly beaches in Texas for you and your loved ones, now it's time for you to decide. Whether it be Mustang Island State Park with its available camping options or Boca Chica Beach with its bountiful recreational activity options, you and your family will have a vacation that will be unforgettable!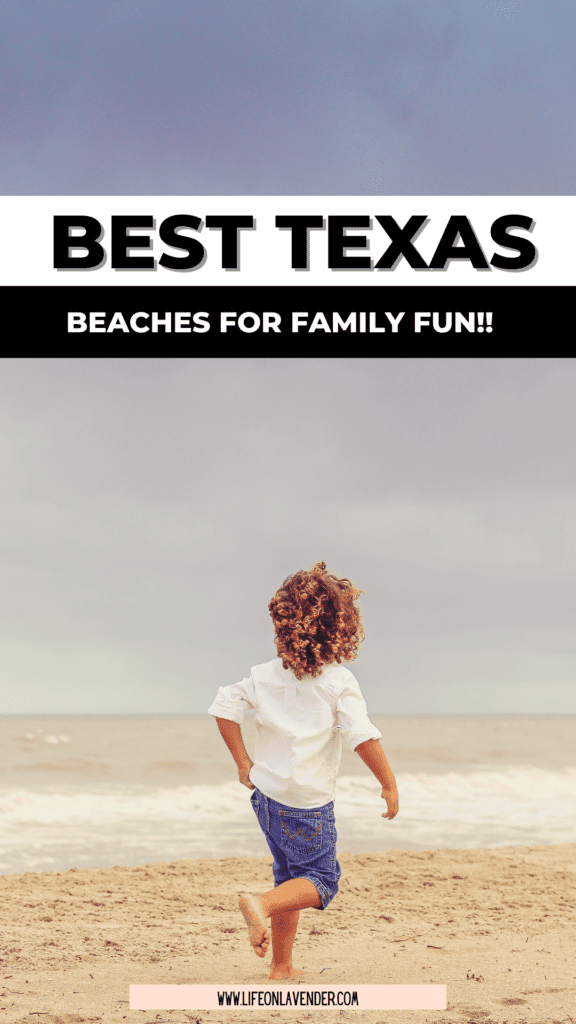 This post contains affiliate links. I may receive a small commission if a qualifying link is used at no cost or obligation to you!