Gruene Texas is a charming small historic district tucked inside the nook of New Braunfels, Texas, just one hour south of Austin. The town is best known for its historic main street, which is lined with restaurants, shops, and antique stores. Visitors can also enjoy convenient access to the Guadalupe River, which offers excellent opportunities for fishing, swimming, and tubing. With so much to see and do, there is plenty of things to do in Gruene Texas, and is the perfect charming, Texas town place to spend a weekend getaway.
Gruene, pronounced "green." is a German-Texas town settled by German cotton farmers in the 1840s. Now powered by tourism, this quaint historic town is home to general stores, cozy B&Bs, wine bars, and restaurants on the Guadeloupe River with twinkling lights at night.
Gruene is also home to Gruene Hall, the oldest dance hall in Texas. Get your boots and wranglers on and boot-scoot the night away.
Gruene is one of my favorite small towns in Texas thus far, and here are things to do in Gruene Texas, for a lovely trip to the Texas Hill Country.
Gruene Hall
Come and dance the night away at Texas' oldest dance hall, Gruene Hall. This dance hall is a Texas landmark. It is the oldest continually operating dance hall in the state; it was built in 1878 by German immigrant Henry Gruene. Today, the hall is a popular destination for tourists and locals alike, offering a taste of Texas history and culture.
Gruene Hall concerts have included famous and classic artists like Willie Nelson, Garth Brooks, and George Strait. In addition to its musical heritage, Gruene Hall is also known for its unique architecture. The building is constructed entirely of cypress wood, and its large porch and spacious interior make it a perfect place to enjoy live music. Whether you're a Texas native or just passing through, a visit to Gruene Hall will be a memorable experience.
The Best Weekend Getaways in Texas!
Explore Gruene Shops & Boutiques
The historic district of Gruene is home to various eclectic shops and boutiques, including antique stores, art galleries, and specialty boutiques. Visitors can find everything from handcrafted furniture, novelty items, and honey butters to hot sauces! Here are a few of our favorite Gruene shops & boutiques:
Gruene General Store
The original Gruene Merchantile was founded in 1878 by Henry Gruene to provide provisions for the families and farmers on his cotton fields, in which the town was built.
The community was able to purchase food, clothing, and Green River Whiskey, which Henry Gruene produced additionally.
Today, the Gruene General Store made my candy-obsessed toddler the happiest girl in all of Texas. With novelty candies, homemade fudge, a soda fountain, hot sauces, honey, treats, toys, ice cream, and silly home decor, the Gruene General Store is the one thing to do in Greune, Texas, can't miss when visiting.
Gruene Antique Company
The Gruene Antique Company is just one of the many businesses that make up the historic Gruene district, a charming reminder of what this small town once was.
Located across from Gruene Hall and General Store, the Gruene Antique Campany is filled with many interesting pieces of history. When you list things to do in Gruene, Texas, you should carve out some major time to explore this shop. This large antique mall offers 6,500 sq. ft. of antiques, collectibles, gifts, and decor, all housed in a beautiful Texas Landmark building built by Henry Gruene.
The Gruene Goat
This best friend-owned boutique shop is not only filled with treasures, tees, hats, goat merchandise, and jewelry; it's cute on the outside too. You will be able to find the perfect gift and take the ideal Instagram-worthy picture at the Gruene Goat mural!
Gruene Hat Company
Nestled among Gruene's historic buildings and quaint shops sits the Gruene Mercantile Building – home to Texas-Gruene Hat Co's best little hat house. Despite its small size, Gruene Hat Co. boasts a 5:1 Hat to SF ratio and a wide array of cowboy hats in felt, straw, hemp, and palm leaf. You can shop for other western-themed goods such as leather gloves, wild rags, and cowhide products. The store is housed in HD Gruene's original bank vault, adding to its unique charm.
The Most Fabulous Resorts in Texas for Families!
Old Gruene Market Days
Gruene Market Days is a twice-monthly event in the Gruene Historic District of New Braunfels, Texas. Gruene Market Days celebrate the area's German heritage and feature a variety of traditional crafts and foods.
Visitors can enjoy live music, dance performances, and purchase Texas foods, and handmade and handcrafted items from more than 100 artisans. Gruene Market Days is a cherished tradition for many locals and a great way to experience the history and culture of the Texas Hill Country.
Gruene Market Days 2022 Schedule
Old Gruene Market Days are held the 3rd full weekend of each month, February through November and the 1st weekend of December from 10 am-5 pm.
February 19 & 20
March 19 & 20
April 16 & 17
May 21 & 22
June 18 & 19
July 16 & 17
August 20 & 21
September 17 & 18
October 15 & 16
November 19 & 20
December 3 & 4
Stay in a Gruene, TX Bed and Breakfast or Cottage
Whether you're looking for a romantic getaway, a girls' trip, or a family-friendly vacation, Gruene is the perfect place to unwind and enjoy the simple things in life. Part of what makes Gruene charming is the lodging choices. Gruene has several B&Bs and cottages to make your trip an experience. Here are a few enchanting options:
Gruene Mansion Inn: If you are looking for the quintessential bed and breakfast in Gruene, Texas, you must stay in the centerpiece of this historic district, Gruene Mansion Inn. Built in 1872 as H.D. Gruene's historic Eastlake Victorian home and cotton plantation, the mansion is one of the oldest homes in the area, and it has been carefully restored to its original elegance. The Inn offers a variety of accommodations, including suites and rooms with private balconies overlooking the Guadalupe River and steps away from Gristmill, Gruene Hall, and all Gruene shopping. Check rates here.
Gruene Haus: Complete with a pink door, this private cottage is the perfect place to stay in Gruene for a girls' trip (or any trip). Nestled amongst three other cottages and large trees, it is located just 3/4 of a mile from Gruene Historic District and the Guadalupe River. You can enjoy a cup of coffee, front porch rocking chairs, bbq, firepits, or a game of horseshoes! The cottage is conveniently located near many restaurants, bars, and shops in Gruene Historic District. Check rates here.
La Casa Blanca: La Casa Blanca is the charming Gruene Texas bed and breakfast for a girls' weekend away, a family trip, or any other Texas getaway! The cottage is filled with retro decor and is less than a mile away from Gruene Historic District and the Guadalupe River. The cottage includes a full kitchen, gas grill, access to horseshoe pits, and a beautiful courtyard complete with a fire pit. Check rates here.
Experience Rockin' R Tubing
Rockin'R is the perfect place to enjoy the outdoors and have some fun! The main location is located in the heart of Gruene, right on the Guadalupe River. Rockin' R offers the best seasonal tubing and year-round live music, food trucks, games, and much more.
The new Light Bar is just steps away from the river and has a great selection of drinks and live music all summer long! So whether you're looking to cool off in the river or enjoy a cold beverage and some good tunes, Rockin'R is the place in Gruene
Restaurants in Gruene Texas
Eating is going to be one of the best things to do in Gruene, Texas. Restaurants in Gruene are a great way to experience the local flavor of this historic town. From BBQ and Mexican cuisine to fine dining and seafood, there's something for everyone to enjoy.
Whether you're looking for a quick bite or a leisurely meal, Gruene has a restaurant to suit your needs. And with many of the restaurants located along the scenic Guadalupe River, diners can also take in the beautiful scenery while they eat. So come on down and enjoy some good food and good times in this charming Texas town. Here are a few we love:
Gristmill River Restaurant & Bar
Gristmill River Restaurant & Bar is known for its charming ambiance and exquisite cuisine, serving delicious Texas-sized fare. The Gristmill is one of the most popular restaurants in the area and has been a Texas staple since 1978
The Gristmill River Restaurant has various dining ambiance options- including outdoor and indoor seating, a bar with a wood-burning stove, and a beer garden.
Menu options at the Gristmill include chicken fried steaks, sandwiches, bronzed catfish, tomatillo chicken, and enormous desserts like strawberry shortcake, fudge, and Jack Daniels pecan pie. Wash it down with an ice-cold beer, wine, or hand-crafted cocktail.
See the famous Gristmill River Restaurant menu here.
The River House
The River House is a scratch kitchen that serves an exciting menu of classic southern fare and prides itself on using only the freshest ingredients from local Texas farmers. The menu includes an afternoon tea, wagyu sliders, hot chicken, steaks, salads, and fried green tomatoes. On Sundays, join the River House for Family Fried Chicken Sundays and brunch.
We recommend grabbing a seat on the patio, grabbing a beer or wine, and listening to some Guadalupe River music.
See the River House menu here.
Buttermilk Cafe
If you're in the mood for a fantastic breakfast or brunch to start your tour of Gruene and New Braunfels, our family favorite is the Buttermilk Cafe. This cafe serves up stacks of pancakes, farmhouse eggs with bacon, fluffy french toast, and of course, buttermilk biscuits.
Head to a Wine Bar or Gruene Winery
Did you know Texas is one of the top five wine-producing states in America? Not many people believe Texas can do it all, but we can. New Braunfels is the perfect place to explore Texas wines and wineries. There are several beautiful wineries in New Braunfels and the Texas Hill Country to tour and taste wine.
The Grapevine Gruene
The Grapevine Gruene is the perfect place to stop for a drink after a long day exploring all that Gruene has to offer. The picturesque setting provides a view of the historic water tower and Gruene Hall, and the shady tree canopy with sparkling lights creates a sense of relaxation.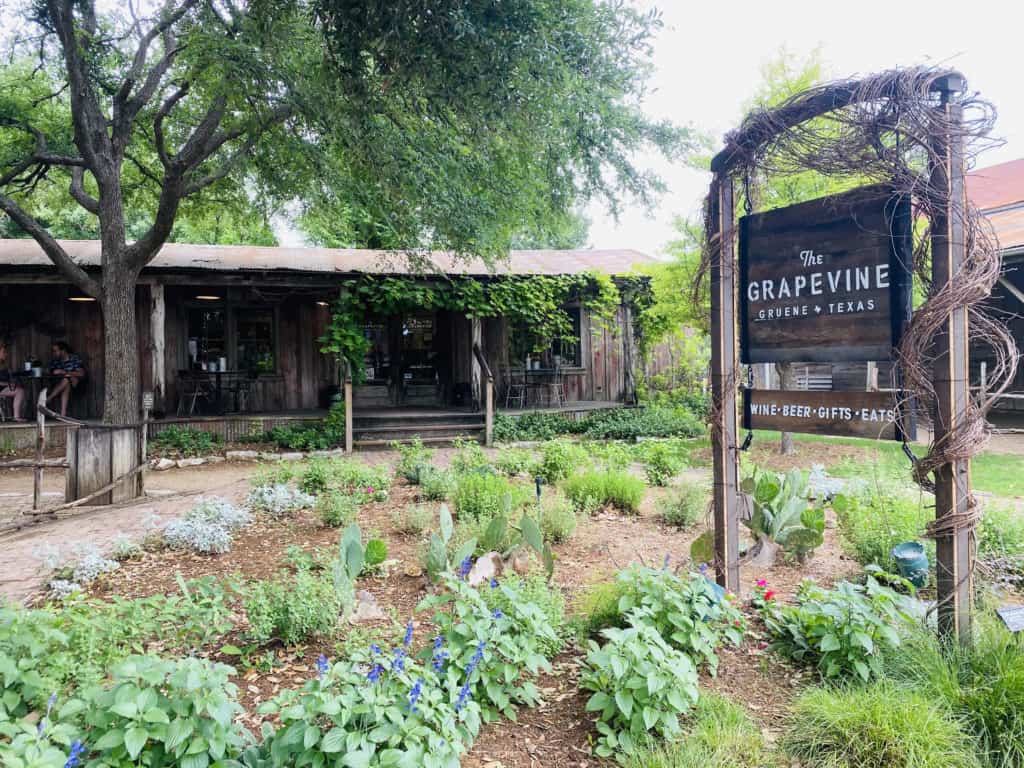 For the casual drinker, they have a variety of reds, whites, and rosés from around the world. For the serious wine nerd, there is a diverse collection selection of new-world wines that are sure to please. And for the craft beer connoisseur, we have a rotating selection of local and regional craft beers.
Whether you're looking for a cheap happy hour option or a luxurious way to unwind, The Grapevine Gruene is the perfect spot.
Winery on the Greune
Relax and enjoy a glass or bottle of wine with your friends at the only winery in historic Gruene, Winery on the Gruene. This welcoming winery is an award-winning custom boutique winery specializing in making wine from all over the world. It offers over 30 different wines low in sulfites with no added preservatives. Tastings are offered daily, no reservation required, and custom labels for special occasions.
Gruene Tinis
It's not a wine bar, but it definitely should be on your list to visit while in Gruene, and who doesn't like a fantastic martini? Tinis offers a wide selection of signature martinis, craft cocktails, beer, and wine. Whether you're looking to relax on an outdoor patio or enjoy the energy of our inside lounge, this is the trendiest spot in Gruene.
Visit Gruene Harley
In the market for a new Harley or want to manifest your dreams? Head on over to Gruene Harley Davidson.
Gruene Harley-Davidson® is a full-service motorcycle dealership offering a wide selection of both new and pre-owned bikes and financing options to make your dream bike a reality.
In addition to motorcycles, they also carry various riding gear and accessories to help you look and feel your best on the open road. Gruene Harley is more than just a dealership – it's a community of passionate riders who come together to enjoy the freedom of the open road. Whether you're a seasoned veteran or just getting started, they welcome you to join them on the journey.

Gruene is such a lovely and historic little town with plenty of things to do and see. We fell in love with this district and cannot wait to go back. There are plenty of things to do while you're visiting Gruene, whether you're looking for some outdoor fun or want to explore the town's rich history.
If you love the outdoors, then definitely go for a hike or a swim in one of the many beautiful parks and swimming holes nearby. There are also several great places to eat and drink in Gruene, including the famous Gristmill River Restaurant and Bar.
Of course, no visit to Gruene would be complete without taking a stroll down Main Street and checking out all of the charming shops and businesses. So what are you waiting for?
We would love it if you would share this post on things to do in Gruene Texas and save it to Pinterest for later! Happy Texas Travels!