My daughter and I took a little day trip from our home in Fort Worth to the other side of the DFW metroplex. We love this great little pink store in the Bishop Arts Districts in the Oak Cliff neighborhood of Dallas. From Fort Worth, the drive is about 40 minutes, and from downtown Dallas, the area is only about a 10-minute drive.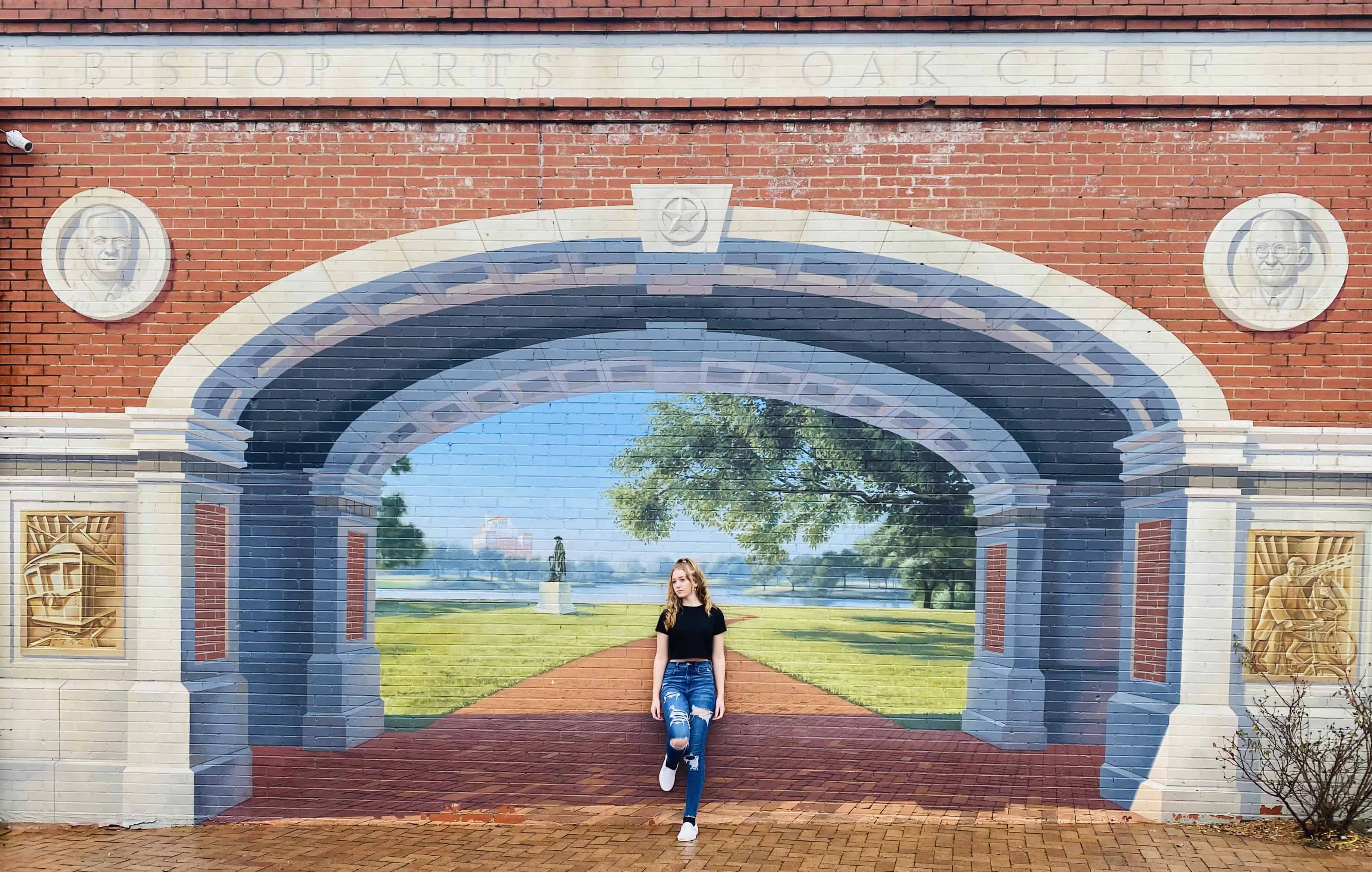 The district is filled with great coffee shops, donut shops, ice cream, restaurants, craft shopping. There are murals everywhere for Instagram-worthy pictures; it's fun to walk around finding new ones all over the place.
The Bishop Arts District is a fun getaway if you are traveling to Dallas or Fort Worth or look for somewhere to make a day trip if you live in the area.
Bishop Arts District is located in the Oak Cliff neighborhood and is one of the most vibrant spots in Dallas. In Bishop Arts District, you'll find a host of upscale shops and boutiques as well as ample dining opportunities – all unique.
Art galleries abound, along with award-winning chefs and restaurants. Bishop Arts are home to several eclectic and free-spirited artists who have created a culture of diversity in Oak Cliff.
We love the Bishop Arts District mainly for the food, but many unique and one-of-a-kind shops and products to purchase. There are no chains here, which is excellent. I will just run down what we did; this post may be photo heavy 😉 and what we love when we go for a daycation. If you are looking for fun things to do in Dallas, this little district is perfect.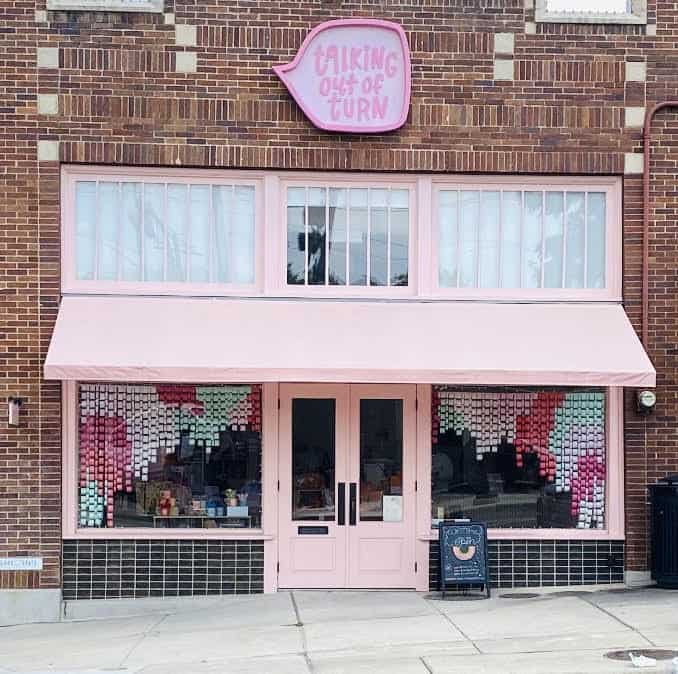 Oak Cliff Neighborhood
Our first stop is always Talking Out of Turn in Oak Cliff. I suggest starting here, and then you'll need to drive to the next couple of spots I highly recommend.
TOOT is a small business-owned store with some of the most fun products, all with pink, rainbows, motivation, and fun, festive language. It's all meant to be light-hearted, so if you are easily offended, then it is not the store for you. But I promise you-you'll be able to find something unique or an excellent gift for someone here.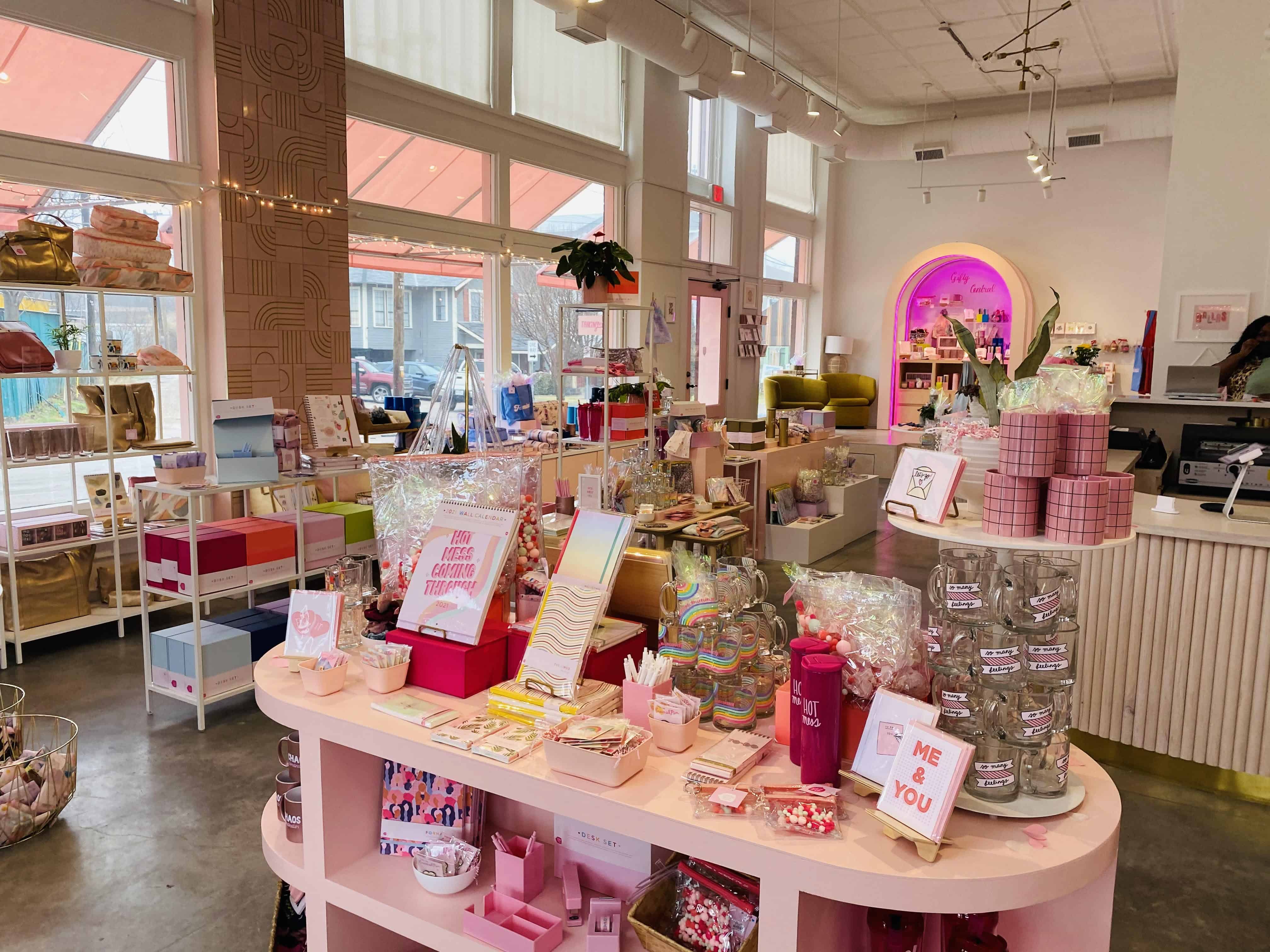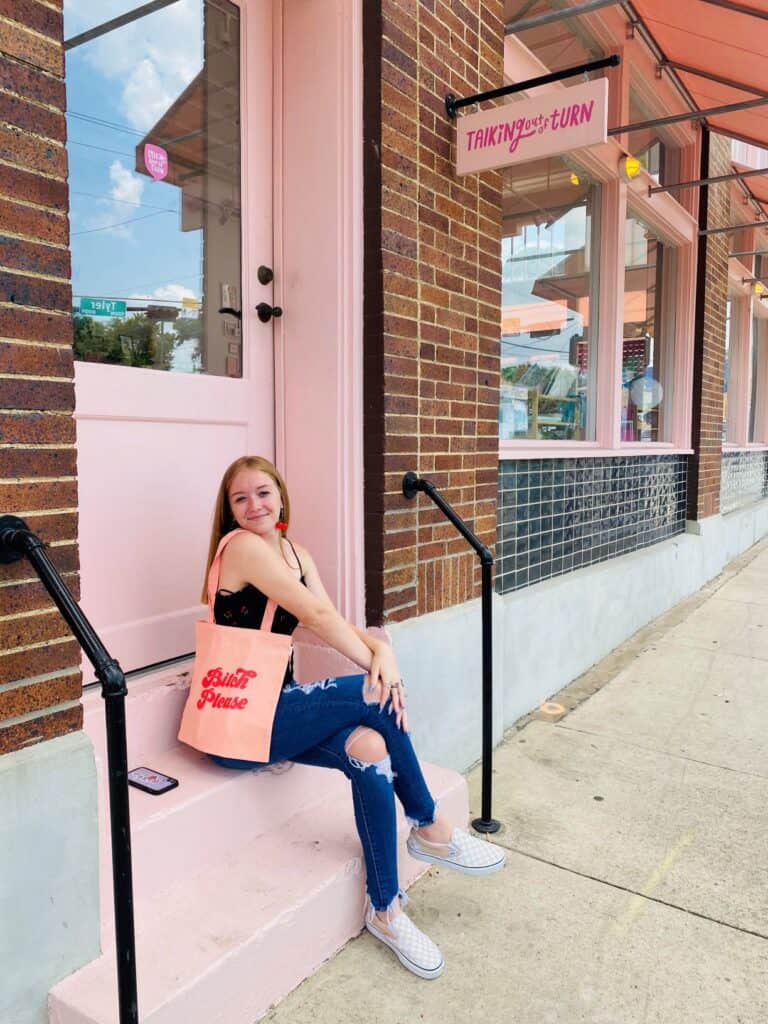 Talking Out of Turn has gifts, notepads, academic planners, pens of every rainbow color, art, bags, and coffee mugs with funny sayings, all designed by local artists. You can order from them directly here.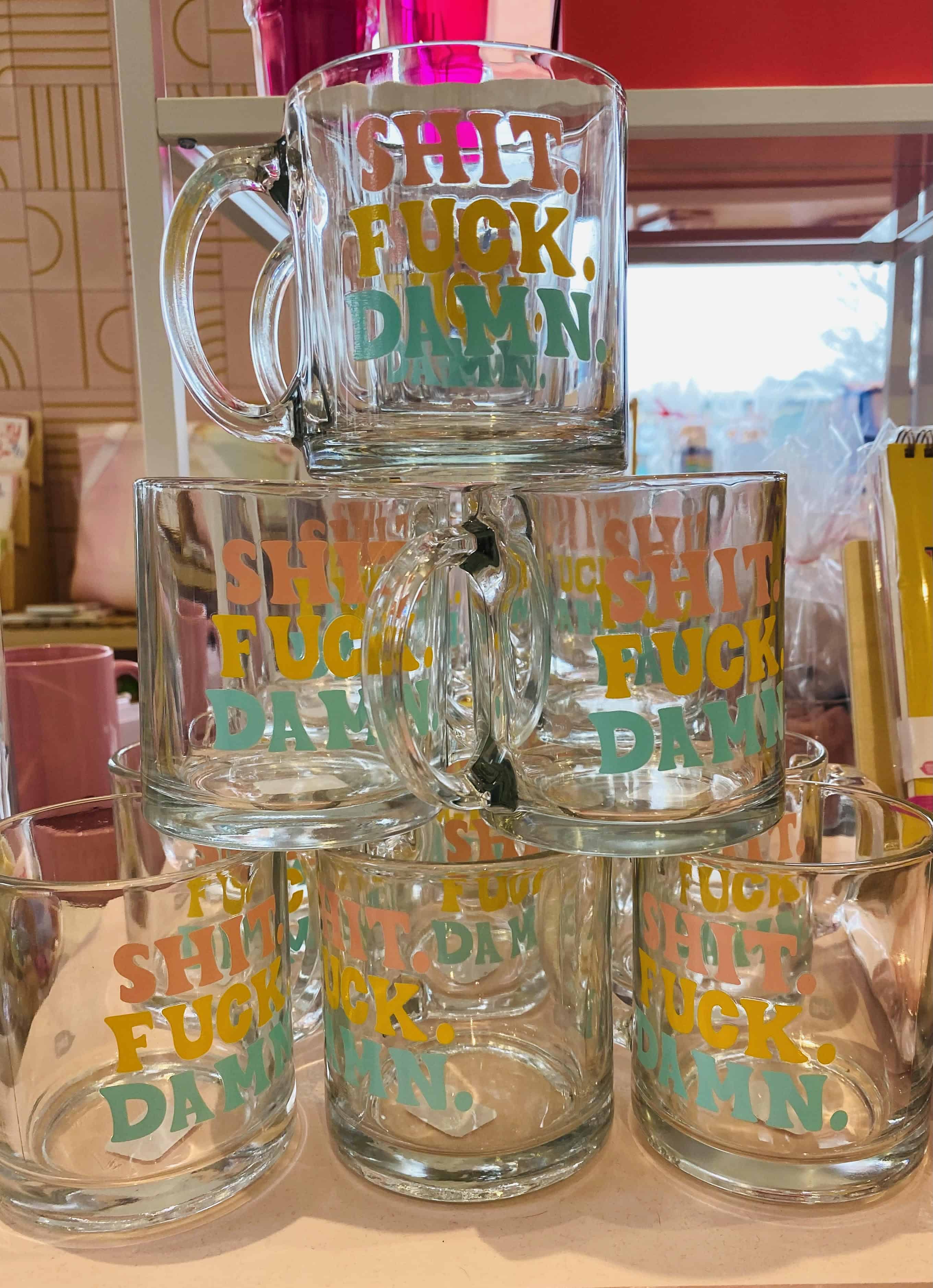 Talking Out of Turn: 841 W. Davis Street Dallas, TX 75208
Right next door to Talking Out of Turn is Joy Macarons. It's a macaron and ice cream shop. The shop itself is charming with brick walls and an area to watch them make the macarons. The macarons are delicious, light, airy; you'll swear you're in Paris. Joy even has these little gift boxes that hold two cookies for the perfect little gift for someone to brighten their day or add to the gifts you bought next door.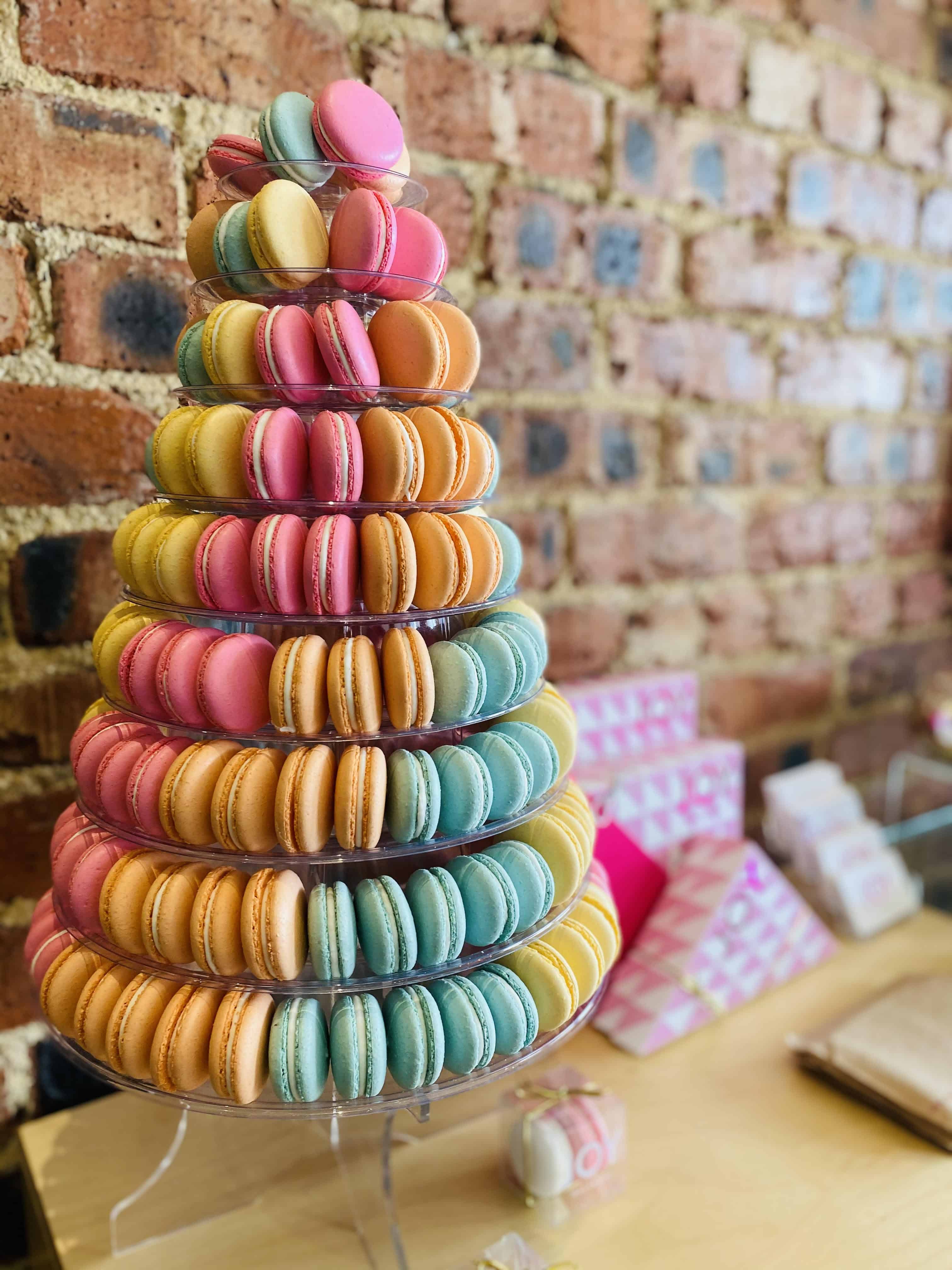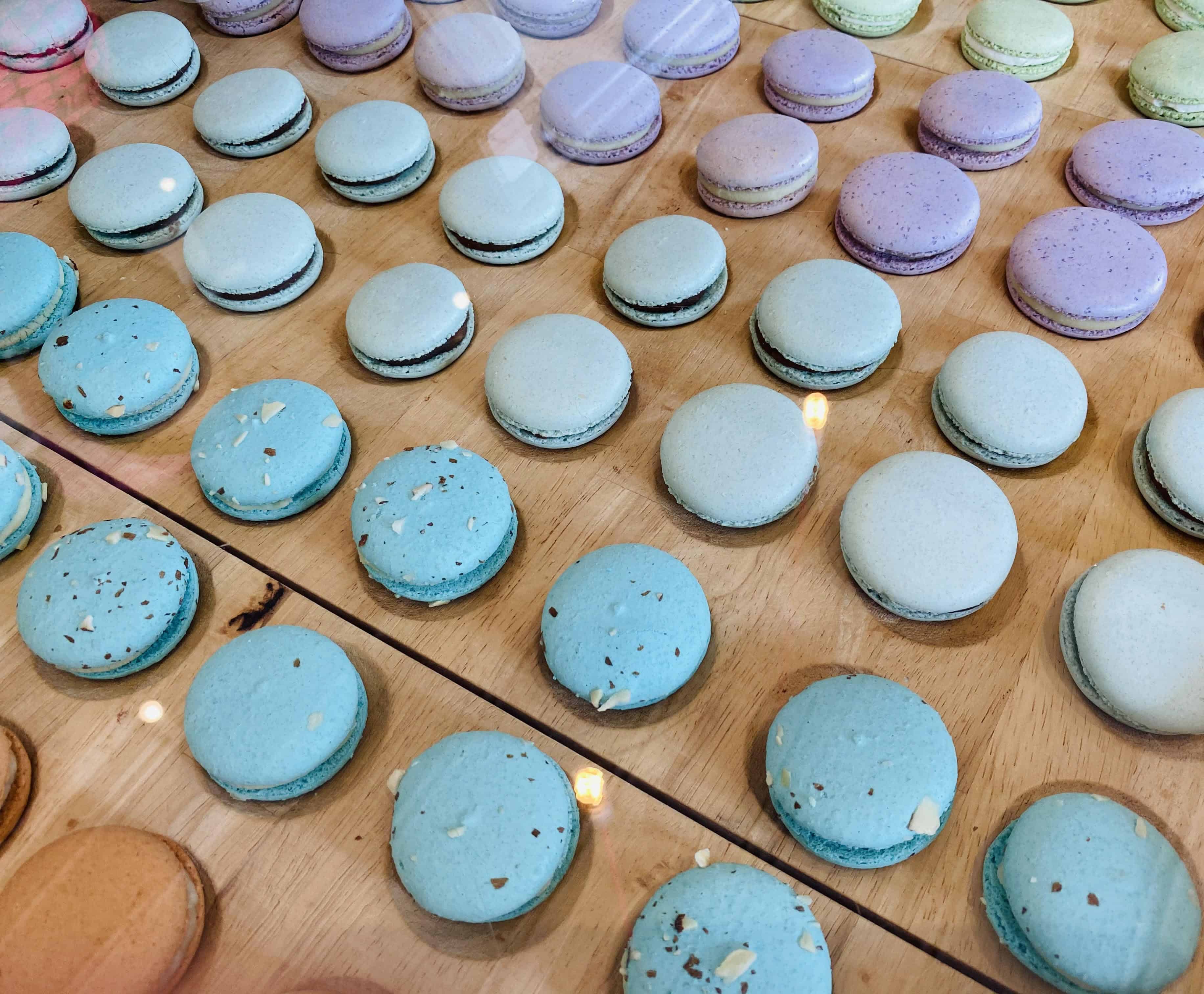 When You leave Joy Macaron, make sure you go out the back door. Go right. Behind Talking Out of Turn and Joy is our favorite mural in Dallas's Oak Cliff/Bishop Arts area. The area is filled with one-of-a-kind, creative, colorful murals, but we love this one of Charlie Chaplin in particular.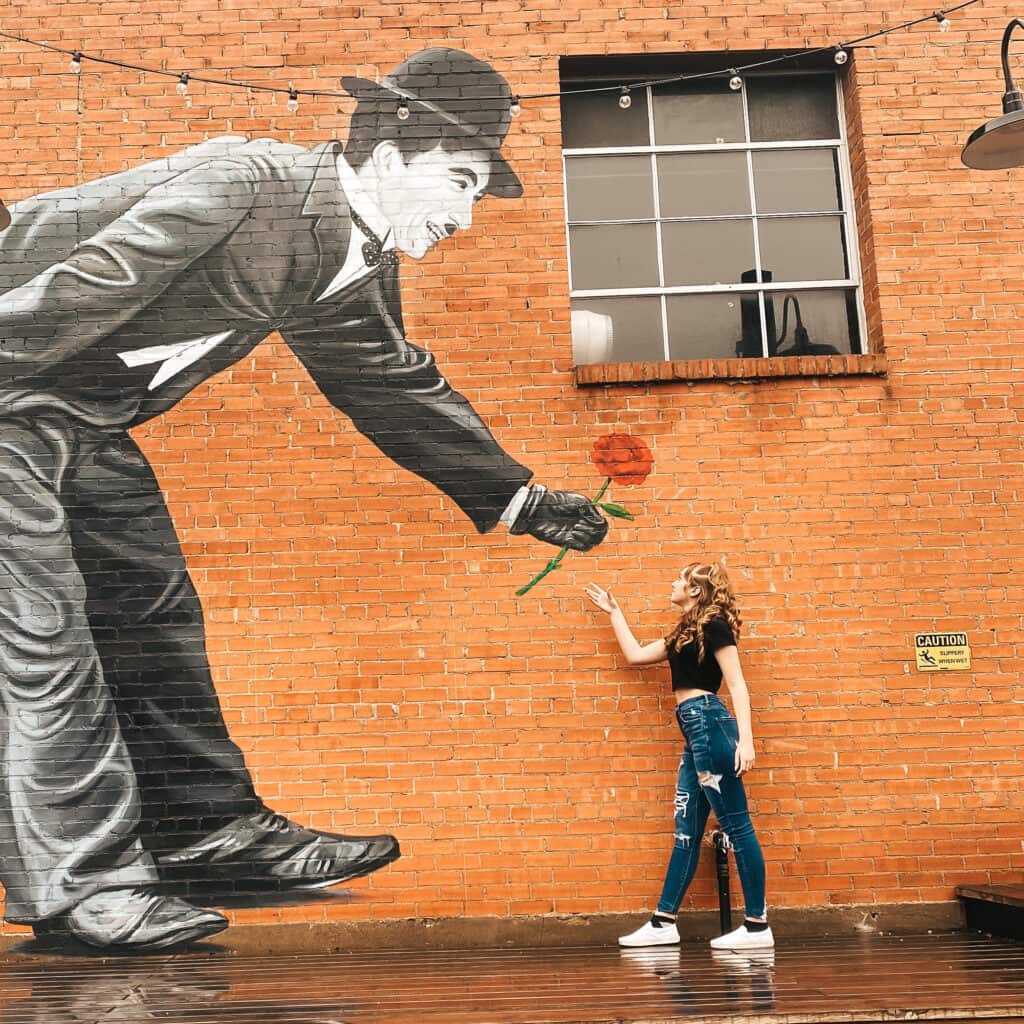 There are a few more shops and coffee shops along this row to check out, and then we jump in the car and head to the Davis Street Merchantile, which is filled with anything and everything imaginable, including Bob Ross energy drinks. We apparently needed a few Bob Ross energy drinks ;0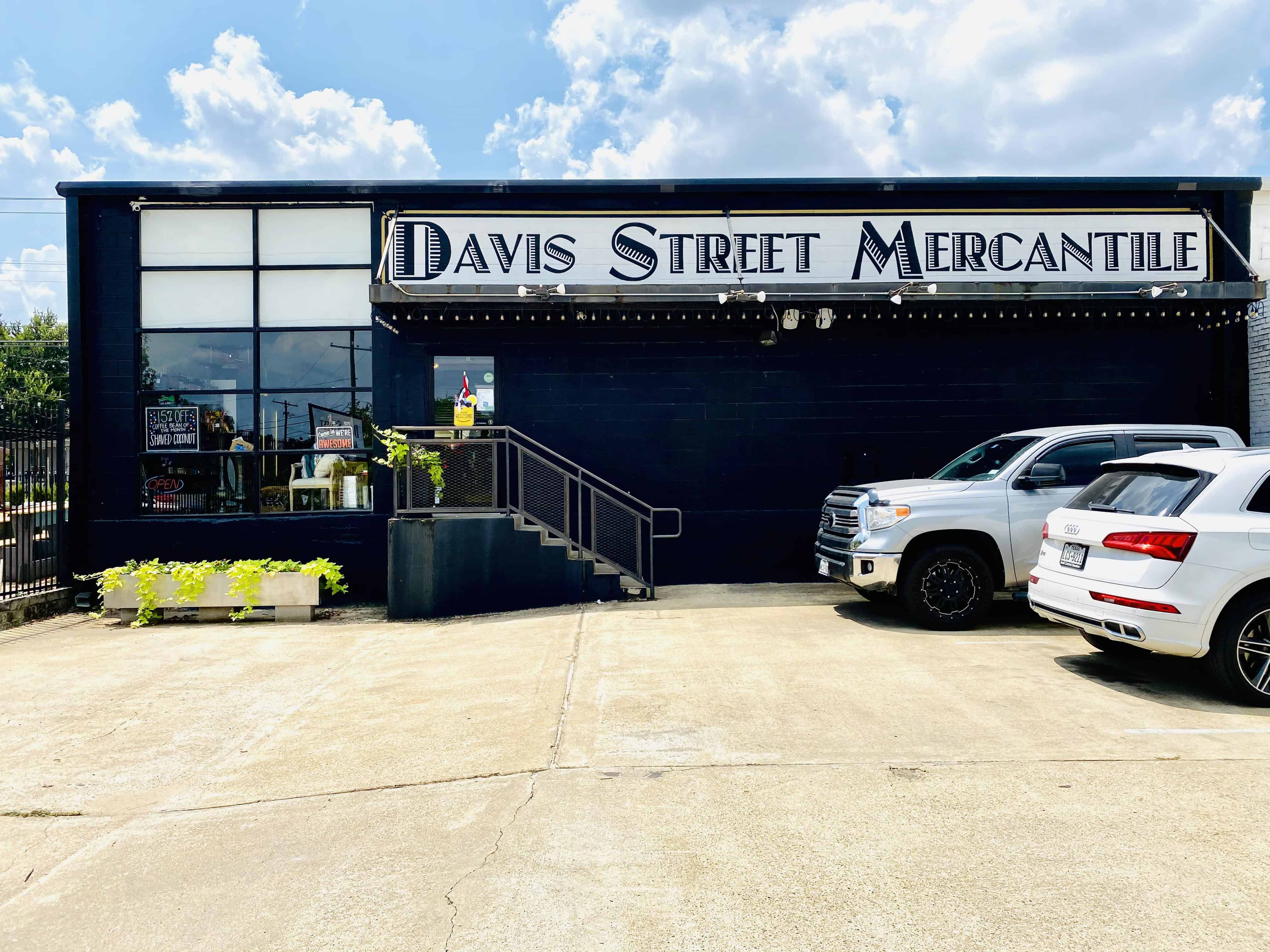 Davis Street Merchantile is a "modern take on the American General Store."
Dallas Street Merchatile is filled with novelty items, home goods, cooking and baking items, and any bottled cola or pop known to man. If you need a Farrah Fawcet Creme Soda, they have it.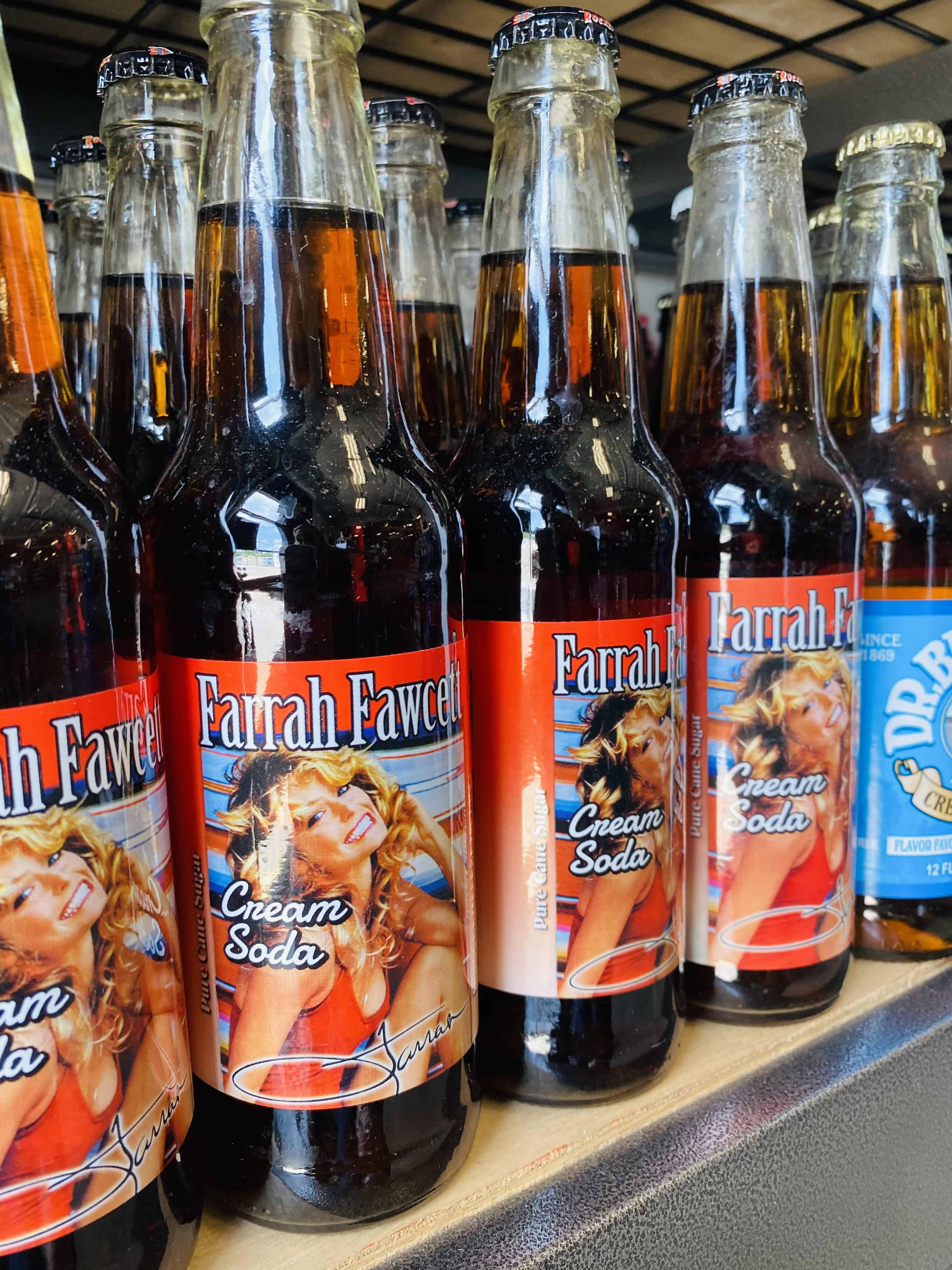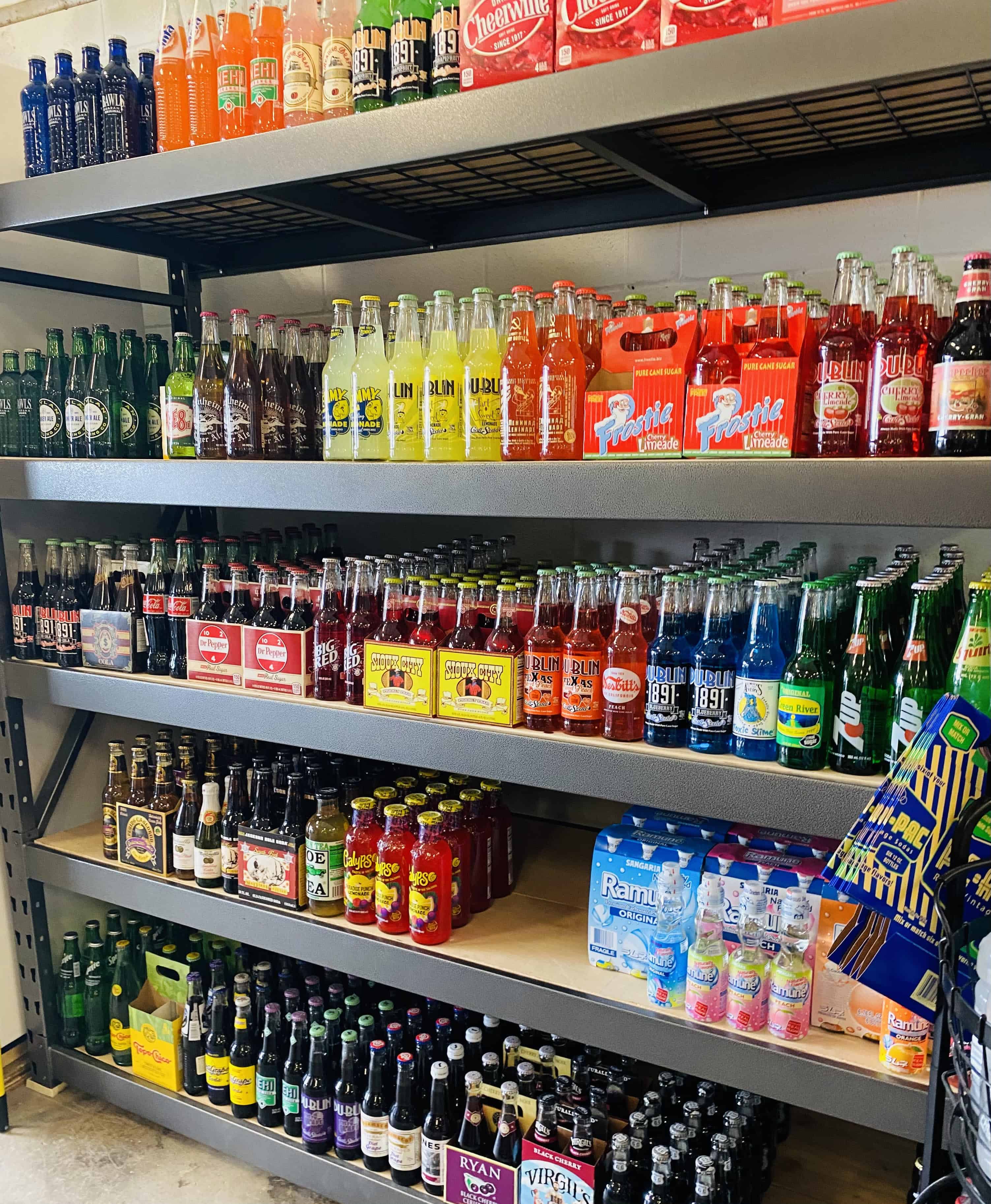 The Davis Street Merchantile is fun to take some time and shop around and stroll through. They have 7,000 square feet of new home décor, gourmet foods, boutique, and gift items.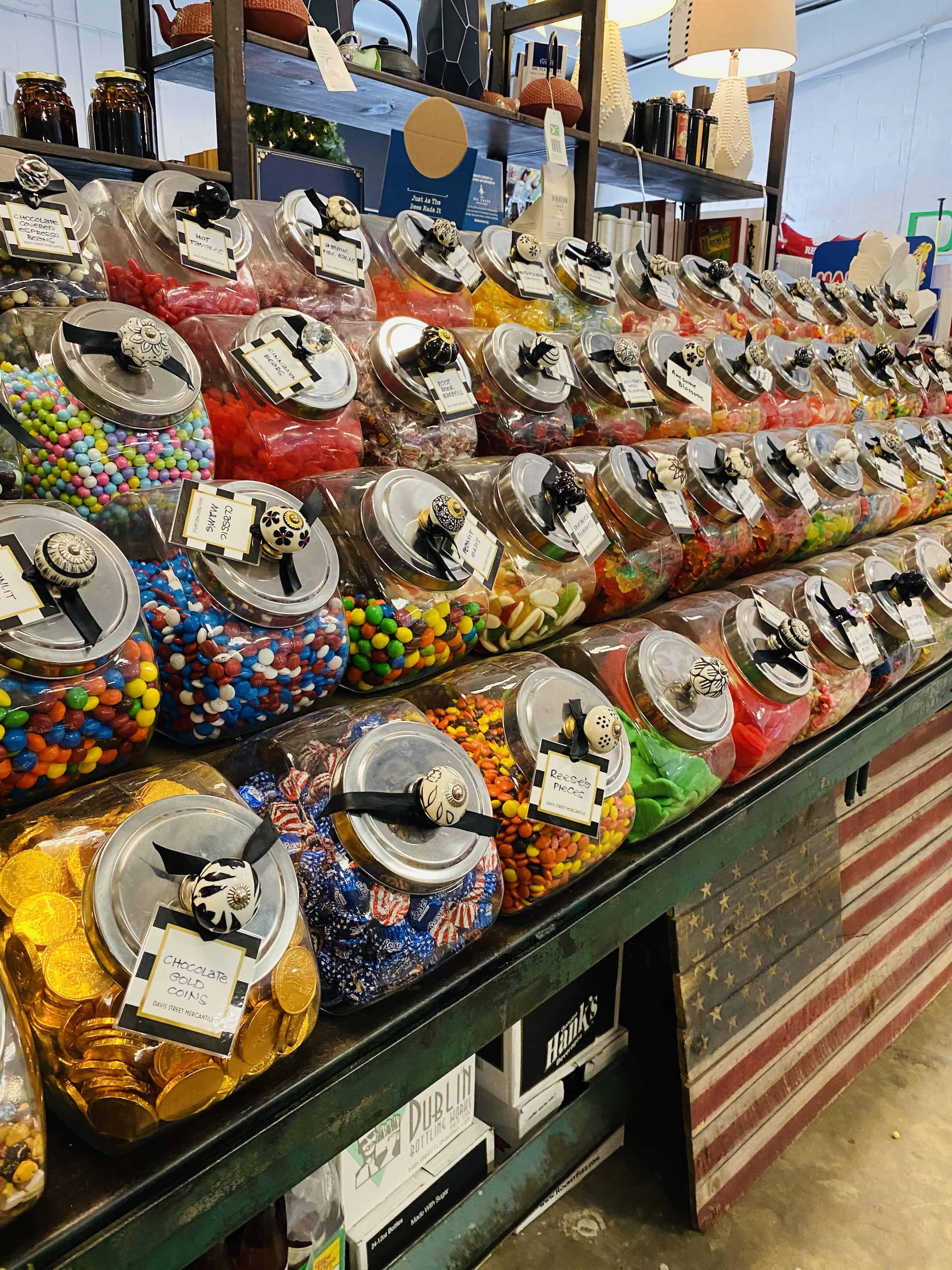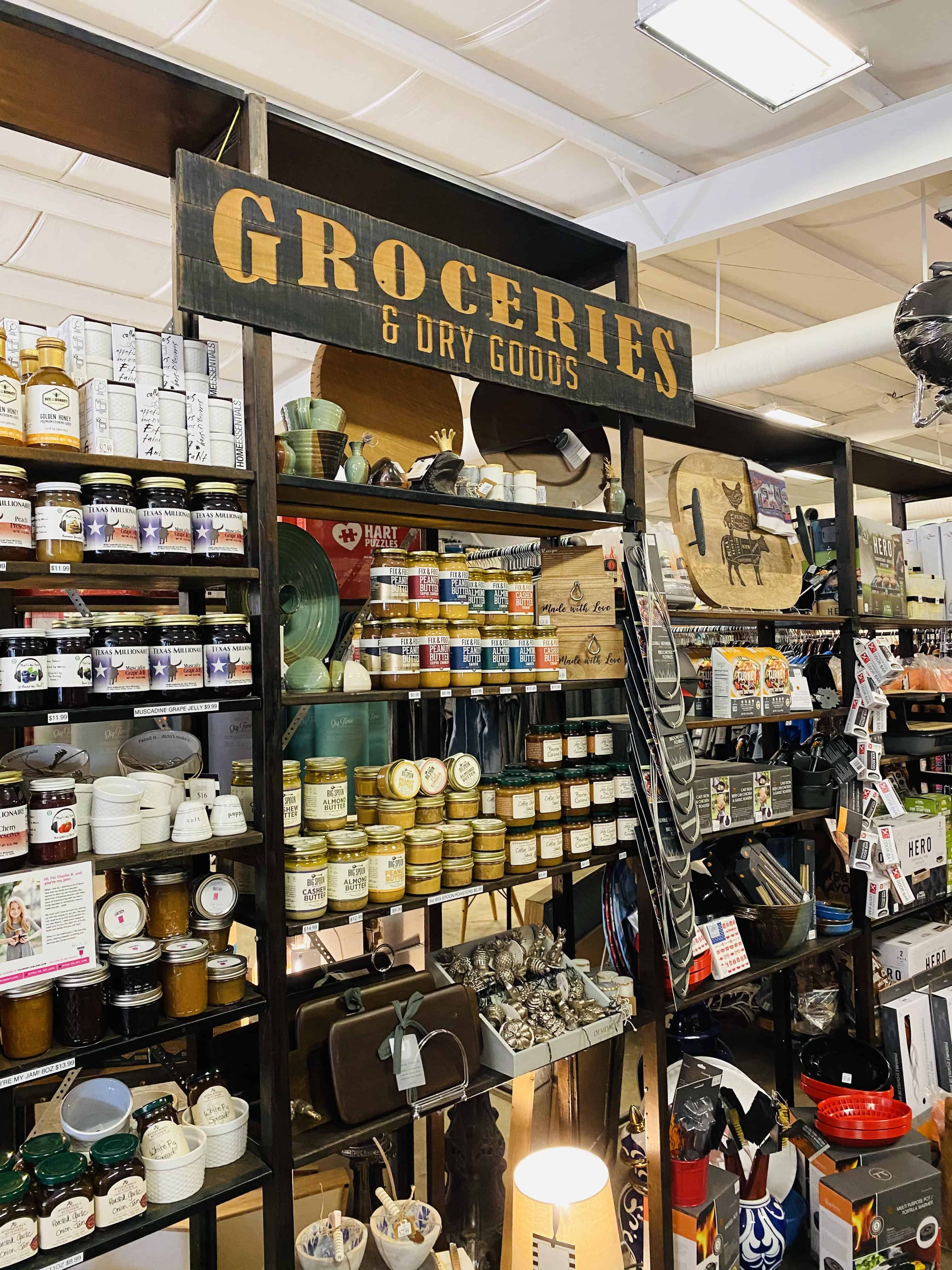 Again, a fantastic place to find unique gifts, toiletries, toys, and candies, and you can even make your own scented laundry detergent. It's a must-see in Oak Cliff. It was voted "Best Store in Dallas" by my mom.
Davis Street Merchantile: 710 West Davis St, Dallas, TX 75208
Bishop Arts Shops
Jump in your car and head to Bishop Avenue for about 3 minutes, and this is where there are tons of restaurants, boutique shopping, murals, and vintage shops. Bishop Avenue is a quaint little tree-lined street full of things to do, take Instagram photos, stroll, enjoy the day.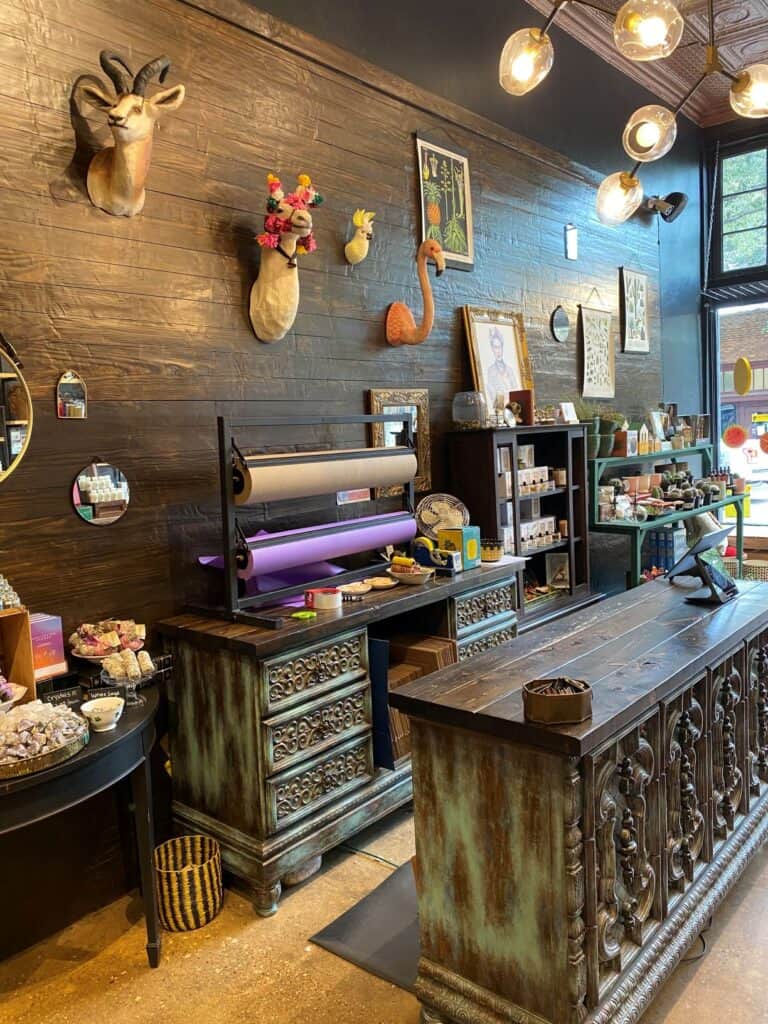 There are also many restaurants in the Bishop Arts District Dallas; it's hard to choose. We have been here a couple of times, each time, we have loved everything we have had.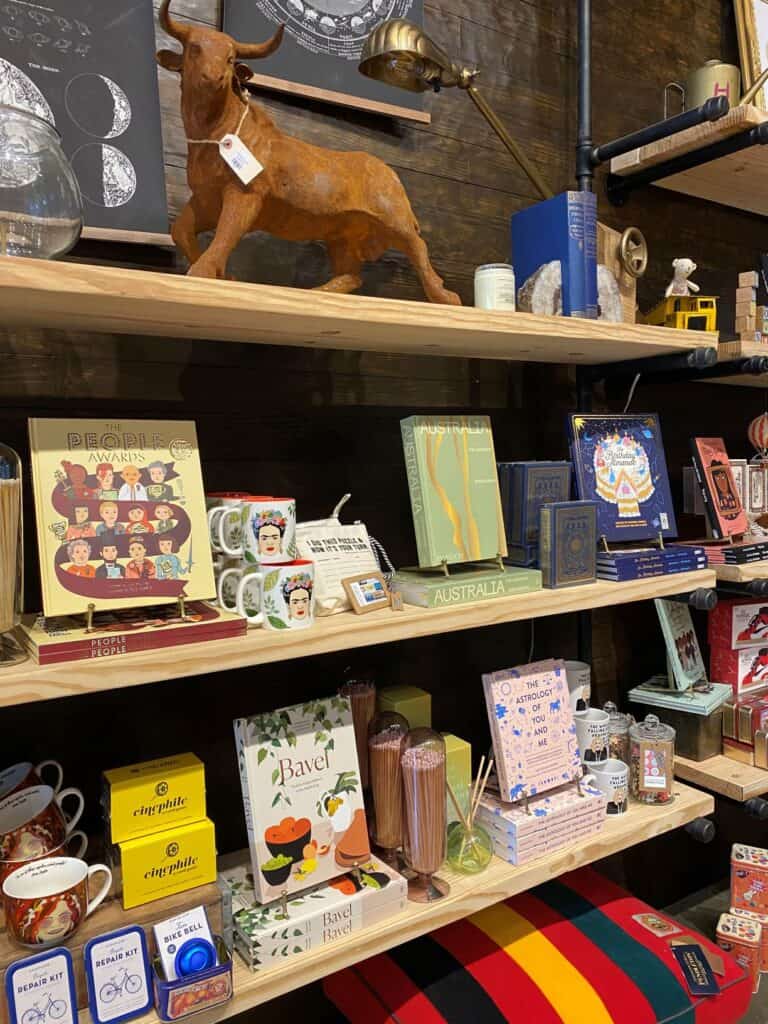 If you are driving, there is a valet on Bishop Arts Ave, right when you turn off Davis Blvd. It is $8 and central to everything. It's worth paying for because parking can be tricky. If you do valet, right in front of the valet podium is my favorite shop on this row. It's called the Urban Owl. You can find so many unique items in this shop. Walking in, you'll feel like you're in New York City.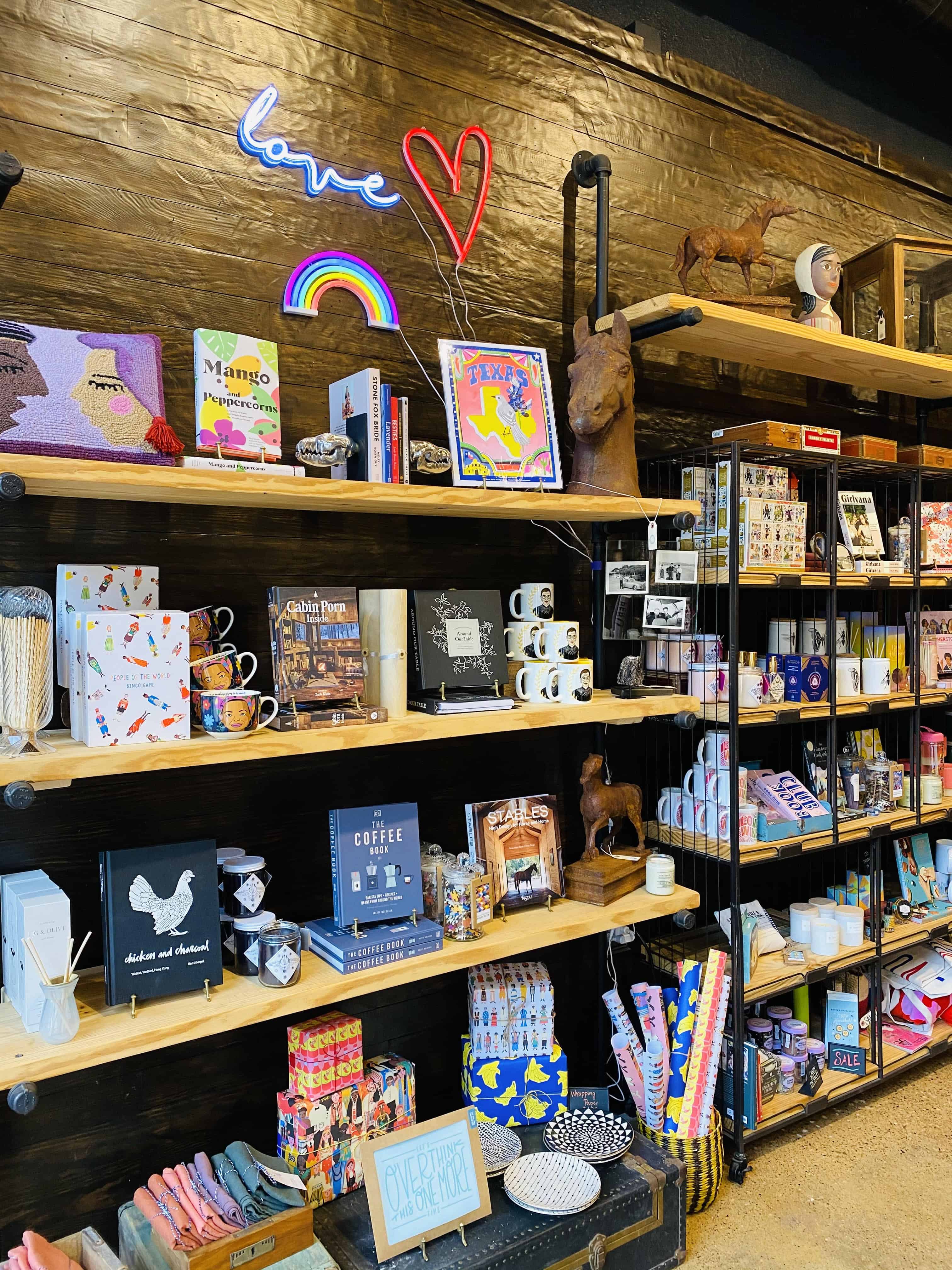 Bishop Arts District Restaurants
We go on a mini food tour every time we come down here. We do have a little bit of something from everywhere. Here are our favorite restaurants in Bishop Arts District Dallas. They are all excellent, and for some of them, we make a 40-minute drive to eat.
If you are coming in the morning to Oak Cliff, and are looking for coffee, delicious donuts, and a cool spot to enjoy them, stop at The Salty- an artisanal donut shop. Even if it isn't morning time, they are open most days until 6 pm so that you can get a pick-me-up and a fantastic specialty donut during the afternoon too.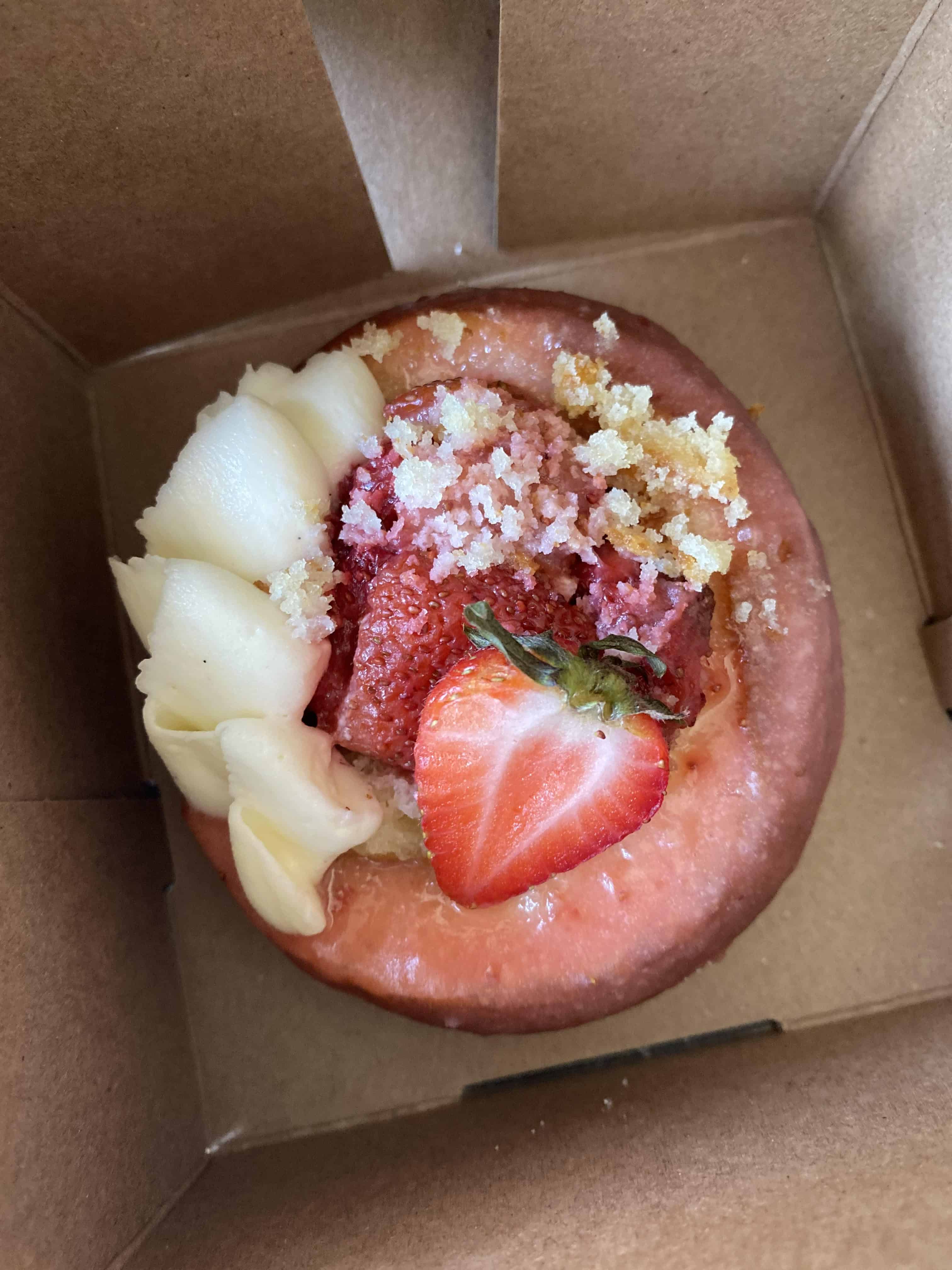 The Salty is a trendy donut shop with artisanal, chef-made treats that rotate based on the season. The bakery team creates everything from scratch and only uses high-quality ingredients to create their delicious goods! They do offer year-round flavors such as classic glazed, maple+bacon, and white chocolate tres leches.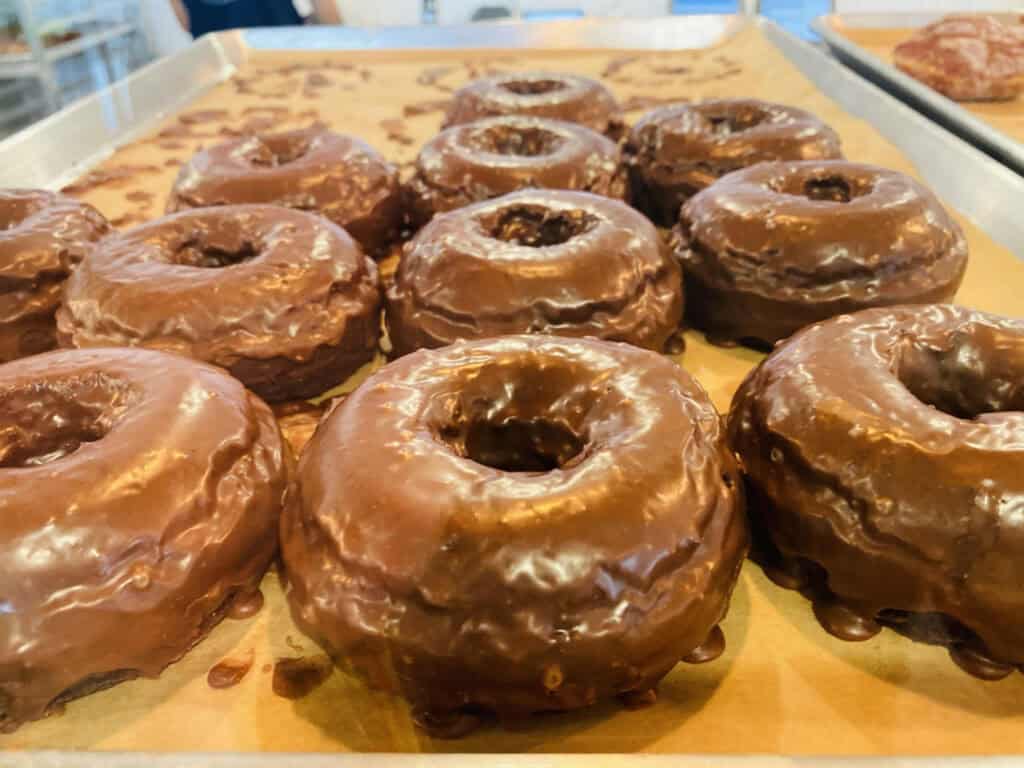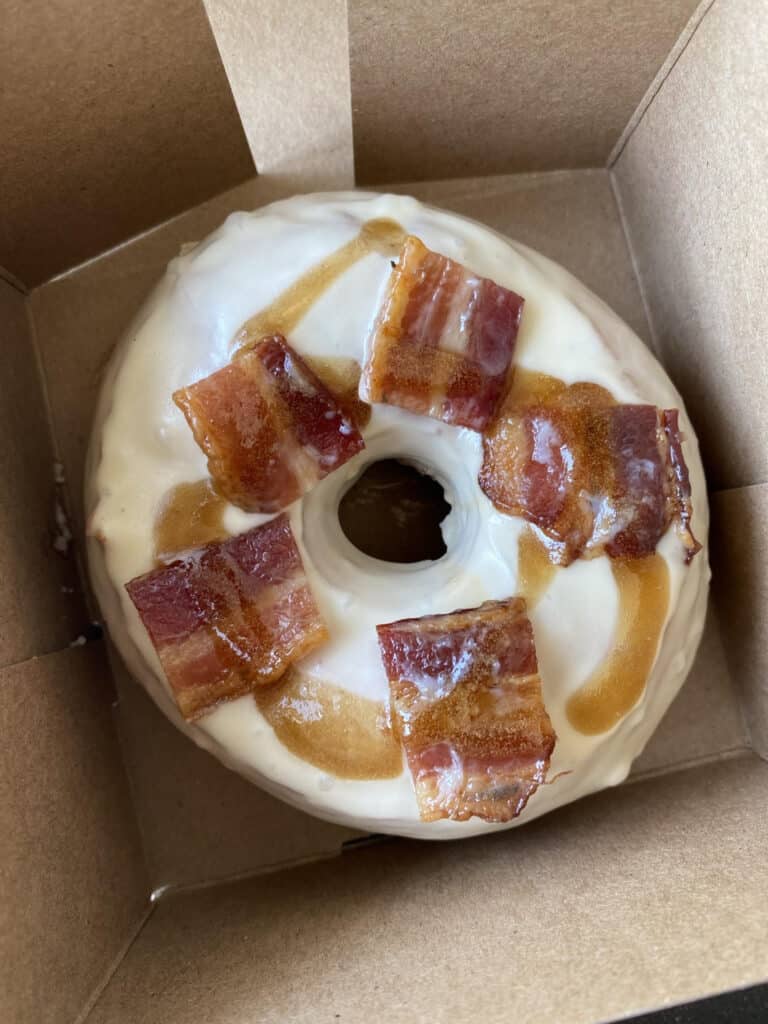 We fell in love with Hunky's Hamburgers in Uptown, Dallas, to camp one day on our way to Canton, Texas. Their hamburgers are one of the best in Dallas, chili cheese fries are to die for, and their strawberry cake is the best in the world. I am not kidding.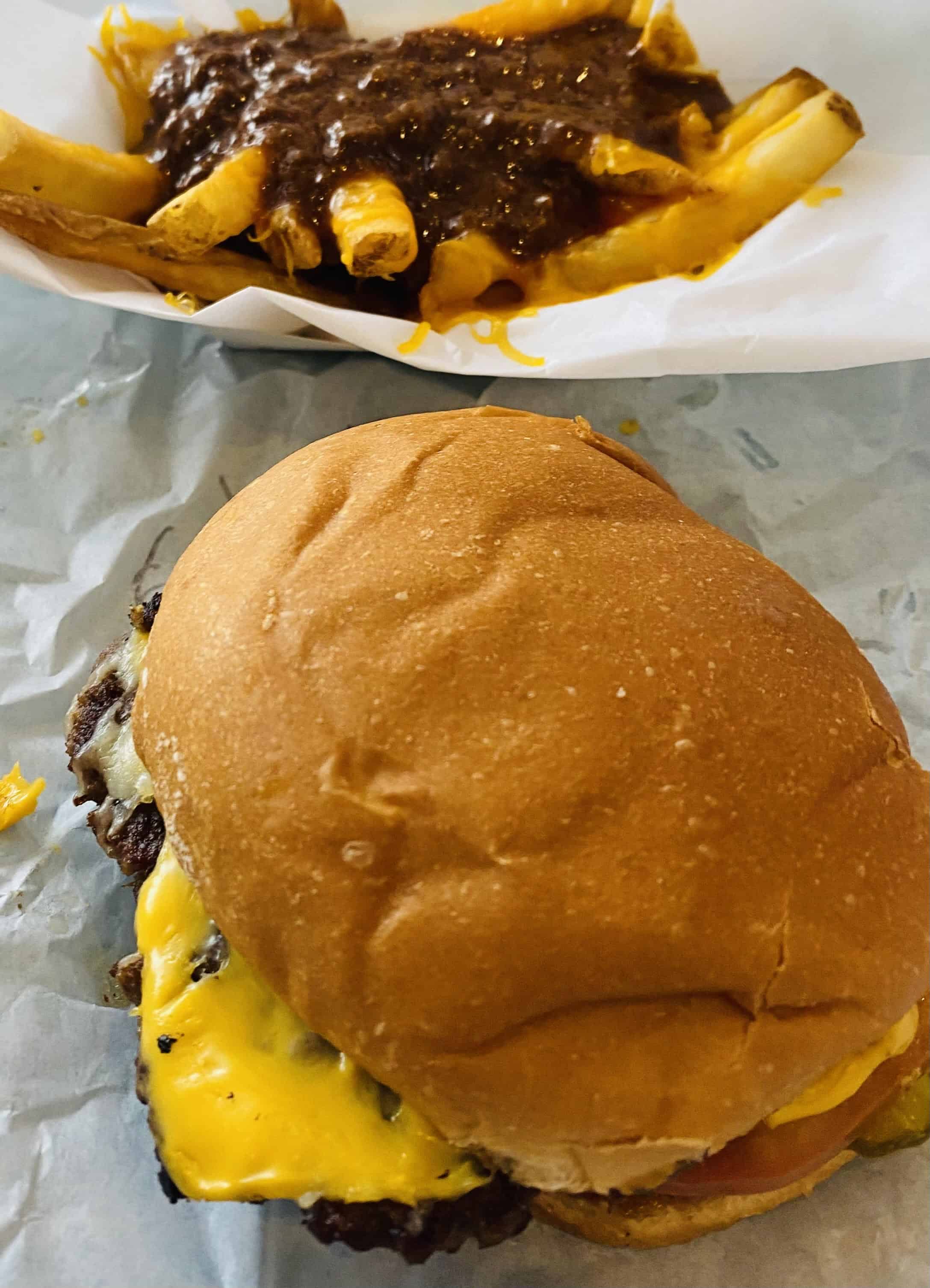 They have an old-fashioned counter filled with classic cakes from strawberry, red velvet, birthday cake, vanilla, and chocolate. Each slice is only $3.95 and is gigantic. The frosting is so good.
The burgers are old-fashioned, classic burgers; you can add any topping possible. Hand-dipped onion rings. BlueBell milkshakes or healthier options like "sexy salads."
Hunky's Old-Fashioned Hamburgers: 321 N. Bishop Ave, Dallas, Texas 75208.
Our favorite restaurant in the middle Bishop Arts District is Eno's Pizza Tavern, a quaint little pizza joint in Oak Cliff with fantastic food. The ingredients are farm-to-table, so the food is fresh and delicious.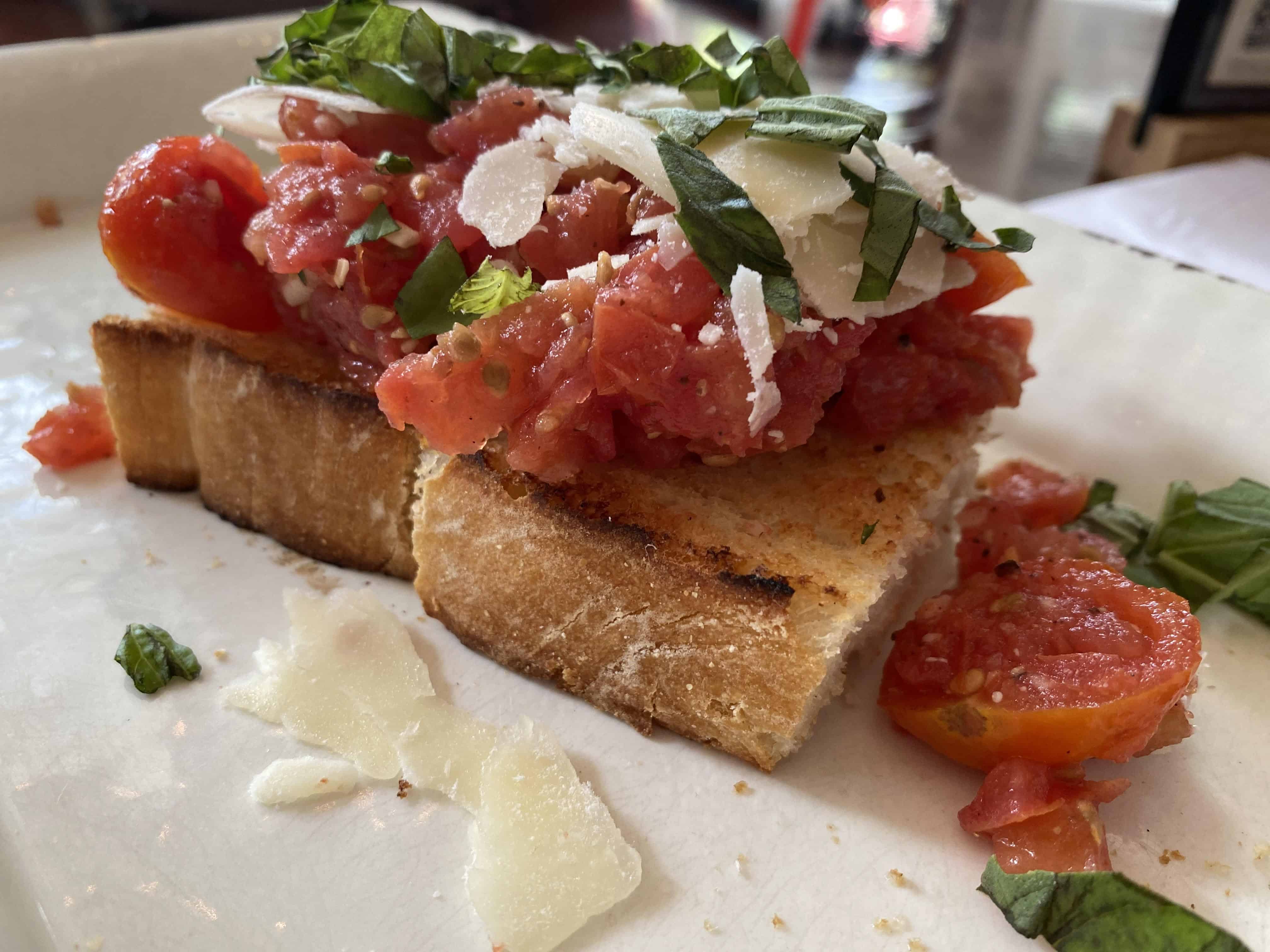 We like to go for the lunch special, which is $9.99, and you get a nice salad and a personal pizza. I get a nice cold craft beer flight, a Pig Smiley pizza, and the bruschetta. The Pig Smiley has local honey, country ham, sausage, and pepperoni-don't knock it until you try honey on your pizza 🙂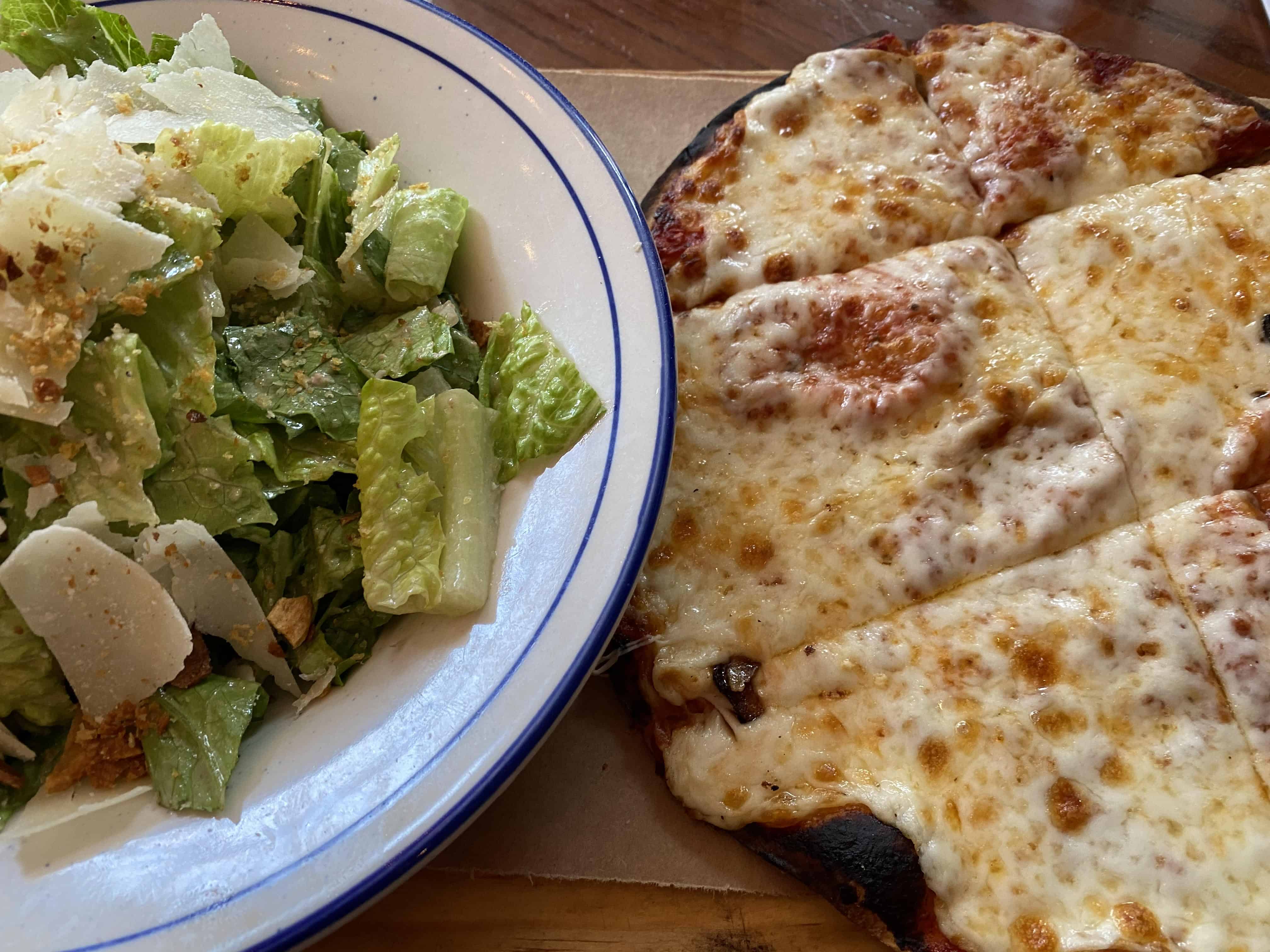 Enos Pizza Tavern: 407 N Bishop Avenue Dallas, Texas 75208
As much as I want to try dessert at Eno's, my very favorite ice cream shop is right next door, Melt Ice Cream. Across from Melt is the famous Emporium Pie Shoppe. My suggestion, get both. Get ice cream now and pie for bed later; it's simple 😉
Melt Ice Cream's mission: "We serve happy ice cream. We believe treats can change your day, and your day can change the world." I agree. They serve four new flavors every six weeks, which they call "Sometimes flavors."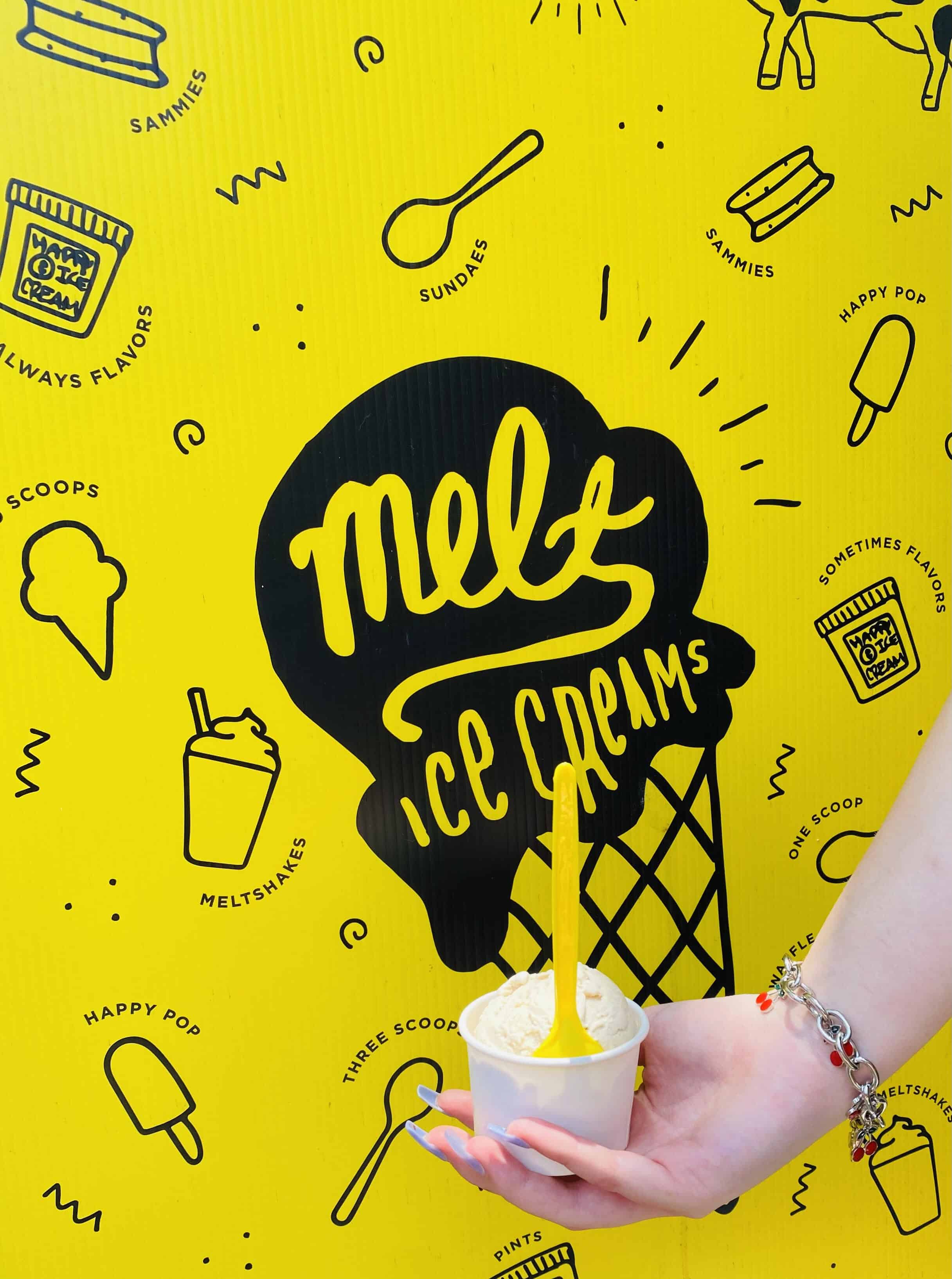 Of the "Always Flavors," Melt has, my favorite, Cup of Texas. It's a coffee ice cream, but with a very faint hint of coffee, it's addicting. I may or may not just so happen to drive from my home to Fort Worth or Bishop Arts to have a cup of it or get some to go. Mind you; I live quite far from both. The "Cup of Texas" is that good.
During this trip, I had both Cup of Texas and the Browned Butter Pecan. I went back for more. No joke.
Melt Ice Cream ships nationwide– If you live anywhere in the United States, you can have the best Cup of Texas shipped right to you!!
If you are in Downtown Fort Worth or staying at the Fort Worth Stockyards, there is a Melt Ice Cream!
Melt Ice Cream: 405 North Bishop Avenue, Dallas, TX, 75208
Did you think I was done with all the restaurants in Bishop Arts District? One more! There are so many; these are just two trips!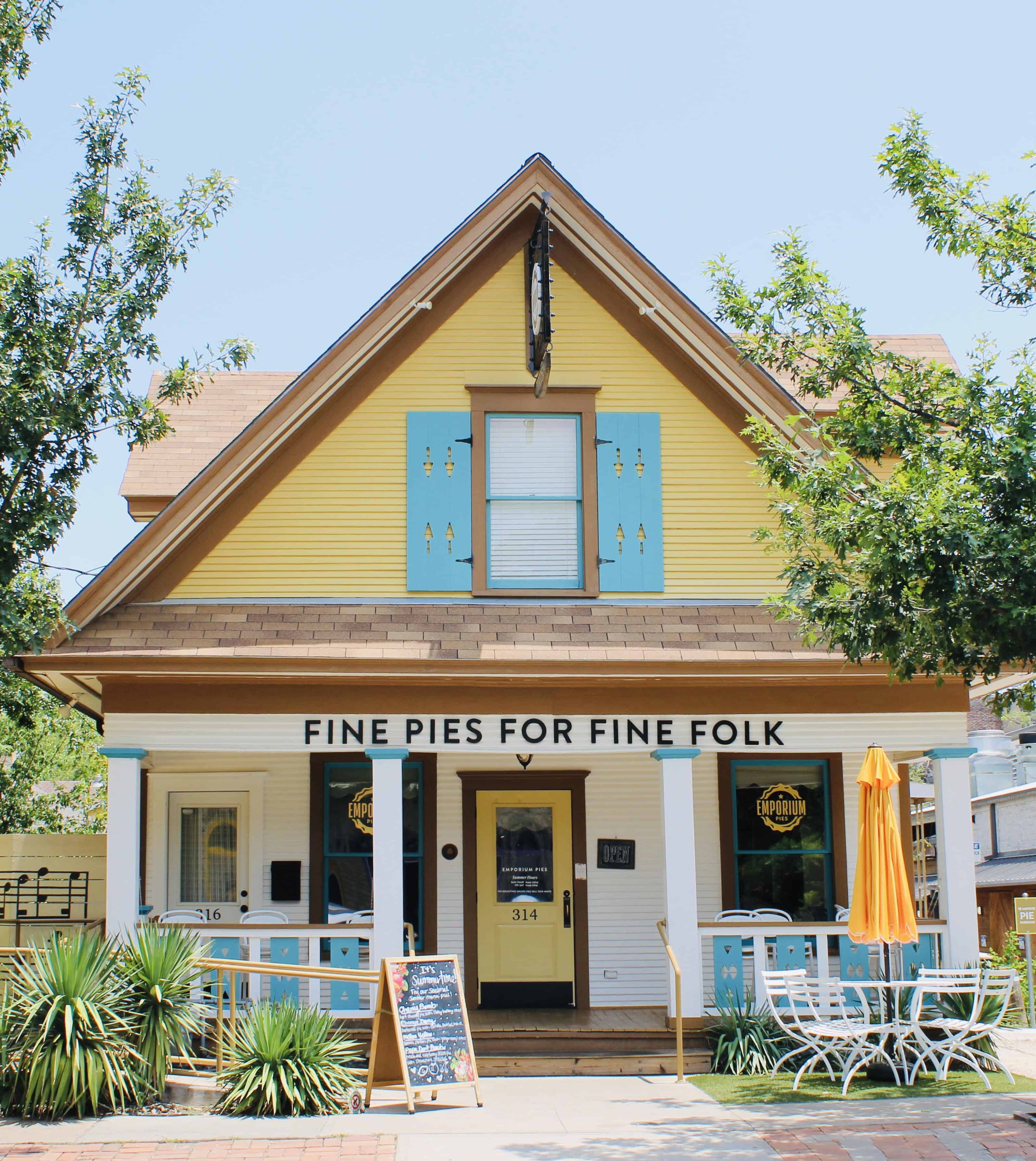 Emporium Pie. Fine Pies for Fine Folk. This pie shop is exactly what you think of if you wanted to have a slice of pie and a hot cup of coffee. In the Oak Cliff neighborhood, this little blue and yellow victorian bungalow serves up handmade seasonal pie slices and hot coffee.
Emporium Pies offers you a slice of the good life. As soon as you walk into Emporium Pies, your senses are overwhelmed by the smell of cinnamon and buttery crusts baked to perfection in their ovens.
They have been featured in magazines such as Wall Street Journal and Food Network for being one-of-a-kind masterpieces from scratch using local ingredients available seasonally.
You can order any of their fresh-baked pies delivered in the United States via Goldbelly. They have chicken pot pies, their famous deep dish Lord of the Pies apple pie, and the signature pecan pies during the fall season.
You can also visit Emporium Pies' other Fort Worth, Deep Ellum, and Mckinney, Texas.
If you enjoy the arts, history, and a good meal, then some excellent desserts, the Bishop Arts neighborhood is your spot to visit in Dallas. The Bishop Arts District of Oak Cliff features art galleries, restaurants, coffee shops, and more. There's something for everyone here in this vibrant neighborhood just 10 minutes from downtown Dallas, from murals to music performances.

We would love for you to head to our homepage, subscribe to our newsletter, and stay up-to-date on all the fun things!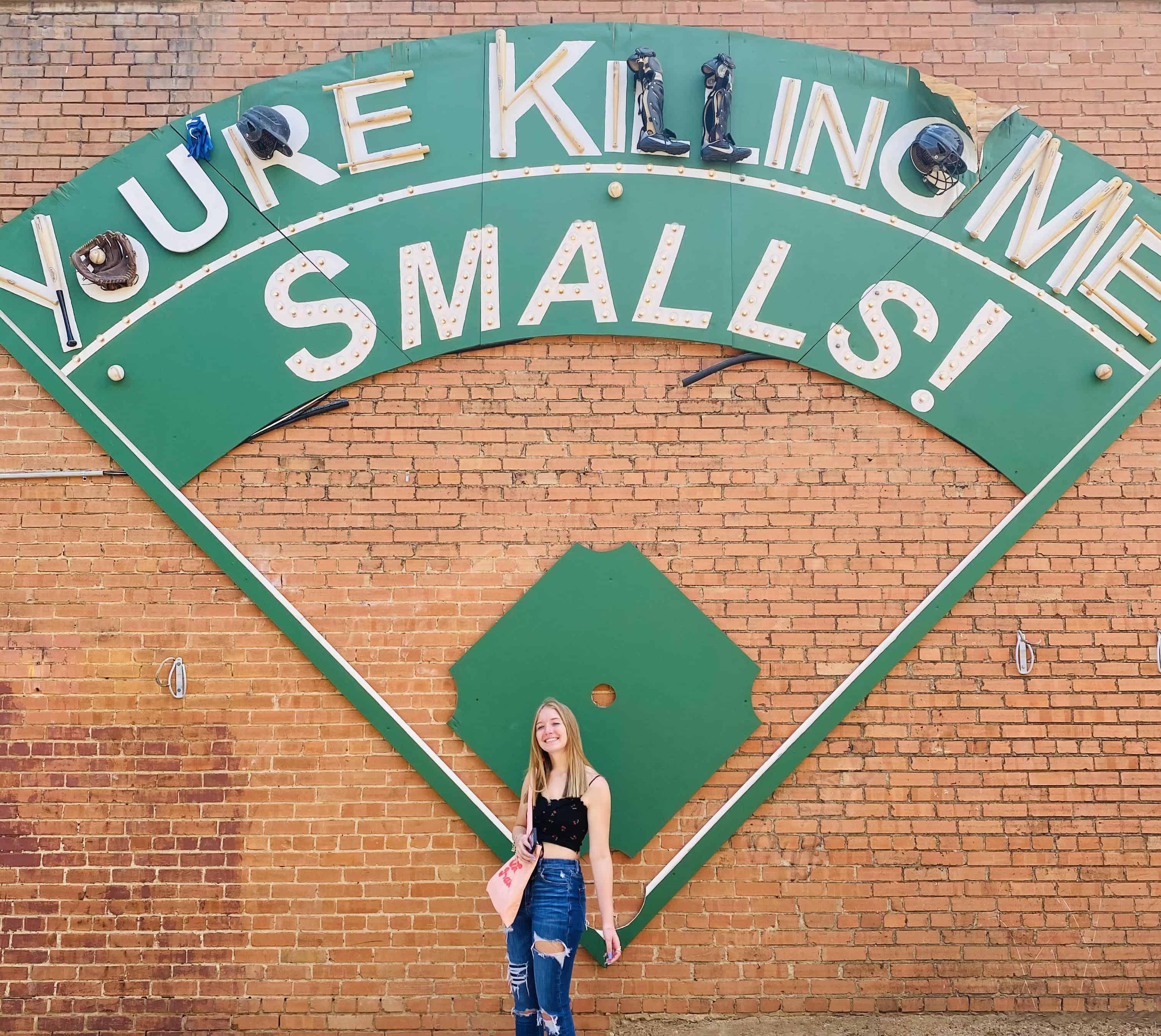 This post may contain affiliate links in which I may receive a small commission at no obligation or charge to you, ever.