Lately, I have had a love affair with the Marriott's Autograph Collection of hotels popping up around North Texas. Hotel Vin Grapevine, Texas, is one of the newest hotels in the collection, along with Hotel Drover, located in the Fort Worth Stockyards in downtown Fort Worth, Texas. Both hotels we have fallen in love with, and we have visited several weekends.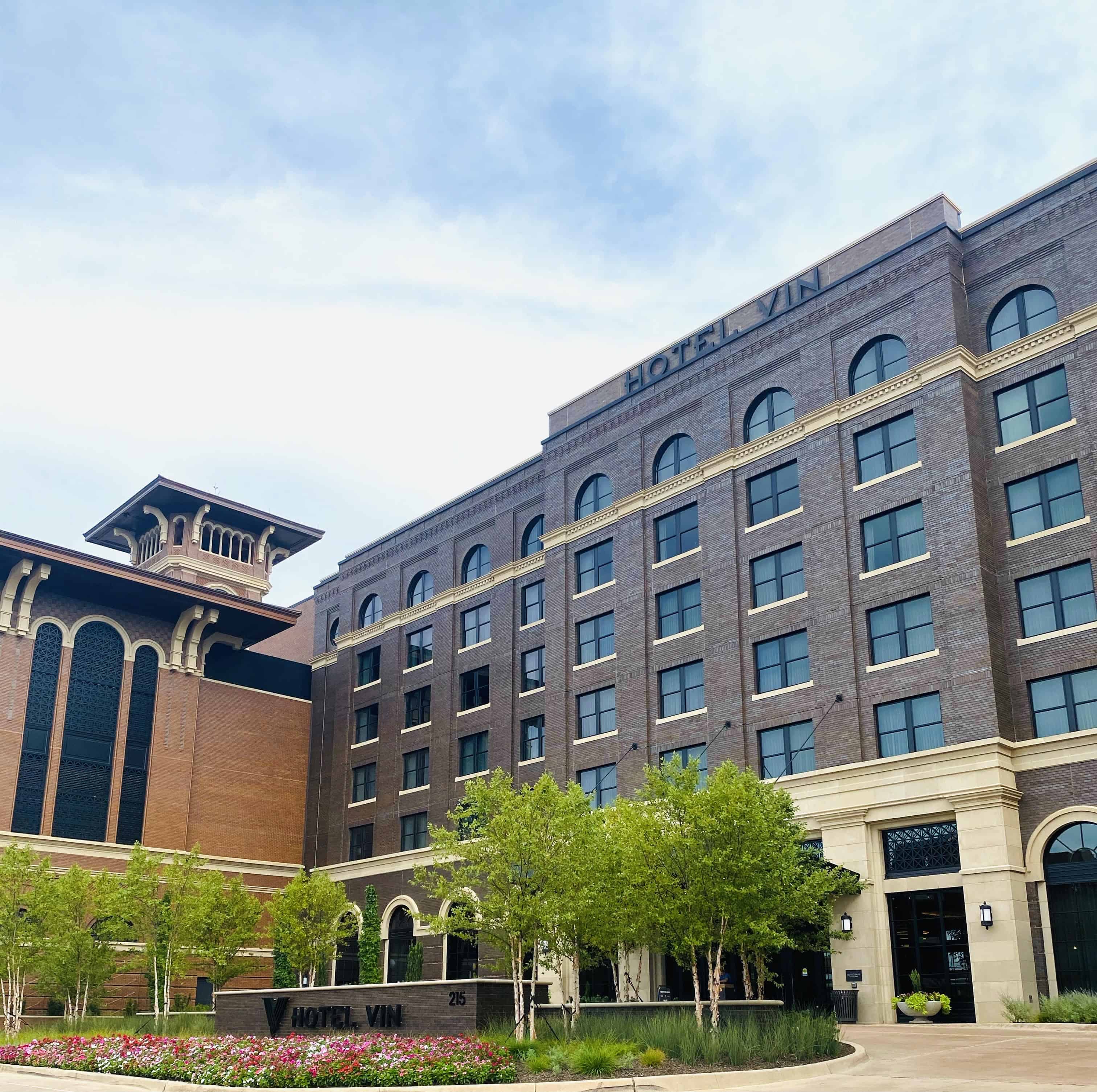 Hotel Vin Grapevine
Situated just steps from Grapevine, Texas' historic Main Street, Hotel Vin is part of Marriott's Autograph Collection and one of Texas' most luxurious, beautiful hotels. Hotel Vin embraces Grapevine, TX's historical significance while creating a modern, innovative retreat for today's travelers.
This Grapevine hotel is a must-stay for those traveling to Grapevine, Texas. And, those who live in Dallas or Fort Worth who want the ultimate staycation!
Here are the seven top reasons we love Hotel Vin in Grapevine, Texas; we hope you book a lux room and enjoy your stay in one of the best little towns in Texas.
Modern Stylish Rooms and Suites with Texas Hospitality
Hotel Vin is a boutique-style hotel with 120 stylishly modern rooms with a hint of Texas flair. Each residential-style room has custom-designed furniture, and soft and luxe linens. Amenities like top-of-the-line technology such as streaming services and an Alexa personal assistant are included in your room. Sit back and relax after a long day exploring historic downtown Grapevine, just steps from Hotel Vin.
Location, Location, Location
Hotel Vin Grapevine is located conveniently for several different reasons:
Conveniently located 10 minutes from DFW International Airport. You can choose to get a rental car when flying in or Uber to the property.
Hotel Vin is located within an equal distance between Dallas, Texas, and Fort Worth, Texas. You can stay in the quaint and quiet little town of Grapevine, Texas, at Hotel Vin, then go explore both major DFW cities.
Most importantly,

Hotel Vin

is just steps from the entrance of Historic Main Street Grapevine. No car is needed to explore the entire Grapevine area; there are also shuttle services provided by the City of Grapevine.
Hotel Vin Restaurants
Bacchus Kitchen + Bar is a top choice for experiencing Hotel Vin's vibrant dining and wine scene. Offering Euro-Mediterranean, locally-sourced cuisine from nearby purveyors and farms, this all-day restaurant offers innovative drink options with handcrafted cocktails, craft beer, wine list.
Bacchus Kitchen+Bar is located at the lobby's main entrance and offers breakfast, brunch, lunch, and dinner. The restaurant overlooks the grapevine train line and the outdoor gathering area, The Junction, which often plays live music for guests.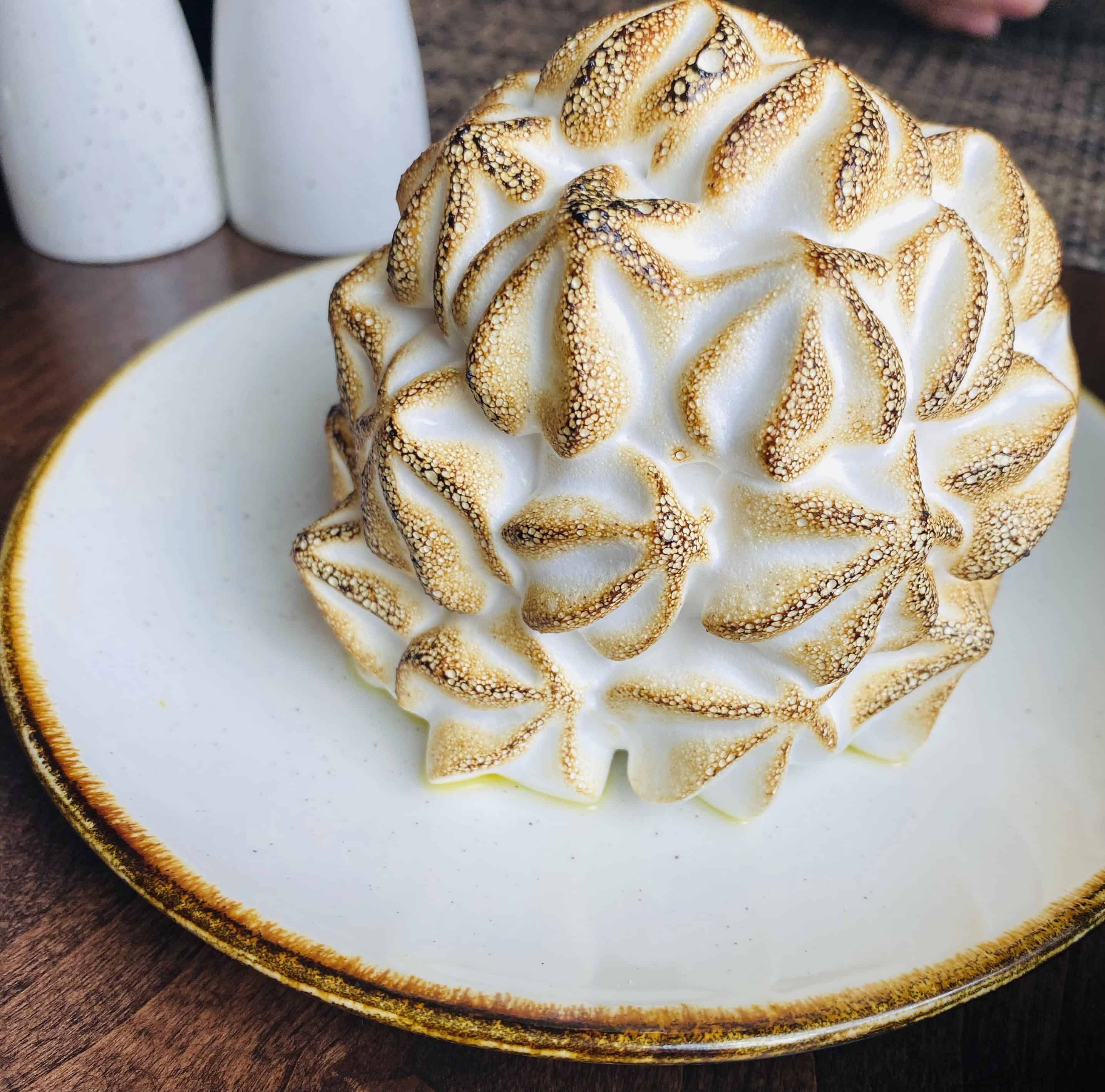 Brunch and Beignets are our favorites 😉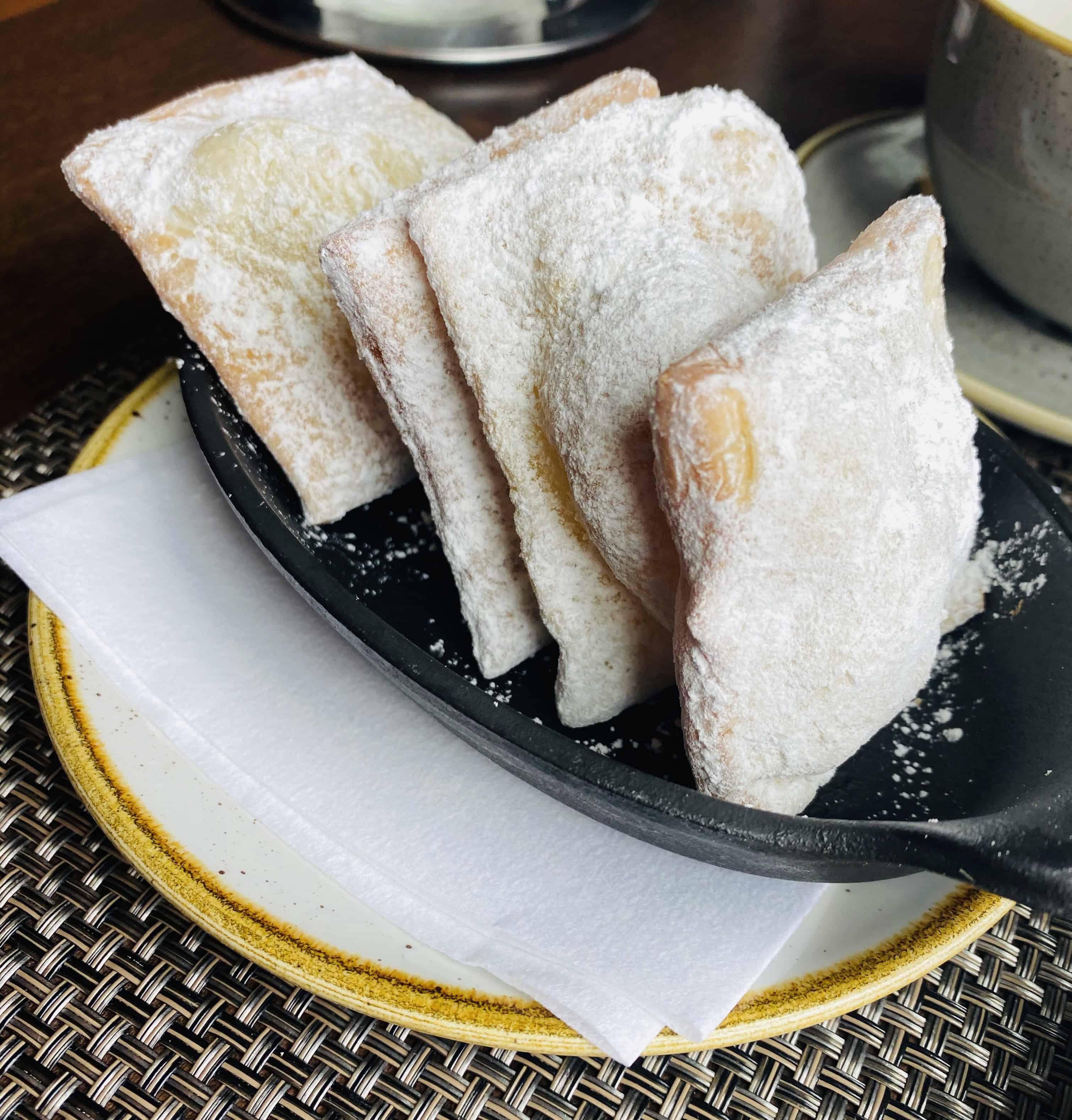 Harvest Hall in Hotel Vin Grapevine
The best part is Harvest Hall, which is an exciting experience of a European-style food hall located in Hotel Vin. There is something for everyone–if you want to sample a wide variety of cuisine from Italian to southern soul food classics.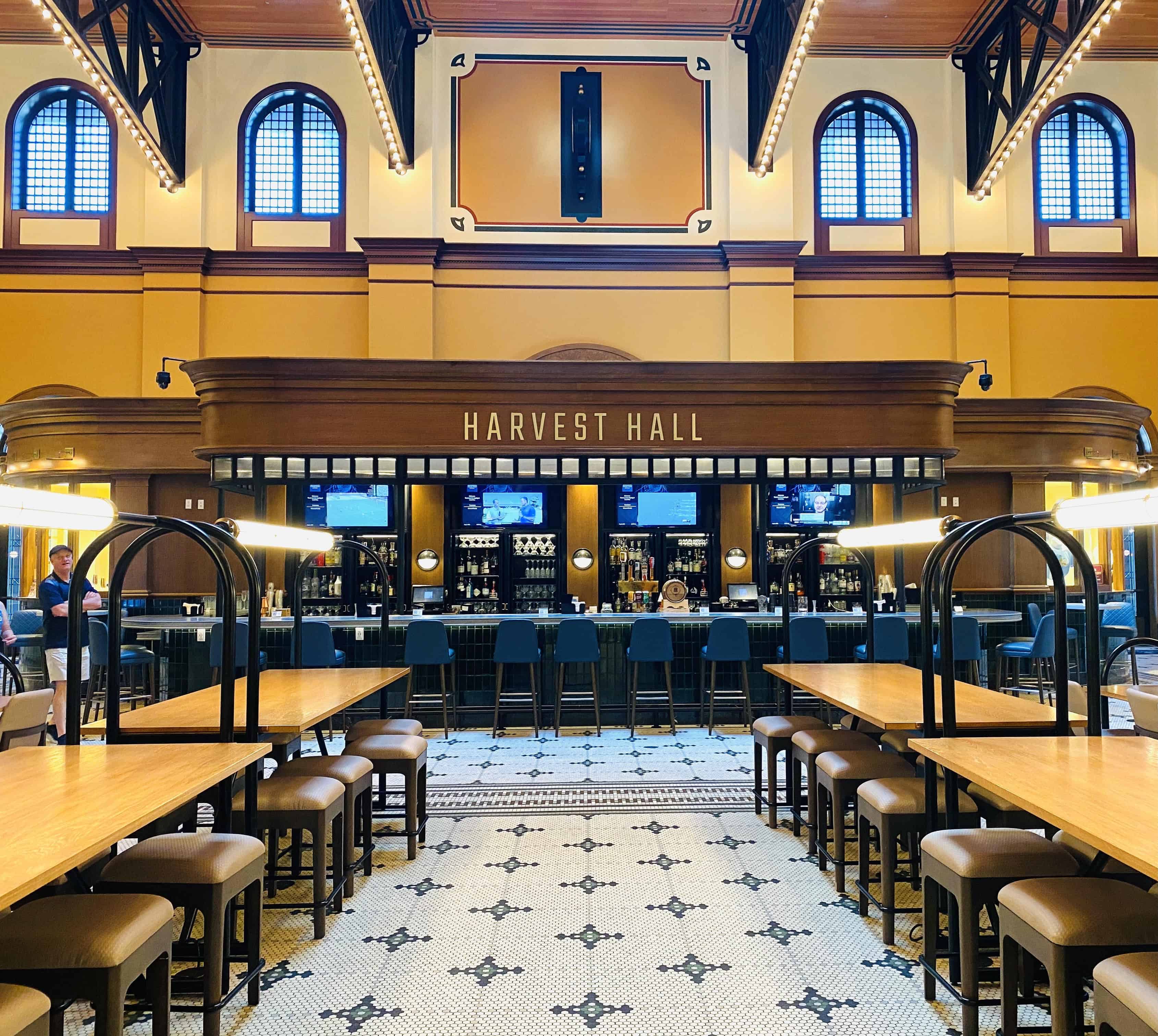 Harvest Hall is perfect for everyone in your group (especially traveling with children) to find something they love to eat, but it is also gorgeous.
Overlooking the Grapevine Train Station on the north side, indoor and outdoor seating, soaring ceilings, and panoramic windows, Harvest Hall is perfect for everyone to find something they love to eat– in architectural beauty.
This dining space features seven chef-driven restaurant kitchens that serve up modern spins of global cuisines, coffees, and two bars serving craft beers and spirits.
Arepa, TX, is a funky twist on Latin and Mexican street food. Their menu includes made from scratch light, crispy arepas, freshly made rice bowls, and tacos.
Chick & Biscuit If you feel nostalgic for some good old-fashioned comfort food Chick & Biscuit has something for you. Fried chicken, Nashville hot chicken, pulled pork, and brisket are all served with a southern staple: a light, flakey buttermilk biscuit. Don't forget the scratch-made buttermilk ranch dressing.
Easy Slider is a burger truck concept in a food hall environment. Easy Slider serves fresh, gourmet sliders made with freshly baked bread, Certified Angus Beef, and seasonal farmers market ingredients. Or, if you are feeling innovative, try a slider on a glazed donut and wash it down with Dublin Orange Crème Soda or Mexican Coke.
The Main Line Coffee Bar is the perfect place to enjoy a craft coffee drink or locally sourced pastry. From doughnuts and ice cream, there are plenty of options; our favorites are the Bluebonnet and the Shamrock (with white mocha and Irish crème, yum)
Spuntino offers a variety of traditional Italian cuisines from Italy's many regions and old family recipes. Local and organic Italian fare is prepared fresh, including the pasta, and our favorite is the thick crust margarita pizza and handmade meatballs.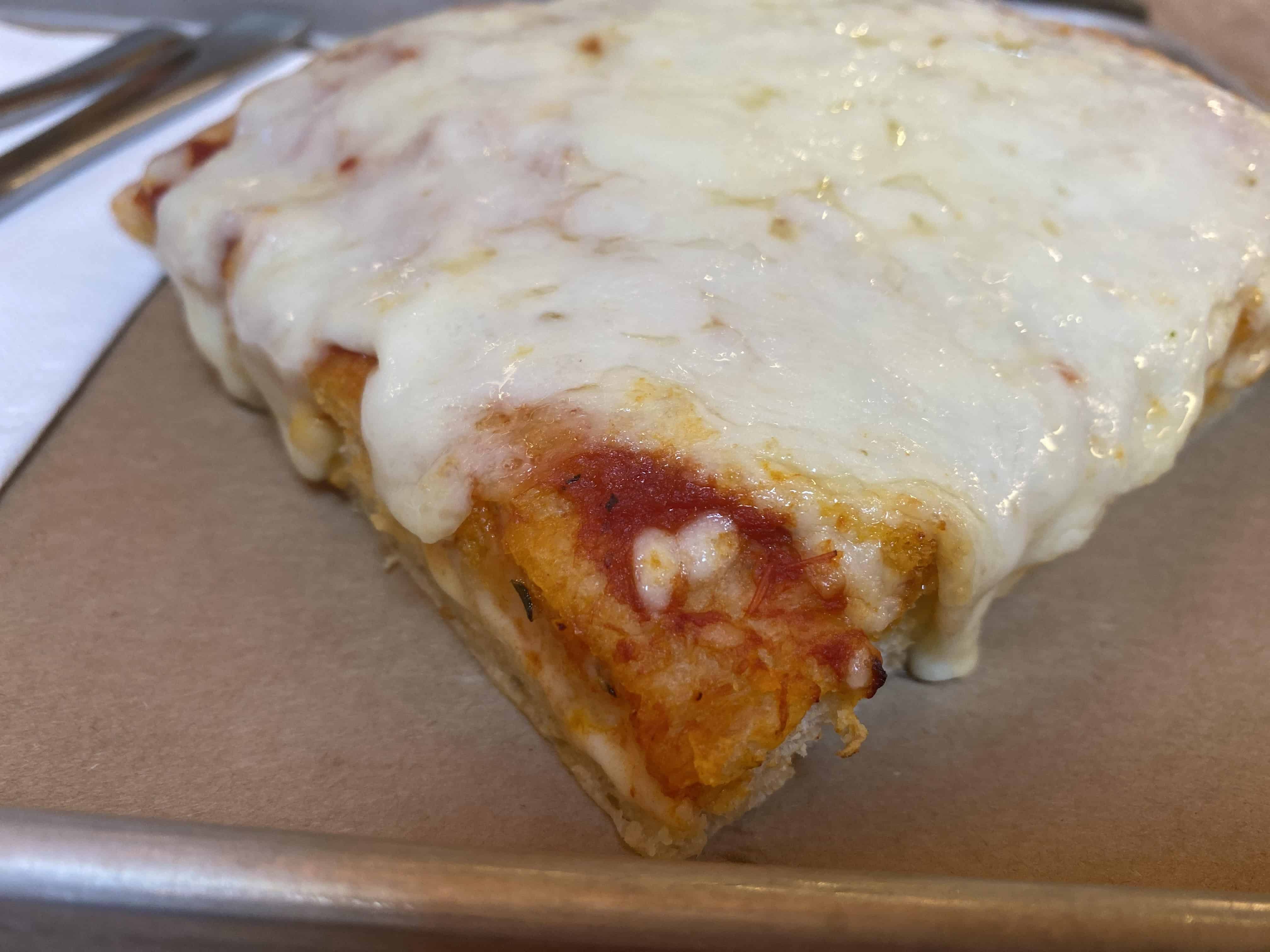 ZaTaR serves fresh Mediterranean dishes made from the highest quality ingredients. Their menu offers kababs, hummus dips with fresh-baked pita, falafels, gyros, and zaatar pies.
Monkey King Noodle Co. brings Northern Chinese Street food by Chef Andrew Chen. Their dishes include delicious hand-pulled noodles, soup dumplings, rice bowls, and stir fry.
Hotel Vin Grapevine Rooftop-Views for Days
Hotel Vin has a 150-foot observation tower that overlooks and has a 360-degree view of Grapevine and all DFW. You can see downtown Fort Worth from the tower and downtown Dallas and Uptown Dallas.
In addition, Hotel Vin's Rioja Rooftop terrace offers up tapas, cocktails, and fabulous views of Grapevine, Texas. Rioja Terrance has igloo-like balloon structures during the winter months to enjoy small plates, extensive wines, and craft cocktails for a unique experience.
You Can Jump on a Train to Fort Worth
Steps from Hotel Vin are Grapevine Vintage Railroad and the TexRail. Both Grapevine trains go into Fort Worth; it just depends on the experience you want to have!
The Grapevine Vintage Railroad is fun for both adults and children alike. The train has different experiences depending on what you want to do.
Our suggestion if you are an adult or traveling with older children is the Cotton Belt Route which explores six Fort Worth cities and ends in the historic Fort Worth Stockyards, where there is a ton of fun western-inspired fun. Catch a rodeo, ride a bull, shop for a new pair of boots 🙂 For adults, head to Mule Alley to eat or shop. Or, off to Hotel Drover for a cocktail or to explore their fabulous grounds.
You should stay at this modern cowboy-chic hotel, Hotel Drover.
The Grapevine Vintage Train heads back to Grapevine after your time exploring the Stockyards of Fort Worth. It's a fun, exciting adventure!
Events and Live Music at Hotel Vin
Hotel Vin Grapevine keeps guests and visitors entertained. The Junction, a spot for gathering and looking out at the train station, has live music, wine tastings, and events like yoga and special screenings like the Kentucky Derby regularly.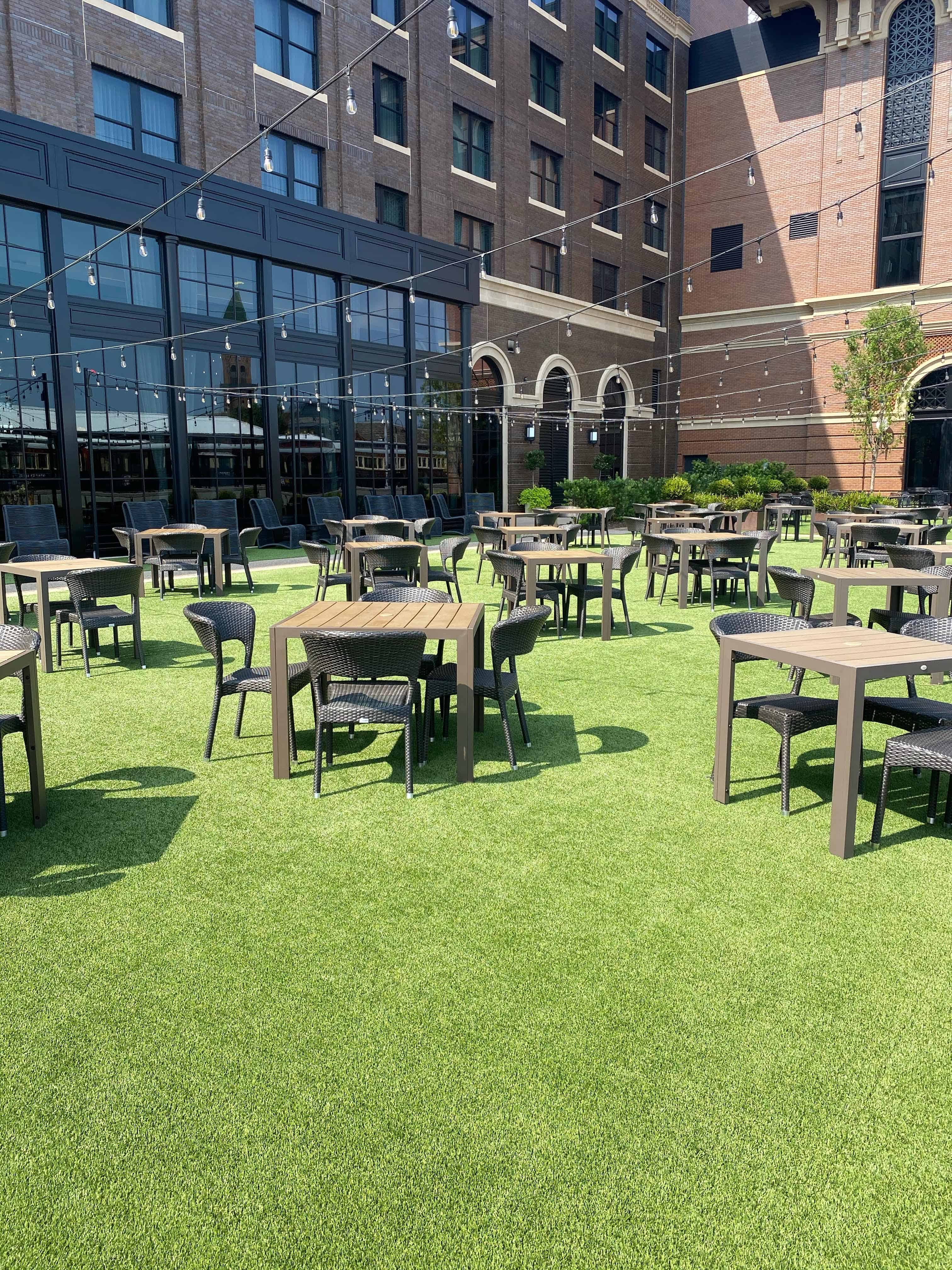 Main Street's 38,000 square foot plaza hosts live DJs, farmers markets, and a splash pad for kids to play in the hot Texas sun.
Hotel Vin is the perfect hotel for those looking to stay in Grapevine, Texas. Located just steps from historic Main Street and a short drive from Dallas or Fort Worth, this modern retreat offers guests luxurious accommodations with thoughtful amenities like complimentary valet parking and free WiFi access.
Whether you are traveling to the Christmas Capitol of Texas-Grapevine, TX, or staying close by in Dallas or Fort Worth, we invite you to book your next stay at Hotel Vin today! We hope that our review of what makes Hotel Vin so special has inspired you make plans to visit them soon.

This post may contain affiliate links that receive a tiny commission if one of the links is used. There is no obligation or cost to you, ever.