Grapevine, Texas, is one of my favorite cities in Texas. I am lucky enough to visit quite often as it is fifteen minutes away from our home in Argyle, Texas. We as a family have made many memories in Grapevine; some of our very favorite restaurants are in this cute town.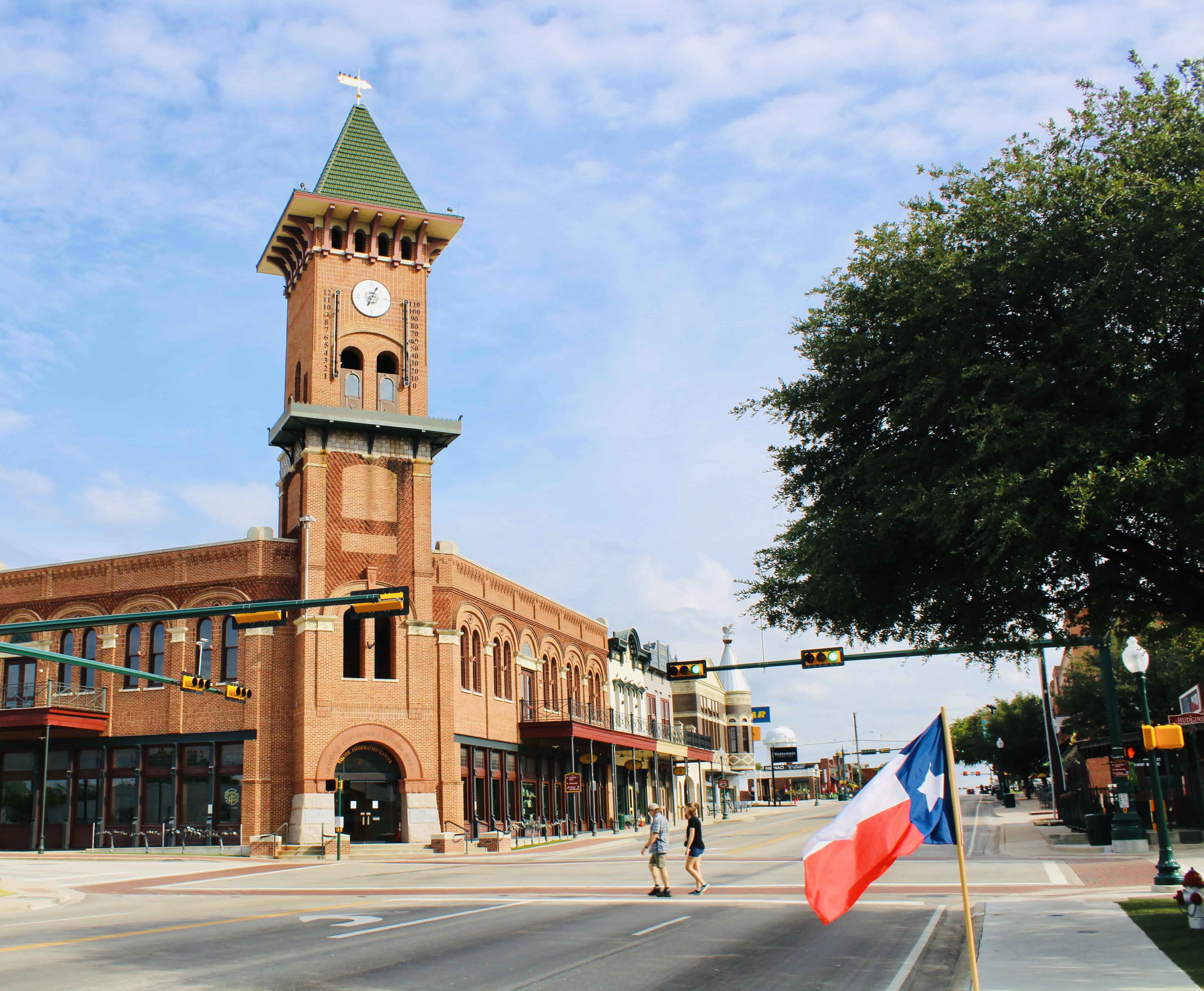 The City of Grapevine has so much to do for adults and children alike, and it is definitely worth adding it to your Texas bucket list. You will not be disappointed.
I read on Grapevine, and it rings true, "Grapevine, Texas is not a location, it's a destination." You will be able to spend a day, a weekend, a week in Grapevine and find something new and exciting to do.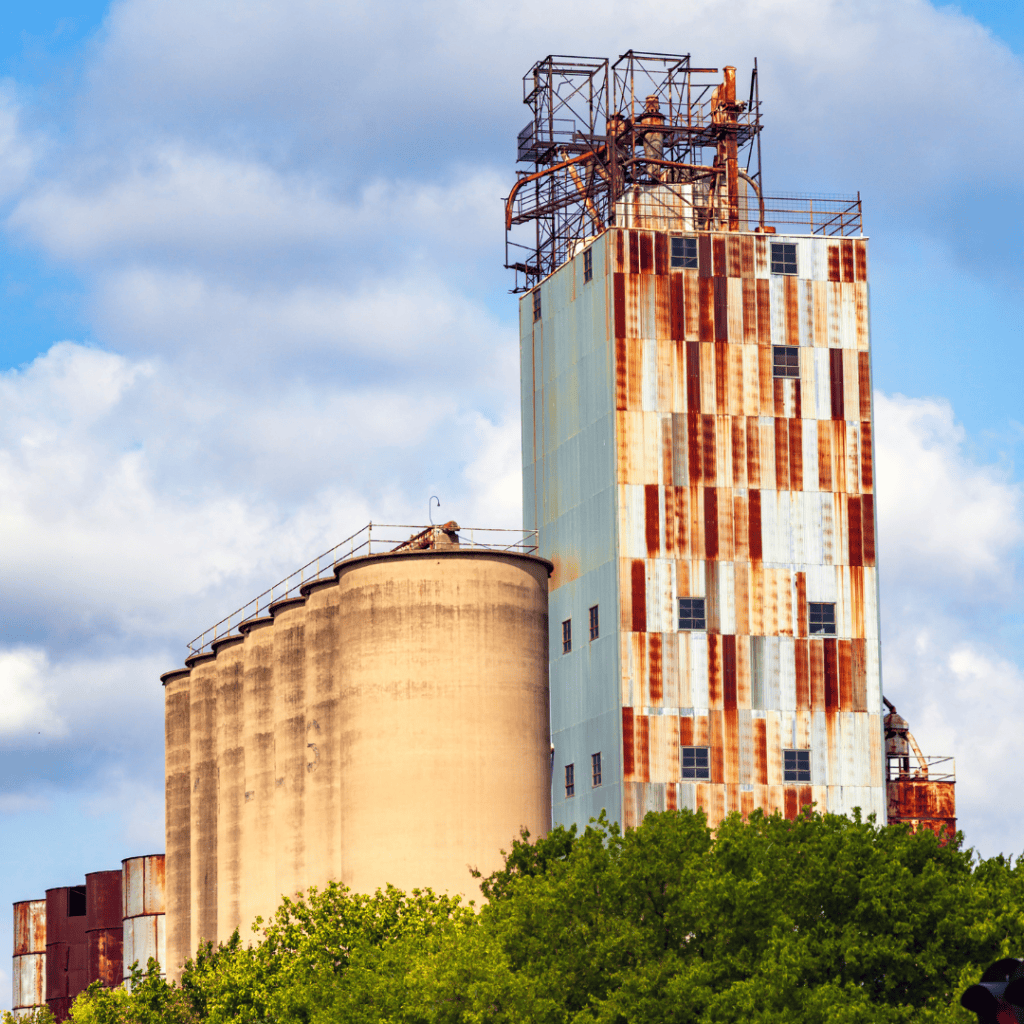 I have lived in Texas for 12 years now and visited Grapevine countless times and find a new attraction, something for the kids to do (which is one of the top towns in Texas for children's activities), try a new restaurant.
Grapevine, Texas, is a small city located just north of Dallas. It is within equal distance of Dallas, Texas, and downtown Fort Worth. It's perfectly situated between the two major cities. With its proximity to the metroplex, it's no surprise that Grapevine has plenty to offer in terms of culture and entertainment.
Let me introduce you to my favorite little town with so many things to do with your family and friends!
Quick History of Grapevine, Texas
Grapevine, Texas isn't just called that because it's a cute name for a quaint town. Little did I know when I moved to Dallas-Fort Worth that many of their towns are named for something specific, like Flower Mound, Texas. There is actually a mound of flowers.
Grapevine, Texas is "grapevine" because Grapevine's earliest settlers were attracted to the area by a grape arbor planted in 1847. Founded as an agricultural center, Grapevine became home to many of North Texas' first vineyards and wineries that produced wines from native grapes.
Seven historic districts within the city showcase Victorian-style homes built between 1870 and 1942 that range in architectural styles, including American Four Square, Stick Style, Eastlake Movement Arts & Crafts Revival Styles, Colonial revival style architecture with Queen Anne influences, and Bungalow/Craftsman ranch style architecture (source).
The town was incorporated on July 30th, 1887 – its name derived from the wild grapevines found growing throughout this region when it was settled.
Lucky for us, we can now enjoy the fruits of their labor.
These are the best things to do in Grapevine TX, from a loving local.
Historic Downtown Grapevine-Main Street
The first and foremost thing to do in Grapevine, Texas, is historic downtown Grapevine which is along Main Street. The hub of Grapevine is filled with over 80 clothing stores, candy shops, jewelry stores, restaurants, novelty stores, and winery tasting rooms beautifully preserved in this historic district.
Along with the shops and restaurants, you will find the rich history of Grapevine, Texas. Many historic sites in town highlight the region's heritage and offer interesting opportunities to learn more about this great place.
As you walk up and down Main Street, you will get a rich history lesson on the first settlers to the area. You'll be able to check out some museums and see buildings and historical exhibitions.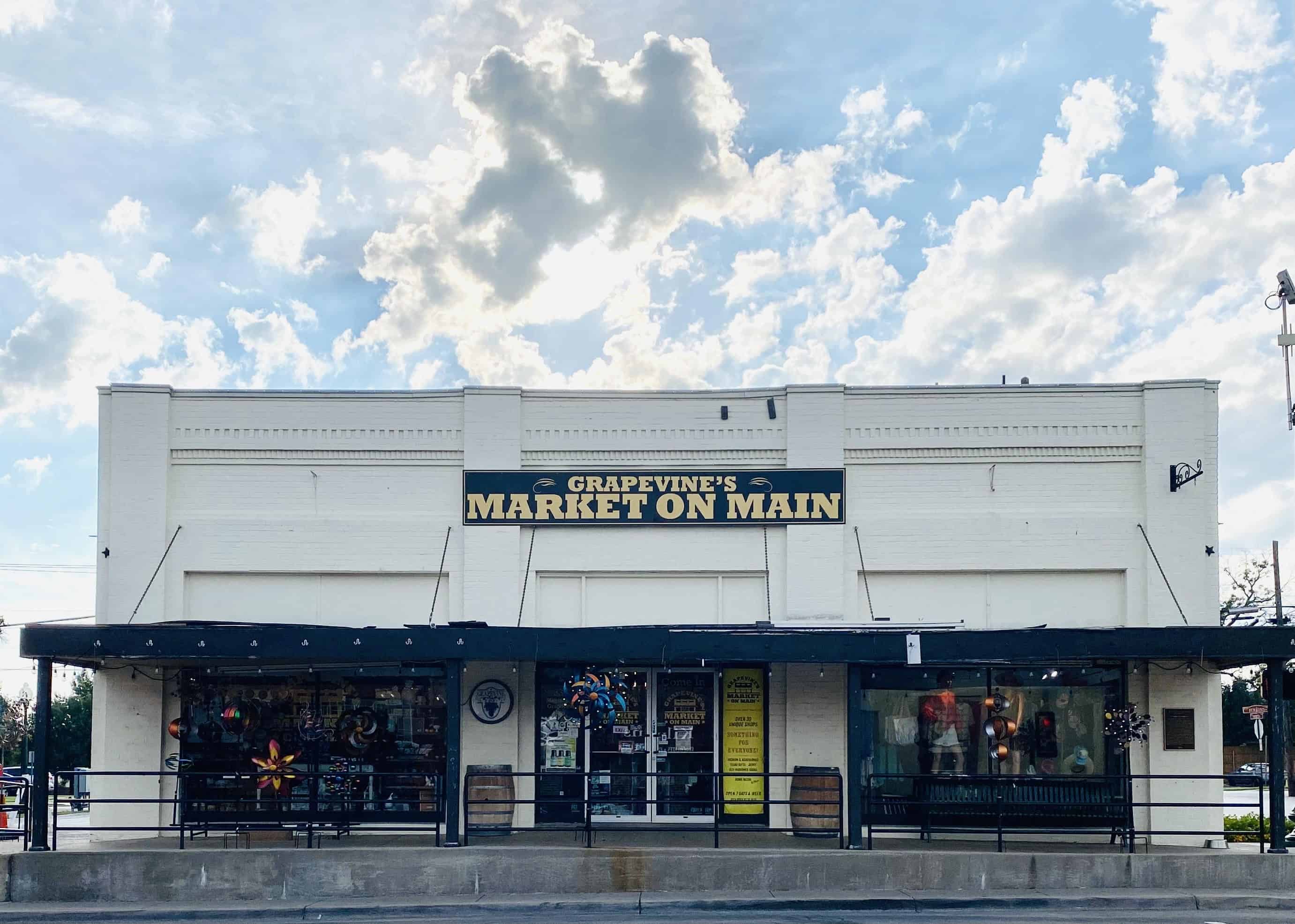 In addition, Grapevine has a significant cultural scene of art galleries, murals, public art projects, and art studios lined on Historic Main Street.
Not-to-miss shops and boutiques on Main Street Grapevine:
Grapevine's Market on Main, the only gift shop on Main Street filled with a variety of gifts, clothing, home décor, jewelry, Texan snacks, candy, & more
Good Things for All Seasons (which is so beautiful during

Christmas in Grapevine

)
Vetro Glassblowing Studio, a nationally-recognized, active glassblowing studio, and Fine Art Gallery.
Grapevine Olive Oil Company, filled with specialty olive oils, gifts, and balsamic vinegars.
The British Emporium, All things from across the pond. Grab some British goodies, treats and grocery items.
The Spice & Tea Exchange of Grapevine, this cute shop is filled with teas, spices and sugars.
Stay at Hotel Vin Grapevine
Hotel Vin is Grapevine's newest resident. This gorgeous hotel by Marriott's Autograph Collection sits right at the gateway of the Historic Main Street of Grapevine and at Grapevine's Vintage Railroad.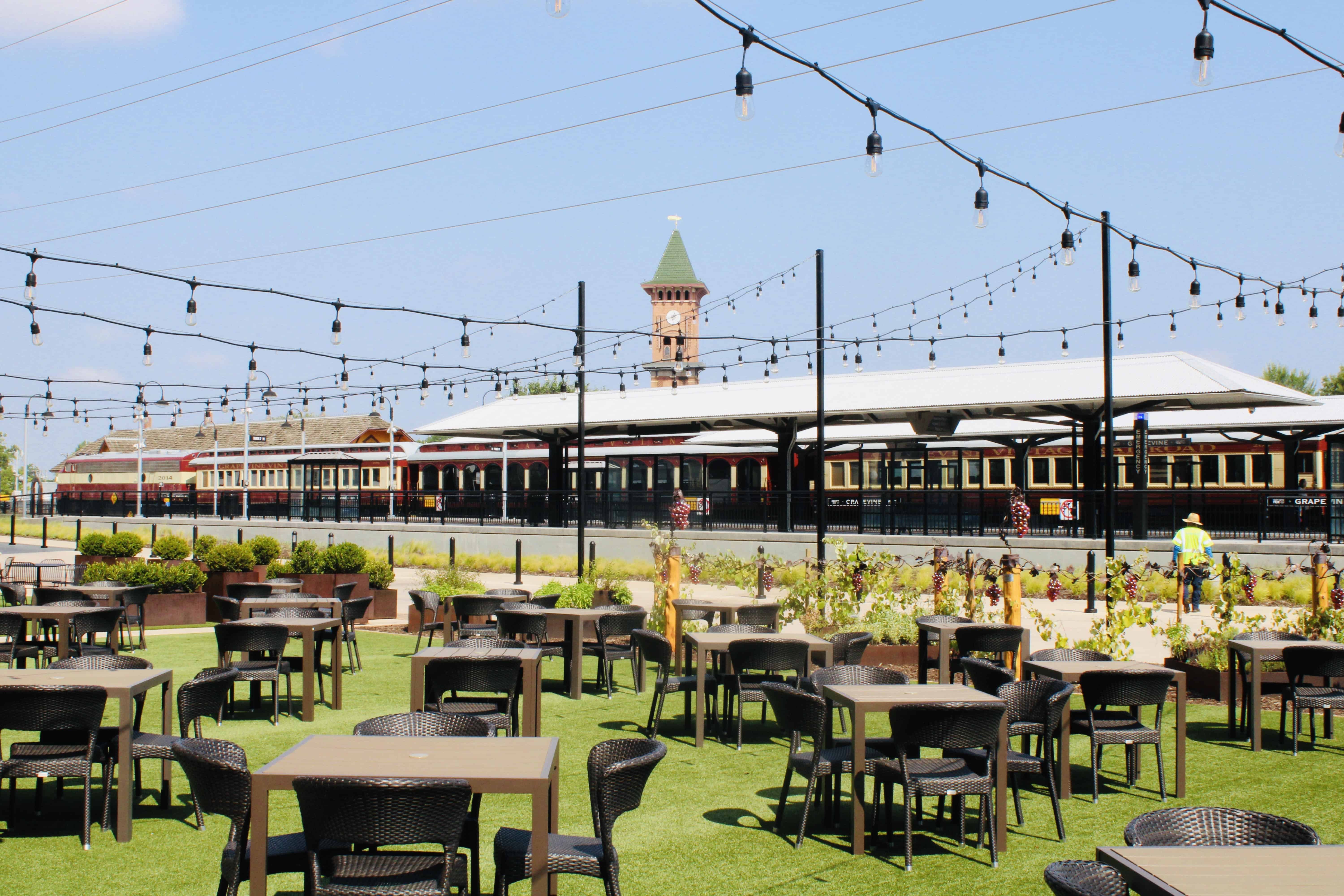 This is not your average hotel, and even if you do not stay here, I highly recommend it; please check it out. This hotel is located near almost everything Grapevine has to offer. Not only that, Hotel Vin has beautiful spaces to take photos, a stunning outdoor plaza, an observatory with 360 views of Grapevine, and in the distance, you can see all of the DFW Metroplex.
Our favorite part of Hotel Vin is the new European-style food hall Hotel Vin has to offer–Harvest Hall. The beauty of Harvest Hall's architectural interior is Grapevine's historical significance of the vintage railroads and unique history.
You can read more about our visits to Hotel Vin here.
You can sample from seven chef-inspired kitchens, grab a coffee or cocktail. Truly, a beautiful addition to the City of Grapevine.
Other places to stay in Grapevine I recommend:
Ride Grapevine's Famous Vintage Railroad
We recently took a staycation in the Fort Worth Stockyards. The stockyards have revamped the small area of downtown Fort Worth, and it is great. Steps from Hotel Vin, you can ride the Grapevine Vintage Railroad down to the Fort Worth Stockyards via the Cotton Belt Route. This is a fun thing for adults and children alike.
When you take the grapevine train to the stockyards, you will have an hour and a half to explore stockyards, shop, and eat some great food. For adults, a must-do is seeing Hotel Drover in Mule Alley, and for the kids, the fun is countless. Ride a bull, buy some new boots, a maze, candy stores, and a poor longhorn named Patron you can sit on.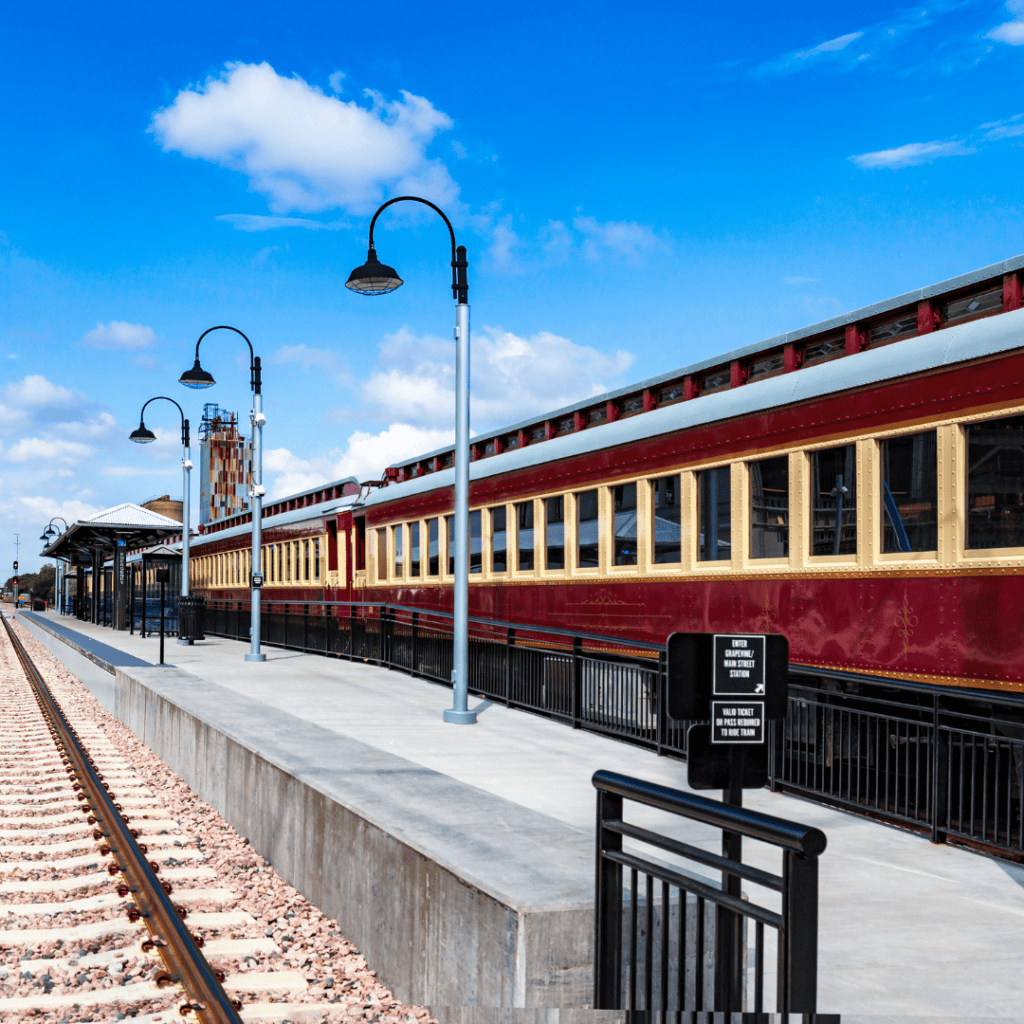 See a Classic Movie at The Palace Arts Center
I recently went on a day I did not have my children and went and seen an Elvis movie at the Palace Arts Center, a vintage movie house in Grapevine. I have always loved Elvis movies, and this little classic movie theater brought an extra layer of nostalgia. Later that month, I came with my kids for a fun experience, and we all watched the 80's movie- The Goonies. The experience was so much fun.
The Palace Arts Center in Grapevine would be a fun date night idea– wine at a local wine tasting room along Main Street, then head over for a classic film! If you are in Grapevine, this is a fun opportunity to add some nostalgia to your historical experience in Grapevine, Texas.
Do a Grapevine Wine Tour
In the United States, Texas is the fifth-largest wine-producing state. Grapevine is the wine capital of Texas. You can tour one of the city's many wineries, enjoy a festival dedicated to wine, GrapeFest, or sample an award-winning variety; Grapevine has it all.
Grapevine has the Urban Wine Trail, consisting of ten winery tasting rooms, like Messina Hof Winery, around Grapevine, most located close to one another. The Grapevine Urban Wine Trail lets you experience and sample all the best Texas wineries; you can see the map here. 
Or you may want to jump on a Classic Grapevine Lunch or Dinner Tour for a more detailed look and education on all these great Grapevine, TX wineries. 
The main event in Grapevine, TX, the largest wine festival, "GrapeFest" in Southwest, is held annually in September – what more could you ask for?
Stroll through the Gaylord Texan
The Gaylord Texan Resort is a marvelous resort all-year long and worth visiting or a great hotel in Grapevine to stay at. But the Gaylord Texan is even more so during the Christmas season in Grapevine.
Read: Grapevine Texas, The Christmas Capitol of Texas
You may enjoy an elegant brunch buffet; check out Gaylord's many themed attractions like ICE; ice sculptures are on display, as well as indoor snow tubing for those who want some wintertime fun without going outside! 
If you can make your way to or stay at the Gaylord Texan, their atrium will be filled with beauty and holiday cheer.
Every year, it's our family tradition to get a room at the Gaylord for their fantastic waterpark. The summer months also bring all sorts of water-filled adventures (you might consider renting a cabana!), making it perfect if you are traveling with children. 
Visit Nash Farms 
Nash Farms is the perfect free, family-friendly attraction for those looking to learn more about the historical significance of Grapevine in a fun way. The interpretive programs and touchable displays are great interactive activities that will have you feeling like part of the farm's history!
During October, Nash Farms grows pumpkins on their land, which should be enough reason alone to take your little one out there during pumpkin season.
Grapevine Botanical Garden
Near Nash Farm, is a beautiful but small Grapevine Botanical Garden, a few miles from Main Street. The Grapevine Botanical Garden is worth an afternoon to grab a picnic and head over. If you are traveling with kids to Grapevine, there is a fun park right in front.
Farmers Market on Saturday
Many Saturday mornings, I have gone to Grapevine while my co-parent has our kids. I have an excellent breakfast at Main Street Bakery and walk across the street to the Farmers Market on Saturday morning. The Farmer's Market is held most Saturdays and features local shops and produce. There is a great photo-op at the gazebo too!
Go to Grapevine Lake 
Grapevine Lake is located north of the City of Grapevine, behind the Gaylord Texan. Suppose you are looking to be active and outdoors?
In that case, Lake Grapevine is a vast and scenic lake that provides the perfect backdrop for some of Dallas/Fort Worth's most enjoyable outdoor activities. From fishing to camping, from boating to hiking, there are plenty of opportunities on offer at Grapevine Lake. 
Seasonal Annual Events and Festivals in Grapevine, Texas:
Summertime in Grapevine-June
GrapeFest: Held every September for four days. It's an exciting event with fun for everyone, including the kiddos.
Day Out with Thomas the Train-September
Hall's Pumpkin Patch in October
Sweetheart Wine Train in February
Jazz Wine Trains and Easter Bunny Train in April
I hope you enjoyed reading about things to do in Grapevine, TX! It is a fun town with many memories for our family and one that will always hold a special place in our hearts. We hope you put Grapevine on your Texas bucket list or visit soon!

This post may contain affiliate links, in which I may receive a very small commission from the link at no cost or obligation to you, ever. You can see my disclosures at the bottom of the page.