There are so many things to do in the Fort Worth Stockyards, our family's favorite area of Fort Worth. The Stockyards is slightly north of downtown Fort Worth and is known for rodeos, BBQ honky-tonks, cowboys, and saloons.
The redevelopment of the Fort Worth Stockyards is well underway and has become a bustling area for visitors and locals alike.
Moreover, this area has so many activities and things to do in the Fort Worth Stockyards, especially if you are traveling with kids.
The Stockyards are filled with activities, museums, restaurants, shops, trail rides, mazes, and mechanical bulls. Put your boots and cowboy hats on; let's go!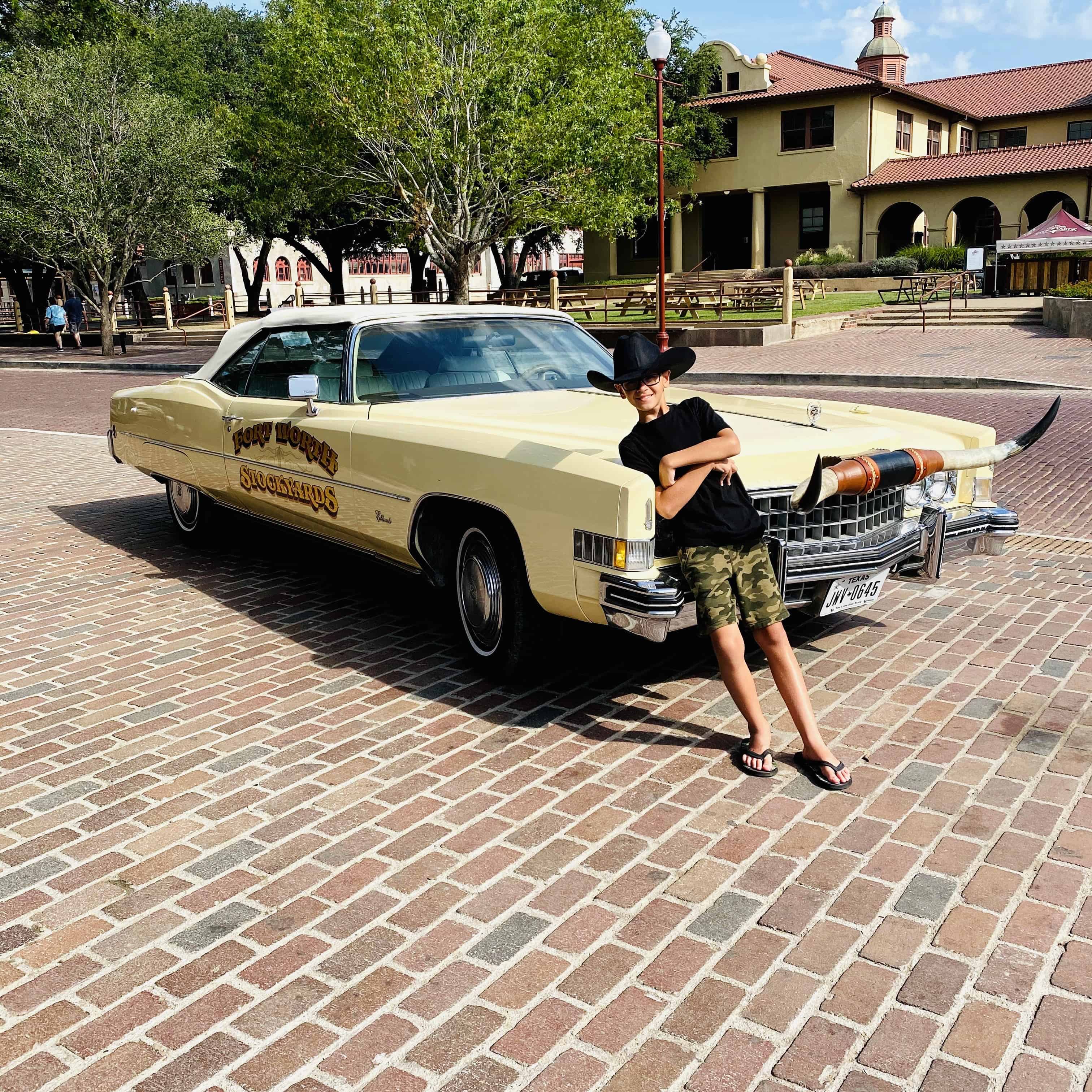 Fort Worth Stockyards Map
Take a picture on a real-life longhorn named Patron.
Patron is located right in front of the Stock Exchange Building in the Fort Worth Stockyards. After you take your photo, please mention to the cowboy with Patro: I, Jen, would still love to buy him and let him live out the rest of his life in peace in the fields of Argyle, Texas.
Stroll in and around Mule Alley in Fort Worth.
Once the ole rickety horse and mule barns is now a beautifully restored market of bars, saloons, restaurants, and shops, brick and tree-lined streets welcome you to a new level of cowboy-chic while maintaining the stockyard's historical significance.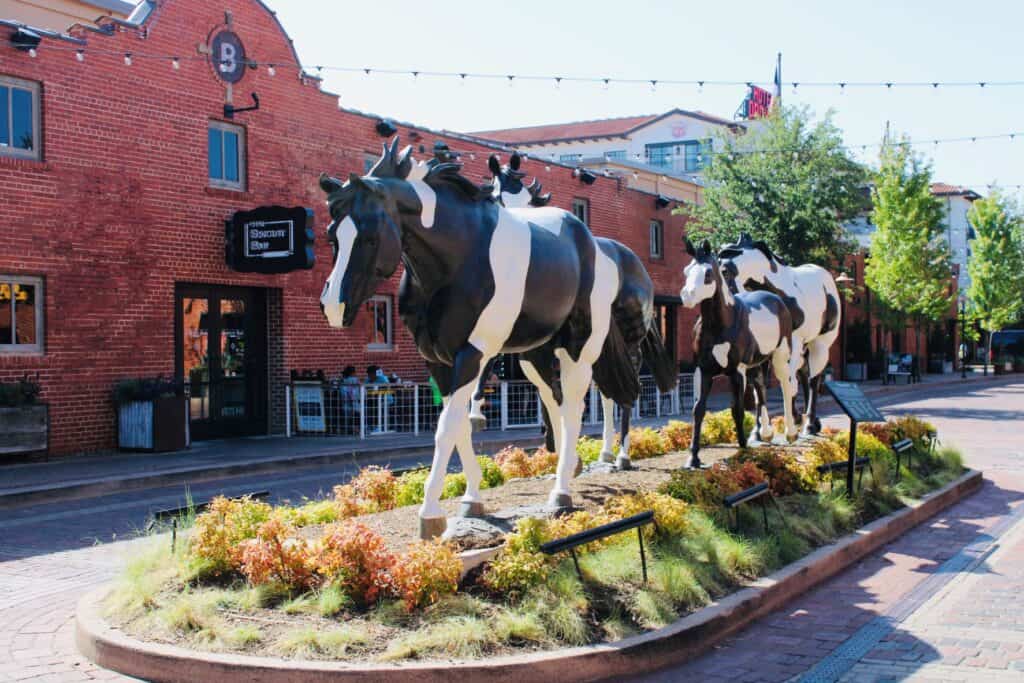 Fort Worth Stockyards Restaurants-Mule Alley:
Shake Shack. A New York City transplant with amazing burgers and shakes
Sidesaddle Saloon for cocktails and tapas
The Biscuit Bar. The line looks scary, but it goes fast and totally worth it.
Cowtown Winery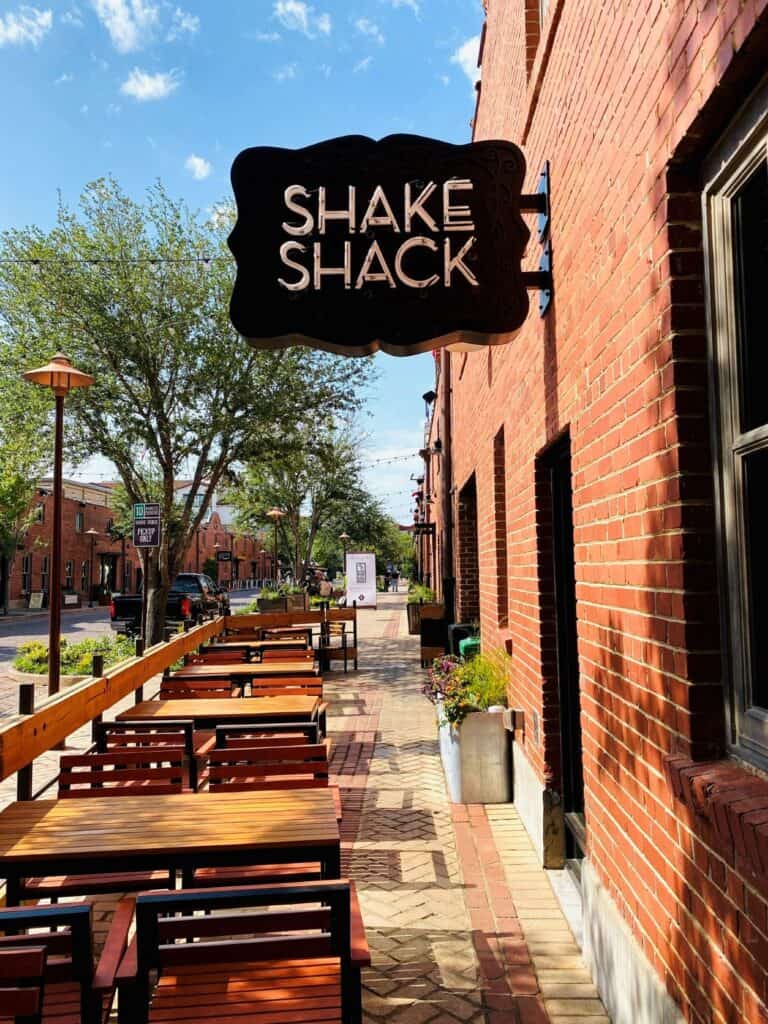 Not only is this cowboy-chic hotel our favorite Fort Worth Stockyards hotel, but it is my favorite hotel in all of Texas. Hotel Drover brought a level of luxury to the Historic Stockyards that is unprecedented.
Situated right in the heart of the Historic Stockyards and at the entrance of the redeveloped Mule Alley, Hotel Drover is the perfect Fort Worth Stockyards hotel to stay and visit. The Hotel Drover pool is what dreams are made of.
Not to mention, 97 West Kitchen and Bar is Drover's in-house restaurant and has excellent craft cocktails and contemporary ranch favorites. Hotel Drover does weddings, too if you're looking to get hitched 🙂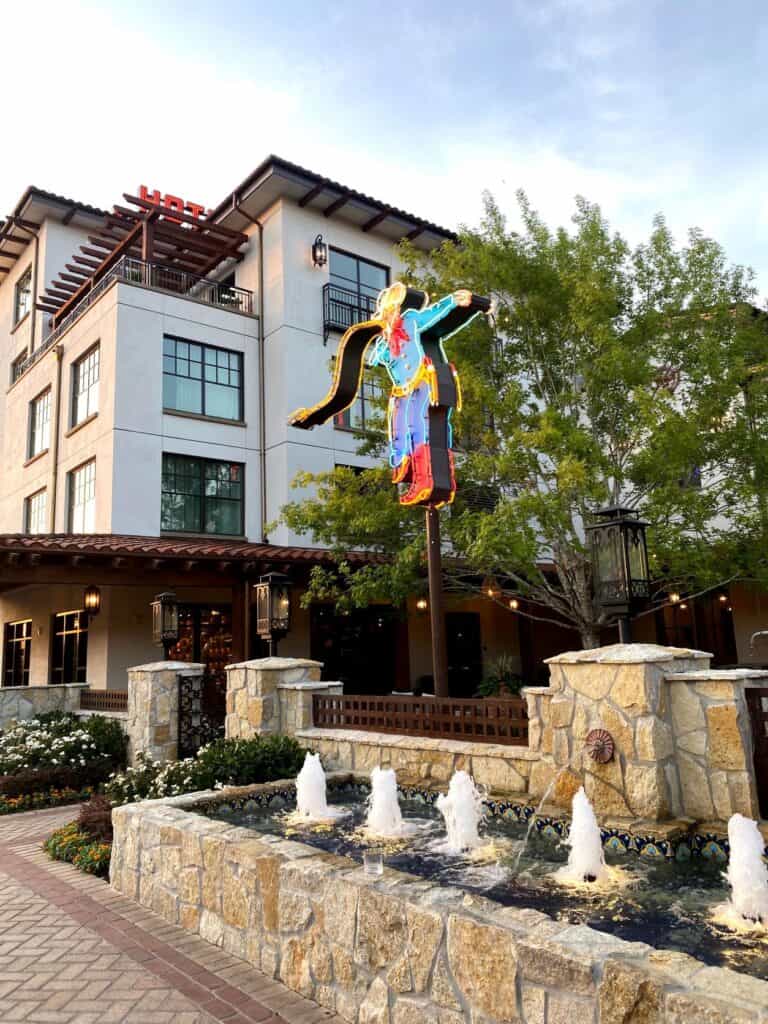 Things you should do at Hotel Drover:
You should book a room at Hotel Drover; it is a million percent worth it
If you are visiting, walk around, in and out, all around the grounds. Around every inch of this hotel, there is a new detail.
Additionally, there is a photo opportunity and an Instagram-worthy moment around every corner.
Eat at 97 West Kitchen and Bar
Come at night and sit under the twinkling patio lights, eat smores, listen to live music, and have a cocktail at The Backyard.
Hotel Drover weddings are everything a girl can dream of.
Read a few books on Texas history in the two-tier library.
Check out more about our trip to Hotel Drover.
Things to do in the Fort Worth Stockyards
Do you think you have what it takes to get out of the maze? If so, then this is an activity for you. The Stockyards' Maze offers multiple pathways and open areas where guests can explore independently or with friends.
Additionally, next to the Stockyards maze is the petting zoo filled with all kinds of farm animals like sheep, pigs, goats, and even some exotic animals such as camels and kangaroos occasionally.
Not ready to ride the real thing for 8 seconds? Try your hand at the mechanical bull next to the petting zoo. It is a good time for kids and adults. You will get a good laugh, guaranteed.
Horseback riding down the Chisholm Trail.
You can't visit without taking in one of Fort Worth's most popular attractions – horseback riding on trails through scenic pastures.
Guests ride Western saddles at their own pace around our picturesque ranchland and the Trinity River while learning about Texas history from an experienced guide.
You'll get the opportunity to ride down one of Texas' famous Chisolm Trails, down the Trinity River, and toward the Fort Worth Skyline. Located in the Stockyards near the maze and petting zoo at 157 E Exchange Ave.
See a Classic Fort Worth Stockyards Rodeo.
This is the only year-round rodeo every Friday and Saturday night, a must-do if you are visiting the Stockyards. You can't visit the famous Fort Worth Stockyards and not see a rodeo! See some of the best amateur and professional athletes on bucking bulls and wild horses.
If you are having a family fun night, be sure to register your child for the "Calf or Mutton Scramble" ribbon placed on the tail of a calf or sheep. The first participant to get the ribbon off wins a prize- and has bragging rights too!
Fort Worth Stockyards Restaurants-Eat Steak and Potatoes.
What is more cowboy than eating steak and potatoes at a Fort Worth Stockyard's Steakhouse? Head to my family's favorite steakhouse in Fort Worth-H3 Steakhouse, right on Exchange Street in the Stockyards.
Named one of the best steakhouses in Dallas/Fort Worth, H3 is a western-inspired restaurant with fantastic food and drinks. The best part of H3 Steakhouse? You don't have to be all fancy pants to enjoy a nice steak and potatoes. The kids will love this place too.
Ride the Fort Worth Stockyards Train.
In Grapevine, Texas, a train station is behind the Hotel Vin, the Grapevine Vintage Railroad that comes down to the Stockyards then back to Grapevine.
Likewise, the Stockyards Trinity River Excursion is a 45-minute train excursion that departs from the historic Ft. Worth stockyard and passes through many scenic parts of town, including crossing both channels of the Trinity River before finishing in an old railroad yard at 8th Avenue!
Join in on this fun, leisurely ride to help solve one of Fort Worth's most notorious mysteries: The Great Train Heist.
7 Reasons to Love Hotel Vin-Grapevine, Texas
Boot scoot at Billy Bobs Texas, the world's largest honky-tonk.
This place has everything you need to tap into your inner cowboy or cowgirl, from an indoor rodeo arena for professional bull riding to bar stations galore and restaurants with tasty grub. Don't miss out on some good down-home country music!
The Historic Fort Worth Livestock Exchange Building.
Visit this historic building that first opened in 1898. The building was an exchange for livestock traders to trade their animals without going outside on public streets; they would not be trampled or attacked by coyotes or wolves (not kidding!). Today it's still home to hundreds of businesses dealing with cattle and sheep breeding throughout North America.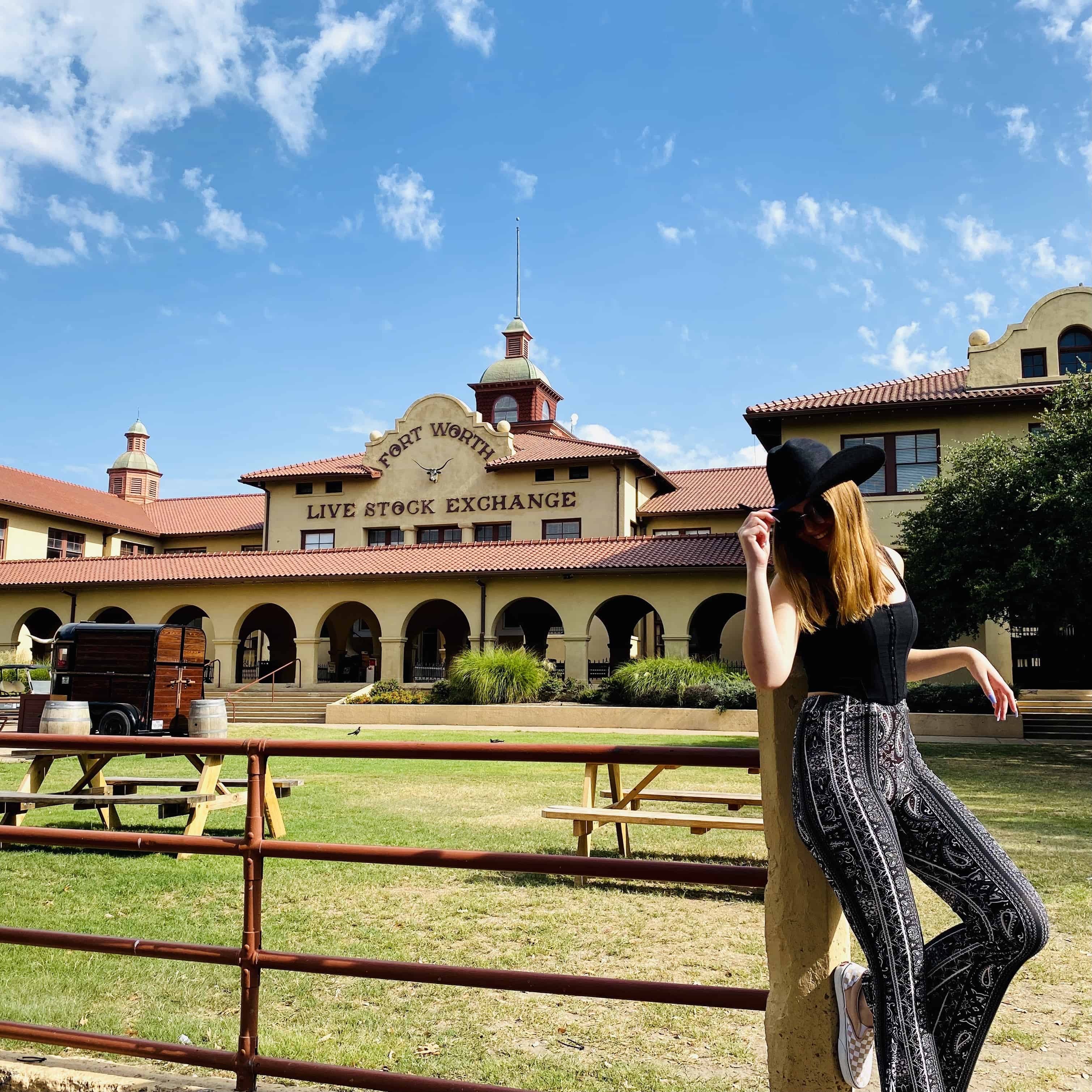 Museums at the Fort Worth Stockyards:
Fort Worth Stockyards Cattle Drive
The Fort Worth Herd is the only cattle drive of its kind in the world, with a twice-daily Texas longhorn cattle drive that takes place at 11:30 AM and 4 pm on East Exchange Avenue.
You can take pictures with the Drovers before each longhorn cattle drive. If you have children, ask the Drover for trading cards they have on hand for a fun surprise and souvenir.
The cattle can be seen before and after the show from an observation deck behind the Livestock Exchange Building.
Every detail of the Stockyards cattle drive is historically accurate, from the Drover's chaps, hats, and boots.
Get an old-time photo done.
Located at the Texas Cowboy Hall of Fame entrance, Jersey Lilly Old-Time Photos will provide you and your crew with authentic Old West costumes, backgrounds, and props for a vintage photo souvenir of the Stockyards.
Tips for the Stockyards of Fort Worth
Do not worry about parking; this is Texas, and we have plenty. There is plenty of paid parking from $5-$10. All the parking is close to Exchange Street, which has most of the attractions and restaurants
Bring extra icy water, especially if it is hot.
The Drovers and cowboys on horseback are friendly and will take pictures, don't be afraid to ask.
On Monday, most of the Stockyards are not open. It is a quiet day and is a great opportunity to walk around and snap pictures. Of course, Saturday and Sunday are the busiest time.
No heels, ladies. You will be dodging road apples, and the streets are brick-lined. Break out those cowboy boots and a flowy dress.
Fort Worth Stockyards Hotels
Hotel Drover at the back of Mule Alley is a simply beautiful addition to the Stockyards. It is our very favorite hotel in Texas.
The Hyatt is right on the main street, Exchange Street near all the restaurants and fun.
Courtyard Marriott Fort Worth Stockyards. This property has a great rooftop to see all of the Fort Worth Stockyards and is within walking distance of all the fun. And it's reasonably priced.
This post may contain affiliate links; I may receive a small commission if one of the links is used at no cost or obligation to you, ever. It is how my kids and I share our journey to happiness with you 😉