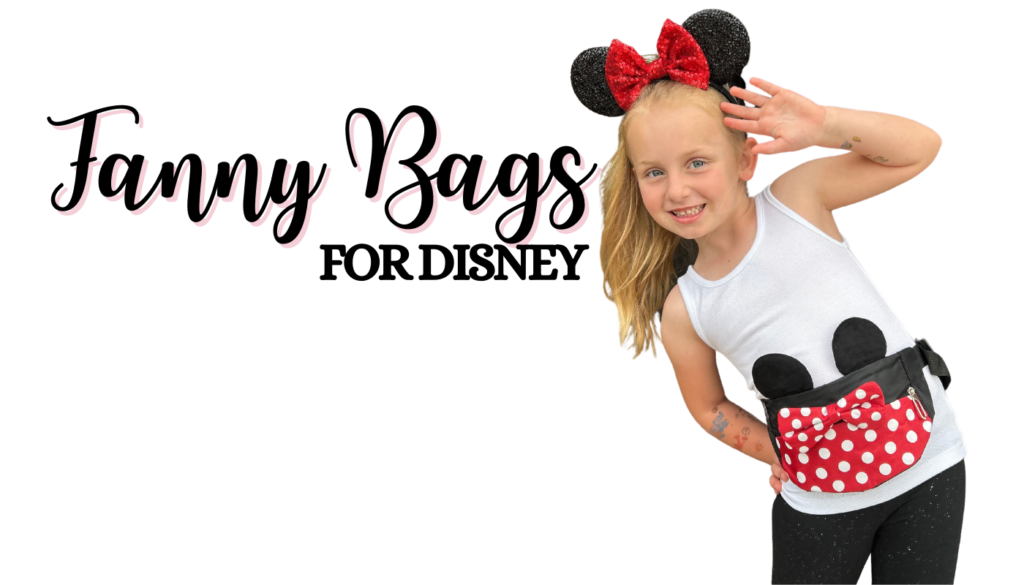 Let's take it back to the 80s with the nostalgic fashion piece–the fanny pack. Today, you may call it a belt bag, bum bag, or moon bag. Whatever you may call it, it's a super convenient bag to wear to Disney Parks. Heading to Disney can be an exciting adventure, but carrying things around can become a bit of a hassle, especially on rides when you want to hold on instead of worrying about your bag. This is where a Disney fanny pack comes in handy.
A Disney fanny pack is the perfect companion for a Disney day out.
With the right fanny pack, you can keep your hands free to ride on rides and explore the park, while still having your essentials within easy reach. The best fanny pack for Disney should be lightweight, compact, comfortable, and practical.
With multiple compartments, an adjustable waist, and water-resistant material, a Disney fanny pack offer great convenience and flexibility, especially when hugging and taking pictures with your favorite characters.
You can choose any Disney belt bag to match your personal Disney style or a plain fanny pack to complement it.
We are packing for another trip to Disney. On the days I am with my older kids at Disney California, I will be with a Disney fanny pack. For the Disneyland days, I wear a backpack. You can find the best bag for Disney here.
My toddler as you can see is getting in the vibe with adorable kids' Disney bum bag. Now all she is missing is an 80s Mickey Mouse Clubhouse t-shirt! Hmmm, I think I may have to find one before we go again.
Happy Disney Travels! Let's get to it.
Disney Fanny Pack
Shop Freshly Picked Classic Park Fanny Pack
Looking for a stylish and functional way to carry your essentials on your next Disney adventure? The Freshly Picked Classic Park Fanny Pack is a versatile bag that doubles as a fanny pack and a crossbody bag, making it the perfect accessory for any Disney Park outing.
With an easy-open magnetic clasp and durable, high-end vegan leather construction, this pack is built to last. Plus, with four interior card slots and a hidden zippered pocket for valuables, you'll never have to worry about losing your important items while on rides or snacking on churros.
Best Bag For Disney: We have rounded up the best bags for Disney. From backpacks, crossbody, fanny packs, and diaper bags, we have it all HERE!
Shop ODODOS Unisex Mini Belt Bag
Get ready to add some extra magic to your Disneybound outfit or color-coordinate your outfit with this cute and convenient mini belt bag.
With its versatile adjustable strap, this Disney fanny pack can be worn in a variety of ways to fit your needs, from a crossbody bag to a bum belt. And don't let its small size fool you – the roomy interior can hold all your essentials, like your phone, wallet, and passport. Plus, the durable fabric and water-resistant design make it the ideal bag for your next ride on Splash Mountain.
Shop WINGHOUSE x Minnie Polka Dots Disney Fanny Pack
Get ready to add some serious cuteness to your outfit with the WINGHOUSE x Minnie Polka Dots Cute Ribbon Fanny Pack. Whether you're heading to the happiest place on Earth or just running errands, this Disney bum bag is sure to be your new favorite accessory.
Not only is it super adorable with its fun polka dots and pretty ribbons, but it's also incredibly comfortable to wear thanks to the adjustable belt that fits perfectly on all body types.
And let's not forget about the amazing quality – this Disney fanny pack is well-made and has a unique red zipper handle. Plus, with plenty of room in the zipper pouch, you'll have no problem carrying everything you need, including your phone and other travel essentials.
Shop Buckle Down Disney Fanny Pack
Get ready to add a touch of magic to your Disney trip with the Buckle Down Disney Bag Fanny Pack! This must-have accessory showcases adorable Mickey Mouse expressions all over, which is sure to bring a smile to your face.
The premium canvas material makes it both stylish and durable. With plenty of space to carry your phone, wallet, keys, and more, you can keep all your stuff close while showing off your love for the iconic Disney character. The gorgeous artwork is applied using the latest printing technology, so you can trust it will remain just as vibrant over time.
Are you on the lookout for a cute and functional fanny pack for your upcoming Disney trip? Not only is this bum belt super affordable, but the super cute design will also have you standing out in the crowd.
With three compartments, it's roomy enough to fit all of your items, including diapers, wipes, cards, phone, and even a change of clothes for your little one.
And the adjustable waist strap means this fanny pack will fit waist sizes from 21 to 47 inches, so it's perfect for adults and teen girls. Wear it around your waist or over your shoulder for added versatility.
Looking for a hip pack that's both fashionable and full of character? Look no further than this Donald Duck hip pack! Featuring Donald in all his glory, this pack is sure to bring some attitude to any outfit.
And with one zip compartment and a front mesh pocket, it's both practical and stylish. Perfect for fans of classic Disney shorts or anyone who wants to add a little boldness to their wardrobe. So don't miss out on this bold and bright accessory!
Disney Belt Bag
Petunia Pickle Bottom Adventurer Belt Bag
The Petunia Pickle Bottom Adventurer Belt Bag is the perfect companion for all kinds of adventures! This stylish bag, made in collaboration with Disney, is packed with features that make it great for moms on the go or those who want a roomy Disney bum bag.
Carry your must-haves with convenience and ease with the three carrying options available: waist belt bag, trendy crossbody purse or wristlet look. It has an exterior and interior zippered pocket, and fits your cell phone, keys, wallet, and maybe even a spare diaper – don't worry if it gets too dirty – it's machine washable!
This belt bag will clip to a stroller quickly thanks to the wristlet strap attachment feature and experience the magic with the Disney belt bag wherever you go.
Best Backpacks for Moms: We found the most highly-rated backpacks with mom (and dad) in mind, check out the best backpacks for mom HERE!
Ladies and gentlemen, the most popular belt bag on the internet, is the Lululemon bag. Whether you are heading to Disney or want it for everyday use, this belt bag is the perfect size and on-trend.
This versatile bag has become a must-have for anyone who wants to keep their phone, keys, wallet, and other valuables close at hand while on the go. Whether you're exploring Disneyland or simply running errands around town, this Disney waist bag is the perfect accessory for any occasion. With an exterior zippered pocket to protect your most valuable items, you can trust this bag to keep your belongings safe and secure.
Shop Zorfin Bum Bag for Women & Men
With its premium Nylon material, this is an affordable Disney bum bag is built to last through any park adventure. The soft material lining the fanny pack inside ensures that your phone stays scratch-free.
But the real standout feature is the adjustable strap, which easily adjusts to your desired length and can be worn in a variety of ways. With four separate zipper pockets and three card slots, you can carry everything from your headphones to your lipstick. And for those Disney fanatics out there, this bum bag comes in several colors to match your Disney character theme.
As you step foot inside Disney Parks, the last thing you want to worry about is managing your belongings. That's where the Minnie Mouse Bum Bag comes in handy! This lightweight, sturdy, and fashionable bag is perfect for all your essentials.
Featuring various zipper slots, you can easily insert and use them according to your needs. The square front zipper slot is designed to prevent internal objects from flowing out easily, ensuring your belongings remain secure while standing in lines or riding Space Mountain.
The main zipper slot, decorated beautifully in the shape of a ribbon, can be quickly opened and closed on both sides, making it easy to access your things. This bag can hold just about anything, from your water bottle to your notebook to your hand mirror. So, grab your Minnie Mouse Bum Bag and enjoy a stress-free day at Disney Parks!
Shop MAXTOP Large Crossbody Fanny Pack
Experience the ultimate convenience and style with the MAXTOP Large Crossbody Fanny Pack. This Disney fanny pack is perfect for various occasions and offers many ways to wear it due to its widely adjustable long strap. You can wear it in front of your waist, as a belt bag, back on your hip, slant across your chest, or over your shoulder.
The pack also features a creative key fob hook and an inner pocket to prevent any scratches on your phone. The theft-proof hidden zippered pocket at the back side ensures that your valuables are kept safe.
Disney Bum Bag
Shop Star Wars The Child Bum Bag
Are you a Star Wars fan who can't get enough of The Child (Baby Yoda)? Well, you're in luck because Buckle-Down released a bum bag featuring everyone's favorite adorable character!
Made from premium canvas, this sleek and stylish bum bag fanny pack is perfect for carrying all your essentials, like your phone, wallet, keys, and more.
The gorgeous artwork is applied using the latest printing technology, so it's sure to hold up well over time. Plus, as an officially licensed product by Lucasfilm Ltd., you can show off your love for the Star Wars franchise with pride. Get ready to turn heads and show off your fandom with this must-have Disney bum bag!
Shop The Mandalorian Disney Bum Bag
Attention all Star Wars fans! Get ready to level up your style game with the Disneyland fanny pack featuring The Mandalorian. This Disney fanny pack is not only sleek and stylish, but it's also made from premium canvas, ensuring that it's durable enough to withstand even the toughest of adventures.
With enough space to carry all your essentials, including your phone, lip balm, wallet, and keys, you'll be ready to take on the world (or the galaxy) in style. Plus, when you arrive at Star Wars: Rise of the Resistance, you'll definitely want to have this statement piece by your side, (er, bum).
Swing into action with the Spiderman Disney fanny pack! This high-quality waist pack is a must-have for any Marvel fan on the go. The friendly size is perfect for carrying your essential items, while the two zippered compartments and one zippered inside bag provide ample space to store your belongings.
Designed with comfort in mind, the backside is made of wear-resistant, breathable nylon mesh. Plus, the adjustable waist strap can be customized to fit anyone from 12 to 35 inches.
Shop WINGHOUSE X Spider-Man For Toddlers
We are going to add this one in for toddlers because this Spider-Man fanny pack is too cute. With its practical design and adjustable waist belt, this small fanny pack is not only functional but also fashionable.
Equipped with a quick-release buckle, it allows for easy access to your child's things. Whether you're planning a trip to Disneyland or just need a convenient way to store your child's essentials, this multi-functional fanny pack is a great choice. Plus, featuring the beloved superhero Spider-Man, your child will feel like a true hero themselves!
Travel Backpacks For Toddlers: Does your tiny traveler need their own little backpack for the airplane or a road trip packed with all their fun travel toys and items? We have the nine best to make them feel happy and independent HERE!
Add some Disney magic to your everyday routine with the Minnie Mouse Bum Bag. Not only does it feature Minnie's iconic bow in larger-than-life size, but it's also practical for any adventure.
Whether you need to carry a little or a lot, this Minnie Mouse bum bag has a spacious interior that has room for all your necessities. Take it on your next Disney theme park adventure, or wear it around town for a fun and functional accessory.
COACH Walt Disney World Motif Belt Bag
Get ready to step back in time with the COACH Disney Parks Walt Disney World Motif Charter Belt. Made from pebbled cowhide and featuring a debossed, retro-inspired graphic, this accessory truly embodies the essence of the 80s.
Not only does the adjustable grosgrain belt strap with stripe pattern add to the overall vintage appeal, but the logo twill lining also lets you know that you are sporting a high-quality item. Whether you're hitting the theme parks or just want to add some fun and whimsy to your wardrobe, this Disney belt bag is a perfect choice. So, why not embrace the nostalgia and grab one for yourself?
Shop Herschel Seventeen Waist Pack
With its sleek design and versatile functionality, this Disney hip pack can be worn around the waist or over the shoulder, making it easy to carry all your park essentials wherever you go. The waterproof zipper detailed front pocket is a great feature for those unexpected rainy days, while the ample main compartment provides ample space to store all your belongings.
And for the Disney fanatics out there, the collection also includes fun and colorful fanny bags to match any of your favorite Disney characters.
Crossbody Fanny Pack
Shop INICAT Crossbody Fanny Pack
The INICAT crossbody fanny pack is the perfect accessory for Disney World. Made with premium faux leather, this Disney belt bag is lightweight yet durable. Its two zip pockets and card slots allow for easy storage of all your small travel essentials like credit cards, chapstick, keys, and cash. And for those who need their phones super handy, this fanny pack also has a big pocket to keep your phone safe and secure.
Not only is it functional, but it also adds a touch of style to any Disneybound outfit. Wear it as a small crossbody fanny pack, a sling bag, or even a backpack shoulder bag. And the best part? You can keep your hands free while enjoying your favorite Disney theme park or outdoor activity.
Shop Petunia Pickle Bottom Crossbody
The Petunia Pickle Bottom Criss-Cross Sling Bag is the best crossbody bag for Disney for your next adventure to the Magic Kingdom. Designed for those with an on-the-go lifestyle, this bag is both versatile and agile.
With three convenient pockets and a sleek, fashionable look, this Disney crossbody is the ultimate solution for carrying your child's or baby's essentials. Whether you choose to wear it on your back or front, you can rest easy knowing that your belongings are safe and sound.
Get ready to turn heads with this adorable Disney crossbody featuring Minnie Mouse lollipops all over! Made from premium vegan leather, it's not only stylish but also eco-friendly. It's the perfect size to hold all of your favorite things including your phone, wallet, keys, and more.
The artwork is stunning and applied with the latest printing technology, ensuring its longevity for all your future Disney adventures. The bag is also officially licensed by Disney, so you know you're getting a high-quality product.
Whether you're headed to Disneyland, on a weekend trip or just running errands, you'll love the convenience and style of this Disney crossbody bag.
This post may contain affiliate links. I may receive a small commission if a qualified link is used at no cost or obligation to you ever. Additionally, I am an Amazon Affiliate Partner. I may receive a commission if a qualifying link is used.