As moms, we constantly find ourselves juggling numerous responsibilities and items, especially during those delightful beach outings with the family. In these moments, having a simple, organized solution can make all the difference in keeping our peace of mind. Enter the best mom beach bag, a must-have companion designed to streamline our lives and make those beach days all the more enjoyable!
We head to the beach often and on our last trip to Newport Beach, I realized how unorganized I was in carrying everything we need. And we all know as moms, we are responsible for it ALL, sunscreen, beach balls, towels, shovels toys, snacks, ouy.
So I went on a hunt for the best mom beach bag for our next trip to Rosemary Beach coming up this summer. I narrowed the selection down to the very best and highly recommended.
I wanted a beach bag that features clever compartments and pockets to keep our belongings tidy and easy to access. I also wanted to find the best pool bags for moms for our trips to our neighborhood pools.
So say goodbye to the hassle of disarray and allow yourself the luxury of truly stress-free beach moments, creating unforgettable memories with your loved ones (and don't forget the sandwiches 🙂
Happy Beach Vacay!
Best Beach Bags For Moms
A day at the beach has never been more enjoyable than with the Becokan beach bag tote! With its extra-large capacity, this best mom beach bag can easily store everything you and your family could possibly need for a fun-filled day in the sand.
Holds 4-6 large beach towels, extra clothing, sunblock, snacks, and so much more.
Perfect for use as a swimming pool bag, nursing bag, weekend bag, cruise essential, or even for everyday use.
Unique double waterproof, sand-proof, and oilproof material. After extensive market research and thousands of tests, the result is a superior fabric.
More durable and lighter than ordinary travel totes, but also lasts up to 5 years longer. And as a becomes a waterproof phone case – ensuring you and your devices stay protected no matter the circumstances. The Becokan Beach Bag Tote is truly a travel essential for women for your next beach vacation.
Best Backpacks for Moms: We found the most highly-rated backpacks with mom (and dad) in mind, check out the best backpacks for mom HERE!
Shop All Things Beach Bag by Fit + Fresh
This beach bag for moms isn't messing around. You will be able to get everything and anything you need for a pool day or beach day in this super-large beach bag.
The Foundry by Fit + Fresh All The Things Beach Tote Bag is the perfect option for anyone who wants to truly take everything they need for a day outside. This jumbo weekender bag has plenty of room for all your travel and beach essentials, from toys and beach towels to snacks and packed lunches.
The best part? You can take this bag with you anywhere, no matter where your day takes you. Its water-resistant cotton design can handle loads of up to 50 lbs, so you never have to worry about leaving any essentials behind.
These beach bags for moms always delivers functional and distinctive styles for both women, as well as their kids, so you know you're getting quality when you choose this brand.
If you're a mom heading to the beach this summer, the HOXIS Mesh Beach Tote is a must-have. Not only is it the best-selling, super affordable beach bag on the market, but it's also an excellent value for the price.
The spacious design allows you to pack everything you need for the day, including towels, sunscreen, and snacks, without feeling like you're lugging around a heavy bag. Plus, the lightweight material makes it easy to carry around, even when it's packed to the brim.
One of the biggest perks is that it doesn't retain sand, so you won't have to worry about tracking it into your car or home. Overall, this durably constructed bag is a mom's dream come true for a day at the beach.
Travel Essentials for Women: Everything you need for a relaxing, amazing, and organized vacation is HERE!
Shop Colorful Bluboon Beach Totes
Moms know that going to the beach with kids can be an adventure in itself. Between packing snacks, sand toys, and enough towels to wrap up a small army, the logistics can be exhausting.
But fear not, because the best mom beach bag is Bluboon Beach Bag. With its smart design wet compartment, you can throw all those dirty clothes and wet towels in there without worrying about getting everything else soggy.
And with tons of pockets and space, you'll have plenty of room for all your beach essentials – from sunblock to water bottles to toys. Plus, the waterproof and sand-proof material means you won't have to worry about any messes seeping through to your valuables stored in the interior pocket. Say goodbye to beach-day stress and hello to easy-breezy fun with one of the best beach bags for moms.
Shop Odyseaco Lightweight Beach Backpack
Are you a mom on the go seeking a stylish and practical backpack? Look no further than OdyseaCo's mesh backpacks, perfect for any beach or pool day. Not only are they light on the shoulders, but their heavy-duty drawstring straps ensure all your kid's beach essentials stay safe and secure.
Plus, with a removable internal pocket, you'll have even more storage space. Made from neoprene material with a mesh panel, this backpack is perfect for beach trips, workouts, or everyday use.
Get ready to hit the beach in style with the DALIX Premium Monogrammed Beach Bags. Designed to add a touch of sophistication to your beach attire, this bag features a striking striped pattern with customized lettering embroidered to perfection.
You can rest assured that each bag is made with great attention to detail, ensuring that the embroidery is clearly visible and expertly created. But that's not all! This tote bag is made with 100% Cotton and boasts a heavy-duty 18 oz. canvas material. It is one of the cutest "Martha Vineyard-chic" beach bags for moms and the perfect accessory for your next beach trip. all your beach essentials will fit perfectly while still looking chic.
Carry-On Bags for Women: We found the most practical, convenient, and stylish carry-on bags for women, you can find the guide HERE!
Shop Bluboon Mesh Beach Tote Bag with Cooler
Looking for a functional yet fashionable tote bag for your next beach trip? Look no further than the Bluboon Mesh Beach Tote Bag with Cooler. Not only is this bag stylish and lightweight, but it also has a built-in detachable cooler perfect for keeping your lunch and drinks fresh and chilled.
With mesh sides and zip pockets, you can easily organize and access all your beach essentials. Plus, its large capacity is one of the best beach totes for moms to carry all their kids- towels, books, and swimming accessories. Say goodbye to clunky coolers and hello to this sleek and practical beach tote.
This high-quality bag is not only the best mom beach bag out there, but also perfect for just about any occasion. Made of interwoven polypropylene, the all-weather woven fabric is both durable and water-resistant, making it the ideal choice for pool or beach days or other outdoor adventures.
And, even better, the fabric is easy to clean and holds its shape when wet, yet softens with wear.
The stable, burst-proof bottom of this utility tote bag helps it retain its shape even when packed full, and the interior key ring ensures your keys are always within reach. As if these features weren't enough, the SCOUT Original Deano is collapsible for easy travel, pool, and beach days Its unique fold-flat design allows it to take up less space in your pantry or trunk when stored and easily packs inside your luggage for your next adventure.
Shop Neoprene Multipurpose Beach Bag
This colorful neoprene beach bag for moms combines style, functionality, and convenience. Available in a variety of colors, this bag is perfect for moms who love to spend time at the beach with their families.
Not only is it fashionable and spacious enough to hold all your beach essentials, but it's also incredibly easy to carry. Thanks to its lightweight design and sailing rope handles, you can comfortably tote it around all day without worrying about it weighing you down. And when it's time to pack up and head home, simply fold it up and stow it away in your suitcase.
Plus, the neoprene material makes it durable, machine-washable, and quick-drying, so you can use it again and again for years to come. Treat yourself to the best mom beach bag today!
Enjoy a day in the sun without worrying about how to haul everything with you! Say hello to the Dejaroo Mesh Beach Bag, one of the best beach bags for moms, and super affordable!
Finding a beach bag with pockets that can accommodate everything for your kids, sunscreen, towel, drinks, and more isn't always easy. However, the Dejaroo Mesh Beach Bag is the perfect solution for all your beach needs. It's not only super affordable, and comes in your favorite colors, but is designed to organize all your beach essentials, ensuring that you have everything you need in one place.
Summer is finally here, and it's time to hit the beach! And as a mom, you can still have a little fun with your beach accessories and bags! The btb Los Angeles Straw Beach Tote is the perfect solution to your beach bag woes.
This roomy tote is woven from sturdy straw, giving it a fun and laid-back feel. The structured silhouette and flat base provide stability, so you don't have to worry about your bag tipping over. And with a linen lining, you can rest assured that your pool and beach essentials will be safe and organized. So, whether you're planning a beach day with the family or a solo getaway, be sure to showcase your vacay-ready style with this fabulous tote.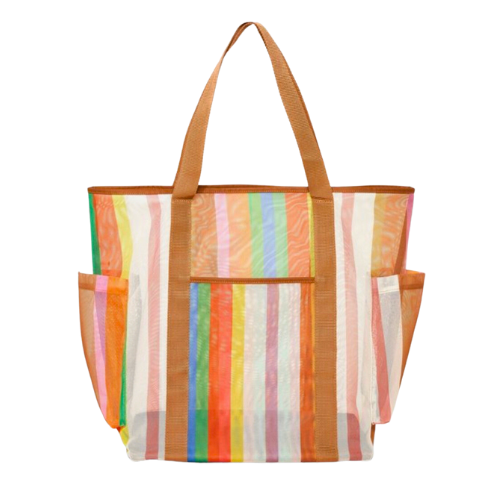 As a mom, going to the beach often means lugging around a ton of stuff – towels, snacks, toys, the list goes on. That's why finding the perfect mom beach bag is essential. And if you're looking for a great option that won't break the bank, look no further than the Shore & Sand Mesh Beach Bag.
This bag is both practical and stylish, with a durable design that can handle all of your beach and pool day essentials. It's big enough to fit towels, lunch, juice boxes, and all your favorite beach and pool toys, making it the perfect choice for a fun day in the sun. And at under $10, it's definitely a steal!
This post may contain affiliate links. I may receive a small commission if a qualified link is used at no cost or obligation to you ever. Additionally, I am an Amazon Affiliate Partner. I may receive a commission if a qualifying link is used.