Las Vegas has some of the best hotels, casinos, entertainment, and gambling on Earth; however, those aren't the only attractions that make it such a fantastic city to visit;
Las Vegas is one of the most exciting cities in America. It happens to be where I was born and raised. If you're reading this article, the chances are that you're planning a trip to Sin City. I would love to help you have one of the best Sin City vacations of your life.
This list is meant to be fun, a little sarcastic. Warning: You may be offended by my list. However, you're going to Vegas. It is very likely you'll likely be offended in Vegas at some point, guaranteed (wink). Here is our list of the top 100 things to do in Vegas that are classic, unique, quirky, offensive, and different!
Walk, take an Uber or helicopter up and down the Las Vegas Strip. We recommend the

"Vegas Nights" Tour

to see the best Las Vegas views from above. You will see the most significant landmarks, attractions, and a few oddballs on the Vegas Strip, but it is a good time. You can also have a cocktail while walking. Just do not be "that person." Do not go too hard because jail exists in Vegas, and laws apply (shocking, I know).
Want to be a real-life Mario Cart and

zip down the Las Vegas Strip?

Take a motorcycle trike tour and see the neon lights while the wind whips through your hair.
The LINQ Promenade and Hotel

Las Vegas is a chill place for people to spend their time and enjoy the nice weather. There are many great restaurants at the LINQ. Additionally, activities like bowling, playing games, comedy shows, or wonderful shopping are at this promenade. Down closer to the Strip at the LINQ Promenade, you can take a photo with a showgirl with tassels, just tassels. When in Vegas.
The LINQ Las Vegas, Your Complete Guide >>
Ride the

High Roller Observation Wheel

. This is an excellent start if you are looking for fun things to do in Las Vegas with kids. They offer a STEM ride for an educational experience. If you are doing a guys or girls weekend, or bachelor/bachelorette weekend, the High Roller has a half-hour happy hour with an open bar for thirty minutes.
There is a funky-looking

pink Jeep

that will take you and your tipsy friends up and down the Vegas Strip and then to the High Roller to top off the fun.
If you are too hot for a pink Jeep and you want to skip the nightclub lines,

a party bus

with all your hot friends is a must (bonus: no DUIs)
After you drink for a quick half-hour at the High Roller Las Vegas, be sure to take the Fast Track Pass to the Strips only Zipline,

Fly Zipline at the LINQ

. Book your skip-the-line, refundable tickets below.
Drive your dream car because it will be the

closest you will ever get

. And, well, when in Vegas, you can live out all your fantasies. Test your led foot with a Lamborghini, Ferrari, and McLaren on a real race track.
Get a picture with the "Welcome to Fabulous Las Vegas" sign (duh).
See a

Las Vegas Raiders game

in the new and stunning Allegiant Stadium. We are the most fun, rowdy fans around; even if you are not a Raiders fan, we guarantee you a good time anyways.
Tour Allegiant Stadium.

If you want to see this new beauty, you can book a guided tour. We suggest booking the tour with the drink and view. Do the tour around sunset for a fantastic view of the Las Vegas Strip.
See a concert at Allegiant Stadium. Talk about a good time; you will see this gorgeous stadium and see your

favorite bands and talent

. This could be one of the most epic, fun things to do in Las Vegas–seeing Metallica, Sting, Billy Joel for a one-of-a-kind experience.
Cheer on the

Golden Knights

at T-Mobile Stadium. Voted "the best atmosphere in the entire league" by the National Hockey League Players Association.
See the Biebs, Billie Ellish, George Straight, or if you are an old grunge fan like me, Tool or Green Day at

T-Mobile Stadium.
Do a Vegas Fight Tour. Shuttle to where the

greatest MMA and boxers

are trained and conditioned. You will visit Mayweather Boxing Club, Johnny Tocco's, City Athletic, Xtreme Couture.
Head to

Meow Wolf's Omega Mart

for a glitchy, odd, interdimensional grocery store. There is an actual meathead, not like my ex-husband at the gym.
Get on a

double-decker bus

like your mom is on Vegas vacation with you. See all of the best of Las Vegas while the hot wind blows through your unwashed hungover hair. This is actually a great mode of transportation in Vegas, you can

hop on and off

as your heart desires.
Get a history of one of the most iconic, perfectly proportioned toys (please note the sarcasm) in history at the

Barbie Exhibition

located at The Shops at Crystals.
Hike, bike, or climb the beautiful

Red Rock Canyon.

We recommend Red Rock for the top things to do in Las Vegas for kids as well as adults. It's a stunning place to see what else Vegas has to offer.
Best and Top Things to do in Las Vegas from a Native >>
Suppose you are looking for romantic things to do in Vegas for couples. You must head to Paris and make your way up and skip the line at the

Eiffel Tower Viewing Deck

. This is the perfect opportunity to make your loved one swoon by reserving dinner at Chef J. Joho's upscale The Eiffel Tower Restaurant serving the finest French cuisine.
Get married

where my parents got hitched forty-three years ago (see Vegas weddings last), A Little White Chapel. No, you can't just walk in and get married like tv and movies claim. You still have to get in line at City Hall to get a license. (insert eye-roll here).
Dance your heart away at the Bellagio Water Fountains. Songs and water glide for the perfect show or you can dance like no one is watching (don't worry it won't be the weirdest thing people see all day!)
See the magnificent and awe-inspiring work of horticulturists at the Bellagio Botanical Garden and Conservatory. One of the best free things to do in Las Vegas, hands down.
Head to the

Valley of Fire

if 1) If you are the Instagram type, these stunning red rocks make a perfect backdrop to take photos in your not-for-hiking flowy dress. 2) actually go on vacation to sightsee and want to see something amazing.
See the engineering marvel Hoover Dam and America's largest man-made lake, Lake Mead.
See one of the best views on the Las Vegas Strip and party the night away at the

Foundation Room.

Make sure you don't wear your flip-flops, or I love Las Vegas t-shirt; this is a classy establishment. Think Eyes Wide Shut meets Upscale Party.
Marvel at the inside of real human bodies at Bally's. Yes,

20 whole-body specimens

and over 200 organs are on display. An educational experience you will never forget or stop having nightmares over.
Have glamourous cocktails in a tri-level bar full of shimmering, sparkling chandeliers at The Chandelier Bar at the

Cosmopolitan of Las Vegas

,

another top pick for where to stay in Las Vegas-legit this hotel has everything for the perfect Vegas vacation.
If you have a massive hangover and you actually made it back to your hotel room, recover really fast with

Hangover Heaven.
If you are single, 40 like me, or just like hot Australians dancing in banana hammocks,

Thunder From Down Under

is for you. Ladies, behave.
If Australians don't put a shrimp on your Barbie, the Channing Tatum-approved

Magic Mike the Show

might have the moves for you.
Come down nineteen levels from the previous two activities,

Donny Osmond

will keep you on the straight, narrow, and hearty Vegas path.
Since I think I am funny, I will pass it to the pros. Head to the world-famous

Laugh Factory

Comedy Club

for some knee-slapping, belly laughs.
Take a tour of my brother Steve's rat rod and restoration shop,

Welderup

. He is known for his show Vegas Rat Rods and is a local favorite.
See the Mirage Volcano. To be honest, I totally forgot about this, but it is pretty cool.
Head to old-school, downtown Las Vegas to Fremont Street and Slotzilla. Yes, SlotZilla. Take a

35 mile per hour zipline ride

under the canopy of neon lights while tourists and entertainers cheer you on. This is not to be missed attraction downtown.
One of the best free, fun things to do in Las Vegas is to attend the biggest blockbuster concert series,

Downtown Rocks

, in downtown Las Vegas. See bands and talent such as Barenaked Ladies, Vince Neil, and 3 Doors Down, for free!
Visit the Viva Vision Light Show on Fremont Street downtown, the world's largest digital display, another awesome free thing to do in Vegas.
After Fremont Street, while you are in the area, check out the Neon Museum or the sign graveyard, where all of the old and given-up Vegas signs are given a final resting spot. You'll see all the

vintage signs that once lit up Vegas

, and it's a pretty cool spot, even locals love the nostalgia.
Have an over-the-top brunch at these Vegas Strip restaurants- 1) Yardbird for fried chicken and waffles and deviled eggs to die for. 2) Hash House a Go Go for pancakes as big as your head. 3) The Wicked Spoon for bottomless mimosas 4) Sterling Brunch if you are fancy and like tiny, perfect desserts.
See one of the greatest magicians ever,

David Copperfield.

I mean, heck, he made a train disappear.
I have found in life that "All You Need is Love" is a fallacy. However, one of my favorite shows in the Las Vegas Strip is

The Beatles LOVE by Cirque du Soleil

is not one not to be missed.
There is nothing better than getting dirty in Las Vegas, like real dirt, you filthy animal! This tour will take you on

an adrenaline-filled tour

on dune buggies or ATVs. This is no ho-hum off-roading; this is the real thing.
Did you know Las Vegas was settled by the Mormons? Seems like an oxymoron, doesn't it? Visit the Old Mormon Fort, Historic Park.
You can get Wet & Wild off the Strip, no you dirty bird, we mean Wet & Wild Water Park, a fantastic, top thing to do in Las Vegas with kids.
If you haven't had enough excitement in Las Vegas and want to take it to the next level, maybe a fighter pilot will get your blood flowing.

Sky Combat Ace

is the world's most extreme aviation attraction and not for the faint at heart. You will be able to choose a ride-along in a fighter jet or fly (under the supervision of a highly trained fighter pilot).
These rainbow-colored rocks look weird but are oddly fascinating (says, my dad) and are actually an art. Even we locals are impressed.

Seven Magic Mountains

sculpture adds the only color you will see in the Nevada desert.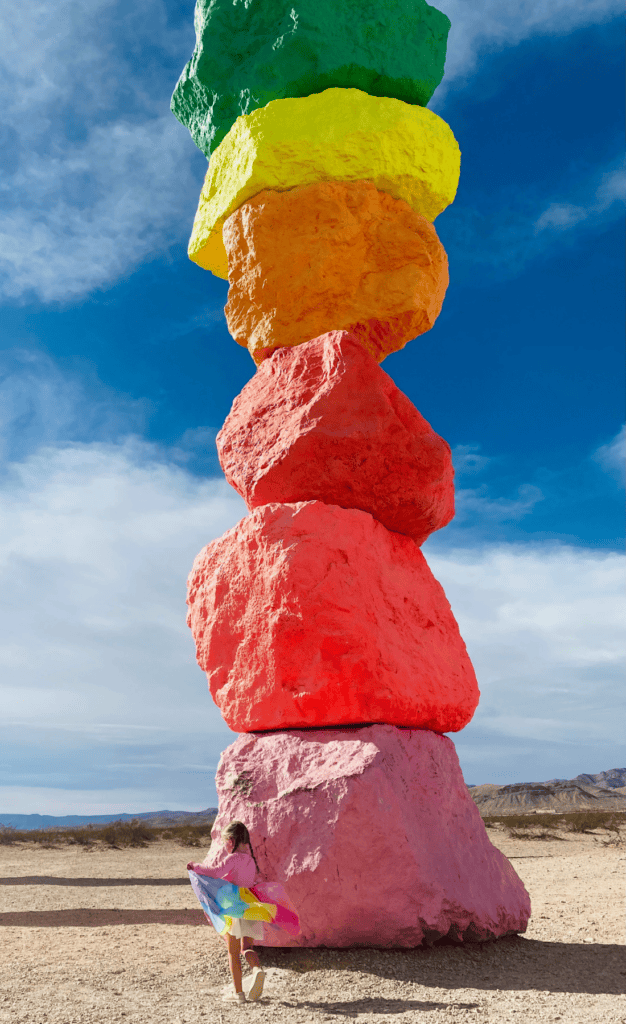 We do not have an excellent education system in Nevada, but the taxpayers knew their priorities–

the Mob Museum.

This interesting museum will hold your attention and will give you a history of how Vegas was really built. Buried silver and organized crime really is a thing here.
If after your museum tour you feel like being a mobster, which is always fun, head around the corner to downtown. Do a

walking tour of vintage Americana,

sculptures, and murals complete with a cocktail at the El Cortez, once owned by mobster Bugsy Siegel.
With that said, how could you possibly come to Vegas and not eat at a buffet? Tip: if you are going to a nightclub in your scantily-clad body-con or to the famous daytime Vegas pool parties, I recommend the buffet on a hangover day, and fat pants are recommended. 1) The Bellagio Buffet 2) Le-Village Buffet at the Paris 3) M Resort or any Station Casino (locals casino). You may even see my Grandma Janet in line with her free buffet voucher because she gambles like a whale.
When I was a kid, they built the Stratosphere Tower. Now called "The Strat." All the locals called it the "ugliest" building in Las Vegas, which still holds true. However, the Stratosphere has an incredible observation deck and the

X-Scream, a rollercoaster

that goes off the side of that building. Or, you can actually

SkyJump

off that ugly building.
I personally think the most fun thing to do in Las Vegas is eating. Have a great steak at some of the best steakhouses in the country: my pick, Scotch 80 Prime, EDGE, and Delmonico.
Get a new pair of vintage, hard-to-find, old-school sneakers at Urban Necessities. There happens to be a barber and tattoo shop upstairs in the Forum Shops in Caesars Palace. Do not forget to buy some red bottoms for a night on the town at Christian Louboutin.
For years, 59 to be exact, locals dined at the best Mexican restaurant in Las Vegas, Macayos. They unfortunately closed BUT Eddys, a Macayo reinvention, opened near my mom and dad's house. Eat like a local, have some tortilla soup and a TCT. I really hope they put a plastic donkey on your ice cream.
This post is about the top 100 things to do in Las Vegas, I would like you to live out my glory days at the

Palms Hotel and Casino.

I played craps with Nellie, I won, he gave me a $500 chip, I thought I was rich. My grandma and I also ate the buffet with Pauly Shore. Why and how? No idea.
The Palms is also home to my favorite steakhouse, Scotch 80 Prime I mentioned before. Still, to this day,

The Palms Hotel and Casino

is one of my favorite places. Best Vegas pool, food, unique rooms, and views of Las Vegas, hands down.
Pretend you are in the best city in America, New York-New York (Yep, NYC is the best city in the world).

Ride the pink rollercoaster

182 times like my best friend I did in middle school. Make sure you get a concrete milkshake and burger at the New York transplant, Shake Shake, yum.
Book a cabana at Stadium Swim, a rooftop open 365 days a year, with six pools, swim-up bars, your next wife in a barely-there thong bikini, and a giant, monumental screen to watch football or sports on at

Circa, an adults only resort

.
Do you know what other fun things to do in Las Vegas besides gambling? You eat. Eat lots. I am not making this up, I follow this place on Instagram, and it's all your hangover dreams come true, EggSlut. If there wasn't a better-looking, most beautiful, slutty breakfast sandwich then send me home. Once again,

The Cosmopolitan

is the place to be.
Since you will be acting like a clown, head to Circus-Circus, especially if you are looking for other fun things to do in Las Vegas with kids, and go to Adventuredome. Just stay clear of the buffet.
Have tea, tasty treats, and finger sandwiches with a freaking amazing Las Vegas view at the

Waldorf Astoria

. Gosh, Vegas is fancy.
There is a very strange "park" in downtown Las Vegas- The Downtown Container Park. It is an open-air, dining and entertainment district made entirely of shipping containers. It's cool.
Area 15,

not 51 is filled with immersive art, including art island, experiences, bars, and restaurants. I want to explain this place to you, but I just can't.
Nashville, Tennessee has the best place for Nashville Hot Chicken-Hattie B's. If you have never had hot chicken (no, it's not buffalo or BBQ chicken) run to

the Cosmopolitan Hotel

to Hattie B's Hot Chicken. Sooooo good.
Hot chicken is spicy so you will need to cleanse your palate with some over-the-top desserts and treats at Black Tap. Have a strawberry cheesecake milkshake with a vanilla frosted rim, crushed graham cracker, topped with a slice of creamy strawberry cheesecake. I can't make this stuff up, people.
Many moons ago, I once was cool. There was (and still is) an after-party place that all the cool people went to-Drais. There are still cool people from the Jersey Shore Dj-ing at Drais like Dj Pauly D.
I hope we gave a few different ideas of the top 100 things to do in Las Vegas. I feel like I could go on for hours and I will regularly update and add to this list. Feel free to reach out for recommendations.
Vegas is a fun town, my hometown. Please be safe, don't go too hard your first night, do not drink and drive, and just have the best time in Sin City. If you have any questions, please feel free to reach out! What are you waiting for? Get to Vegas NOW!
Book Your Vegas Vacation HERE NOW!

This post may contain affiliate links. If a link is used I may receive a small commission at no cost or obligation to you, ever.