This will be your favorite artichoke and spinach dip recipe. I have been making this recipe for about ten years.
You can get creative with this recipe. Add some chips, toasted garlic bread or pita bread, assorted crackers.
You can add more spinach, more artichoke, and even make it a little spicy or not spicy at all. Have fun with this recipe, it is one of my favorites, it's easy to make and it is always a crowd-pleaser!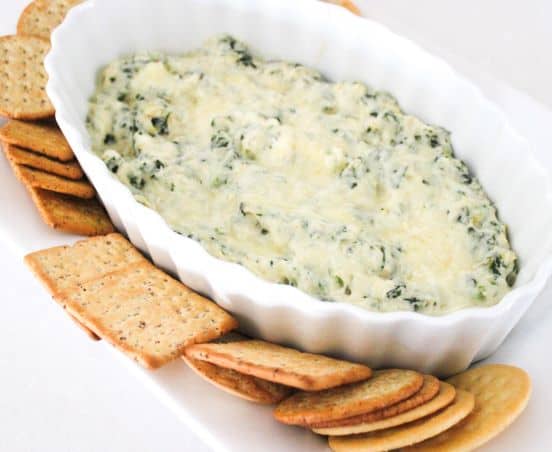 Spinach and Artichoke Dip-The Best You Will Ever Have
This is an easy and delicious Artichoke and Spinach dip recipe for any occasion, football games, BBQs, gatherings, appetizers!
Equipment
Heat oven to 375 degrees

medium saucepan

baking dish (8×8) the one pictured is 6×12 oval for reference
Ingredients
1 1/3

cup

artichokes

(Plain, no seasoning or marinade. Chopped)

3/4

cup

frozen and chopped spinach

(thawed )

8

oz

cream cheese

(not low fat)

1/2

cup

parmesan cheese

1/4

cup

Italian blend shredded cheese

1/2

tsp

red pepper flakes

(chopped finely. You can omit this ingredient. )

1/4

tsp

salt

1/4

tsp

pepper

1/8

tsp

garlic powder
Instructions
Drain artichokes and spinach well and chop artichokes

Add to medium sized pot to stovetop with one cup of water.

Cook over stovetop on medium heat until artichokes are tender (about 4 minutes)

Add cream cheese on low heat and stir until cream cheese is well blended and creamy

Add parmesan, shredded Italian blend cheese, salt, pepper, pepper flakes and garlic powder. Blend well. Heat for about two-three minutes

Add to baking dish, sprinkle Italian cheese blend over top. Put in oven for about 12 minutes at 375 degrees or until cheese is melted, do not overheat

Serve with toasted garlic bread, assorted entertaining crackers, pita! Anything you would like!
Notes
You can add more or less red pepper flake, depending on how hot you would like your dip 
You can serve the dip without putting cheese on the top of the spinach and artichoke dip and skipping the oven. Just heat slightly more over the stovetop 

This post may contain affiliate links in which if a qualified purchase is made, I may receive a small commission to whip up some new recipes that are easy and delicious!