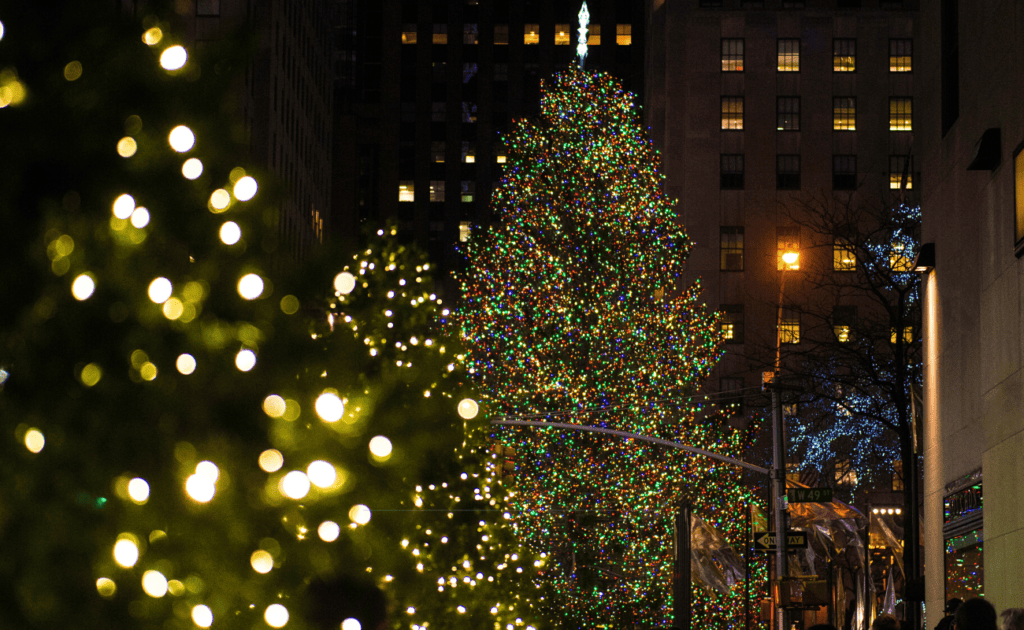 Christmas is a special time of year, and there's no better place to celebrate than in New York City. The city comes alive with millions of twinkling holiday lights and decorations, and many restaurants go all out to create a festive atmosphere. If you're looking for Christmas decorated restaurant in NYC, there are plenty of magical options to make your holidays bright and your Instagram page gleaming.
Whether you're in the mood for a holiday-themed brunch or a Christmas-inspired dinner, you're sure to find an NYC Christmas restaurant that's decked out for the season.
And if you're looking for something truly unique, you can even find restaurants that offer Christmas menus and cocktails.
Christmas Decorated Restaurants NYC-Rolfs
Rolfs NYC is famous for its extreme Christmas decorations all year long. It is likely you won't find a more Christmas-decorated restaurant in NYC than Rolfs.
Located in the heart of Gramacy Village, Rolfs German Restaurant offers a truly unique holiday dining experience. From the moment you step inside, you'll be enveloped in the festive atmosphere.
The walls are lined with twinkling lights, thousands of Christmas ornaments are hanging from every corner and the tables are adorned with holiday decorations.
Try some traditional German fare of Wiener Schnitzel, vegetables, and Spätzle while enjoying a boozy holiday drink or wine.
For reservations at Rolfs NYC, please call 212-477-4750 or 212-473-8718
Christmas Decorations in NYC: Find the Most Magical Holiday Decorations in NYC
Frosty's Christmas Bar Pop-Up
There's a new over-the-top, three-story high Christmas pop-up bar in NYC, and it's the hottest, most stunning spot to be. Frosty's Christmas bar located steps from Times Square at Bacall's & Blue in Midtown has four extremely decorated bars with a full menu of holiday cocktails, lunch and dinner service, and interactive holiday photo experiences.
Tickets can be found HERE. Dinner reservations (highly recommended) HERE.
Watermark NY
Watermark Bar is known for its amazing Oktoberfest during fall in NYC, but its transformation of Pier 15 during Christmas in NYC, is a magical winter wonderland complete with views.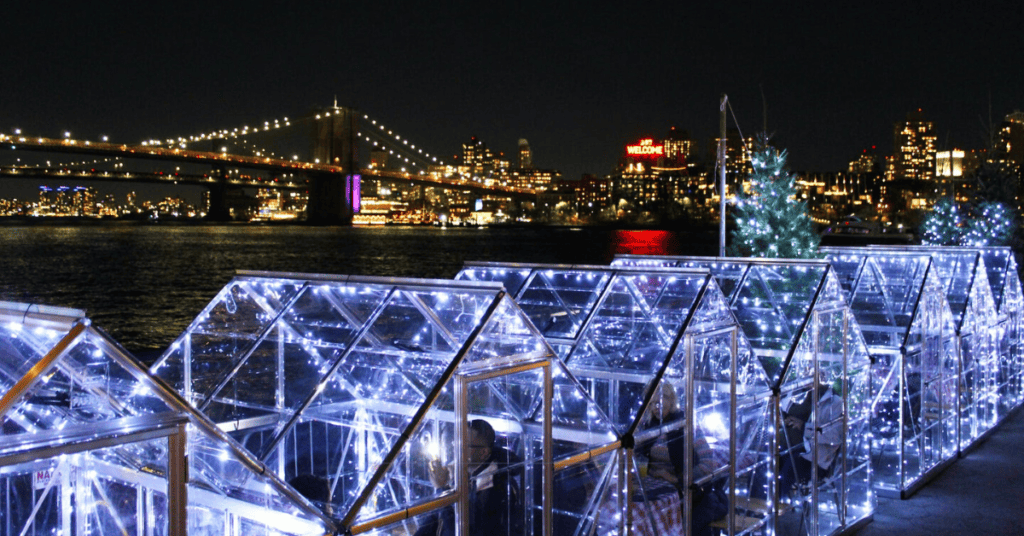 South Street Seaport's outdoor bar, Watermark, creates a cozy magical experience with holiday-themed heated glass houses (reservation required and a deposit) where you can take in views of the Brooklyn Bridge, East River, and the Statue of Liberty.
This pop-up winter village is surrounded by a Christmas tree garden, lights, and decorations.
Take in the magnificent views while sipping seasonal cocktails, and spiked hot chocolate, and noshing on charcuterie, warm melty fondue, and smores.
2022's theme is inspired by Disney Plus, The Santa Clauses with endless photo opportunities at the North Pole, Santa Clause mingling, and a giant snow globe!
Make reservations for this amazing experience at Watermark Bar at Pier 15 HERE.
Fall Festivals in NYC: Find a Festive Fall Spot
Oscar Wilde NYC
One of our personal favorite Christmas-decorated restaurants in NYC, and one of the most beautifully decorated bars all-year-long in New York City. Oscar Wilde NYC will not disappoint in its holiday presentation and ambiance.
Oscar Wilde doesn't do anything on a small scale.
Oscar Wilde bar in Manhattan's NoMad neighborhood is a truly luxurious experience. It is said the owners invested four million dollars into the interior of this stunning NYC restaurant.
From the moment you walk in, you're surrounded by antique light fixtures, marble surfaces, antique fireplaces, and antique paintings and photographs. And of course, there are two statues of the Irish writer himself, Oscar Wilde.
The entire restaurant from the outside to the inside is adorned with the most festive Christmas decorations. From flying Santas and elves, miles of glittering greenery, twinkling holiday lights, polar bears, and Oscar Wilde decked out for Santa's arrival with a cocktail in hand.
The mahogany bar is an impressive 118.5 feet long, making it the city's longest bar. But it's not just the size that makes it special. It's also the attention to detail and the dedication to providing an upscale experience.
Whether you're enjoying a drink at the bar or sitting by one of the fireplaces during the holiday, this establishment is one of the best Christmas decorated Restaurants in NYC.
Reservations are highly recommended for this Oscar Wilde NYC and can be made HERE.
NYC Travel Tip: Oscar Wilde has a Drag Queen Brunch that is one of the most entertaining things to do in New York City. The talent is amazing, the drinks are strong and the food is fantastic. This show is highly recommended!
Lillie's Victorian Establishment
Lillies Victorian Establishment, located in Times Square and Union Square is one of the most popular Christmas restaurants in New York City and offers a unique dining experience that is perfect for celebrating the holiday season.
This establishment is dedicated to the life of Lillie Langtry and her opulent lifestyle. The interior boasts 19th-century victorian antique furnishings from Belfast, plush velvet upholsteries, intricate railings, pillars, fireplaces, and shimmering chandeliers all make for a beautiful backdrop for Christmas.
Enjoy a cozy meal with a cocktail or two from the hand-picked selection of beer, whisky, and wines. Gleaming red, gold, and green Christmas accents bring the holidays to life as thousands of Christmas lights twinkle throughout the restaurant.
Reservations are highly recommended for both Lillie's locations, especially during the holiday season. You can book here.
Papillon Bistro & Bar
Papillon Bistro & Bar in Midtown has one of the coolest restaurant facades in New York City. During the holidays, the outdoors of Papillon is just as awesome as the indoors.
Papillon Bistro is situated in one of the most vibrant areas of the city. Just steps from Central Park, the Museum of Modern Art, and 5th Avenue's renowned shops, Papillon offers a fun and festive environment that will make you feel right at home.
This is the perfect Christmas-decorated restaurant in NYC-from the decorations on the stunning outdoor red building to the flying Santas, giant stuffed teddies, tinsel, rows and rows of garland, mistletoe, and thousands of Christmas lights on the inside.
Enjoy a craft cocktail or a glass of wine with family and friends, while getting some amazing New York City Christmas photos.
Whether you're looking to enjoy a craft cocktail or glass of wine with friends or family or looking for a more intimate dining experience, Papillon reservations are highly recommended HERE.
NYC Christmas Classic-Pete's Tavern
If you want to celebrate a classic Christmas in New York City, head to Petes Tavern.
Established in 1854, Pete's Tavern is one of the oldest operating bars in New York City and has remained virtually the same since.
Located in Greenwich Village at east 18th street and Irving Place, the bar has been a gathering place for writers, and artists and has been loved by generations of New Yorkers.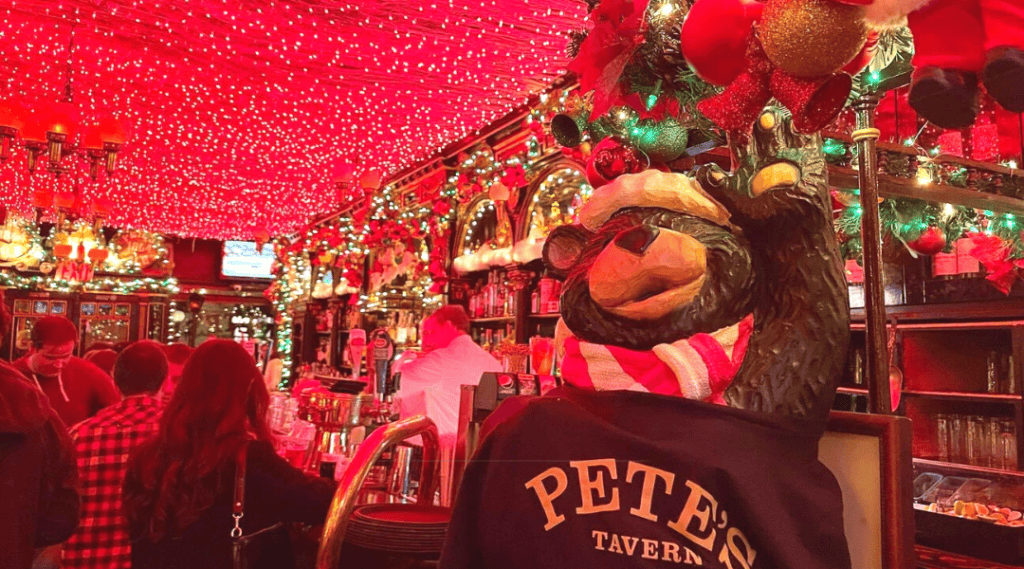 Today, Pete's Tavern is still a popular spot for locals and tourists alike, serving up affordable drinks and a friendly atmosphere.
Though Pete's Tavern is loved all year long, the decorations during the holidays make this charming neighborhood bar one of the best festive Christmas-decorated restaurants in NYC.
The entire bar is outlined in sparkingly Christmas greenery and the ceiling is completely lit with Christmas lights, not a surface untouched.
Grab a delicious burger or steak and one of Pete's famous and traditional homemade eggnog.
Book this NYC Christmas Classic HERE.
White Horse Tavern
The White Horse Tavern, established in 1880, is the second oldest continuously operating tavern in New York City. It served longshoremen after working the piers on the Hudson River and then became popular with writers and artists almost a century later in the 1950s.
Today, The White Horse Tavern is a popular and beloved New York establishment where friends and colleagues gather for a good meal, drink, and atmosphere.
During the holidays and much of the year, the outside of the building draws the most attention from patrons.
The White Horse tavern like to keep its corner of the West Village looking pretty all year long, it's likely one of the most well-known corners.
The White Horse Tavern's corner is especially special during Christmas in New York City. Floral vines and greenery cover much of the black and white facade and the entrance to the tavern.
White Horse Tavern turns into a winter wonderland with an array of floral, bright white lights, trees, and cozy food options.
What to try at White Horse Tavern: We recommend ordering the pretzel bites as an appetizer. Order the Double Smash Burger with a side of mac and cheese. Put some of the mac and cheese on the burger. Eat. It is to die.
Reservations are highly recommended at White Horse Tavern and can be made HERE.
The Greens at Pier 17
The ultimate dining retreat in New York City, The Greens located on the rooftop on Pier 17 invites you to enjoy your own cozy private dining cabin with unrivaled views of lower Manhattan and the Brooklyn Bridge.
The Greens rooftop transforms into a winter wonderland with custom-designed glass cabins to gather with friends or for the ultimate date night. Each cabin is complete with a "fire," gourmet meals, treats including gingerbread men, and amazing specialty cocktails for ordering.
These private cabins book out fast, be sure to make your reservation HERE.
NYC Tip: At Pier 17, Mr. Dips Ice Cream in an adorable Airstream trailer with burgers, cones, and shakes. Grab THE GRINCH cone for an after-dinner treat. Their cones and "Dipsy Doozys" are fun ice cream treats any time of year.
Rockefeller Center Wine Garden by City Winery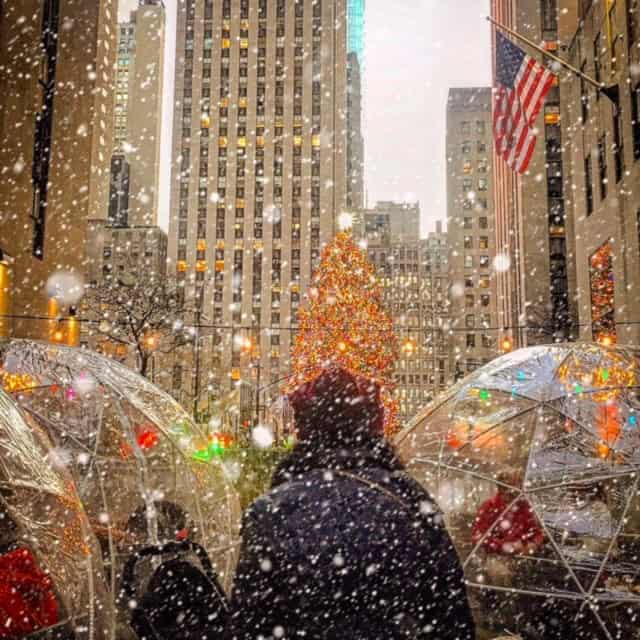 City Winery is one of the coolest spots and Rockefeller Center is one of the best spots for NYC Christmas decorations. Combine both and you have an amazing experience to look forward to. Mark your calendars for the Friday after Thanksgiving to reserve one of the City Winery's ever-so-popular heated winter domes with unobstructed views of the Rockefeller Christmas Tree.
You can enjoy wines on tap by City Winery, brews from Montauk Brewing Co, and a variety of small bites. So if you're looking for a unique NYC Christmas restaurant experience, be sure to check out Rockefeller Center Wine Garden by City Winery.
Make reservations at City Winery winter domes Friday after Thanksgiving, 2022 HERE.
City Vineyard Tribeca
City Winery's sister spot for NYC Christmas Igoos is a riverside restaurant, wine bar, and live music with stunning Manhattan views, a full bar, and good food.
As Manhattan's only fully operational winery, City Vineyard has beautiful outdoor dining igloos during the holiday season in the wine garden with unobstructed views of the Hudson River, the Freedom Tower, and the shimmering lights of downtown Manhattan.
With full food and beverage service and extraordinary views of the New York City skyline, the waterfront holiday heated igloos are the perfect warm NYC Christmas restaurant to enjoy al fresco dining, locally made wines, and creative libations beneath sweeping grapevines.
Reservations for the City Vineyard Igoos in Tribeca can be made after Thanksgiving HERE!
Tavern on the Green
Tavern on the Green on any day of the year is considered enchanting, and classic New York City. During Christmastime, it's one of the city's most popular holiday attractions and one of the best brunch and dinners on Christmas day in NYC.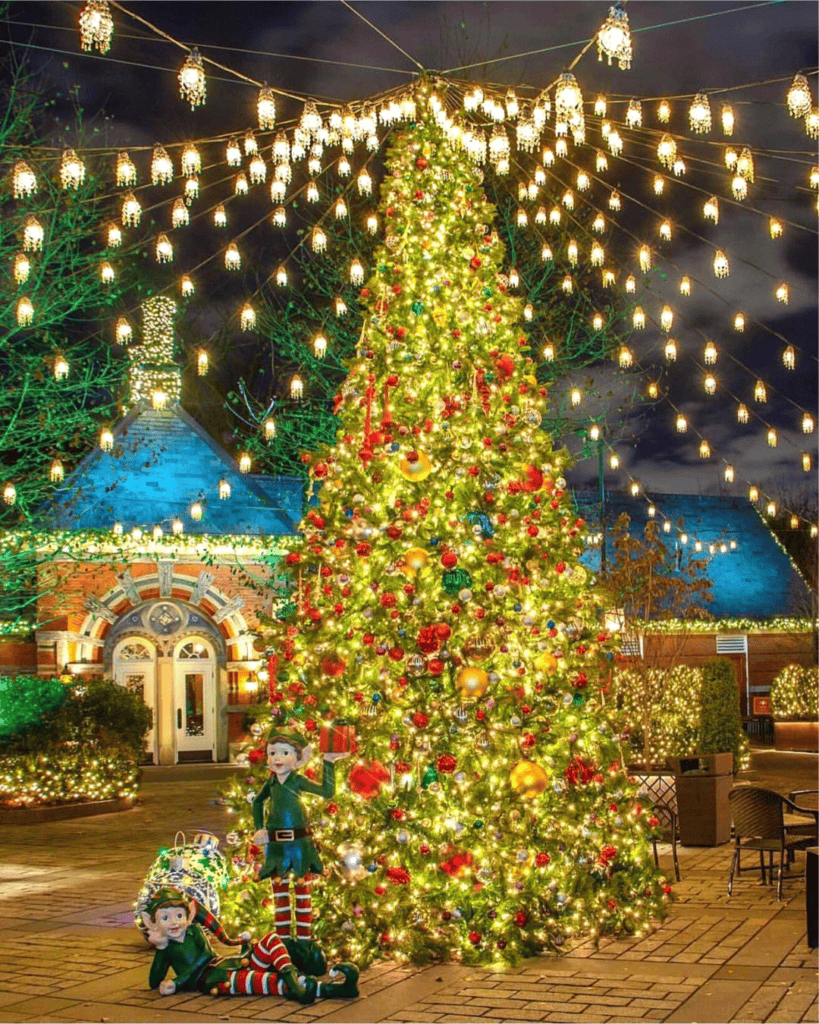 This iconic restaurant is located in Central Park and is decked out in beautiful Christmas decorations and now has an annual Christmas tree lighting. Visitors can enjoy festive eats and drinks while admiring the twinkling lights and intricate holiday displays.
You can make reservations for the holidays or Christmas Day HERE.
Holly Jolly Bar At Mad Morton
New York City's newest and most over-the-top festive pop-up is presented by the Bucketlisters in the West Village at the Holly Jolly Bar at the Mad Morton!
Whether you have been naughty or nice, gather at this NYC holiday pop-up bar for a boozy brunch, cocktails, entertainment, and Christmas memories!
The halls will be decked with floor-to-ceiling tinsel, trimmings, and ornaments for some magical holiday photos.
Get on the waitlist for this Holly Jolly Bar HERE!
NYC Christmas Restaurants-Rooftops
Looking for a festive spot to enjoy Christmas brunch in NYC or a dazzling Christmas dinner in New York City? These NYC rooftop restaurants go all out when it comes to holiday decor, from twinkling lights to massive Christmas trees, but they are perched on top of heated rooftop decks for stunning New York views.
PHD Terrace NY at Dream Midtown
PHD Rooftop Terrace is a one-of-a-kind destination in the heart of NYC. With two levels of ambiance, the lower level of PHD is an intimate indoor space for cocktails and conversation and the upper-level terrace has stunning panoramic views of Midtown Manhattan and Times Square.
And yes, PHD Rooftop is the one with the beautiful seasonal floral tunnel.
During Christmas in NYC, PHD's enclosed rooftop transforms into a whimsical lush garden of lush greenery, an array of gold, emerald, and white florals, over 10,000 twinkle lights, and the Instagram-famous floral-filled walkway and themed cocktails and elevated bar eats, including Truffle Parmesan Fries, Flaming Mac n Cheese, and Buffalo Crudite.
Reservations are highly recommended and can be made HERE.
Come experience a winter snow globe in the sky at Ophelia New York, a 360° rooftop cocktail lounge located atop the 26th floor of Manhattan's historic Beekman Tower with views of the river & city skyline.
Be sure to order a crafted cocktail that literally sparkles and the Taste of the Tower with smoked salmon crostini, whipped ricotta crostini, prosciutto de Parma crostini, french onion sliders, lobster & caviar sliders, and crispy prawn tacos.
You can book the snow globe in the sky at Ophelia HERE.
Serra by Birreria-Eataly Flatiron
Head to Serra by Birreria rooftop transforms to Serra Alpina during Christmas in NYC to emulate a twinkling Italian winter countryside complete with crafted seasonal dishes and spiced cocktails.
Here you can indulge in traditional Italian dishes like soul-warming melted cheeses like Fonduta and creamy Fontina served with seasonal produce, housemade loaves of bread, and meats. Decadent pasta like gnocchi with white truffle, or traditional Italian countryside winter dishes like tortellini in Brodo.
Afterward, you can shop for gifts, and treats while taking in the Christmas decorations at Eataly's Holiday Market. From Panettone cakes and artisanal chocolates to traditional cotechino, and truffles to an overflow of culinary gifts from Italy, this holiday destination in New York City cannot be missed.
Make reservations at Serra at Eataly Flatiron HERE.
Gallow Green-The Lodge
Gallow Green is one of the most magical rooftops in New York City and has one of the best brunches. During the holidays you can book a reservation to Gallow's mysterious magical hideaway, The Lodge, atop the McKittrick Hotel.
Guests can escape into a dream into a magical, secret garden complete with subtle holiday lights, and into a rustic rooftop fireside cabin. Enjoy a Scallops Provencal or bowl of hot French Onion Soup.
Limited availability. (212)904-1880 for reservation bookings.
NYC Rooftop Brunch: Your Guide to the Best Rooftop Brunches HERE
230 FIFTH Rooftop
230 Fifth is a multi-level rooftop bar located in the heart of New York City and is one of the most popular spots in NYC for rooftop brunch and amazing views of the Empire State Building and NYC skyline.
230 FIFTH Rooftop is open year-round and offers an amazing experience during the holidays.
The 21st floor, which is completely open to the air, is where the igloos, heat lamps, and cabins are during the winter and holiday months. The igloos and cabins offer a unique way to experience the city, sip a boozy hot chocolate and celebrate with friends during Christmas.
Private igloos and cabins are available starting November 1, 2022, by reservation only. Reservations can be made HERE.
Arlo Apres
Looking to escape the city without leaving SoHo? Check out the Courtyard at Arlo SoHo, home to two rustic cabins that are perfect for private dining and intimate gatherings.
With ski-lodge-inspired decor in the winter, plush blankets, hot drinks, and a cozy meal with your family or friends, these little cabins in the middle of Manhattan are the perfect Christmas escape without leaving the city.
The Apres Cabins book up quickly, be sure to secure your date up to 30 days in advance. Each cabin reservation is for one hour and 45 minutes.
You can book your Apres cabin at Arlo Hotel HERE.
Magic Hour-Pink Winter Lodge
Magic Hour Rooftop NYC is one of the most beautiful rooftops in the city, with stunning views of the Empire State Building. Magic Hour is the largest indoor/outdoor hotel bar in New York City with five different areas for your dining experience, including a mini-golf section and a rotating pink floral seating carousel to make all your Instagram dreams come true.
During the holiday season, Magic Hour Rooftop is decorated with pink antler chandeliers, sparkly decorations including 25,000 crystals, festive pink ski-lift setas, pink hot chocolate, and pink pancake stacks are served. Magic Hour is a fantastic girls' night out or a romantic spot for date night.
Reservations are highly recommended and can be made HERE.
Haven Rooftop
If you're looking for an intimate Christmas-decorated restaurant in NYC to add to your holiday itinerary, Haven Rooftop is a great option. Located on top of the Sanctuary Hotel in Times Square.
Haven Rooftop is a seasonally themed rooftop retreat offering stunning views of the cityscape, along with Christmas decorations, fairy lights, a heated rooftop, festive drinks, and food.
Make reservations to Haven Rooftop HERE.
Christmas Decorated Restaurants in NYC-Final Thoughts
Christmas in New York City is a magical time. The air is crisp and cold, the Christmas lights are up and twinkling, and Christmas decorations can be found everywhere. One of the best ways to get into the holiday spirit is to visit one of the many Christmas-decorated restaurants in NYC.
These NYC restaurants go all out with their Christmas decor, from Christmas trees to holiday-themed menus for a cozy meal and some hot toddies. Whether you're looking for a festive brunch spot or a romantic Christmas dinner spot, there's sure to be a Christmas-decorated restaurant in NYC that's perfect for you.
If you have any other holiday and Christmas restaurants in NYC you think we should add to the list, please let us know, we love to hear from you. Happy Holidays and cheers to a New Year.
We would love for you to share and pin below on Christmas-decorated restaurants in NYC!
New York City Travel Resources
Best Deals on Flights: Skyscanner | Tickets, Tours, Attractions: Get Your Guide | Hotels: Booking.com | Budget Hotels (Where our family stays) Herald Square or Arlo Hotels | Mid-range Hotel: The Library Hotel | Luxury Hotel: Baccarat Hotel or Equinox Hudson Yards | Broadway Shows: Vivid Seats | Restaurant recommendations & reservations: Open Table | Sightseeing Pass NYC | CityPass NYC | NYC Travel Essentials
New York City Travel Guides-Further Readings

Christmas Decorations in NYC: A guide on where to find the most magical Christmas decorations and spots in New York City HERE.
What to Wear In New York in Winter: What is it like in NYC in winter? Flipping cold. With the occasional nice day. Here are some suggestions on what to pack for NYC winter travel HERE!
Christmas Tours in New York City: Looking for the best NYC Christmas decorations or want to head to Dyker Heights? We rounded up THE BEST Christmas lights tours in NYC HERE.
Christmas Markets in NYC: The top Christmas Markets in New York City can be found HERE.
NYC Rooftop Brunch. Brunch in NYC is always a good idea but level it with a rooftop and a view, oh, and bottomless mimosas! Find your NYC rooftop brunch guide HERE.
New York City Travel Guide: This is the end-all-be-all New York City Travel Guide. It has everything you possibly need to know for your trip to NYC. Read the guide HERE.
New York City Travel Tips: Want to know why you dock your CitiBike properly or why you should not get on a horse-drawn carriage in Central Park? Read these Tips for New York City HERE.
Things to do with Teens In NYC. We have done all the things there is to do with kids and teens in New York City. This is a great guide on where to go with your kids or teens so you're cool for a couple of days! You can check it out HERE.
This post may contain affiliate links. I may receive a small commission if a qualified link is used at no cost or obligation to you ever. Additionally, I am an Amazon Affiliate Partner. I may receive a commission if a qualifying link is used.