Hi! This family likes to think of ourselves as more than tourists in New York City, but more like semi-local. My kids and I have been to New York City more than we have been to Dallas, in which we live about 30 minutes away. We lived in Florida for a bit and we would hop on a plane, stay in New York City for a week or so and head home. We have done ALL the things to do in NYC with kids, and then some.
I have compiled a list of the best things to do in New York City with kids and have added some photos from years ago of us spending time in the city as well as recent photos of our trips.
Some of the photos I had to scan some because when we first started going to New York City, there weren't iPhones (insert wide-eye emoji here.) I was taking photos with a digital camera and then printed them.
New York City is full of excitement at all times and you will never run out of things to do in NYC with kids, ever.
Happy Travels and make those memories!
Family Things to do in NYC-The Museum of Ice Cream
Indulge in a sweet experience with your kids at the Museum of Ice Cream in New York City. This interactive wonderland is an imaginative escape filled with installations and vibrant exhibits that invite young hearts to explore.
Dive into the sprinkle pool, slide down a three-story slide, ride a perfectly pink subway, explore a magical banana split room, or wander through rooms dedicated to favorite ice cream flavors, and eat as many frozen treats as you want along the way.
Indulge in UNLIMITED delectable ice cream tastings in five different shapes and explore the fascinating history of this yummy treat.
As an immersive experience designed to delight all the senses, the Museum of Ice Cream offers an unforgettable outing for families looking for things to do in NYC with kids.
Create lasting memories as you embrace the playful spirit of this sugary sanctuary with your kids.
Statue of Liberty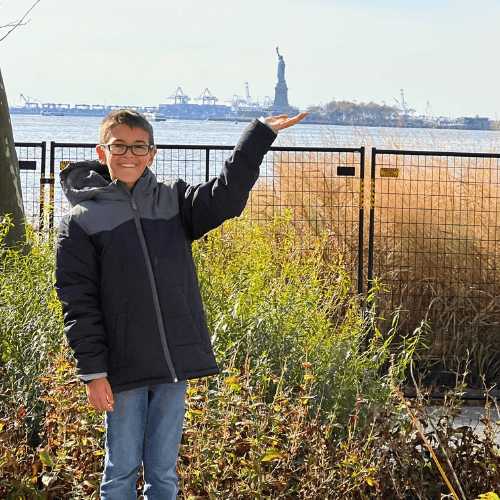 Of course, no trip to New York City with kids is complete without visiting Lady Liberty. This historic American monument, standing proudly on Liberty Island, symbolizes freedom and welcomes visitors with its majestic presence.
There are many fun ways to reach the Statue of Liberty, extra fun for kids. Take a ferry from Battery Park, where kids can enjoy scenic views of the city skyline and the Statue of Liberty as they approach.
Once on Liberty Island, families can explore the museum and learn about the statue's history and construction. For a memorable adventure, climb to the crown and take in panoramic views of Manhattan and beyond. Don't miss the opportunity to snap photos with Lady Liberty as a backdrop, creating lasting memories of this cherished American symbol.
A visit to the iconic Statue of Liberty is an unforgettable and educational experience for families exploring New York City with kids.
American Museum of Natural History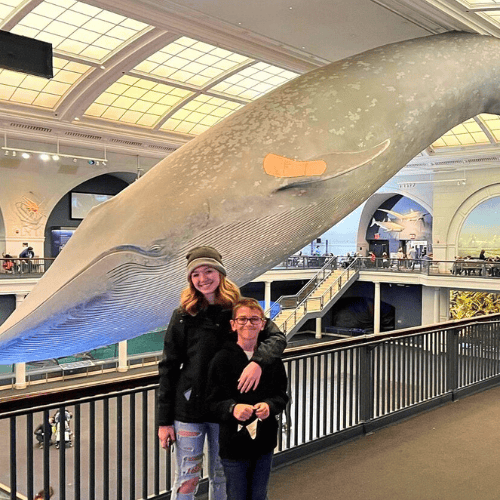 Embark on an extraordinary journey of discovery at the American Museum of Natural History—an absolute must on your list of things to do in NYC for kids.
This iconic institution transports young explorers to far-off lands and ancient worlds, igniting their curiosity and imagination.
With its vast collection of fossils, dinosaur exhibits, and interactive displays, the museum offers an immersive learning experience like no other.
Marvel at life-sized replicas of colossal creatures, walk among ancient civilizations, and witness the wonders of the universe in the planetarium.
Engaging and educational, the American Museum of Natural History guarantees an adventure that will captivate young minds and create lasting memories for the whole family.
Best Museums for Kids in NYC: Here's the round-up of the best, most interactive, and most engaging museums in New York City for kids! Find the guide HERE!
9/11 Museum & Memorial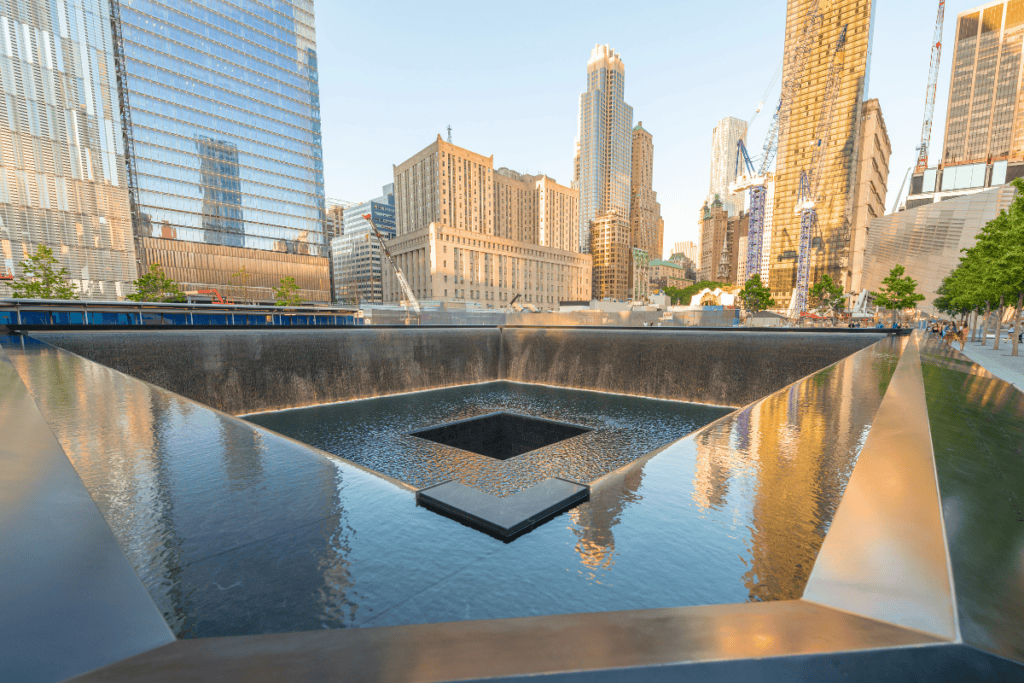 The 9/11 Memorial & Museum in New York City stands as a poignant and essential destination for families visiting New York City with kids.
Commemorating the tragic events of September 11, 2001, this solemn memorial honors the lives lost and the bravery displayed during that fateful day.
The Reflecting Absence Memorial features twin reflecting pools, each set within the footprints of the original Twin Towers, serving as a solemn reminder of the World Trade Center's once towering presence.
Inside the museum, powerful exhibits preserve the memory of the events and share stories of heroism and resilience. Kids can engage in age-appropriate activities that help them understand the significance of this historic event.
Visiting the 9/11 Memorial & Museum fosters empathy, compassion, and a deeper appreciation for history, making it an educational and meaningful experience for families to share.
NYC With Kids-Summit One NYC
There are five main observation decks in New York City. But, there is one I recommend when traveling with kids to NYC, Summit One.
This observation deck will undoubtedly spark your little explorers' imaginations as they journey through a myriad of rooms and experiences.
Your first stop of the elevator that whisks you in seconds to the 91st floor is Summit's 'Air' room, a two-level mirrored infinity room suspended 1,000 feet above Madison Avenue, elicits a sense of floating above the city. Your kids will love taking futuristic photos in mirrored reflections and innovative light effects that create a captivating illusion of infinite space.
You will love & appreciate the unobstructed views of the Empire State Building and Chrysler Building.
Next, 'Levitation' offers dramatic glass skyboxes, from which children and grown-ups can bravely step out over the cityscape, a thrill they'll remember for years.
After, 'Affinity,' a room filled with weightless silver balloons, offers an interactive, mesmerizing play of reflections and movements.
Head to The 93rd floor for a cocktail for you, and a treat for the kids. This is where you can also head to the outdoor sky deck to take in the sights and sounds of NYC from another vantage point.
Observation Decks in New York City: This is a list of the five observation decks in NYC, the classics, and the modern. There might be a deck that entices you more. Each one has unique characteristics, views, and qualities. You can find the article HERE.
https://www.getyourguide.com/new-york-city-l59/nyc-summit-one-vanderbilt-experience-ticket-t404501/?partner_id=TS3Y7NU&utm_medium=online_publisher&cmp=NYCwithKids
Alices Tea Cup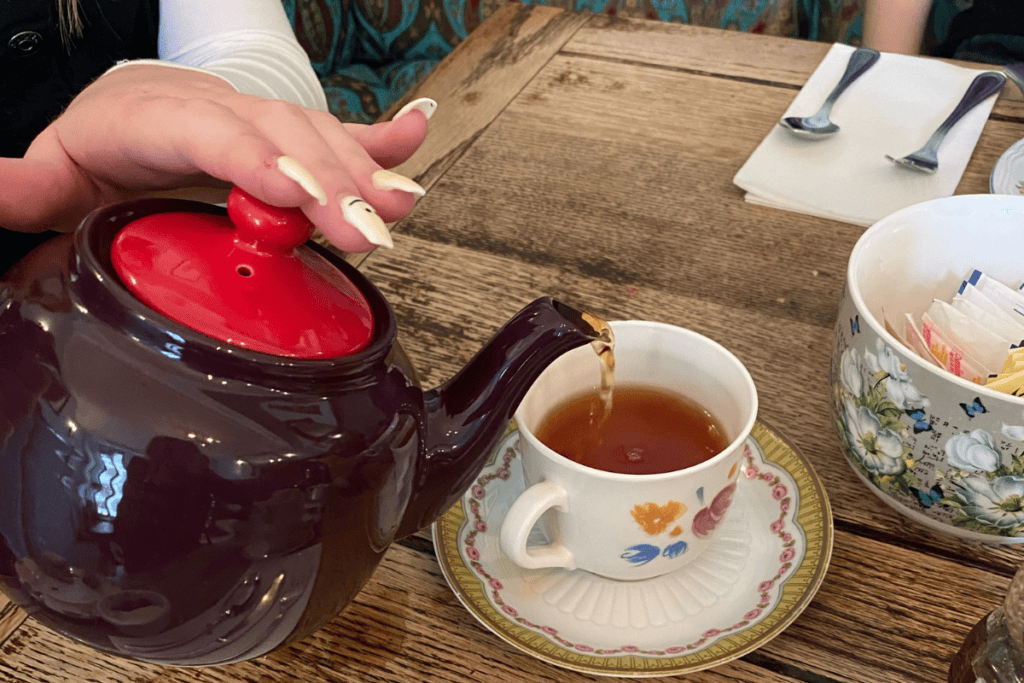 For a whimsical experience in New York City with kids, Alice's Tea Cup is an enchanting destination not to be missed.
Inspired by Lewis Carroll's "Alice in Wonderland," this charming tea house offers a magical setting where children can immerse themselves in a fairytale-like atmosphere.
With three locations in Manhattan, each decorated with a distinct theme, families can enjoy a tea party surrounded by Alice-inspired decor and playful references to the beloved story.
The menu features a selection of teas, delectable scones, finger sandwiches, and scrumptious desserts (the best carrot cake we have ever had) perfect for both kids and adults.
A visit to Alice's Tea Cup promises a journey down the rabbit hole, creating cherished core memories that will stay with kids and families.
Find locations, hours, and reservations for Alice's Tea Cup here.
Nintendo Store NYC
For gaming enthusiasts visiting New York City with kids, the Nintendo Store is an absolute must-visit destination. Step into the world of Nintendo with its iconic characters and gaming consoles (parents will take a walk down memory lane with original consoles).
Kids can play the latest games, try out virtual reality experiences, and participate in fun activities hosted by the store.
Don't miss the chance to shop for exclusive merchandise and limited-edition items that make for perfect souvenirs. With its vibrant atmosphere and gaming-themed decor, the Nintendo Store promises an exciting and memorable outing for families.
Toddler Activites NYC-Camp.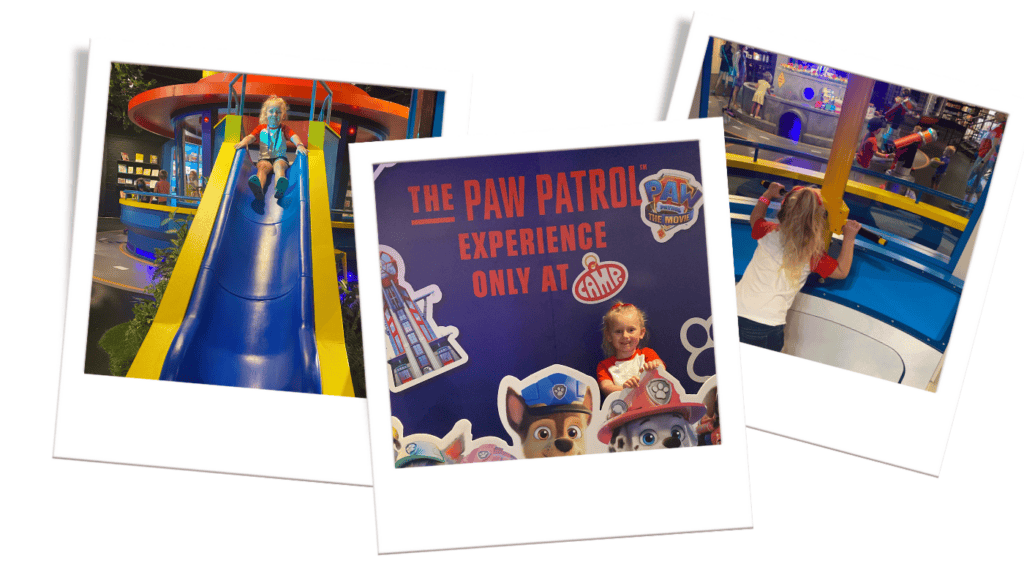 CAMP offers an enchanting shop/play/experience hybrid experience unlike any other. Step inside and be transported into a world where your child's imagination knows no bounds.
CAMP's physical locations across the country are famous for their rotating themed experiences, when we went it was PAW Patrol (currently in New York City is Disney's Encanto). It's a place where children and adults alike can immerse themselves in a fusion of playfulness and shopping.
The online portal for CAMP.com expertly curates product collections, featuring the finest toys and games handpicked with utmost care. As you browse through the virtual aisles, you'll discover round-ups of top toys and even tips on the latest forward-looking play trends. Trust me; your family is in for a treat!
For locations, hours, and theme experience, find information about CAMP here.
American Girl Store & Cafe
For families exploring New York City with kids, a visit to the American Girl Store & Cafe is a delicious experience.
Located on Fifth Avenue, this enchanting retail haven immerses young visitors in the world of the beloved American Girl dolls.
As a girl of the 80s, my first American Doll was Felicity, then my girls following my love of the dolls and books, this is one of our favorite spots in NYC with kids.
American Girl showcases an extensive collection of dolls, each representing a unique character with a distinct background and story. Kids can browse an array of doll accessories, outfits, and themed playsets, sparking their imagination and creativity.
The American Girl Cafe offers a yummy dining experience where little ones can enjoy a special tea party or meal with their dolls seated at the table.
Order perfectly pink lemonade, and baked mini cinnamon rolls, fantastic entrees, and the perfect potted dessert of Chocolate Mousse.
As an adult, the food at the Cafe is amazing. Even when I come to New York City without kids, I want to eat at the Cafe 🙂
Plus! I recommended when making your reservation ask for a table at the window for amazing views of 5th Avenue.
From personalized doll hair salons to interactive activities, the American Girl Store & Cafe promises an enchanting and darling adventure for families.
Fine hours, locations & reservations to American Girl Cafe here.
Family Activities NYC-Explore Central Park
Central Park offers a ton of exciting activities and playgrounds for families and kids to make memories. Central Park is the most iconic park in the world and one of the most beautiful.
Start your Central Park escapade with a visit to the Central Park Zoo, a haven for young animal lovers. This compact yet charming zoo houses a variety of captivating creatures, from playful penguins to snow leopards.
Our favorite thing to do in Central Park is to grab a wonderful picnic from The Perfect Picnic and head to one of the playgrounds, Belvedere Castle, or the Great Lawn for lunch.
For a more active experience, head to the Central Park Playground at Heckscher Playground, often dubbed as the "Mother of All Playgrounds." With sprawling slides, swings, climbing structures, and even a large splash pad during summer, this playground guarantees endless laughter and energy expenditure.
Central Park Playgrounds
Heckscher Playground: Located on the south side of Central Park, Heckscher Playground is one of the largest playgrounds in the park. To get there, enter the park at Central Park South (59th Street) and Seventh Avenue, and walk north towards the center of the park.
Adventure Playground: Situated on the west side of the park near West 67th Street, Adventure Playground offers a unique and imaginative play space. Access the playground by entering the park at West 67th Street and Central Park West, and then follow the path towards the west side of the park.
Ancient Playground: Tucked away on the east side of Central Park near East 85th Street, Ancient Playground features climbing structures inspired by Egyptian art. Enter the park at East 85th Street and Fifth Avenue, and make your way towards the east side to find the playground.
Diana Ross Playground: This playground is located on the west side of Central Park near West 81st Street. Enter the park at West 81st Street and Central Park West, and head towards the west side to reach Diana Ross Playground.
Tarr-Coyne Wild West Playground: Situated on the north side of the park near West 93rd Street, this Wild West-themed playground offers a fun and imaginative play area. Enter the park at West 93rd Street and Central Park West, and walk towards the north side to find the playground.
Other Things to Do in NYC with Kids In Central Park:
Rent a rowboat at the Loeb Boathouse and cruise along the picturesque Central Park Lake.
Rent bikes, E-bikes, and scooters or take a pedicab around Central Park.
Ride on the famous Central Park Carousel. Dating back to 1908, this historic merry-go-round features beautifully hand-carved horses and a nostalgic ambiance that will transport both kids and parents to a bygone era.
Harry Potter New York
Calling all young witches and wizards! A magical adventure awaits at Harry Potter New York, one of the most spellbinding things to do in NYC with kids.
Located steps away from the iconic Flatiron Building, this flagship store is a dream come true for Harry Potter fans of all ages. Step into the Wizarding World with its intricately themed rooms, including a wand shop, house merchandise, and exclusive collectibles.
Kids can immerse themselves in interactive experiences, like trying on the Sorting Hat or casting spells with wands they created. Don't miss the opportunity to taste magical treats like chocolate frogs at the Butterbeer Bar or shop for official merchandise from the beloved series.
See a Kid-Friendly Broadway Play
Introduce your little ones to the dazzling world of Broadway with a selection of kids-friendly plays in New York. New York City's iconic theater district offers a plethora of family-friendly productions that will leave children of all ages enchanted and inspired.
The best Broadway plays in New York City for kids:
Be sure to book your tickets for a Broadway play in advance because they do tend to sell out.
Wonderland Dreams
This mesmerizing, hand-painted immersive exhibit by Alexa Meade, Wonderland Dreams breathes new life into the beloved tale of Alice's Adventures in Wonderland, enveloping visitors in a realm where art and reality seamlessly merge.
Become part of the art, pick up a paintbrush (costumes and props are provided), and leave your mark inside this enchanting wonderland. You'll find yourself immersed in a captivating journey like never before. Let your senses take in bold and imaginative art installations, blurring the boundaries between fiction and existence.
Wonderland Dreams is an unforgettable adventure down the rabbit hole that promises to awaken the childlike wonder within you, captivating both the young and the young at heart.
FAO Schwarz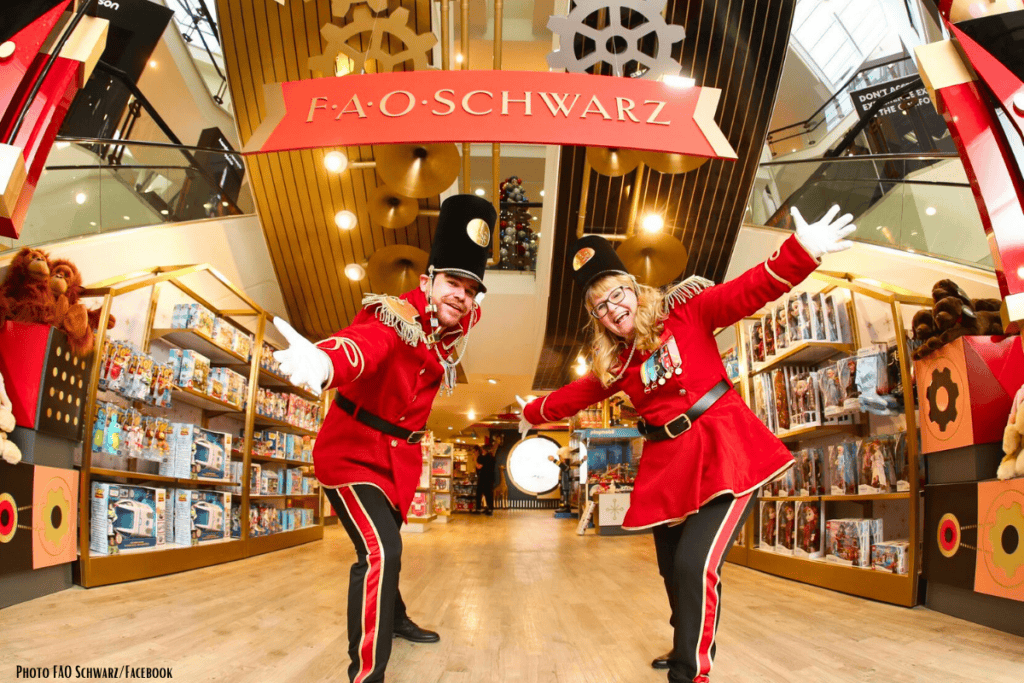 When it comes to things to do with kids in NYC, a visit to FAO Schwarz is an absolute must! As the oldest and most iconic toy store in the city, FAO Schwarz has been charming families for generations with its enchanting wonderland of toys and games.
Located in Rockefeller Center, this legendary store is filled floor to ceiling with larger-than-life stuffed animals, captivating displays, and interactive showcases that will leave your little ones in awe.
FAO Schwarz is famed for its unparalleled selection of toys, ranging from classic favorites to the latest cutting-edge gadgets. You'll find everything from plush toys and action figures to unique board games and educational playsets, catering to children of all ages and interests.
One of the highlights of a visit to FAO Schwarz is the iconic piano dance mat. Channel your inner Tom Hanks from "Big" and dance your way across the larger-than-life keyboard, creating beautiful melodies with your feet. It's an experience that will bring smiles and laughter to the entire family.
Find hours, location & information about FAO Schwarz New York here.
Eloise Tea at The Plaza Hotel
Indulge in an experience fit for royalty at Eloise Tea at The Plaza, which is for anyone seeking glamorous things to do in NYC with kids.
Inspired by the beloved children's book character, Eloise, this iconic tea experience at The Plaza Hotel brings storybook magic to life in the heart of Manhattan.
Step into the elegant Palm Court, where a world of wonder awaits young guests and their families. The ambiance exudes elegance with a touch of playfulness, setting the stage for a truly unforgettable afternoon.
Little ones are greeted with a special Eloise-themed menu, complete with delightful treats and mini sandwiches, ensuring that every bite is as enchanting as the surroundings.
While sipping on delicious teas or hot chocolate, kids will be thrilled to partake in Eloise-inspired activities, from storytelling sessions to arts and crafts. The Plaza's attentive staff ensures that every child feels like a VIP, making sure they have the most magical experience possible.
Reservations are required as is a dress code. Find the information on Eloise Tea at the Plaza here.
Travel with Kids NYC Tip: The Plaza Hotel is the most iconic hotel in New York City. The Plaza offers the Eloise Suite designed by the renowned Betsey Johnson. The captivating decor showcases a delightful combination of pink and black, receiving the enthusiastic seal of approval from Eloise herself. At its heart lies a luxurious King-size bed adorned with custom bedding inspired by the lovable character and charming additions such as adorable Eloise and Weenie dolls, cozy Eloise-themed robes and towels, and a special Eloise gift set upon arrival adds an extra touch of whimsy and delight to the room. Book the Eloise Suite here.
Dylans Candy Bar New York
A sugary wonderland awaits at Dylan's Candy Bar and is one of the sweetest things to do in NYC with kids. Located on Third Avenue, this candy emporium is the brainchild of Dylan Lauren, daughter of fashion designer Ralph Lauren.
Step into a vibrant world of candy-filled bliss, featuring three stories (with candy stairs) of colorful treats, novelty sweets, and candy-inspired…everything. Kids can fill up bags with their favorite candies from wall-to-wall bins and indulge in candy-infused milkshakes and ice cream sundaes.
A visit to Dylan's Candy Bar promises a yummy, mouthwatering adventure for families seeking a sweet treat in the middle of the city.
Find locations, and information and order some candy at Dylan's Candy Bar here.
Roosevelt Island Tram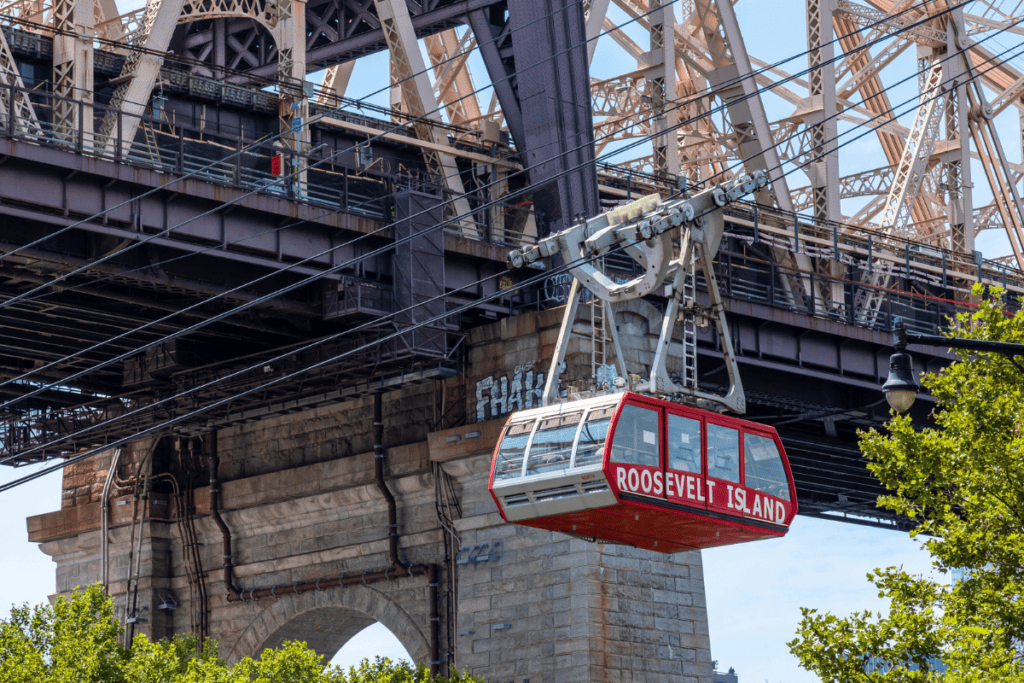 After grabbing candy at Dylan's on 3rd Avenue, walk a short distance to 254 E. 60th Street at the East River to the Roosevelt Island Tram. This is an unmissable (and cheap) experience for families exploring New York City with kids.
This aerial tramway offers a fun ride for kids and stunning views of Manhattan and an up-close look at the Manhattan Bridge. It also is a thrilling way to travel to Roosevelt Island.
Once at Roosevelt Island, you and your kids can explore beautiful parks, and learn about the rich history of the island's roots as a refuge for smallpox patients to a Prohibition-era hideaway.
Things to do with Teens In NYC. I have taken my 16-year-old to New York City a billion times with me because she shares my passion for it. We have done all the things there is to do with kids and teens in New York City. This is a great guide on where to go with your kids or teens so you're cool for a couple of days! You can check it out HERE.
Ride The Beast Speedboat
For things to do in NYC with kids who are older, experience the ultimate thrill of touring New York Harbor aboard the Beast Speedboat—an adrenaline-pumping adventure that promises 30 minutes of pure excitement!
This jet-powered, custom-built, 70-foot offshore racing powerboat is a force to be reckoned with, leaving all others in its wake as it accelerates to speeds of up to 45mph. Your kids will love to soar past the iconic Statue of Liberty and the city's legendary skyline, with skyscrapers whizzing by. The close-up view of Lady Liberty is a memorable pause before the fast return journey to Pier 83.
Discover Little Island NYC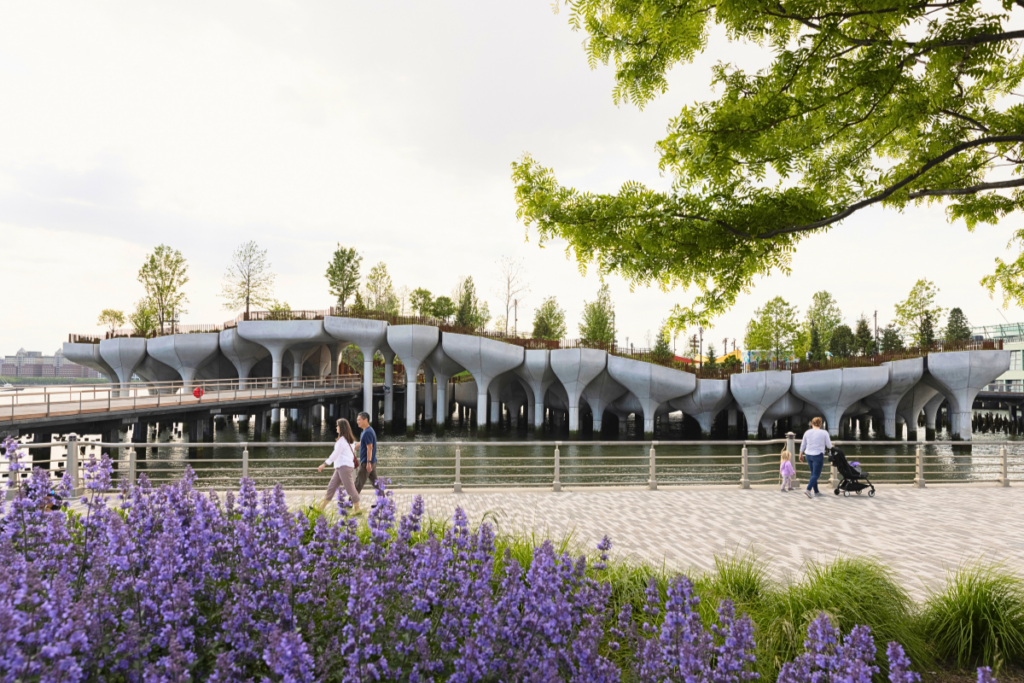 Discover an oasis for families in New York City with a visit to Little Island. Designed as an architectural marvel of undulating platforms and lush greenery, Little Island offers a dynamic space for exploration and play.
This New York public park occupies 2.4 acres of Pier 55 in Manhattan, where kids can climb the elevated paths, encounter unique plants, and enjoy breathtaking views of the waterfront and city skyline. Little Island hosts a variety of family-friendly events, including storytelling sessions, music performances, and interactive workshops.
Find activities, performances, and more information about Little Island NYC here.
Brooklyn Bridge Park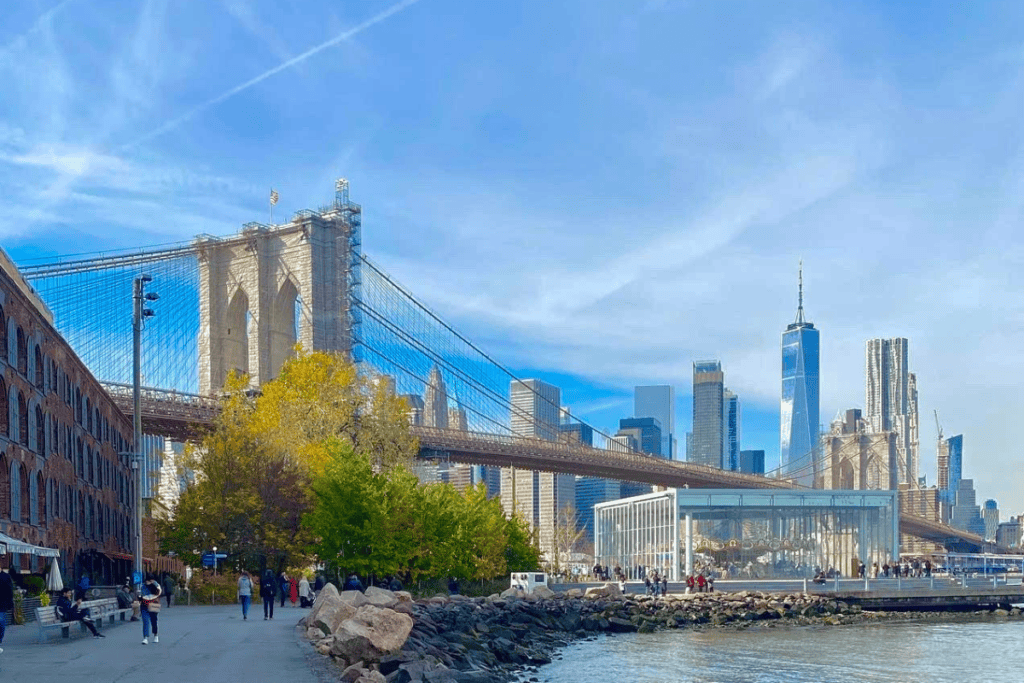 As a family that visits New York City often, we love Brooklyn. Especially Brooklyn Bridge Park and wandering Brooklyn Heights neighborhood.
We always walk across the Brooklyn Bridge from Manhattan and then grab food at TimeOut Market (Clinton Street Bakery pancakes are a must). TimeOut Market has several different New York eateries for you and your kids to choose from. Sometimes we get the food to go sit by Janes Carousel on the lawn right in front of the bridge.
There are many kid-friendly activities at Brooklyn Bridge Park as well as playgrounds. There is basketball, pickle ball, and roller skating, all with amazing views of the Brooklyn Bridge and the Manhattan skyline.
Our favorite Brooklyn Bridge Park Playgrounds:
Main Street Playground: Located near the Manhattan Bridge, behind Pebble Beach this playground offers stunning views of the Brooklyn Bridge and Manhattan skyline. Situated This playground features fun nautical-themed structures perfect for imaginative play.
Pier 6 Playground: Situated at Pier 6, in Brooklyn Heights, this playground offers a variety of play areas, including cabins sandboxes, water play features, and swings. If you're in NYC with kids in summer, Pier 6 has a water lab with water play structures, slides, and more water features to cool off.
NYC Travel Tip: After your time at Brooklyn Bridge Park, we love to get ice cream. There are a few around DUMBO, but honestly, I can't pick a favorite, they are all fantastic. Brooklyn Ice Cream Factory, Van Leeuwen Ice Cream, and OddFellows! For pizza, Julianas Pizza is AMAZING.
Visit Times Square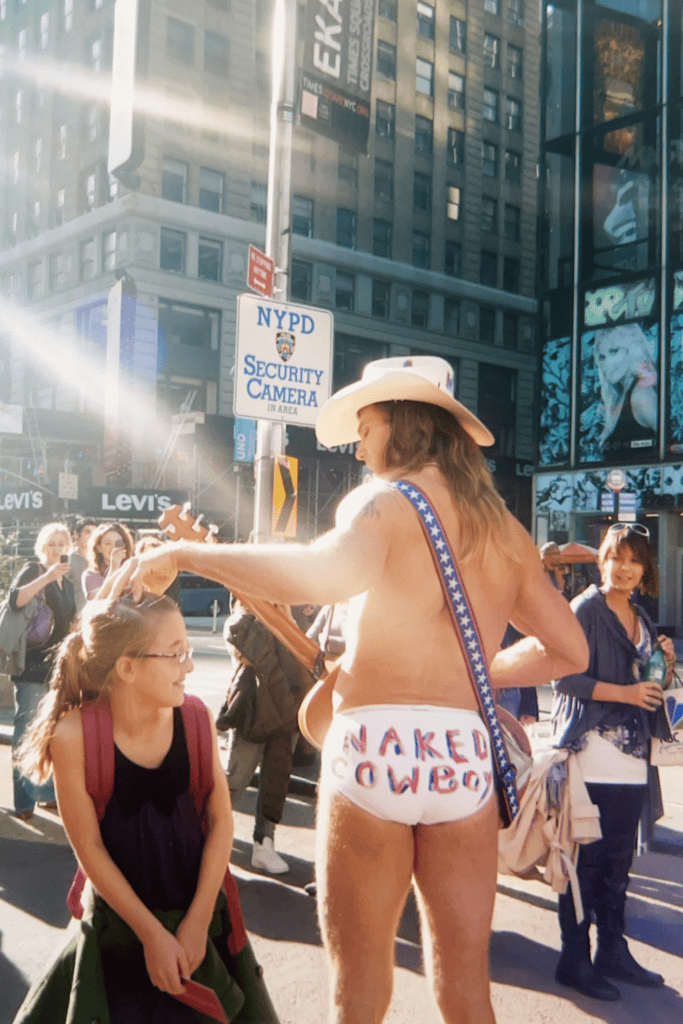 The vibrant kaleidoscope that is Times Square, promises an adventure teeming with excitement, discovery, and fun for kids in NYC.
This world-renowned heart of New York City pulses with neon lights, towering billboards, and eccentric crowds (as you will see in my photos above, my daughter with the Naked Cowboy in Times Square. He is still there and as a warning, there are some resident quirky characters in Times Square), creating an atmosphere that's nothing short of electric.
Begin your family escapade at the iconic M&M's World or Hershey's Chocolate World, where youngsters can revel in the explosion of colors and flavors.
Don't miss out on a visit to Madame Tussauds for a playful brush with fame, where kids can meet lifelike wax figures of their favorite stars, superheroes, and sports icons. Then, take your family's journey skyward at Times Square's towering skyscrapers.
For a touch of culture and magic, head to the New Victory Theater, the city's dedicated children's theatre, offering an engaging lineup of family-friendly performances.
Times Square, in all its high-voltage charm, offers a plethora of entertainment options that cater to young explorers, artists, food lovers, and adventurers. A day spent here will leave your family with memories as luminous as the Square's dazzling lights.
NYC Travel Tip: Times Square is wild. It's full of people, and there are some very odd characters in Times Square. To be brutally honest, Times Square is my least favorite area of Manhattan. But, you should go spend some time there at least once in your lifetime. If you are traveling with your kids to NYC, keep a close watch on them in Times Square. It's very crowded and there are some eccentric people around. There is a lot of police presence but it's a whole different world in that location of NYC. I do not recommend staying in Times Square either.
New York Yankees Game
Take your family to the thrilling world of America's favorite pastime by attending a New York Yankees game—an unforgettable addition to your list of things to do in New York City with kids.
Set foot in the iconic Yankee Stadium, where history and sportsmanship collide, creating an electrifying atmosphere that will leave young fans full of excitement. Yankee Stadium's family-friendly amenities and activities cater to all ages, ensuring that everyone has an extraordinary time. From savoring classic ballpark snacks to joining in the spirited cheers of loyal Yankees fans, this experience will create cherished memories for years to come.
Brooklyn Childrens Museum
Ignite young imaginations at the Brooklyn Children's Museum, a colorful cornerstone in NYC's family-friendly attractions. Packed with interactive exhibits, it's an epicenter of fun and learning.
Kids can 'shop' at a mock grocery store or explore global cultures in 'World Brooklyn'. Founded in 1899, it holds the honor of being the world's first children's museum.
Find hours and information about the Brooklyn Childrens Museum here.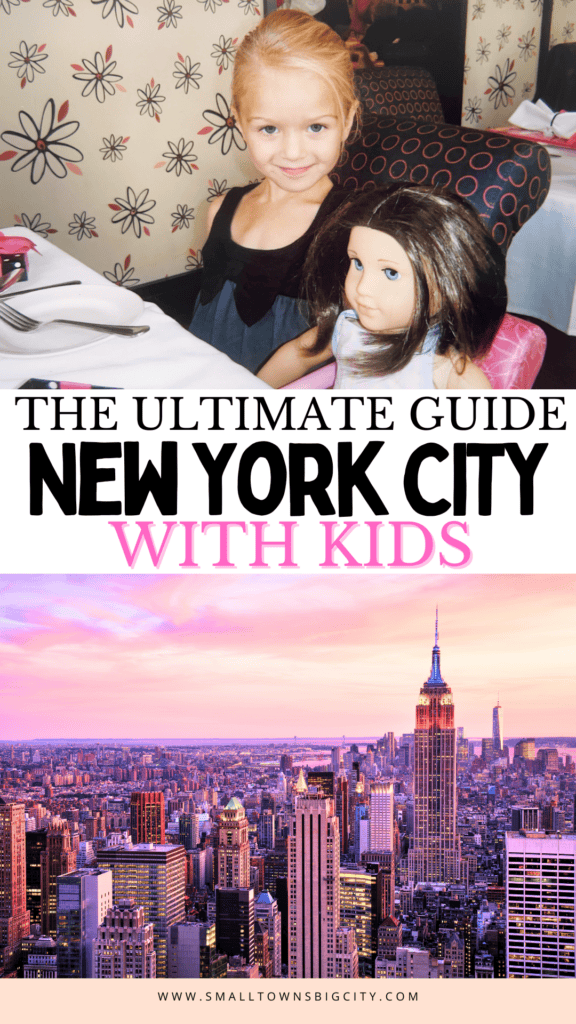 This post may contain affiliate links. I may receive a small commission if a qualified link is used at no cost or obligation to you ever. Additionally, I am an Amazon Affiliate Partner. I may receive a commission if a qualifying link is used.