With its abundance of snow-capped peaks and rugged trails, Colorado is a mecca for outdoor enthusiasts or those who love beautiful scenery. From Aspen to Vail, the state is home to some of the most popular ski resorts in the country. Colorado is also home to many charming mountain towns that offer a taste of the true Wild West and each has a unique atmosphere to match your tastes. Here are the most beautiful mountain towns in Colorado to consider for your next vacation.
Best Mountain Town in Colorado-Telluride
Telluride is one of the best mountain towns in Colorado, if not in America. Telluride is a picturesque town located in a box canyon in southwest Colorado, surrounded by pristine forests and all surrounded by the San Juan Mountains, the highest concentration of 13,000- and 14,000-foot peaks in North America.
Telluride mountain village is also known for its laid-back vibe and lack of traffic lights (the main street only has two!).
In addition to being a great place to relax, and has beautiful accommodations like cozy cabins to sit fireside after exploring.
Telluride has an abundance of activities for outdoor enthusiasts. The town is surrounded by skiing, hiking, and biking trails, and it's also known for its many festivals from the Telluride Fire Festival to the Telluride Comedy Festival, there is something to pique your interest all year long.
Telluride is a four-season destination and is equally enchanting in winter, spring, summer, or fall. This Colorado mountain town is truly magical for a romantic getaway or a family vacation.
Aspen Colorado
Aspen, Colorado is an outdoor lover paradise with unbeatable activities, cultural offerings, posh boutique hotels and resorts, and unique landscapes. Tucked between four ski mountains at the bottom of Maroon Creek Valley, Aspen offers a variety of outdoor sports including skiing, snowboarding, river rafting, mountain biking, and more.
Plus, Aspen is a Colorado mountain town that is popular with celebrities who love and frequent Aspen such as Mariah Carey, Goldie Hawn, Katy Parry, and Leo Dicaprio.
The town itself is full of luxury shopping boutiques like Prada & Gucci to locally owned stores selling everything from souvenirs & jewelry to outdoor gear & apparel and galleries displaying some of the finest artwork in the country; in addition, there is an eclectic dining scene and nightlife.
A must in Aspen is a hike through the Maroon Bells scenic area. This popular natural landmark boasts a reflective lake and two stunning peaked mountains. This area is one of the most photographed places in Colorado and one must visit to really understand its true beauty.
Aspen is home to Snowmass one of the largest and most popular mountains in Colorado and offers some of the best ski and snowboard terrains in North America. With over 3,300 acres of skiable terrain across four separate mountains, Snowmass has something for all skill levels – from beginner runs to expert-level chutes and glades.
>> Book Your Lux Aspen Vacation <<
Glenwood Springs
If you're looking for a charming mountain town to visit in Colorado, Glenwood Springs is the place for you. With its natural hot springs, beautiful scenery, and small-town feel, Glenwood Springs is one of the perfect mountain towns in Colorado for you.
Glenwood Springs is located in western Colorado and offers stunning scenery, outdoor activities galore, and a relaxed pace of life that is sure to rejuvenate even the most stressed-out city dweller.
Adventure seekers can hike or mountain bike through one of the many trails in the area, while those who prefer a more leisurely pace can stroll through one of the many parks or take a dip in the world-famous hot springs. And no matter what your interests are, you're sure to find some great food and shopping options in the quaint downtown Glenwood Springs.
Some of the must-see sights in Glenwood Springs include Hanging Lake, Iron Mountain Hot Springs, and Glenwood Caverns Adventure Park.
Hanging Lake is a short but strenuous hike that rewards visitors with panoramic views of Glenwood Canyon and a refreshing dip in one of the most picturesque lakes in Colorado.
Iron Mountain Hot Springs offers sixteen different soaking pools with views of Iron Mountain and Mt. Sopris, making it the perfect place to relax after a long day of exploring. And finally, Glenwood Caverns Adventure Park is home to thrilling rides for family-friendly fun.
There's no denying that Glenwood Springs is one of Colorado's hidden gems. This charming Colorado mountain town is a four-season destination perfect for an adrenaline-pumping adventure, a couples trip, a family getaway, or a relaxing weekend away from it all.
Vail Colorado
With a scenic mountain backdrop and a charming European feel, Vail Colorado is considered one of the best go-to mountain towns in Colorado for luxury accommodations, some of the best skiing and snowboarding in the state as well as world-class dining and shopping.
During the winter season, skiing/snowboarding is an absolute must while visiting Vail! Not only are there plenty of ski runs ranging from beginner to advanced levels, but there are also several ski schools available if you're looking to perfect your technique.
Ski rentals are available at many resorts so you don't have to worry about bringing all your own gear. And if you decide to stay overnight and make a weekend out of it, many resorts offer lodging packages that include access to ski lifts and other amenities.
During the fall season, that scenery comes alive with the natural beauty of changing leaves ranging from burnt oranges to vivid yellows. Whether it's taking a hike or taking advantage of Oktoberfest celebrations, visitors to Vail are surrounded by vibrant colors and autumnal delights.
Vail is also home to some of Colorado's most beautiful hiking trails so don't forget your hiking boots! During the warmer months, many visitors opt for biking instead as there are plenty of trails ranging from easy strolls through pine forests to more challenging rides up steep mountain paths.
Steamboat Springs Colorado
Nestled in the Rocky Mountains of Colorado, Steamboat Springs is a Colorado mountain town with plenty to discover. From hot springs, skiing, and mountain biking, to unique restaurants and boutiques this sweet little town takes pride in its Western heritage, with rodeo competitions and cowboy charm found around every corner.
Visitors can take advantage of the breathtaking mountain views as they explore the local trails or enjoy a relaxing rafting trip down the Yampa River.
Additionally, visitors can always find activities like Keepin' It Free, a free concert series, or exploring Fish Creek Falls to keep them engaged on vacation. Combining unique mountain culture with the spirit of adventure, Steamboat Springs is the perfect mountain town in Colorado to vacation in.
>> Book Your Steamboat Springs Mountain Vacation <<
Breckenridge Colorado
With its quaint Main Street and Jucerasopo Mountain setting, Breckenridge is the perfect place to enjoy a slice of small-town life, and it's a fantastic mountain town close to Denver (about an hour and 20 minutes) for close access.
Insiders Tip: Breckenridge, Vail, and Glenwood Springs are all within close proximity to each other, making it easy to stay in one Colorado mountain town and explore the towns if you have the time. Breckenridge and Vail are about an hour and twenty minutes from Denver and Glenwood Springs approximately an hour more.
Here, visitors can revel in all sorts of outdoor activities such as skiing, hiking, and biking on miles of scenic trails; shopping and dining in the vibrant, yet super laid-back downtown area; or admiring the majestic views of snow-capped peaks that line the horizon.
Breckenridge's picturesque alpine village also boasts numerous art galleries and a rich cultural history to explore. Plus, there are plenty of festivals like the Budweiser Snow Sculpture Festival, every season ranging from outdoor concerts to beer tastings and breweries.
Estes Park Colorado
Estes Park is one of the best mountain towns close to Denver and is located at the eastern entrance of the Rocky Mountain National Park, making it a fantastic base camp for amazing adventures.
The village of Estes Park offers travelers the opportunity a place to relax with fantastic hometown hospitality, shops, and cozy restaurants paired with outdoor adventures including unique wildlife and wilderness activities, rock climbing, fly fishing, whitewater rafting, cycling, and water sports.
Not to mention, winter activities like backcountry skiing, sledding, and ice climbing. The outdoor excursions are limitless.
Pagosa Springs Colorado
In the heart of the San Juan Mountains, Pagosa Springs, Colorado is a picturesque mountain town that has so much to offer visitors. Whether you're looking for a weekend getaway or a longer stay in the mountains, Pagosa Springs is full of activities and attractions that will make your trip unforgettable.
"Pagosa" the Ute word for "healing" or "boiling water," hot springs were frequented by many tribes. Today, Pagosa has several hot springs to be enjoyed by visitors to this area in southwest Colorado.
Pagosa Springs offers an array of outdoor activities for all types of adventurers. From river rafting on the San Juan River to hiking trails through scenic landscapes and horseback riding throughout the trails. For those who prefer to relax outdoors, there are hot springs and fishing spots with plenty of trout and bass.
>> See Pagosa Spring Accommodations <<
Visitors can explore downtown Pagosa Springs with many local shops and ma & pop restaurants offering everything from southwestern cuisine to barbecue dishes. Art galleries line the streets with original pieces from local artists as well as traditional Navajo artworks.
For thrill-seekers, try out some extreme sports like zip lining or bungee jumping at Wolf Creek Ski Area – one of Colorado's premier ski destinations located just outside Pagosa Springs. And while wintertime is great for skiing and snowboarding on these slopes, summertime offers many activities such as disc golfing and paragliding over some breathtaking views.
Winter Park Colorado
Known as one of the best ski resorts in Colorado for families, and the best winter towns in Colorado, Winter Park is a skiing and snowboarding mecca for pros and beginners alike.
This small Colorado mountain town has an endless array of activities and attractions available year-round, including world-class skiing in the winter months and numerous hiking, mountain biking, and entertainment opportunities in the warmer months.
Visitors of Winter Park can explore its vibrant downtown area complete with amazing dining and shopping options or take one of its many scenic gondola rides to experience some of the best views around.
Whether you're looking for a weekend getaway or an extended vacation, Winter Park Colorado is a fantastic mountain town in Colorado to do so.
Grand Lakes Colorado
If you want a Colorado mountain town that is a hidden gem and not frequented by very many tourists, Grand Lakes is the perfect peaceful and secluded Colorado vacation.
The beautiful scenery and endless recreation opportunities make it an ideal spot for an outdoor getaway. With access to five parks and hundreds of miles of trails, Grand Lakes offers plenty of space to explore the backcountry with breathtaking views at every turn.
This unincorporated community also has several spots for camping and fishing, making it easy to spend a nice weekend away in the calming mountains.
Best of all, you can find a variety of cozy restaurants, wineries, and shops in town, perfect for recharging on your journey.
Grand Junction Colorado
Grand Junction Colorado is one of the best mountain towns in Colorado, renowned for its multitude of outdoor activities situated against a stunning backdrop of majestic red rock canyons. Grand Junction is also known as Colorado wine country with several wineries to explore.
Nestled between two national parks and two forests, Grand Junction features endless opportunities to explore and appreciate nature. With biking, hiking, camping, off-road vehicles, wildlife viewing, and more readily available outside your doorstep this city is the perfect place for an adventurous getaway.
The cultural scene is vibrant with music venues and festivals to appease any music enthusiast, as well as an array of festivals celebrating diverse arts, cuisines, and culture throughout the year.
Put simply, Grand Junction's unique combination of natural beauty and cultural experiences makes it one of the best Colorado mountain towns.
Please Share and Pin "Mountain Towns in Colorado" Below! We Appreciate it! Happy Travels!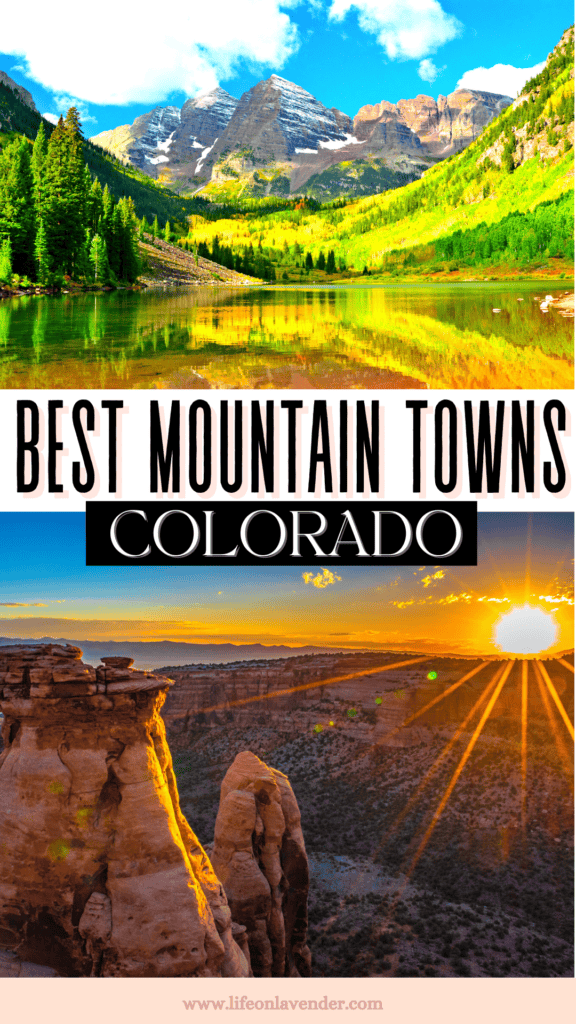 This post may contain affiliate links. I may receive a small commission if a qualified link is used at no cost or obligation to you ever. Additionally, I am an Amazon Affiliate Partner. I may receive a commission if a qualifying link is used.