New York City, the city that never sleeps, is a melting pot of culture, history, and experiences waiting to be explored. This article delves into the ultimate New York City bucket list, providing insight into the must-see attractions, iconic landmarks, and hidden gems that will make your time in New York City unforgettable.
From the soaring skyscrapers of Manhattan to the verdant landscapes of Central Park, New York never runs out of things to do.
Art enthusiasts can revel in the masterpieces displayed at renowned museums like the Metropolitan Museum of Art, while foodies can indulge their taste buds at the diverse array of restaurants and street food vendors found in each borough.
History buffs will marvel at the architecture and stories behind buildings such as the Gilded Age mansions, neighborhood homes such as Brooklyn Heights, the Empire State Building, and the Statue of Liberty.
In addition to the well-known attractions, New York has an eclectic mix of lesser-known activities and destinations we recommend.
As you venture off the beaten path, you may stumble upon charming neighborhoods, unexpected art installations, or vibrant cultural events that showcase the rich tapestry of the city.
So, without further ado, let's dive into the definitive NYC bucket list that will help you experience all the wonders the greatest city in the world has to offer.
Happy New York Travel!
New York City Bucket List-Iconic Landmarks
From the towering skyscrapers of the Manhattan skyline to the historic landmarks of the Brooklyn Bridge, NYC is a city that never fails to impress, and I promise you, you will never run out of things to do no matter how many times you visit.
With its rich history, diverse neighborhoods, and world-renowned attractions, there is always something new to see and do.
Let's dive into some of the most classic and iconic attractions to add to your NYC bucket list that makes New York City what it is– the most exciting place on earth.
Statue of Liberty
Of course, the Statue of Liberty is on your New York bucket list! It is one of the most famous landmarks in New York City and in the world. Gifted by France in 1886, it stands tall on Liberty Island, symbolizing freedom and democracy.
Visitors can explore the monument and its museum and also enjoy stunning views of the New York City skyline. Tickets are available for the pedestal or crown, with options for guided tours as well.
You can find an array of refundable, skip-the-line cruise or tour tickets to the Statue of Liberty here.
Empire State Building
Another iconic landmark in NYC is the Empire State Building Observation Deck. Completed in 1931, it was the tallest building in the world at the time. Today, it offers incredible panoramic views of the city from its 86th and 102nd-floor observatories. An unforgettable experience is visiting the Empire State Observatory at sunset, and witnessing the city transitioning from day to night.
Empire State Building Observation Deck: If you are visiting New York City, and want a classic experience to see New York from above, the Empire State is unforgettable. Here is a guide to the Empire State Building and the best ticket options here.
Times Square
Times Square is a hub of sparkling lights, advertisements, and entertainment (including some things you may not expect or ever want to see), making it a must-see on any NYC bucket list.
Located at the junction of Broadway and Seventh Avenue, it's a symbol of the city's energy, hosting events like the New Year's Eve ball drop and Broadway shows. To fully experience the vibrant energy of Times Square, it's best to visit at night when the billboards and marquees light up the area as well as the sidewalk entertainment.
New York City Tips: Want to know why you dock your CitiBike properly or why you should not get on a horse-drawn carriage in Central Park? Read these Tips for New York City HERE.
One World Trade Center
The One World Trade Center, standing as the tallest building in the United States, is a monument of strength and renewal and should definitely be top on your New York bucket list.
With its completion in 2013, the building stands on the site of the original Twin Towers.
At its observatory, located on the 100th through 102nd floors, visitors can enjoy a breathtaking 360-degree view of New York City and beyond. Additionally, there's the 9/11 Memorial and Museum located nearby, serving as a tribute to the lives lost during the tragic events of September 11, 2001.
Observation Decks in New York City: This is a list of the five observation decks in NYC, the classics, and the modern. There might be a deck that entices you more. Each one has unique characteristics, views, and qualities. You can find the article HERE.
NYC Museums
New York City is home to several world-renowned museums, each with its unique collections and exhibitions. In this section, we will showcase five must-visit institutions that should be on every NYC bucket list.
9/11 Memorial & Museum
The 9/11 Memorial & Museum serves as a somber reminder of the tragic events that occurred on September 11, 2001.
I personally believe this beautiful museum should be at the very top of the New York City bucket list. Everyone should experience this memorial and museum.
The 9..11 Memorial consists of two reflecting pools located in the footprint of the original Twin Towers, while the museum houses exhibitions that tell the story of the events, the victims, heroes, and the aftermath of the attacks.
This powerful experience pays tribute to the lives lost and honors the courage of those who responded to the tragedy.
Find 9/11 Memorial & Museum refundable skip-the-line tickets, guided tours, and experiences here.
Metropolitan Museum of Art
The Metropolitan Museum of Art, also known as The Met, houses over two million works spanning 5,000 years of history. This museum is our family's favorite museum in New York City.
Visitors can explore galleries filled with art, including pieces by famous artists such as Van Gogh, Rembrandt, and Michelangelo. With its diverse and vast collection, The Met offers a glimpse into the world's many artistic traditions.
Be sure to visit the rooftop for cocktails, refreshments, and spectacular views of Central Park.
Find refundable, skip-the-line tickets to The MET here.
NYC Rooftop Brunch. Brunch in NYC is always a good idea but level it with a rooftop and a view, oh, and bottomless mimosas! Find your NYC rooftop brunch guide HERE.
American Museum of Natural History
At the American Museum of Natural History, visitors can delve into the mysteries of the natural world. This is one of the best museums for kids in NYC as well as adults!
It is one of the coolest museums in New York City!
With exhibits ranging from dinosaur fossils to a full-scale model of a blue whale, this museum captures the wonder and excitement of scientific discovery.
Additionally, the Hayden Planetarium, located within the museum, offers an immersive journey through the universe.
We recommend purchasing skip-the-line tickets to AMNH in advance here.
Best Museums for Kids in NYC. Taking the kids to New York City and want them to have an engaging, educational yet super fun time? We have the best museums in NYC for kids HERE!
Guggenheim Museum
Designed by esteemed architect Frank Lloyd Wright, the Guggenheim Museum is an iconic cylindrical building that is home to modern and contemporary art exhibitions. The spiral ramp inside provides a unique viewing experience and showcases works from renowned artists such as Picasso, Kandinsky, and Pollack.
The Met Cloisters
Located in Fort Tryon Park, The Met Cloisters is a branch of the Metropolitan Museum of Art dedicated to medieval European art and architecture. The museum's building and surrounding gardens are designed to resemble a medieval monastery, creating an immersive experience for visitors.
With its collection of illuminated manuscripts, sculptures, and tapestries, The Met Cloisters transports visitors back in time to the Middle Ages.
Each of these must-visit museums in New York City offers something unique and captivating. Be sure to add them to your New York City bucket list when exploring the city's rich cultural landscape.
Find more information about the MET Cloisters here!
Unique things to do in NYC: Looking for some ideas outside of tourist traps in New York City? We have some fun, innovative, quirky, weird, out-of-the-box ideas in New York City to consider HERE!
Central Park
Central Park, the iconic 843-acre urban oasis, offers a myriad of unforgettable experiences. Central Park is probably at the top of your places to visit in New York.
Visitors can relish the beauty of the park while strolling or biking through the winding pathways and admiring its picturesque landscapes.
The Bethesda Terrace and the adjacent Bethesda Fountain are known for their stunning architecture and are must-visit spots in the park.
For an even more immersive experience, one can rent a rowboat at the Loeb Boathouse on the serene waters of The Lake under the Bow Bridge.
Be sure to travel a little further up Central Park to find Belvedere Castle!
Central Park in The Fall. Central Park in the fall is the most magical time. The air is crisp, the leaves are deep shades of red, yellow, and orange. Central Park turns into an autumn wonderland with photo opportunities all over. Find the guide HERE!
Brooklyn Bridge
A walk across the historic Brooklyn Bridge is a quintessential New York City experience. Spanning just over a mile, this breathtaking journey offers unparalleled views of the Manhattan skyline and the harbor.
Be sure to bring a camera to capture stunning sunset or nighttime shots of the illuminated bridge against the city backdrop.
Brooklyn Bridge Park is a waterfront park located along the East River. After you walk across the Brooklyn Bridge this is a fun place in NYC to relax, grab some fantastic food and take in the Manhattan skyline.
The Brooklyn Bridge Park stretches 1.3 miles along the waterfront and features a variety of recreational activities, including walking and biking paths, playgrounds, a carousel, sports fields, and waterfront piers.
Staten Island Ferry
Cruising on the Staten Island Ferry is an unforgettable experience (and one of the best free things to do in New York City) that offers stunning views of the Statue of Liberty, Ellis Island, and the Manhattan skyline.
Running 24/7, the ferry provides visitors with flexibility in choosing the perfect time for a scenic ride, whether it's a daytime trip or an evening voyage that showcases the twinkling city lights.
NYC Helicopter Ride
For those seeking a thrilling, bird's-eye view of the city, a helicopter ride over New York City is the ultimate New York City bucket-list experience. Options range from shorter, 15-minute tours that cover landmarks such as the Statue of Liberty and One World Trade Center to longer, 30-minute excursions that provide a more comprehensive look at the city's iconic skyline. The most popular right now is the "door-off" option, yikes!
Find the best New York City helicopter tours here.
City Climb at The Edge NYC
City Climb at the EDGE NYC offers climbers, and non-climbers a unique opportunity to push their limits and experience New York City from a completely different perspective. There is nothing like it and an experience like no other.
It is the highest open-air building ascent in the world, with climbers scaling the exterior of a skyscraper over 1,200 feet (366 meters) above the ground.
Once they reach the top, climbers can lean out and take in the stunning views of the city from the highest outdoor platform in New York City.
This exhilarating experience is not for the faint of heart and is sure to leave a lasting impression on those who dare to take on the challenge. Find more information and tickets to the EDGE NYC and City Climb here.
The Edge NYC: This New York City observation deck is modern and thrilling. Don't forget to check out City Climb while you are there. Read about the Edge NYC and climbing the side of a skyscraper HERE.
Take a Harbor Cruise
A New York City Harbor Cruise is a popular way to experience the city's stunning skyline and iconic landmarks from the water.
It's also a way to take the weight off your feet from all that walking!
These cruises typically depart from Manhattan and offer a variety of options, including sightseeing cruises, brunch cruises, lunch cruises, dinner cruises, and specialty cruises, such as fireworks cruises and holiday cruises.
On a sightseeing cruise, visitors can take in the views of the city's most famous landmarks, including the Statue of Liberty, Ellis Island, the Brooklyn Bridge, and the Empire State Building.
Many sightseeing cruises also offer live narration, providing interesting facts and history about the city.
Brunch, lunch, and dinner cruises typically include a meal, as well as stunning views of the city skyline and landmarks.
Find the best New York City cruises here.
Exploring the Five Boroughs
New York City is composed of five distinct boroughs that each have their own unique character and charm. These boroughs are Manhattan (which most people typically stay in when traveling to New York), Brooklyn, Queens, the Bronx, and Staten Island.
Each borough has its own history, culture, and attractions that draw visitors from around the world.
To get an in-depth experience and the history behind each borough taking a guided tour of New York City is sometimes helpful.
On a guided tour you will get insider information and learn about hidden gems that you probably wouldn't learn if you were hitting all the standard tourist spots.
Manhattan
Manhattan is the heart of New York City and home to iconic landmarks such as Times Square, Central Park, and the Empire State Building. Art and culture enthusiasts will enjoy visiting the Museum of Modern Art (MoMA), the Met, and the Guggenheim.
Don't forget to explore the neighborhoods of SoHo, Greenwich Village, and the Upper East Side for unique shopping and dining experiences.
Find Manhattan guided tours here.
NYC Travel Tip: The double-decker bus rides in New York City get a bad rap for being dorky and whatnot, but as a person that travels to New York a lot, I personally believe the buses are a great way to explore the city and they hit all major destinations. Plus, they hop on and off. The bus driver gives history, points out different buildings, and knows each area and neighborhood well. If you are traveling to NYC for the first time, I recommend the double-decker buses. Just don't purchase your ticket on the street. Most of the time it's a scam. Find refundable tickets for the bus tours here.
Brooklyn
Brooklyn is a vibrant mix of culture, food, and entertainment. It's one of our favorite boroughs, especially DUMBO, Brooklyn Heights, and Williamsburg neighborhoods.
Walk across the Brooklyn Bridge to take in stunning views of the Manhattan skyline and explore the picturesque neighborhoods of DUMBO, Brooklyn Heights, Williamsburg, and Park Slope. Catch a show at the historic Brooklyn Academy of Music (BAM) or stroll through the beautiful Brooklyn Botanic Garden.
Brooklyn has some really fun walking tours and bus tours. If you are in town for Christmas, the Dyker Heights tour is a must. F
ind tours of Brooklyn here.
Queens
Queens is the most ethnically diverse borough of New York and offers a wide array of attractions and experiences. If you ask anyone from Queens, they will say they have the best food of all the NYC boroughs.
Take a tour of the Museum of the Moving Image in Astoria or explore the culinary delights of Jackson Heights' diverse food scene. Lastly, don't miss Long Island City's waterfront parks and vibrant art scene.
Find tours of Queens here.
Bronx
The Bronx is rich in history and culture and is home to the world-renowned Bronx Zoo, the largest urban zoo in the country. Visit the New York Botanical Garden, boasting 250 acres of landscapes and a stunning conservatory.
Baseball fans can catch a game at the Yankee Stadium, while history buffs can explore the Edgar Allan Poe Cottage and the Van Cortlandt House Museum.
Staten Island
Staten Island offers a unique suburban charm, with historic sites and natural beauty. Hop on the Staten Island Ferry for a stunning view of the Statue of Liberty and the Manhattan skyline. Visit the Snug Harbor Cultural Center and Botanical Garden, and experience the historic charm of the Staten Island Museum.
Take a walk around the diverse neighborhoods of St. George, Tompkinsville, and Stapleton, offering an array of dining and shopping options.
Explore the Vibrant Neighborhood of Harlem
Harlem is not one of the fine boroughs but is definitely worth exploring. Traveling to Harlem is a unique experience that offers visitors a chance to explore the rich history and culture of one of New York City's most vibrant neighborhoods.
From the iconic Apollo Theater to the fabulous streets lined with colorful murals and street vendors, Harlem is a destination that is sure to captivate and inspire. Visitors can also sample the neighborhood's famous soul food cuisine, attend a gospel choir performance, or take a guided tour to learn more about the area's African American heritage.
The Harlem tours along with the Brooklyn tours are probably the best, most fun tours out there. Find these tours here.
NYC Bucket List-See a Broadway Show
New York City is home to the world-famous Broadway theater district, offering an array of shows for all tastes. Catching a Broadway show is a must item to check off your New York City bucket list. Broadway IS an essential part of the New York experience.
Be sure to book your tickets in advance to secure your seat at a performance.
Here are the top Broadway shows in NYC:
Hamilton – This Tony Award-winning musical tells the story of Alexander Hamilton and features a blend of hip-hop, jazz, and traditional show tunes.
The Lion King – This beloved musical, based on the Disney animated film, features stunning costumes and puppetry, as well as catchy songs.
Wicked – This musical tells the story of the witches of Oz before Dorothy arrived and features memorable songs and stunning visuals
Aladdin – This Disney musical brings the classic tale to life with stunning sets and costumes, as well as memorable songs.
Moulin Rouge! The Musical – This new musical adaptation of the hit movie features stunning choreography and a modern pop soundtrack.
Hadestown – This Tony Award-winning musical retells the story of Orpheus and Eurydice in a haunting and beautiful way.
The Book of Mormon – This irreverent musical from the creators of South Park tells the story of two Mormon missionaries sent to Uganda and features catchy songs and plenty of humor.
Chicago – This classic musical tells the story of two women accused of murder and features iconic songs and dance numbers.
Best Broadway Shows | Top Plays in NYC. Find the highest-rated, best Broadway shows in New York City for the ultimate experience. These showrunners will give you the most amazing time. Find our guide here.
New York City Jazz Clubs
Jazz has deep roots in New York City, and the vibrant jazz scene continues to thrive. Legendary clubs like Blue Note, Village Vanguard, and Birdland have hosted some of the most iconic jazz musicians in history.
In addition, up-and-coming venues such as Dizzy's Club and Smalls Jazz Club offer intimate settings to enjoy live performances. Don't miss the opportunity to explore the rich jazz culture of the city.
Do a New York City Experience
Famous NYC Pizza
If I got to do one New York City bucket list item, eating pizza would be it. New York City is known for its iconic pizza, and I am here to tell you IT IS the best. With a rich history and influence from Italian immigrants, it's thin-crust style and large slices attract pizza enthusiasts from around the globe.
Here are the top New York City pizza spots you MUST try:
Lombardi's: Established in 1905, Lombardi's is known as America's first pizzeria. Located in Little Italy, it has become a must-visit spot for tourists and locals alike. This is one of our personal favorite spots even though it does attract many tourists. The pizza is delicious.
Di Fara: This Brooklyn pizzeria has been making headlines since 1965 thanks to its masterful blend of sauces and cheese, resulting in a perfect slice of pizza.
Lucalis. Lucalis is our absoulte favorite. There are no reservations and the line is the longest of your life but will be the best pizza of your life. While waiting in line, have whoever is with you run over to the local wine market and grab some wine or cocktail of choice for dinner, Lucalis is BYOB.
Joe's: A true New York staple, Joe's pizzeria has been serving delicious slices in Greenwich Village since the 1970s.
Breakfast at Tiffanys
YES! You can actually have breakfast at Tiffany's in their newly renovated flagship store on 5th Ave.
The beloved Breakfast at Tiffany's experience has made a comeback in a newly revamped space, The Blue Box Cafe, complete with the brand's iconic turquoise color scheme. The food is under the direction of renowned chef Daniel Boulud, who has created a French-inspired menu featuring breakfast sets and high teas served on stunning three-tiered displays.
The delicious displays are adorned with shiny, housemade pastries that are sure to delight any sweet tooth. For those seeking a luxurious touch, caviar service is also available.
NYC Travel Tip: The Blue Box Cafe is open for reservation on RESY. They release reservations in advance only 30 days. We recommend going to the RESY website or at exactly 9 am New York time, 30 days before you plan to attend Blue Box Cafe. The reservations usually book within seconds. There is a notification button also if you can't snag a reservation.
New York City Steakhouses
New York literally has a steak named after it, the New York Strip. So having a steak and a fabulous meal is a must on your NYC bucket list.
These are our recommendations and highly-rated NYC steakhouses to consider (they are all fantastic):
Keens Steakhouse. Founded in 1885, Keens is one of the city's oldest and most iconic steakhouses. Keens is famous for its signature dish, the mutton chop, which has been a favorite among patrons for over a century. The interior of the restaurant is adorned with an impressive collection of over 90,000 clay pipes, which were once smoked by patrons of the establishment like Einstein and Babe Ruth. If you are looking for an old-school, classic New York City steakhouse, Keens is it.
Delmonicos. Not only will you get the best steak of your life, but you will also get a true New York experience. Established in 1837, it is one of the oldest and most respected steakhouses in the United States. Delmonicos is known for its legendary steaks, which are hand-cut and dry-aged on-site to ensure the highest quality and flavor.
Peter Luger Steakhouse. Another classic is Peter Luger Steakhouse. Peter Luger is a legendary restaurant located in Brooklyn, was established in 1887, it is one of the oldest and most iconic steakhouses in the United States. The restaurant is known for its world-famous dry-aged steaks, which are prepared to perfection by skilled chefs. The interior of the restaurant is classic and timeless, with dark wood paneling and vintage decor. Peter Luger Steakhouse has been recognized with numerous awards and accolades, including a Michelin star and a place on the list of the world's 50 best restaurants. With its exceptional cuisine and historic charm, Peter Luger Steakhouse is a must-visit.
4 Charles Prime Rib. 4 Charles is a hidden gem of a supper club located in the charming West Village neighborhood of New York City. The intimate space is adorned with sparkling crystal chandeliers, leather seating, and paintings that line the classic dark wood walls, transporting diners to a bygone era. 4 Charles restaurant specializes in gorgeous cuts of prime rib, fresh seafood, and strong drinks, all served in an atmosphere that exudes sophistication and elegance.
Harrys. If you want a little Wall Street experience, Harry's Bar & Restaurant is a must. For nearly 50 years, this family-owned establishment has been serving up exquisite in-house dry-aged steaks, which are thoughtfully sourced from a purveyor we've trusted since 1974, and one of the most extensive wine collections in America.
Be sure to make a reservation to any one of these establishments in advance here.
NYC Food Tours
For those looking to dive deeper into the culinary art of New York, signing up for a culinary tour is the perfect option. Led by experienced, local guides, these tours will immerse visitors in the flavorful history and culture of the city.
These are the absolute best and most highly-recommended food tours to cross off your New York City bucket list:
Explore Diverse NYC Dining Options
New York City's dining scene is as diverse as its inhabitants, offering a wide array of international cuisines appealing to every palate.
| Cuisine | Restaurants |
| --- | --- |
| Italian | Carbone, L'Artusi, and Marea |
| French | Le Coucou, Daniel, and Le Bernardin |
| Mexican | Cosme, Empellón, and Los Tacos No.1 |
| Asian | Momofuku Noodle Bar, Xi'an Famous Foods, and Ippudo |
Whether you crave a simple slice of pizza, wish to delve into the intricate art of culinary creation, or expand your dining horizons, New York City is a true food lover's paradise.
The Vessel and Hudson Yards
The Vessel is a striking architectural landmark nestled within the Hudson Yards neighborhood- a massive mixed-use development in Manhattan's West Side. It is a unique attraction to add to your New York City bucket list.
The Vessel consists of 154 flights of stairs, and 80 landings in a honeycomb-shaped structure, and offers stunning views of the city and Hudson River. Visitors can climb the Hudson Yards Vessel.
Note* It is recommended to check the dates and times of The Vessel. There are sometimes random closures. There are also a few rules such as you must be accompanied by someone when going up in the structure.
Find more information, hours, and FAQ on the Hudson Yards Vessel here.
Hudson Yards itself boasts multiple attractions, including:
The Shops & Restaurants at Hudson Yards: Home to high-end shopping, diverse dining options, and unique art installations
The Shed: A cutting-edge cultural center that hosts an array of events and performances. Find the schedule of The Shed here.
The Edge NYC: The highest outdoor sky deck in the Western Hemisphere, offering breathtaking panoramic views. Find skip-the-line tickets to the Edge NYC here.
Brooklyn Botanic Garden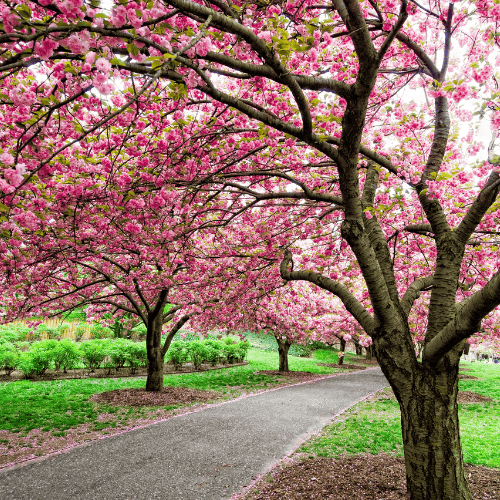 Spanning 52 acres, the Brooklyn Botanic Garden is an urban oasis featuring themed gardens, meandering paths, and seasonal blooms. Highlights include:
The Japanese Hill-and-Pond Garden: A serene space with koi-filled ponds and winding trails
The Cranford Rose Garden: Home to over 1,000 varieties of roses, best viewed in early June and late September
The Cherry Esplanade: A must-visit during cherry blossom season, which usually occurs in late April or early May
Little Island at Pier 55
Little Island at Pier 55 is a must-visit destination for anyone looking to check off items on their NYC bucket list. This unique public park and performance space offers visitors a one-of-a-kind experience with stunning views of the Hudson River and the city skyline.
Little Island's lush landscape and innovative design make it a popular spot for relaxation and entertainment. Whether you're looking to catch an outdoor performance in the amphitheater or simply enjoy a picnic on the lawn, Little Island is sure to leave a lasting impression. Don't miss your chance to add this incredible destination to your NYC bucket list and experience all that it has to offer.
Find more info, dates, times, events, and performances to Little Island at Pier 55 here.
The Oculus
The Oculus is a stunning transportation hub and premier shopping center located in the World Trade Center campus in Lower Manhattan and is known for its striking design, which resembles a bird in flight.
The Oculus features a variety of high-end shops and restaurants, as well as a transportation hub for the PATH train and the New York City subway. Visitors can also take in the stunning architecture and design of the building, which includes a massive skylight that floods the space with natural light.
Whether you're a fan of architecture, shopping, or transportation, The Oculus is a must-see destination to check off your New York City bucket list.
Find more information on eateries, hours, location, and shopping at the Oculus here.
Roosevelt Island
Roosevelt Island offers a unique perspective on New York City. Plus, the tram (only a Subway card swipe) offers a fantastic view of the Manhattan Bridge and once to Roosevelt Island, amazing views of the Manhattan skyline.
Notable attractions at Roosevelt Island include:
Franklin D. Roosevelt Four Freedoms Park: A 4-acre park and memorial dedicated to FDR, designed by Louis Kahn
The Renwick Smallpox Hospital Ruins: A haunting historical site, which once housed patients during smallpox outbreaks, this is a fun New York City bucket list item you shouldn't miss.
Roosevelt Island Garden Club: A community garden oasis, home to a diverse array of plants, flowers, and wildlife
Experience the ultimate shopping destination on 5th Avenue in New York City. With its iconic storefronts, designer boutiques, and luxury department stores, 5th Avenue is a shopper's paradise.
Indulge in high-end fashion at stores like Saks Fifth Avenue, Bergdorf Goodman, and Tiffany & Co. Browse designer collections at Gucci, Prada, Louis Vuitton, and more. Discover the latest trends at fast-fashion giants like H&M and Zara.
Take a break from shopping and admire the stunning architecture of the historic buildings that line the avenue. Marvel at the towering spire of the Empire State Building and the grandeur of St. Patrick's Cathedral or head over to Rockefeller Center.
Grab a designer handbag on 5th Avenue, a diamond at Tiffany's, or a simple NYC souvenir to take home, 5th avenue is a shopping experience like no other.
New York City Recommendation: Across from St. Patricks Cathedral (which you should add to your New York City bucket list) is Ralphs Coffee. These whimsical coffee shops are perfect for a pick-me-up, a sweet treat, and stunning views. Find locations here.
Please Pin New York City Bucket List Pin Below! Happy Travels!
This post may contain affiliate links. I may receive a small commission if a qualified link is used at no cost or obligation to you ever. Additionally, I am an Amazon Affiliate Partner. I may receive a commission if a qualifying link is used.