I curated a list of affordable wooden playhouses for kids and toddlers to paint and customize. Make a dreamy playhouse to fit your child's personality. You can hack any outdoor wooden playhouse with any paint color, add accessories, and kitchens, make it a café, or anything you want!
Moreover, you can even add your playhouse to your child's playroom if you do not want to put it outdoors! You can see our fun playhouse for our playroom here.
Or! You can leave these adorable outdoor wooden playhouses as is, build, and have fun!
Outdoor Wood Playhouses!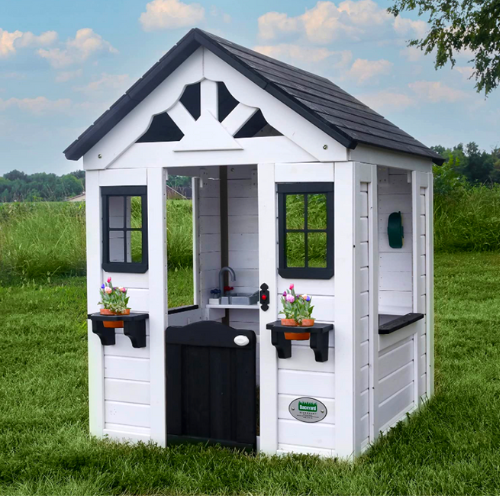 Shop Sweetwater Wooden Playhouse >>
The Sweetwater Wooden Playhouse from Backyard Discovery is a cozy cottage that all kids will love! Its rustic half door, country-style details, and custom flower pots add a wonderful touch of charm.
And this little wooden playhouse cottage is built to last – the cedar wood design is rot-resistant, so it'll hold up in all kinds of weather. No matter how big or small your backyard (or living room!) is, the Sweetwater Wooden Playhouse fits perfectly – it's the perfect size for indoor or outdoor fun!
Shop Forestview II Playhouse by KidKraft >>
The Forestview II Playhouse by KidKraft is the perfect affordable wooden playhouse for little ones to explore and create magical moments outside. This amazing wooden outdoor playhouse is one of the most popular painted playhouses on Pinterest and has realistic details like a functioning doorbell, a clock with moveable hands, and double-sided chalkboard walls that will billow creativity.
Kids will love entering this wooden playhouse to find an adorable kitchen equipped with two pans and a spatula that hangs on cute little pegs. With an eye-catching large serving window, a moveable bench, and two planter boxes included in this house, hours of imaginative fun awaits!
Constructed out of premium wood and treated with a child-friendly water-based stain that ensures durability, the Forestview II Playhouse by KidKraft creates endless possibilities for fun experiences!
Shop Bancroft Wooden Playhouse >>
The Bancroft Wooden Playhouse is a fun backyard playhouse that will provide hours of imaginative play.
This cozy cottage features a large side window that serves as an impromptu puppet theater or a pretend drive-thru and fairytale pane windows with twin flower boxes.
A real working doorbell, a working door big enough for three kids to play at once. It's crafted with a keen eye for architectural detail as well as imaginative play!
Shop KidKraft Cozy Hearth Cabin >>
Imagine the excitement and joy in your child's eyes as they enter the enchanting world of glamping with the KidKraft Cozy Hearth Cabin Playhouse. This backyard playhouse invites little explorers to indulge in their wildest vacation fantasies right at home.
The towering chimney and captivating flame centerpiece in the faux fireplace create a warm and inviting atmosphere, brought to life with just a simple push of a button. The wooden playhouse features a full door, complete with a charming window and an adorable mail slot.
When their furry friends join in on the adventure, the pet door provides them with easy access to the fun. Outside, a fenced yard extends the play area, while the built-in play kitchen and serve-through window entice young chefs to whip up delicious creations.
Meanwhile, this kid's outdoor playhouse has an attached picnic table and benches that offer the perfect spot for sharing their culinary masterpieces.
Finally, the heartfelt touch of fabric curtains, complete with tiebacks, transforms this playhouse into the ultimate cozy retreat for your child to treasure for years to come.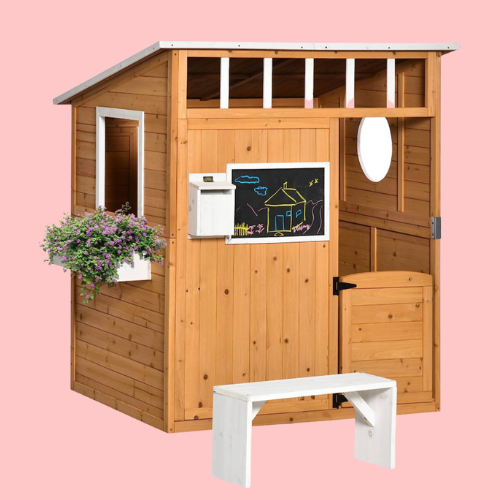 Shop Outsunny Wooden Playhouse >>
Imagine the joy on your little ones' faces as they step into their very own Outsunny Wooden Playhouse, a magical retreat designed just for them! This charming and engaging backyard playhouse offers hours of entertainment, fostering imaginative play whilst also helping to develop essential social skills.
Featuring a robust solid fir wood construction, this enchanting outdoor wood playhouse is not only resilient for daily use but also perfectly suited for the great outdoors or for the playroom.
Your kids will love stepping through the quaint half-sized door and running their own service station, scribbling masterpieces on the blackboard, and even tending to their plants in the flowerpot holder.
Complete with a door, windows, mailbox, bench, and a beautiful sloping modern roof, this outdoor haven encourages air circulation, ensuring a comfortable environment for your children as they embark on countless adventures together.
Best Gifts for Toddler Girls: Need a fantastic and thoughtful gift for the toddler girl in your life? We have many suggestions, you are sure to find the perfect present HERE!
Shop KidKraft Modern Outdoor Wooden Playhouse >>
Looking for a kid's outdoor play house that is stylish, modern, and contemporary? The KidKraft Modern Outdoor Wooden Playhouse is the perfect playhouse for kids. This modern and affordable wooden playhouse is made of high-quality wood and has a sleek design that will look great in any backyard. Your child will love spending hours playing in this fun and exciting playhouse!
This stylish playhouse for kids features a picnic table with two benches, creating the perfect spot for your children to serve meals and snacks to their family and friends. The front door even includes a latch, allowing for realistic and aspirational house play.
Aspiring chefs will delight in the pretend grill, complete with a removable lid to BBQ for the entire neighborhood. Not only does this playhouse boast endless imaginative opportunities, but it also includes an adorable mailbox with a flag for receiving notes, and fabric curtains that transform the space into a safe hideaway for independent play.
The water-resistant roof panels offer added protection from the heat and elements, ensuring your child's playtime remains enjoyable year-round. Plus, the reinforced wooden panels prevent warping and weathering, making the KidKraft Modern Outdoor Wooden Playhouse a durable and lasting investment in your child's outdoor play experience.
Toddler Water Toys: The best indoor and outdoor toddler water toys for a wonderful summer and splashing good time HERE!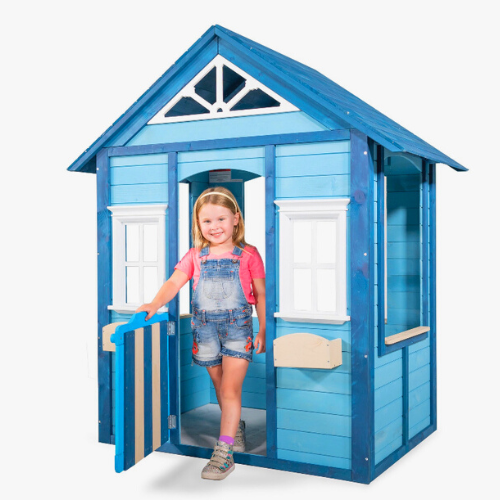 Shop Sportspower Woodbridge Wooden Playhouse >>
Imagine the joy on your little one's face as they revel in the endless possibilities of their very own Sportspower Woodbridge Wooden Playhouse. This playhouse is almost exactly our budget playhouse makeover, you can see it transformed here.
This beautifully crafted affordable wooden playhouse, complete with white trim windows, decorative working door, and flowerpot shelves, sets the stage for a magical childhood adventure.
Watch their eyes light up as they transform the Woodbridge Playhouse into their personal lemonade stand, cozy takeout restaurant, or lively puppet theater, all in the comfort of your own backyard. The timeless blue and white trim colors ensure that this playhouse will remain a beloved staple in your home for years to come.
Add a personal touch by making it a Pinterest-worthy painted playhouse or filling the provided flowerpot with vibrant plants to enhance the overall beauty of their play space. Best of all, this incredible outdoor kid's house is constructed with top-quality straight-grained tough timber imported from Finland, guaranteeing a long-lasting and cherished addition to your family's memories.
Best Toddler Water Tables: Have a super fun summer and keep your toddler busy and engaged with these toddler water tables HERE!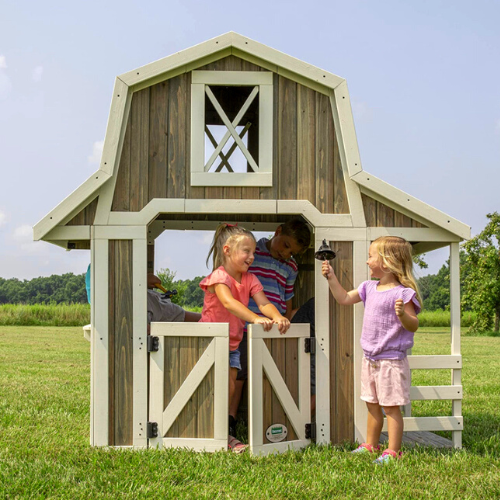 Shop Backyard Discovery Little Country Playhouse >>
Yeehaw, partners! The Backyard Discovery Little Country Workshop Playhouse is one of the most unique outdoor wood playhouses for all those energetic cowboys and cowgirls. Designed to inspire imaginative play, this 100% Cedar playhouse boasts a rustic barn-like construction with hinged doors and even a functional dinner bell for that authentic country feel.
Watch as your children spend endless hours fixin' and workin' with the five included play tools, and let their creativity run wild as they make use of the slotted workbench, creating a world where they are the masters of their own little country workshop.
So saddle up and get ready for some good old-fashioned fun, as you bring the joy of country living to your very own backyard with this delightful playhouse for kids!
Shop KidKraft Pioneer Cottage >>
Step into the enchanting world of the KidKraft Pioneer Cottage Playhouse, where little ones can venture into a realm of imaginative play and endless possibilities. As you approach this delightful wooden abode, the picturesque picket fence half-yard sets the stage for the heartwarming adventures that await inside.
Children can excitedly ring the doorbell and enter a cozy space, where airy windows create a breezy atmosphere perfect for accommodating multiple kids.
Engaging interactive features abound, as budding chefs can take on the roles of mom and dad while preparing scrumptious culinary creations at the built-in cooktop and sink. With 13 kitchen accessories to choose from, including play food, the Pioneer Cottage Playhouse truly offers a realistic and immersive experience for aspiring little cooks. Sharing their delectable concoctions, children can serve up meals to friends and family through the serving window, making for a delightful dining experience at the attached bench.
Every corner of the Pioneer Cottage Playhouse presents a world of discovery and creativity, ensuring timeless enjoyment for all who enter, and its super affordable wooden playhouses to consider!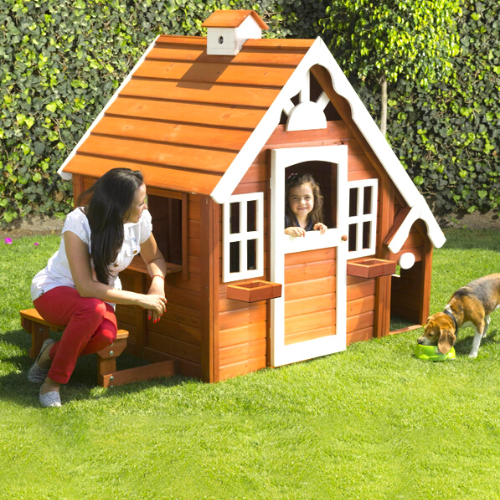 Shop Me and My Puppy Playhouse >>
This charming playhouse offers not only a cozy escape for children but also for their beloved dogs with its delightful integrated doghouse. The outdoor fun begins as children play in the leisure area with a table and bench – perfect for snack time, arts and crafts, or simply daydreaming.
Transform the table into various creative stations, like a lemonade stand, takeout restaurant, or puppet theater for hours of entertainment. Meanwhile, your fur baby will find comfort, and a touch of personalization in its designated doghouse, complete with a stylish window and a nameplate.
Give your child, and pup, a delightful experience in this adorable wooden playhouse, as they form unforgettable memories with the SportsPower Me and My Puppy Playhouse.
Shop KidKraft Country Vista Wooden Outdoor Playhouse >>
Nestled in the heart of your own backyard lies an enchanting playtime experience that your little ones will adore: The KidKraft Country Vista Wooden Outdoor Playhouse. It possesses a delightful charm, drawing upon the timeless appeal of idyllic farm life with its rounded windows and warm gray-toned wood, complete with a classic weather vane to top off its nostalgic charm.
This wooden playhouse boasts accents of white and red, the overall aesthetic is a refreshing, barn-like atmosphere that children are sure to cherish. Within this quaint exterior lies an imaginative realm of endless possibilities. The open window with a ledge is perfect for youngsters to immerse themselves in all manner of make-believe scenarios, from budding entrepreneurs selling fruits and vegetables to hosting a lively snack bar.
Adjacent to the play area in this adorable wooden outdoor playhouse lies a shaded space equipped with dual benches, providing the perfect sanctuary for friends and family to gather and relax. And what better way to inspire curious minds than with a play kitchen complete with sink and burners, fueling their creative instincts in their very own country retreat? Bring the rustic charm and simple joys of farm living into the lives of your children with the exceptional KidKraft Country Vista Playhouse.
Shop KidKraft Garden View Playhouse >>
The KidKraft Garden View Outdoor Wooden Playhouse – a stunning, beautifully designed house perfect for igniting young imaginations and play time. As little ones step through the charming front door, they'll be greeted by exciting features such as a working doorbell, a phone with clicking buttons, a clock with moveable hands, and even a fully functional mailbox.
Further, this wooden playhouse boasts a picturesque café-style canopy, inviting youngsters to try their hand at being a host or chef. As they step inside, they can write the menu of the day on the two charming chalkboards provided.
And to top it all off, the KidKraft Garden View Playhouse includes a delightful planter box, nurturing a love for nature and gardening. This haven of creativity and adventure awaits children, providing an unforgettable experience that they will cherish for years to come.
KidKraft Disney® Frozen Arendelle Playhouse >>
Imagine the excitement on your child's face as they step into their very own enchanted world with the KidKraft Disney® Frozen Arendelle Wooden Playhouse. This magical playtime sanctuary allows children to explore the wonders of Disney's "Frozen" and let their imaginations soar as high as the majestic snowflake spires that adorn the playhouse's aqua roof.
The intricately yet affordable wooden playhouse has designed double doors and crisscross windows invite kids into a space where they can embrace their inner Elsa or Anna, transforming ordinary play into extraordinary adventures.
The detailed regal graphics adorning both the exterior and interior of the playhouse not only captivate the heart but also serve as the perfect backdrop for 15″ doll-sized adventures.
Children can even nurture their love for nature and extend their creativity by planting and growing carrots for Sven in the dual window planter boxes.
Bring home the KidKraft Disney® Frozen Arendelle Wooden Playhouse and watch the magic of playtime come to life, creating memories that will last a lifetime.
Shop Barbie™ Seaside Playhouse by KidKraft >>
Imagine the delight and excitement of children as they discover the Barbie™ Seaside Playhouse by KidKraft, bringing their favorite doll's adventures to life in a stylish and interactive wooden playhouse.
Splashed with Barbie's signature colors and flair, this playhouse for kids effortlessly bridges the gap between indoor and outdoor play, nourishing young imaginations as they weave intricate stories of fun in the sun with their beloved dolls.
With a double-sided island backdrop, the beach is never far away as Barbie and her friends bask in the glow of the sun from sunup to sundown. The open, framed ground area below the playhouse is begging to be transformed into a delightful doll-sized sandbox, a place for finding shells, constructing sandcastles, or simply lounging on the included miniature chaise lounges.
The built-in play kitchen allows little chefs to whip up delectable meals for their dolls, serving them through a charming window ledge adorned with a café-style awning.
As a cherry on top, a cute miniature picnic table can be attached to the side of this outdoor wood playhouse to create an al fresco dining experience unlike any other – a true first for Barbie and her friends.
This post may contain affiliate links, and I may receive a small commission at no extra cost or obligation to you. I am an Amazon Affiliate and may receive a commission for qualifying purchases.