When the warmer months roll around, I try to find toddler water toys that will keep my busy and active toddler engaged, interested, and educated! I also have to work from home, so finding water toys that will keep her busy for longer than a couple of minutes is really important. Here are some fun toddler water toys you and your little one will love this spring and summer.
Bonus: We use a couple of these toddler water toys indoors during the colder months!
Outdoor Water Toys for Toddlers
Outdoor water toys for toddlers are a great way to keep your little ones entertained while they enjoy the outdoors. No matter what type of outdoor water toy you choose, your toddler is sure to have hours of fun in the sun. Outdoor water toys for toddlers can provide hours of fun, exercise, and stimulation while helping to develop important motor skills.
Step2 Car Wash Splash Center>>
The Step2 Splash Center is a stationary, water-play activity center that encourages social interaction and teaches cause-and-effect. This fun toy car wash allows kids to take turns playing with the various stations, including a gas pump, car wash brushes, windshield wiper, and more! The glug of the water into the "gas tank" and the squeak of the windshield wiper will keep your child engaged for hours. Kids can even drain the water themselves as they "change the oil" in their car! This is the hot toddler water toy of 2023!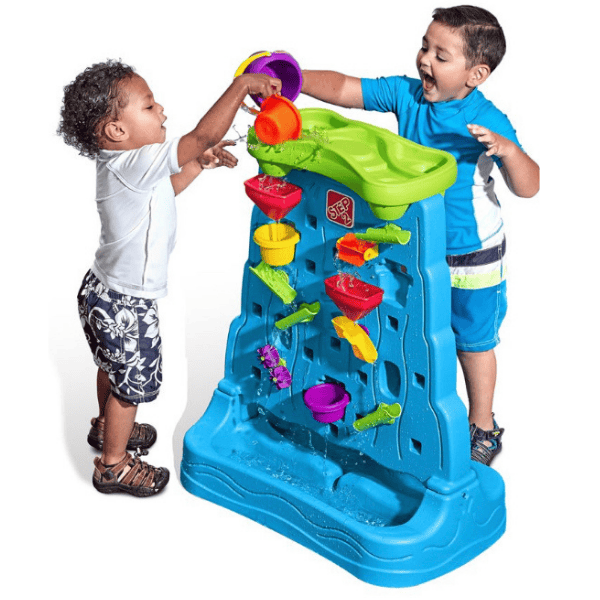 Waterfall Discovery Outdoor Water Play Set >>
The Step2 Waterfall Discovery Wall is a double-sided outdoor water play set that allows kids to scoop up water from the bottom basin and pour it into the top to start the water maze fun. Kids can easily move pieces around to create a new waterfall of zig-zag STEM play, which makes this discovery wall perfect for multiple children playing together.
Cute Stone Real Working Sink >>
This is one of our family's favorite toddler water toys, and the best part about this real working sink is that you can use this water toy inside. You can easily put a towel under it or in the bathtub for hours of fun. This working sink is great for toddlers from one year of age to four years old. My little one plays for HOURS with the adorable toddler water toy.
Toddler Toy Tip: The toy brand, Cute Stone, has so many unique toddler toys that you will absolutely love. I buy this brand often because these toys are different and keep an active toddler entertained.
Barbie Beach and Wave Activity Table >>
Looking for a fun, engaging toddler water toy to enjoy this summer? Look no further than the Barbie Beach and Waves Playset! This sand and water playset is perfect for imaginative children who love exploring the fun and excitement of the beach. With a variety of tools included, children can slide Barbie into the cool water, build sandcastles in the sun, and float on the waves with inflatable floaties. Plus, with its latch-on cover and collapsible legs, the Barbie Beach and Waves Playset is perfect for storage and easy transport.
Hot Wheels Monster Trucks Splash & Crash Arena >>
Introducing the ultimate water toy for imaginative toddlers – the Hot Wheels Monster Trucks Splash & Crash Arena! With its sand and water table, this toy will provide your child with endless hours of fun and entertainment. Featuring a color-shifting monster truck, an obstacles-filled arena, sand and water tools, and a sticker sheet, your child can rev their engines and navigate through extreme obstacles like a real pro!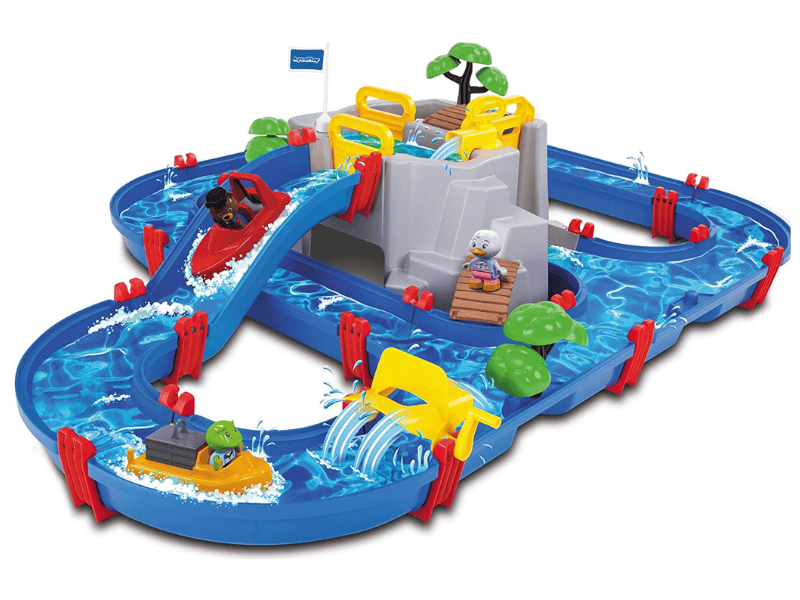 AquaPlay Mountain Lake Water Playset >>
Mountain Lake Water Playset is perfect for hours of imaginative fun! This set includes a large canal system with a play feature mountain, speedboat, container boat, and animal figures. Kids can explore the cave, climb the cliffs, take the speedboat down the waterfall, and more. The water wheel paddles to set the water in motion, and the lock system allows for pass-through play.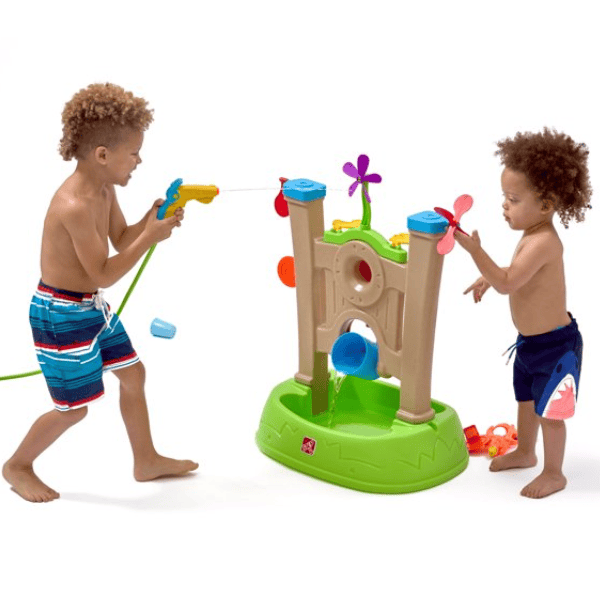 Step2 Waterpark Arcade Water Activity Toy >>
Waterpark Arcade is the ultimate water toy for toddlers! This toddler water table features a variety of colorful toys to help develop hand-eye coordination and fine motor skills. A bullseye target funnels water into a fill-and-spill bucket that spills into the basin below, while knock-down cups, spinning paddles, duck hunt flippers, and a pinwheel are all ready to be blasted with the included water blaster. The targets are secured on a sturdy wall with a wide base for extra stability and to catch any excess water.
Toddler Water Tables
This family has owned a million water tables. Water tables make for great toddler water toys because they keep them entertained and engaged for a long time and keep your toddler cool in the summer sun. Here are the best water tables for toddlers.
Step2 Rain Showers Splash Pond Water Table | Step2 Dino Dig Sand & Water Table
This kids' water table will create a mini water park right in your backyard! The large bucket can be used to scoop up water from the pond and pour it into the top waterfall tray. As the waterfall drains back into the water table pond, maze-like spinners, ramps, and buckets are activated! Kids can make a spinning splash in the "rain" with the hand-held spinning wheel and use the side flipper to flip figures back into the pond.
Step2 Dino Dig Sand & Water Table is a two-in-one activity center for your child! On one side, they can play with sand, and on the other side, they can play with water. The table features a realistic volcano that "erupts" water and an ash mountain to simulate a real volcanic eruption.
Step2 Paw Patrol Lookout Tower Water Table >>
This is one of the best toddler water tables this year! It comes with a scoop, splash squirt, and save-the-day feature that allows your child to help Ryder and his friends rescue doggies in distress. The easy-open drain plug makes quick work of cleaning up when playtime is over, and the included 3 characters are sure to provide hours of entertainment.
Best Toddler Water Tables: A complete list of the best toddler water tables for a summer full of splish-splash fun. You can find the list HERE!
Fiesta Cruise Sand & Water Table | Little Tikes Anchors Away Pirate Ship
Step2 Fiesta Cruise Sand & Water Table with Umbrella is a double-sided play table that's perfect for little ones! This fun water and sand table features a playful nautical design with a cruise ship-themed lid. The play table can hold up to forty pounds of sand, and your child will dig deep down into the poolside sand to find their hidden treasures!
Anchors Away Pirate Ship is a fun outdoor water play table loaded with spinning features. The anchor raises and lowers by cranking the handle, and the water moves with a pump or by pouring water into the crow's nest. Aim and squirt water from the water cannon at your friends or spin the wheel to raise and lower all three sails.
More Toddler Water Toys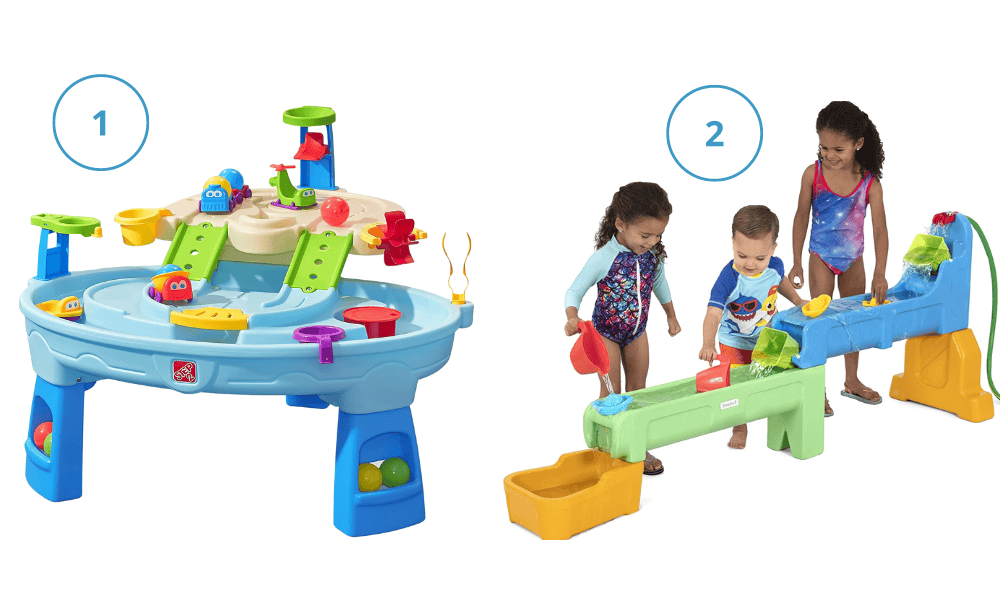 Ball Buddies Adventure Center Water Table  | Rushing River Falls Splash Table
Step2 Ball Buddies Adventure Center Water Table is a two-tier water table play center that provides a lazy river basin in addition to molded-in roadways, bridges, and loading dock platforms. This great pretend play toy for multi-child social play teaches sharing, taking turns, and patience! With four Ball Buddies characters to haul even more – a train, boat, dump truck, and helicopter! – kids can have hours of imaginative fun.
Rushing River Falls Multilevel & Expandable Splash & Water Play Table is the perfect way to keep your children entertained and engaged while teaching them about cause and effect, communication, problem-solving, and interactive skills. The tiered waterfall play center offers all-around, multilevel play with plenty of room for friends to join in the fun.
Outdoor Water Toys For Toddlers
Outdoor water toys for toddlers can make your little one's summer even more enjoyable. Water toys provide an opportunity for Toddlers to stay cool while playing and stimulate their senses too. From sprinklers, bounce houses, toddler splash pools, and pads, we have researched the best of the best. Here is some fun backyard water play toys for toddlers for a fun summer!
>> Step2 Play & Shade Pool for Toddlers <<
The Step2 Play & Shade Pool for Toddlers is one of the most fun toddler water toys for your little one to explore and have fun in. Not only does it keep young swimmers cool and entertained during outdoor play with its included umbrella and accessories.
This toddler water toy also allows them to practice their social skills as well as learn about cause and effect through watching water turn the attached wheel with fascination. They can splash around, make friends, learn, and have a blast all at once!
This giant inflatable bounce house castle comes with a built-in trampoline and a slide that goes right into a built-in pool to keep the kids refreshed! This toddler water toy has multiple uses, the Unicorn Giant Bounce House Water Slide is guaranteed to keep things interesting and not bore your children! This inflatable slide can accommodate multiple children at once, making it the perfect addition to any party or event!
>> Little Tikes Splash Beach Water Splash Pad <<
The best outdoor water toys for toddlers don't have to be complicated. Little Tikes has designed just what you need to keep them having fun, cool and entertained in the best way possible – the Splash Beach Water toy Splash Pad.
Not only will they have a blast splashing around in their personal pool but they can also practice important social skills with friends and learn about cause and effect through water play. Plus, every toddler pool party will be complete with the umbrella, accessories and wheel included so they can watch the water turn and create a real splashing experience.
Rainbow Inflatable Play Center | Rainbow Sand Bucket | Rainbow Wagon Cover | Rainbow Pool Float | Rainbow Beach Ball | Rainbow Arch Sprinkler | Small Pool | Outdoor Rainbow Easel
Candy Zone Inflatable Play Center | Dinoland Inflatable Play Center
Candy Zone Inflatable Play Center is an inflatable water park that includes a waterslide, sprayer, and lollipop rails. The waterslide attaches to a garden hose for fun in the sun. Your toddler will also love playing on the lollipop rails and rolling balls down them. This play center is the perfect water play toy for toddlers for endless summer fun.
Dinoland Inflatable Play Center is a great way to keep your toddler entertained all summer long. With a water slide, inflatable arch, flamingo, monkey, ring toss, and five balls that fit into the wall, there is plenty to do. The landing mat at the bottom of the slide provides extra padding.
>> SplashEZ 3-in-1 Splash Pad <<
Beat the heat this summer with this best-selling toddler water toys from SplashEZ! Created by loving parents, it features a 3-in-1 splash pad, sprinkler, and wading pool that's perfect for your tiny humans.
Its innovative design features a learning mat as a base to make playtime both fun and educational. Keep your kids cool and safe with parent-approved outdoor water toys that are BPA and phthalates-free.
With plenty of shade and splashing fun, nautical adventures await with SplashEZ! Hours of joy await your toddler with these one-of-a-kind summer toddler water toys!
A unicorn sprinkler is a fun backyard water toy for kids. It's great for summertime and all year round! It's a great way for toddlers to learn through play – with water sprays that are just their size, they'll be entertained for hours on end.
Looking for a fun way to cool down this summer? Look no further than Splashie Splash Pools. This toddler and kid splash pad is perfect for cooling off on those hot days. Its unique design and optional sprinklers for toddler outdoor play.
It's big enough to fit the whole family, and even your pets can use our dog splash pad! The 82-inch sprinkler splash pad is available in different themes and colors, making it the most fun outdoor toddler water toy.
Toddler Bath Toys
Toddlers are notoriously active and curious. They're always on the move, exploring their surroundings and getting into everything. So when it comes to bath time, it's no surprise that most toddlers view it as just another opportunity to play. That's why it's important to have a selection of toddler water toys on hand to help make bath time fun.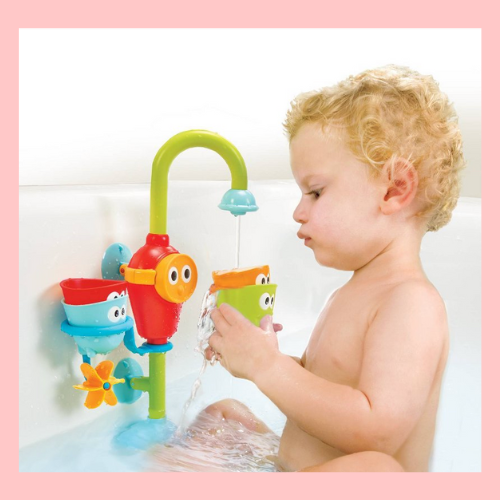 >> Yookidoo Bath Toys <<
Yookidoo has revolutionized water play for toddlers. This innovative water toy for toddlers, is designed to encourage hours of fun, quality time and physical interaction in the tub – all without wasting water from the tap! Yookidoo Water Toys are easy-to-attach battery-operated spouts that produce an endless stream associated with each one of its three interchangeable cups.
Each cup was specially crafted to provide unique water straining and spraying effects. For added fun and convenience, the swiveling arm holds the cups allowing kids to easily play, stack, and store them all in one spot. Best of all, this amazing toddler water toy is completely kid-friendly with its compact size made to fit small hands.

Skip Hop Zoo Scoop | Shark Bath Toy | Skip Hop Bath Toys | Sun Squad Fish
>> Paw Patrol 7 Piece Bath Set <<
Bath time just became a fun adventure with the best water toys for toddlers – the Paw Patrol 7 Piece Bath Set (or comes in Toy Story, Baby Shark, Marvel, ocean animals, Mickey and more!)!
This Paw Patrol Bath Set comes with five Finger Puppets and two Bath Squirters to provide plenty of interactive activities for kids during their bath.
Perfectly sized for small hands, this set provides endless opportunities for your little one to engage in pretend play and rescue scenarios with their favorite courageous pups. Make bath time truly worth looking forward to by gifting your toddler this amazing Paw Patrol 7 Piece Bath Set today!
The Submarine Spray Station is a bath toy that combines water, motion and fun to create an exciting underwater adventure. It features easy-grip handles, a spinning propeller, and two spray nozzles that spin as the submarine moves around in the tub.
Nautical Rain Showers Bath Set >>
Step2's Nautical Rain Showers Bath Set is the perfect water toy for toddlers who love to splash and play! The whale cup can be used to pour water into the bath boat and activate the signature Step2 rain shower effect. The set also includes a water spinner, a two-sided suspended cup platform, and character figures with their own floatation devices.
Bath Toy Set – Fish and Splish >>
This colorful toddler water toy set has everything you need to keep your little one entertained during bath time, including a big boat, captain, life preserver, fishing hook, octopus comb, whale brush, three nesting cups, and four fish. The pieces are durable and easy for small hands to hold onto so your child can have fun steering the ship or filling up the cups with water.

If you are looking for a great way to keep your toddler entertained and cool this summer, these are the best toddler water toys! Not only do they provide hours of fun, but they can also help toddlers learn about the world around them. We've highlighted some of our favorite water toys for toddlers, we hope you love them! What is your child's favorite water toy?

Toys for Traveling With Toddlers: We know how to keep a baby and toddler busy, happy, and quiet on an airplane or road trip. You can find the best travel toys for toddlers HERE!
Travel Backpacks For Toddlers: Does your tiny traveler need their own little backpack for the airplane or a road trip packed with all their fun travel toys and items? We have the nine best to make them feel happy and independent HERE!
Toddler Travel Essentials: Traveling with toddlers is probably the hardest age group. They are active, loud, and super busybodies. These are travel essentials for a smooth journey with your toddler HERE!
Best Travel Bed For Toddlers: Make sure your traveling toddler has a cozy, comfy night's sleep while away from home with these best travel beds for toddlers HERE!
This post may contain affiliate links. I may receive a small commission if a qualified link is used at no cost or obligation to you ever. Additionally, I am an Amazon Affiliate Partner. I may receive a commission if a qualifying link is used.