I watched the movie "The Holiday" with Kate Winslet and Cameron Diaz the other night. Kate, lonely and in love with an unavailable man, cried over her desk about being single over the holidays.
The message was, somehow, your life and happiness are defined by a relationship. You can only be happy and satisfied if you are with someone. I am here to tell you it is quite the opposite. You can learn how to be happy single. And the best part, be happier than you ever have been.
Many people find it hard to be happy on their own. It can feel like something is missing in their life, and they think they will never get the chance to experience true happiness.
Well, guess what? You don't need anyone else to be happy! Here are some easy tips on how to be happy alone and single! I promise it's not bad at all!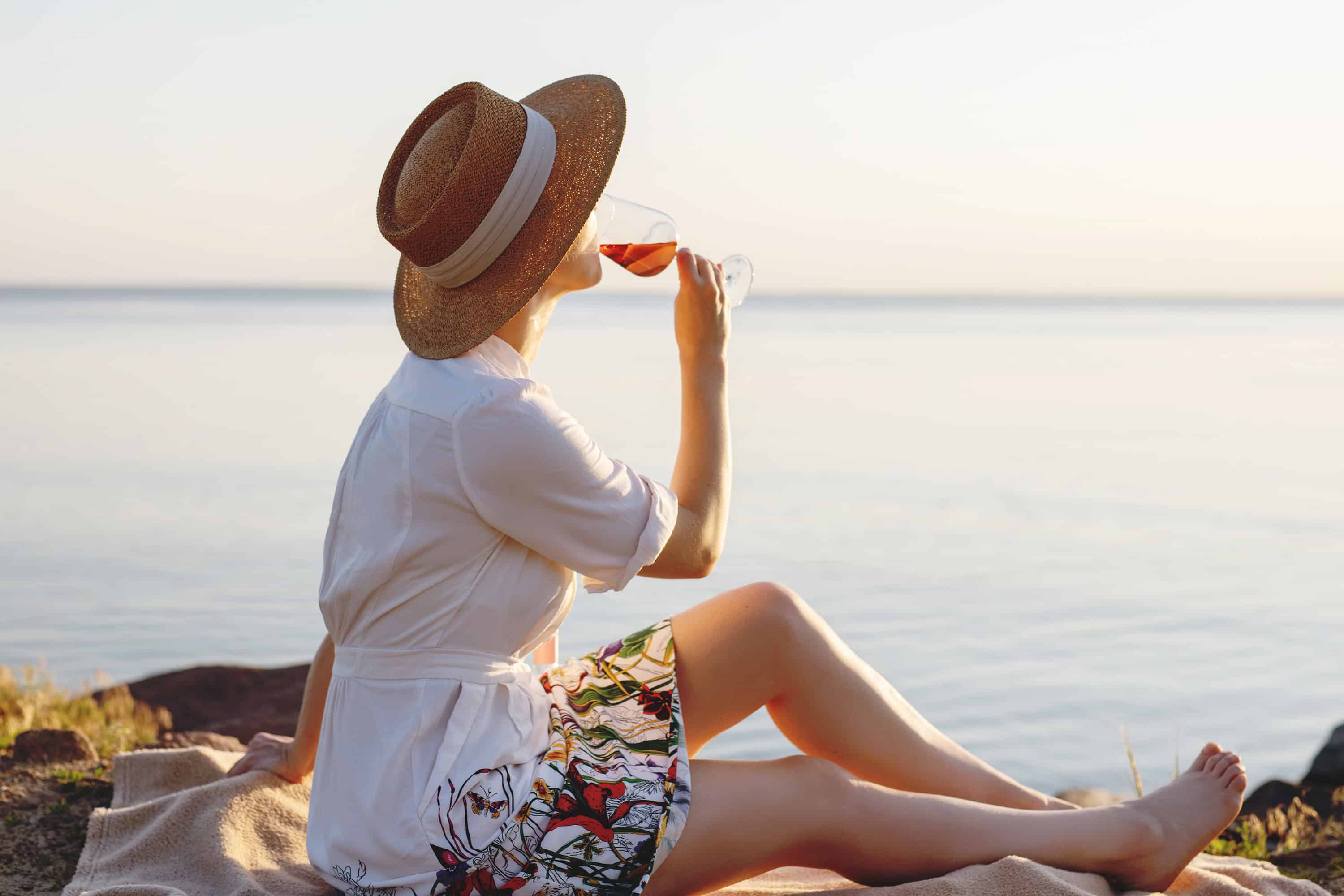 If you are newly single, give yourself time to heal. Being alone can be scary, but it turns into so much peace.
If you learn to be happier on your own, find who you are, and take the time to find inner happiness when the right person comes along, you will be ready to be in a healthy relationship again. But you have to work on yourself first.
You Must Understand Happiness is Not About Being in a Relationship
You must make yourself and your life complete before you can expect someone else to. Happiness is not someone else's job. Happiness is not even your family or friend's responsibility.
Give Yourself a Healthy Routine or Ritual
If you are going to learn how to be happy single, you must learn to take care of yourself. It's not about what you do every day but rather focusing on the habits that will help improve yourself and your health in the long run.
Create a flow of healthy habits that can have life-altering effects on both your mental and physical health. A good routine will help you be productive and feel better about yourself.
A healthy routine includes:
A morning routine

like writing in a journal, enjoying your coffee before everyone gets up
Exercise and eating to fuel your body and mind

A night routine

includes putting away your phone each night, reading, or preparing for the next day.
A ritual you love doing every day, such as reading with a cup of coffee or tea
Have a Monthly Tradition With Friends or Family
Remember, just because you are not in a relationship or partnership with someone doesn't mean you are alone.
You have friends and family that care about you and your well-being. Sometimes more than any relationships you have had.
Create a tradition with friends or family at least once a month. Something they will enjoy, and you will look forward to. Stick with it! Make your tradition important to you and your friends and family even after you are in a relationship!
Monthly traditions can include (and be creative!):
Brunch every third Sunday
A weekly walk or hike at a familiar or new park
A monthly "never have I" and complete something or go somewhere you and your friends have never tried like an event, a museum, concert, venue, restaurant. Make it fun, write out a list and start checking them off
Joining your grandma at church every Sunday
Avoid Social Media Comparisons
If you are going to learn how to be happy single, stop comparing yourself to the so-called perfect relationships and family on social media.
We are all guilty of it, and we are comparing ourselves to others on social media. The ideal life, the ideal body, the perfect house, and family.
It can be overwhelming to keep up with friends' lives when you're not even living your own! So how do we stop? How do we find peace in our own lives without feeling inferior or inadequate?
Here is the harsh reality of social media. It's not real life. Social Media is made to make the life of others look perfect. Most big influencers make their lives look fun, exciting, and beautiful, which is more than likely not the case.
Of course, people are not going to air the ugly parts of their lives, for the most part. It is their job to wrap it up and place a perfect pink bow on top.
Everyone has problems, issues, money issues, relationship problems. The majority are using filters, photoshop, or went into massive debt trying to buy outfits for Instagram or hiding that their marriage is far from what they show.

Social media is not showing you the genuine parts of life, just the blips of the pretty details.
The best way to stop comparing and will also change your perspective on your own life? Give social media the boot for a while and track how you feel.
Give yourself some time to focus on what your life should look like, not what you THINK it should look like.
Always learn something new
The best way to be happy and alone is by learning and reading. Why? It's the best form of self-improvement.
Yes, we can go to the gym and get ripped, or get our hair done, nails done to feel better about ourselves, especially when we are single. However, learning a new skill or something new, taking a class, or finally getting your degree will benefit you through a lifetime, not just temporarily.
Take this time while single to focus on upgrading your intelligence status.
Reading is Your Best Friend
Reading is so good for you in so many different ways. For many, reading is a hobby that is both relaxing and entertaining. It's an escape from the reality of life to become immersed in someone else's story or your thoughts.
Books are full of wisdom, knowledge, and guidance for self-improvement; they can also inspire when times get tough. With all this said, it shouldn't come as a surprise that there are some books you should be reading right now!
Inspirational Books That Will Motivate the Crud Out of You, No Joke
If Possible, Go on a Solo Trip
Learning how to be happy alone means spending quality time with yourself. Have you ever thought about traveling solo? Don't let the thought scare you. Let it empower you. Solo trips are an opportunity for you to explore the world and your mind.
Give yourself time to think, create, and wander without direction or opinion. Sometimes we need time to recharge and reconnect with our true selves before being fully present for others again.
If you are short on funds or afraid to take the plunge traveling alone, challenge yourself by taking a day trip to a neighboring city or town.
Try Therapy
Therapy for singles can be a powerful way to get back into a healthy and fulfilling lifestyle. Many benefits come with seeing a therapist, such as:
Increased self-awareness and improved ability to manage emotions
Help and get tools for depression and anxiety
Getting over past relationships
Improve communication skills
Reduce feelings of loneliness and isolation
Overcome self-doubt and insecurities
Guide you down the right path towards being content and happy
It's essential that you get the support and help that will allow you to thrive while navigating, learning how to be happy single, and building an amazing life on your own!
Get a side hustle
Nothing is more satisfying than making a little extra cash for a trip, clothes, or building a nest egg of your very own.
Ways to make a little extra cash:
Check into

Amazon Flex

.

You use your own car and do deliveries for Amazon in your area in two hour or more blocks. This side gig is extremely flexible and you work when you want to make some cash.
Babysit or dog sit. Neighborhood dog walkers charge clients from $12-18 a visit.
Do you have writing skills, Photoshop or editing skills, check out

Upwork

.

You can freelance a ton of extra side job and work from home.
Sell items on Etsy or ebooks or digital products

Start a blog

.

Starting a blog is harder than most people lead on, just a fair warning. But its a great side project until you are far enough along to start monetizing your blog.
Discover what really makes you happy
Think about what makes you happy and how it affects your life. What is your favorite thing to do? Is there a specific time of day that makes you feel the best? How does this feeling make you behave or react in different situations?
Every person has an idea of how to be happy, but not everyone knows how to get it or put the work in to get there. Being single has these benefits, to discover all this. This is your chance to find out how you can be happy single and to find yourself. You may even love it!

This post may contain affiliate links. I may receive a small commission at no charge or obligation to you. I am an Amazon Affiliate and may earn for qualifying purchases