Are you looking for magical Christmas towns in Texas this winter? Luckily, Texas is home to several charming towns that are perfect for festive holiday celebrations.
The holiday cheer is alive throughout these Christmas towns in Texas. From admiring twinkling light displays to visiting small-town Christmas events, there are plenty of fun festivities in Texas.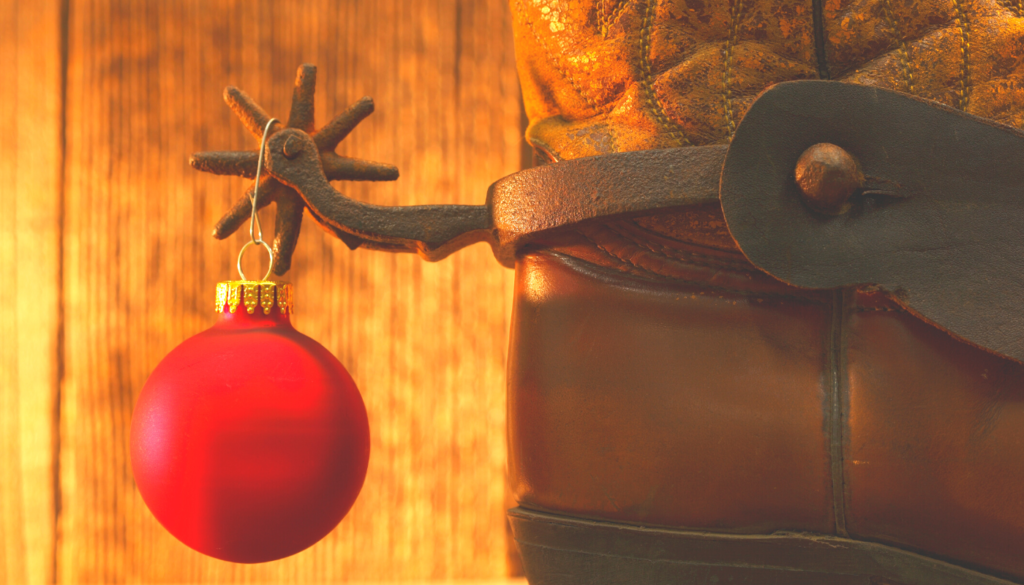 While there are many towns where you could spend a Christmas vacation in Texas, there is a handful that makes the top of the list. We found the most festive Texas towns that we think you should visit at least once.
Christmas Towns in Texas-Top Spots!
Whether you're heading on a short weekend getaway or traveling across the state, the many towns in Texas all offer a splendid holiday stay. Whether you want to head to a big city like Austin or Dallas, or a charming town in Hill Country, we have some of the best spots for your Texas travels.
Best Christmas Towns in Texas- Grapevine, Texas
If you're looking for a truly magical Christmas experience, look no further than Grapevine, Texas. This charming town has been named one of the best Christmas towns in Texas, and it's easy to see why.
With its historic Main Street, quaint shops, and an array of holiday activities, Grapevine is the perfect place to enjoy all that the season has to offer.
From ice skating to festive parade floats and Santa visits, there's something for everyone in this delightful town. So if you're searching for a place to make cherished holiday memories, Grapevine is the perfect place to start.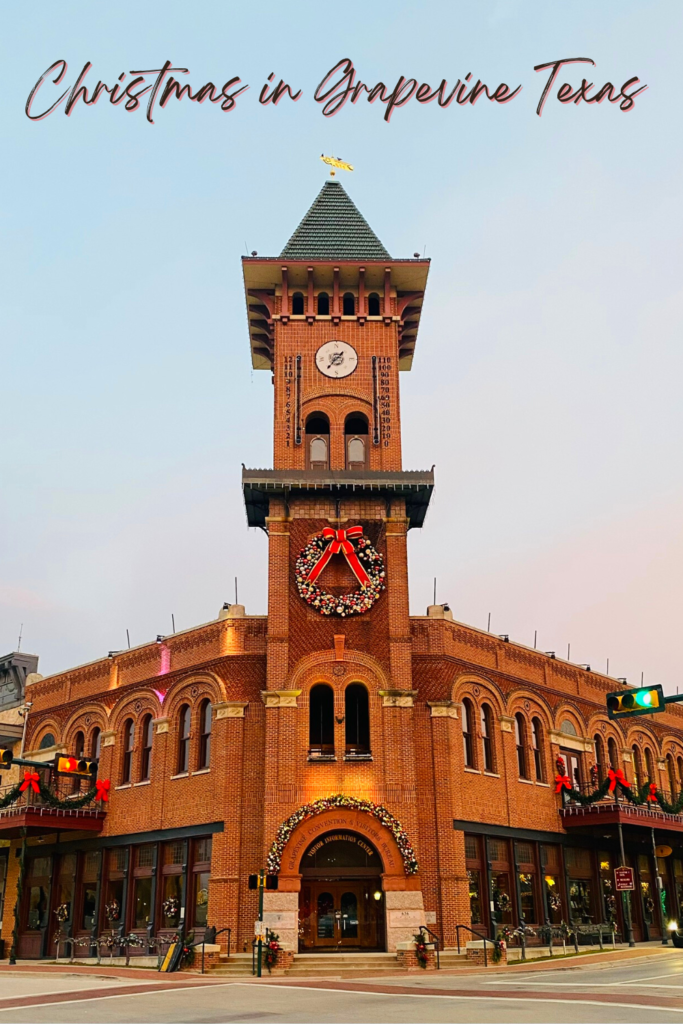 Grapevine turns into a winter wonderland, and all the major hotels partake in making the experience even more memorable. Grapevine is the perfect place to create holiday memories with your family and friends. Things to do in Grapevine during their "40 Days of Christmas" celebrations include:
Stroll Main Street in Historic Grapevine. There are several events and unique activities during this time and beautiful Christmas decorations, trees, and millions of bright holiday lights.
Watch the parade of lights and the Twinkle Light Boat Parade at Lake Grapevine.
Get in your jammies and snuggle up on the Grapevine Vintage Railroad North Pole Express and have Mrs. Claus Serve up some milk and cookies
Take a Christmas in Grapevine Wine Train
Head Gaylord Texan's Lone Star Christmas for the most magnificent display of Christmas and Christmas activities. The Gaylord for Christmas is a destination in itself. Every year there is a new holiday theme. ICE! The experience is created around the theme. In addition, SNOW! includes snow tubbing, ice sculptures, snow throws, building your own snowman, character breakfasts, gingerbread decorating, carousels, and light shows. The atrium is at the center of it all with a spectacular display of trees, lights, and holiday décor.
Christmas in Grapevine: Where to Stay
Book Your Magical Holiday in the Christmas Capitol of Texas!

Chrismas in Grapevine: A complete guide from a local about one of Texas' most magical spots for the holidays HERE!
Things to do in Grapevine TX: What to do, where to stay in this north Texas town HERE!
Grapevine Texas Restaurants: Local favs in Grapevine, from BBQ to Tex-Mex HERE!
A Texas Christmas: New Braunfels
If you're looking for a holiday destination with fun festivals and Christmas markets in Texas, New Braunfels, and its historic district, Gruene is the place for you.
This quaint town in south-central Texas is our favorite town in Texas and provides exciting adventures with many things to do. It's filled to the brim with fantastic spots to visit in December.
One of our favorites is Santa's Ranch, where you'll drive through over a mile of country roads.
A drive through Santa's Ranch offers an awe-inspiring display as the roads glow with more than 1.5 million lights and animated displays. This offers a fun family outing to bundle up in the car with hot cocoa and watch your little ones' faces light up in awe.
Other Texas Christmas attractions in New Braunfels include:
See a theatre production or magical musical at Circle Arts Theatre
Dance the night away at the oldest dance hall in Texas Gruene Hall.
Take photos with Cowboy Kringle. Create a lasting Christmas memory with Cowboy Kringle, Gruene Historic District's own brand of Santa! Spots fill up quickly, so reserve a spot in advance for photo packages, Christmas cards, and other special order items. Visit CowboyKringle.com for more information and to reserve your time slot.
Watch the Gruene Town Lighting as Cowboy Kringle rides into town on horseback and lights Gruene for the holidays. We'll be celebrating with live music, festival food, and beer/wine available for purchase
Head to the Natural Bridge Caverns to celebrate Christmas with hayrides, zip lines, caroling, a reindeer roundup, and a cute Christmas village.
Tackle your holiday shopping at Gruene Christmas Market Days. Get a start on your holiday shopping in Gruene's with nearly 100 vendors offering Christmas gifts, uniquely crafted items, and packaged Texas foods.
Grab some hot cocoa at the head to the Hometown Holiday Christmas Parade!
Things to do in Gruene Texas: Gruene is one of our family's favorite historic districts in Texas. It is small, charming, and filled with things to do and see. You can find the guide HERE.
Where to Stay In New Braunfels (Gruene) Texas
The Farmhouse at Gruene: The Farmhouse at Gruene B&B is the perfect place to stay for a Texas getaway. It is brand new and is located just outside of the Gruene Historic District so you are a short drive away from fabulous dining, Christmas festivals texas, and entertainment. The Farmhouse Cottage at Gruene is also located amongst trees and has a beautiful courtyard. You can enjoy a cup of coffee on its inviting front porch, barbeque on the back patio, or sit around one of its two beautiful fire pits! It is also a perfect place to enjoy this charming Christmas town in Texas.
The Gruene Haus B&B; Complete with a pink door and charming features, make your Texas Christmas extra special with accommodations at the Gruene Haus. Nestled amongst three other cottages and large trees. It is located just 3/4 of a mile from Gruene Historic District and the Guadalupe River. You can enjoy a hot cup of coffee on its inviting front porch, bbq, and enjoy fire pits and a game of horseshoes!
> Book A Quaint Christmas Cottage in New Braunfels <
Wimberley, Texas
Wimberley is a neighbor of New Braunfels and the next town Fredericksburg, Texas.
Each of these small towns is easily accessible to one another and Austin and San Antonio.
Wimberley is a central town in Texas that provides an enchanting Christmas experience with a rural feel. Wimberley is best known for its spring-fed waters and abundance of artisan shops. During the Christmas season, you'll come across several holiday-themed markets with seasonal décor, gifts, and delicious food.
One of our favorite Christmas events in Wimberley is the EmilyAnn Trail of Lights. This has become a town tradition and features millions of festive lights. You can enjoy a walking tour with your loved ones in the 6-acre winter wonderland free of charge.
The EmilyAnn Trail of Lights offers live music, visits from Santa Claus, movie viewings, and complimentary roasted marshmallows at the Yule Log.
For a jolly adventure in Wimberley, check out these top spots on your next Christmas vacation:
Wimberley Market Days. Find over 500 booths one-of-a-kind goods, merchants, and Texan artisans at the second-largest outdoor market in Texas. The Christmas Wimberley Market Day is December 3, 2022.
Wimberley Farmers Market
Blue Hole Regional Park. It may be December but no trip to Wimberley Texas is complete without seeing the beautiful Blue Hole Reginal Park.
Wimberley Square. Wimberley Square is at the heart of Wimberley with a variety of wine-tasting rooms, cafes, retail, and art galleries.
Where to Stay in Wimberley, Texas
Green Acres Cottages are in the heart of Hill Country, this little community of cottages is a perfect (and affordable) place to stay to explore Wimberley during Christmas in Texas.
Gruene Suite. These one-bedroom holiday homes are centrally located, one mile from Wimberley Square. With adorable modern finishes throughout and a porch to sip wine, these holiday homes are perfect to spend in the Christmas town in Texas.
Charming Hill Country Cabin on six private acres. Take your Christmas getaway in Texas to a whole other level with this Texas Hill Country cabin with a loft. Beautiful outdoor space with a fire pit and a BBQ grill, and kids will enjoy the playscape under the shaded trees. Walk and enjoy several manicured trails all along your private cabin retreat on six acres, or sit and watch the deer and birds from the front porch. Sits just a short two-mile drive to Wimberley square.
> Book Your Cabin or Cottage In Charming Wimberley<
Fredericksburg Texas Christmas
A Texas Christmas isn't complete without Fredericksburg. This Texas German-inspired town is situated in central Texas and has a rich German heritage.
This is the Christmas town in Texas that goes all out for the holiday and features parades, millions of lights and a 30-foot tall community Christmas tree, and a 26-foot tall traditional German Christmas pyramid.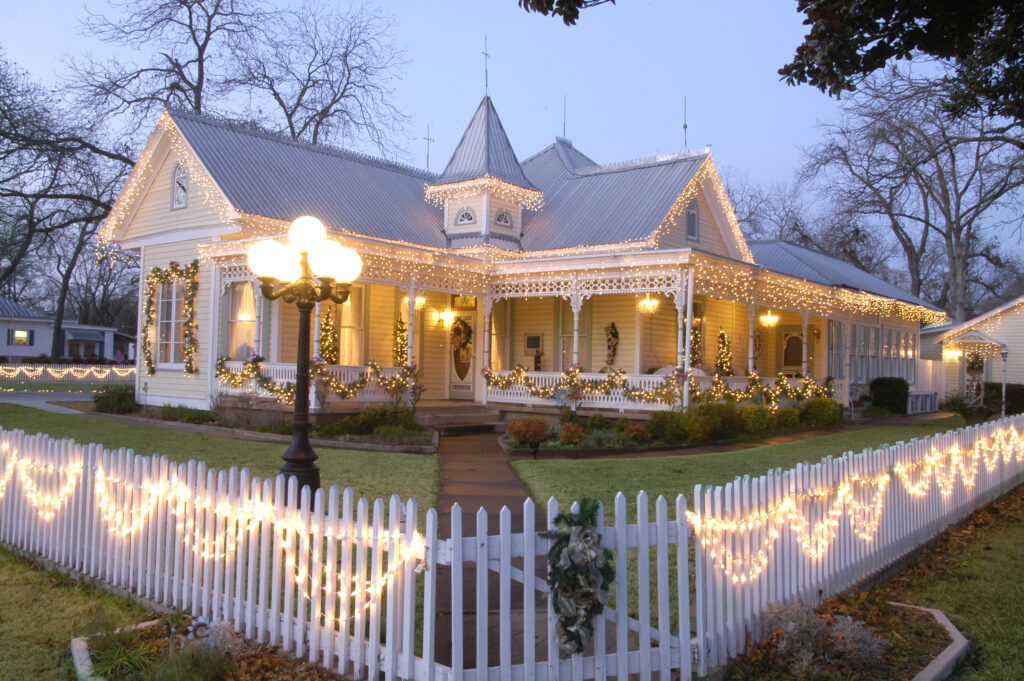 A German Christmas pyramid, or Weihnachtspyramide, is a traditional decoration from the Ore Mountains region in Germany. In the 1700s, German immigrants brought this German classic to the United States.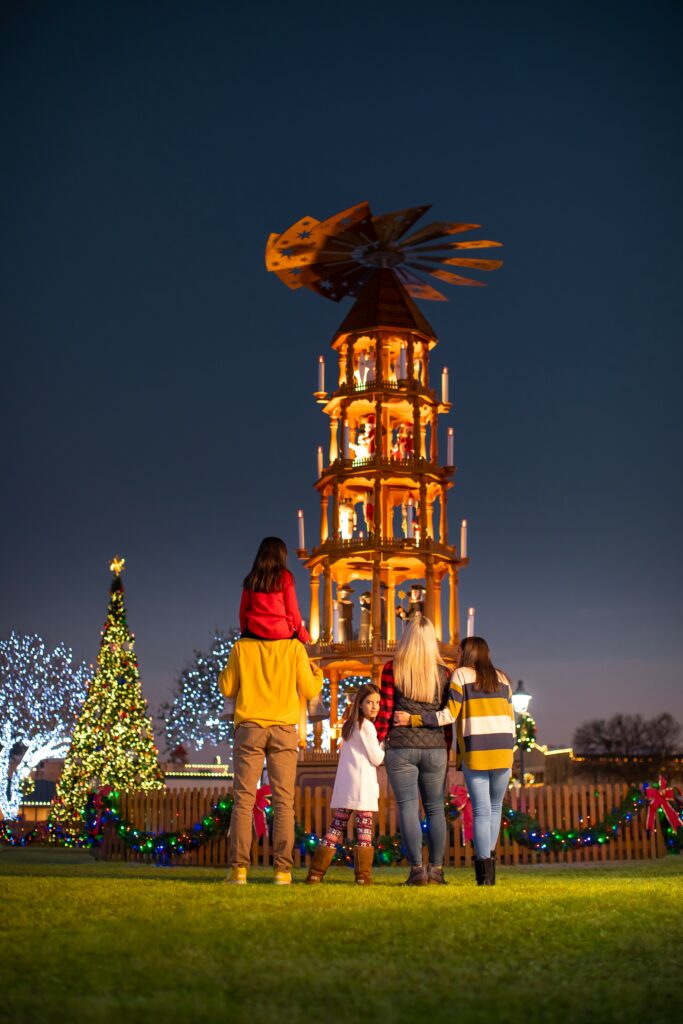 Fredericksburg's Christmas Pyramid is one of the first large-scale German pyramids in the country that was first displayed in Marktplatz in 2009.
The atmosphere in Fredericksburg is sure to bring joy into your holiday season. Fredericksburg is a renowned wine destination. Many wineries partake in the Christmas Wine Affair, where you can enjoy discounts and seasonal wine-tasting offerings.
There are plenty of fun activities in Fredericksburg Christmas. Here are a few spots to visit in Fredericksburg during winter:
Fredericksburg's Christmas Nights of Lights, which will take place each evening at Marktplatz at 6 p.m., starting on Tuesday, Nov. 22, 2022, and running through Friday, Jan. 6. Experience a 10-minute audio presentation, featuring the story of the town's German heritage, holiday carols and ending with a countdown to the lighting of Marktplatz.
Light the Night Christmas Parade. Every Friday starting the first Friday in December at 6:30 pm
Deck the Halls at Sauer-Beckmann Farm. Help the farm get ready for the holidays by stringing popcorn and decorating cookies. Learn how to make wreaths out of local cedar and dip your own candles for Weihnachten (Christmas)!
Eisbahn Ice Skating Rink. A holiday tradition in Fredericksburg, featuring skating on real ice in the Texas Hill Country to raise funds for the Heritage School and Cystic Fibrosis. Reoccurring November 19, 2022 – January 1, 2023.
Shop at The Christmas Store, A year-round Christmas Store specializing in collectibles including Department 56 miniature villages and Christopher Radko blown glass ornaments as well as many other Christmas gifts, collectibles, and other holiday decors.
Book a German-Inspired Holiday Haus in Fredericksburg!
San Antonio Texas Christmas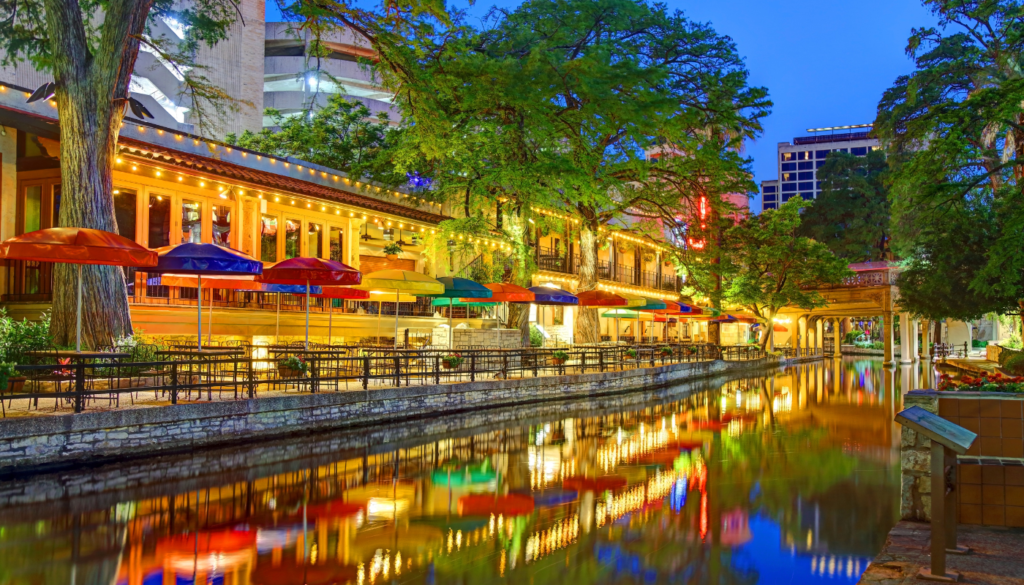 San Antonio is one of the best destinations for Christmas getaways in Texas. You may not experience snow when visiting here, but you'll undoubtedly feel the holiday spirit in the air. Nestled in south-central Texas, San Antonio is renowned for its rich history and culture.
Winter is one of the best seasons to explore San Antonio, where you'll experience comfortable Texas weather with mild temperatures.
There is an abundance of attractions in the city, such as the Natural Bridge Caverns and the San Antonio Riverwalk Christmas light display.
The charming holiday lights are lit from dusk to dawn and stay up from late November to early January. It features more than 100,000 sparkling lights arranged over buildings and trees along the river in downtown San Antonio.
The famous holiday lights on the River Walk will turn on this year on November 25, 2022, and remain on from dusk to dawn nightly through January 9, 2023. The official televised lighting ceremony in the Arneson River Theatre will take place on Friday, November 25, 2022, to kick off the holidays at the annual Ford Holiday River Parade.
The Ford Holiday River Parade will return in November under 100,000 multicolored lights twinkling above the winding River Walk, draping from 300-year cypress trees and creating a magical canopy through January 10.
For the parade itself, decorated barges with costumed characters, holiday music, and more float by entertaining all. San Antonio's holiday spirit on the River Walk continues after the parade.
The first three weekends of December, the Ford Fiesta de las Luminarias returns with more than 2,000 luminarias (small sand-filled bags with candles) lining the banks of the River Walk as singers from the Ford Holiday Boat Caroling float by on the river
Other San Antonio Christmas events include:
The Historic Pearl. San Antonio's Pearl is a thriving and vibrant community that celebrates the season with Holiday Night Markets, Chanukah celebrations, Posada carols, and more. The popular area called "the best things to do in San Antonio in December" by USA Today, kicks off with the installation and lighting of the 30-foot Christmas tree on November 19 and the lighting of the menorah on December 1.
Each Wednesday in December leading up to Christmas, Pearl will host its Holiday Night Market featuring a wide variety of local vendors to help make holiday shopping easier and music to add to the festive spirit (source 2022 Visit San Antonio)
The Alamo – Get into the holiday spirit at Alamo Lights, a great trip for the family, the Alamo grounds will be decorated with festive lights to celebrate the Christmas season and the decorated tree in the plaza. This free event will also kick off the Alamo's extended holiday hours. From November 19 through January 3 the site will be open until 7 p.m. daily.
Saturday, December 3, 2022, The Almo will host Homemade Christmas highlighting historical crafts, 19th-century trades, and carols. Learn how Texans celebrated Christmas in the mid-1800s
Natural Bridge Caverns – Christmas in the Caverns returns to Natural Bridge Caverns with live Caroling in the Caverns, the Trail of Lights walk-through, a synthetic skating rink, outdoor s'mores station, a Reindeer Round-Up, a 30-foot musical Christmas tree, and Spelunker Claus!
Wonderland Christmas – Morgan's Wonderland, the world's only ultra-accessible theme park, hosts Wonderland Christmas on 13 select evenings from November through Dec. 23 to bring holiday excitement to visitors of all abilities. The fully inclusive Morgan's Wonderland will feature special holiday entertainment, thousands of shimmering lights, and festive decorations at the 25-acre park. Those with physical and cognitive special needs receive free admission.
Briscoe Western Art Museum – All are invited to saddle up the Briscoe's Cowboy Christmas for holiday fun and pictures with Cowboy Santa! Arts and crafts will be available to enjoy
Where to Stay in San Antonio Texas
The Omni La Mansion del Rio is a historic hotel with stunning architecture in downtown San Antonio, Texas. Located on the Riverwalk, this beautiful property features guestrooms and suites, as well as an award-winning restaurant and bar.
>Book Your San Antonio Riverwalk Holiday Escape<
Texas Christmas in Quirky Austin
Austin is one of the best Christmas getaways in Texas. This city is located in central Texas, and the city is renowned for its exceptional food, quirky culture, live music, and friendly hospitality.
The state capital transforms into a winter wonderland with striking Christmas decorations and enjoyable activities in December. Plus, the weather in Austin is amazing for hiking, exploring, and touring downtown.
The Trail of Lights at Zilker Park is one of the most famed Christmas attractions in the city. The trail boasts over two million lights, 90 glistening Christmas trees, and more than 70 light tunnels. It is perfect for a fun-filled family experience, where you'll find numerous food trucks, live music, and performances.
The Trail of Lights Fun Run is an exhilarating Austin holiday tradition for those eager to stay active over the holidays. It is a 2-mile adventure with spectacular views – and it's great for working off all the Christmas cookies as well. More must-visit attractions when spending a Texas Christmas in Austin include:
Mozart's Coffee Christmas Lights Show. Preorder your treats, reserve a picnic table, or enjoy this immersive Mozart light show by boat, Mozarts Coffee Christmas Lights Show is an ATX Christmas tradition you dont want to miss. Enjoy thousands of lights by Lake Austin and shop at the Holiday Baravrian Marketplace. Be sure to reserve your tickets in advance for this popular Texas Christmas tradition.
Visit Miracle on 5th Street, a multi-level, multi-room, over-the-top Christmas-themed pop-up serving holiday cocktails, floor-to-ceiling Christmas lights and decorations, and Instgrammable photo opportunities. Be sure to make reservations here! The holiday pop-up runs from November 17-December 27, 2022.

Armadillo Christmas Bazaar. Known as Austin's homegrown holiday tradition for five decades the Armadillo Holiday Bazaar is filled with 44,000 square feet of fine art, live music, gifts, shopping cocktails, and local food. The Armadillo Holiday Bazaar is December 17th-23, 2022 from 11 am-830pm daily. Buy tickets here.
Lady Bird Johnson Wildflower Center
Austin Steam Train. Take a two-hour excursion with Santa on the North Pole Flyer! Departing from our historic 1912 Bertram Depot, hop aboard a real train that features a visit and photos from Santa and Mrs. Claus, all-you-can-drink hot cocoa, and a locally baked holiday cookie. Each train car is decorated for the holiday where passengers enjoy a live reading of the North Pole Flyer book-our railroad's own Christmas Story!
Find The Best Deals for Your Quirky Christmas in Austin!
Christmas Towns in East Texas: Marshall, Texas
The town of Marshall turns into a Christmas village in Texas and a festive wonderland that lights up during the holiday season.
Marshall near Caddo Lake is home to some of those most spectacular displays of Christmas lights in East Texas, Additionally, Marshall has one of the largest Texas light festivals in the state: Wonderland of Lights.
Step into a Hallmark movie come to life as you stroll through downtown Marshall, one of the ten most charming Christmas towns in Texas. Grab dinner at a charming restaurant, stay at a dreamy B&B and shop for gifts in the many local shops.
The famed Wonderland of Lights boasts more than one million lights that illuminate the city, and this month-long Christmas event was established in 1987.
You'll find plenty of historical attractions in the city, including the Michelson Museum of Art, Harrison County Historical Museum, and Starr Family Home State Historic Park.
In Marshall, you'll have exhilarating experiences such as horse-drawn carriage rides, outdoor ice skating, and visiting Santa Claus in his Christmas village. Texas provides visitors with exceptional adventures, and the town of Marshall will not disappoint.
Marshall is one of the top Christmas getaways in Texas for the jolliest festivities.
Here are the Marshall, Texas Christmas events for 2022!
Wednesday, November 23 (5:00 pm): Courthouse Lighting Ceremony
Saturday, November 26 (1:00-5:00 pm): Wassail Walk on Main Street
Saturday, December 3 (6:00 pm): Christmas Parade
Saturday, December 10 (5:00 pm): Christmas Car Show
Saturday, December 17 (10:00 am): Outdoor Christmas Market on Main Street
Where to Stay in Marshall Texas
White Oak Manor B&B. A quintessential Texas B&B with hot breakfast and southern hospitality. The cottage is fourteen miles from Caddo Lake State Park and a nine-minute walk from Jefferson.
Book This Charming Christmas Town In East Texas!
Historic Chistmas Town in Texas-Jefferson
Christmas in Texas means going to Jefferson. This quaint town will take you back in time with the glow East Texas Christmas lights and of Christmas decorations in historic homes.
Founded in the early 1840s, the town of Jefferson is located in northeastern Texas. You'll find awe-inspiring historical architecture in this pre-civil war town.
From Christmas shopping in antique stores to enjoying taste-bud-tingling experiences at charming restaurants, Jefferson is an Christmas town in Texas that cannot be missed. During the holiday season, you can enjoy candlelight tours of Jefferson's historic houses.
The annual Candlelight Tour of Homes features extravagantly decorated houses that date back to the 1800s. Jefferson is the perfect place for history buffs to take a peek into the past. Some of the top historic attractions include the Museum of Measurement and Time and Gone With the Wind Museum.
Experience the warmth of an old-fashioned Christmas with tour guides in top hats and hoop skirts. View lavish Jefferson Historic Homes in the soft glow of candlelight. You can find tickets for this popular holiday event here.
If you're looking for a family-friendly activity in the city, consider a Christmas Express Train adventure at the Historic Jefferson Railway. It is a 3-foot narrow gauge railway that travels through beautiful piney woods. Aboard the Christmas Express Train, you can enjoy stories of Christmas traditions and breathtaking views along the Big Cypress Bayou. Tickets or more info: 886-398-2038 or text 903-742-2041 Historic Jefferson Railway
The town of Jefferson offers a magical Christmas experience with fresh fir trees twinkling with holiday lights, ribbon, tinsel, and sparkling glass balls. When visiting Jefferson during the festive season, you should not miss these attractions:
Where to Stay in Jefferson, Texas
Delta Street Inn The Delta Street Inn is a charming bed and breakfast located in historic Jefferson TX, the "bed & breakfast Capital of Texas". The inn was lovingly restored by its owner who wanted it to welcome travelers whose taste for comfort matches their eye for quality.
White Oak Manor Experience Southern charm and modern amenities while staying in this 1920s Greek revival manor, within walking distance of the Gone with the Wind Museum.
Christmas Towns in Texas-Final Thoughts
Texas offers a unique charm all year round. But, visiting the state during the Christmas season promises an extra-special adventure. With thousands of twinkling lights and the cheerful holiday spirit in the air, the towns of Texas provide an exceptional festive experience.
Whether you're looking to dine at charming restaurants or stroll through towns filled with breathtaking light displays, you'll find plenty of activity in the state. So, grab your loved ones and pick your favorite Christmas town in Texas, the festivites await you.
If you're staying closer to home this Christmas, be sure to add some Texas towns to your future Christmas vacation bucket list!