My toddler loves sensory bins, and we make one for just about any holiday or playtime. It keeps her busy and engaged so I can get a couple of things done. This holiday, one of our favorites, we are making a green St. Patrick's Day sensory bin!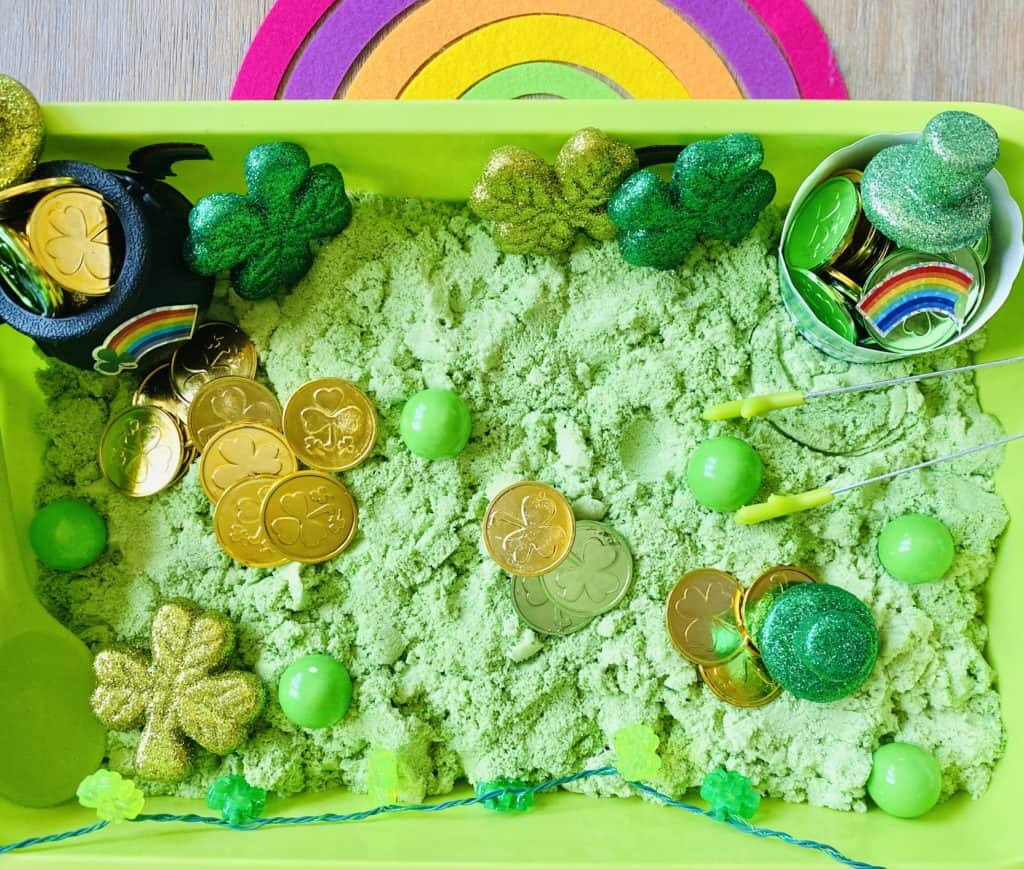 Items you will need for your St. Patrick's Sensory Bin.
Bin for your sensory activities.
I have found that a shallow bin is much easier for your toddler to navigate and work efficiently. I bought a pre-made sensory bin, and I now recycle that bin for each new sensory activity I do for my toddler. It is a perfect size and worth hours of entertainment. Sometimes too, if the bins are too large, you will spend a lot more money filling up. Toddlers play better when they are not overwhelmed with many items and things. Simpler, the better.
Also, you can buy an inflatable sand tray that easily folds up for your sand and your sensory bins.
Alternatives to indoor moldable sand:
Colored white rice. Use vibrant food coloring to make it bright green. Allow to dry for twenty four hours. Or you can

purchase colored rice.

Lucky Charms cereal (they have a special edition St. Patty's day. too!)
2) In this St. Patrick's day sensory bin, I wanted to use indoor moldable play sand. Don't be afraid of this stuff, it is fantastic. It molds together like wet sand on the beach, but it sticks all together for easy cleanup. It doesn't get in every nook and cranny possible like regular sand. You can even vacuum up the excess. Then you can reuse this play sand over and over in other activities.
For this bin, I bought emerald green sparkle indoor sand, and this is our very favorite brand; it is much better than the leading indoor moldable sand and others sold. It stays fresh, does not smell, cleans up super easily.
3) Sensory Bin Tools. I bought a few tools for my sensory bins that I can use over and over and keep toddlers entertained. These are our favorites:
Jumbo Tweezers

for sorting & counting, toddler fine motor skills
Cups, small bowls
Knick knacks from the dollar store or dollar sections of major stores.
The Best Sensory Bin Essentials
3) St. Patrick's Day Items. You can find these items easily at Dollar Store, Walmart, Party City, Hobby Lobby. Whatever items you feel your toddler can pick up, mold, stack, create. I made mine a bit sparkly. See the box below for easy shopping.
You can find my entire sensory bin essentials list here to make it easy to collect 🙂
Plastic Coins
Pots o' gold
Rainbow charms, stickers, candies
Sparkle four leaf clovers
I bought a necklace that lights up to line my bin for extra touch of fun
Cupcake liners that are St. Patrick themed
If you want to add an element of challenge to your sensory bin, try including a few surprise objects hidden within!
Lets Play! St. Patrick's Day Sensory Bin!
Why are sensory bins beneficial to your toddler?
Toddlers are constantly learning and growing, and one of the best ways to help them learn is through sensory bins.
What are sensory bins? They are simply containers filled with different materials that allow toddlers to explore their senses. They can be a great way to help toddlers learn about colors, shapes, textures, and more.
Sensory bins also help promote fine motor skills as toddlers learn to grasp and manipulate the materials.
Another great benefit of sensory bins is that they can be used to teach basic concepts such as colors, shapes, and numbers. By providing a variety of materials in different colors, shapes, and sizes, toddlers can begin to learn these concepts in a fun and hands-on way.
One of the best things about sensory bins is that they can be tailored to your child's interests. If your toddler is interested in cars, you can fill a bin with toy cars and roads. If your toddler loves animals, you can fill a bin with animal figurines and soft fabrics. The possibilities are endless!
Finally, sensory bins are a great way to help toddlers calm down and relax. If your toddler is having a meltdown or is feeling overwhelmed, provide them with a sensory bin filled with calming materials such as rice, beans, or sand. The tactile stimulation provided by the materials will help soothe and relax them.

If you are looking for a fun way to celebrate St. Patrick's Day with your toddler, look no further than this sensory bin! The materials are easy to find, and it is sure to keep your little one entertained! Be sure to follow our tiny adventures on Instagram!

This post may contain affiliate links and products. I may receive a small commission if purchased through qualifying links at no cost or obligation to you ever. Additionally, I am an Amazon affiliate partner in which I may receive a commission for qualifying purchases.